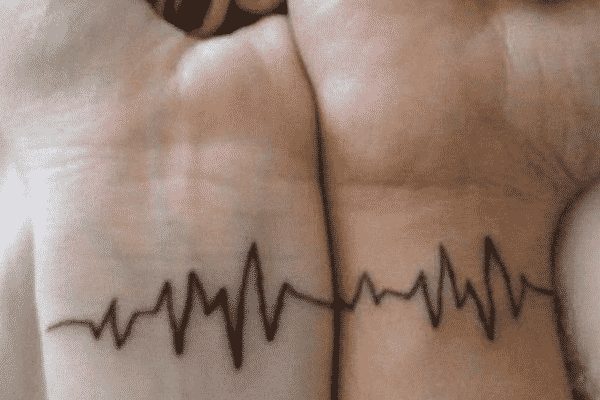 Heartbeat tattoos are a sweet and unique way to show your love for someone or something. The jagged lines may look meaningless and random, but they're actually very significant. Heartbeat lines are often instantly recognizable, and it's hard to not grasp the symbolism of a heartbeat tattoo. Most people see this seemingly random jagged line and instantly associate it with matters of the heart, including love.
Heartbeat tattoos can be big, small, elaborate, or simple.
They can be tattooed alone or with other symbols, and they can be any color. Standalone heartbeat tattoos on an individual are striking, but they can also be used as an element in matching tattoos with loved ones, making their meaning even more special.
If you're on the hunt for ideas for heartbeat tattoos, take a look at the examples below. We've rounded up some of the most amazing, meaningful, and unique heartbeat tattoos out there!
1. Heartbeat Wrist Tattoo
Heartbeat tattoos make amazing simple and sweet wrist tattoos.
2. City Skyline Heartbeat Wrist Tattoo
Will your home city forever be in your heart? Show this with a symbolic city skyline heartbeat tattoo.
3. Red Heart and Heartbeat Hip Tattoo
A red 3D heart and heatbeat tattoo on the side of the hip is sweet and sexy, and a great tattoo idea for women.
4. Heartbeat Tattoo With Date
Heartbeat tattoos also make great commemorative tattoos for special events in a person's life. Just add a memorable date, like a child's birthday or marriage anniversary.
5. Small Heartbeat Finger Tattoo
Looking for a small heartbeat tattoo? This heartbeat finger tattoo  may be small and discreet, but that doesn't make it any less meaningful.
6. Puzzle Piece and Question Mark Heartbeat
If you're still looking for your one true love, this heartbeat tattoo might be for you. In the future, your oveer may even complete your puzzle.
7. Matching Heartbeat Tattoos on the Wrists
Lovers can show their commitment and dedication with a pair of matching heartbeat tattoos.
8. Matching Heartbeat Tattoos for Sisters
Lovers aren't the only ones who could possibly sport matching heartbeat tattoos. These matching sister tattoos are simply stunning!
9. Love of Music Tattoo
Show your love of music with a heartbeat tattoo combined with music notes.
10. Treble Clef Heartbeat Tattoo
A treble clef and a heartbeat is a perfect choice for the musically inclined!
11. Music Staff Heartbeat Tattoo
Or, put your heart right into your music with a music staff heartbeat tattoo!
12. Heartbeat With Red Heart Background
A large red heart in the background makes this real EKG heartbeat tattoo really stand out.
13. Name Heartbeat Tattoo
Show your undying love for someone special with a name heartbeat tattoo.
14. Family Heartbeat Tattoo
After all, family is the most important thing.
15. Faith Heartbeat Tattoo
Faith and love, together forever in this tattoo…
16. "Just Live" Heartbeat Tattoo
A "Just Live" quote pairs perfectly with a heartbeat in this quote tattoo.
17. "This Too Shall Pass" Tattoo
Words to live by!
18. Heartbeat Lip Tattoo
Tuck away a cute heartbeat tattoo on the inside of your lower lip for a subte statement.
19. Matching Infinity Heartbeat Tattoos
These infinity heartbeat tattoos are beautiful on their own, but they also make amazing matching tattoos that send a powerful message—forever love.
20. Breast Cancer Tattoo With Heartbeat
Wear a pink ribbon and a heartbeat in honor of a loved one who fought breast cancer.
Heartbeat tattoos can be some of the most amazing and meaningful tattoos you can get. They are visually appealing as well as deeply symbolic. You're really speaking from the heart when you get inked with a heartbeat tattoo!