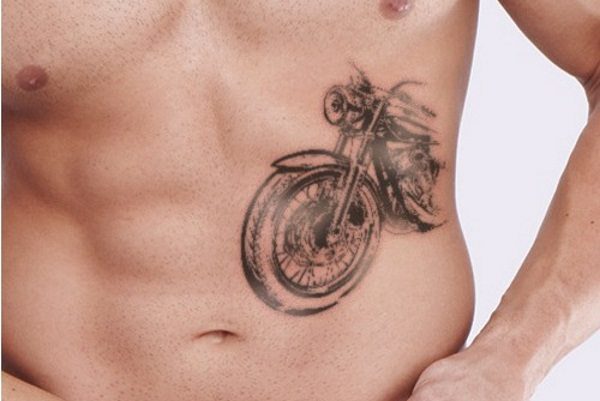 There's no feeling in the world quite like owning and riding a motorcycle. Having a motorcycle, to many, is the epitome of freedom on a crazy modern world. It allows one to ride free, the wind rushing around them and head wherever the road takes them.
A motorcycle tattoo design is a great way to show passion for something you love!
Motorcycle tattoo designs can vary widely. Some people prefer tattoos of realistic motorcycles, while others get inked with fantasy bikes. Skulls and flames are also recurring themes in motorcycle tattoo designs. Some people even choose to get motorcycle tattoos complete with riders. A motorcycle tattoo looks smashing in black and gray, but colored tattoos can look pretty amazing as well.
If you're looking for your own motorcycle tattoo design, look no further! check out these tattoo ideas for a little inspiration!
1. Motorcycle Rib Tattoo
This motorcycle wrapping around this man's side is definitely eye catching!
2. Green Motorcycle Tattoo Design
Even bikers need a little color from time to time! This green motorcycle fits the bill perfectly!
3. Small Motorcycle Tattoo
Despite being so small, this motorcycle tattoo design has a lot of detail packed into it!
4. Riding Away Tattoo
This biker is riding off into the sunset, which depicts the freedom and adventure every biker experiences.
5. Leaning Motorcycle Tattoo
Leaning into dangerous curves is just a normal everyday thing for motorcycle racers like this one!
6. Mickey and Minnie Motorcycle Tattoo Design
Mickey and Minnie Mouse on a motorcycle bring out the fun and carefree side of riding down the road on two wheels!
7. Fat Tire Motorcycle Tattoo Design
Love 'em or hate 'em, fat tires on motorcycles are still pretty popular these days, and some people love their fat tires so much that they get them tattooed on their skin!
8. Sitting on a Motorcycle Tattoo
Here's an amazing detailed portrait of a man on a motorcycle!
9. Flaming Skeleton on Motorcycle Tattoo
A skeleton riding a motorcycle tattoo design is really nothing new, but the flames give this tattoo a scary twist and a dangerous feel to it!
10. Motorcycle Riding Out of Skin
A skeleton motorcycle tattoo design looks even more amazing when it's ripping out of someone's chest!
11. Front of Motorcycle Tattoo
Here's a simple motorcycle tattoo design that's so well done and detailed, right down to the shadows, that it's a fantastic piece or artwork!
12. Tribal Motorcycle Tattoo
Some people might prefer this tribal motorcycle tattoo design, which is less complicated but still pretty awesome looking!
13. Red and Black Motorcycle Tribal
A little pop of color can also be added to a tribal motorcycle tattoo design.
14. Biker Tattoo Design
A tough biker on his ride make a truly eye catching and memorable motorcycle tattoo design!
15. Motorcycle Leg Tattoo
The leg is the perfect place to fit a full motorcycle tattoo design!
16. Arm Motorcycle Tattoo
And, this motorcycle and rider tattoo fits equally well on the biceps and forearm!
Motorcycle tattoo designs aren't just for hard core bikers either. Anyone with a passion for motorcycles and the freedom of the open road can opt for a motorcycle tattoo design! All that's required is a love for riding.