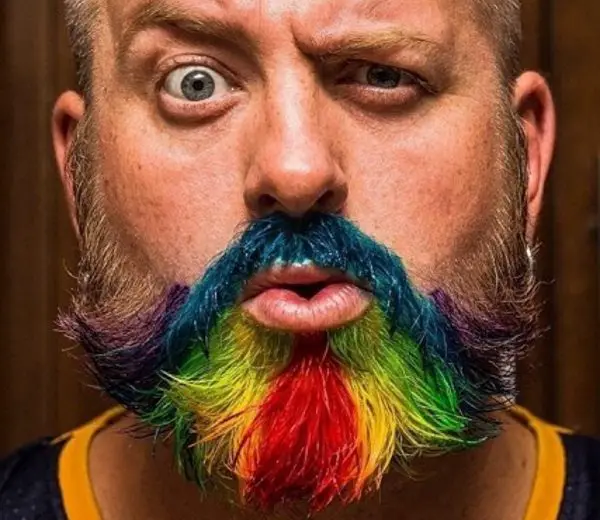 Beard have been around for ages, and most men have sported one or will sport one at least once in their lifetime. Lately, though, the beard has become something of a fashion trend. Men have been growing ass sorts of beards, from classic goatees to trimmed scruff to full on lumberjack beards. Since the enthusiasm surrounding beards has flared up once again at the same time that colorful dyed hair has become a fashion statement, the dyed beard was only a matter of time!
And by dyed beard, I don't mean your typical beard color. I'm talkin' every color of the rainbow, sometimes all at once! Although they haven't quite made it to the mainstream just yet, dyed beards are creeping up there. It may just be a matter of time before seeing a blue, green, red, or even pink or purple beard on the street is commonplace!
Ready to dip your toes in the colorful beard pool? Check out these interesting colorfu dyed beards for some ideas!
1. Rainbow Dyed Beard
This colorful dyed beard makes me wonder if this guy really did taste the rainbow!
2. Red, White, and Blue Beard
There's really very little question about this guy's patriotism!
3. Blue and Purple Beard
Well, at least the pretty blue and purple colored beard extends to his handlebar mustache and slicked back hair…
4. Dyed Red Goatee and Mustache
A bright red dyed beard is definitely an eye catcher, isn't it?
5. Long Red Dyed Beard
And, how about this crazy lookin' dude with a crazy lookin' long red beard?
6. Pink Beard and Hair
This guy went all out and dyed his beard pink ,but at least it was for charity. Or was it…?
7. Light Pink Beard
I'm not sure what the story is behind this pink dyed beard, but I'm sure it's an interesting one!
8. Teal Beard and Hair
Teal seems to be a hot color for dyed beards, and this trimmed teal beard actually looks pretty great!
9. Teal Beard and Mohawk
This gentleman looks like he's headed to a black tie affair, teal beard, mohawk, and all!
10. Emerald Green Beard
I have to admit that I'm kinda lovin' this deep emerald green colored beard…
11. Turquoise Blue Beard
The purple mohawk was definitely a great choice, other wise the turquoise blue beard would look a little strange, dontcha think?
12. Light Blue Beard
See? A colorful mohawk would just top this look right off!
13. Bright Blue Beard
A bright blue beard with matching hair is quite the fashion statement!
14. Yellow Dyed Beard
A yellow beard…enough said.