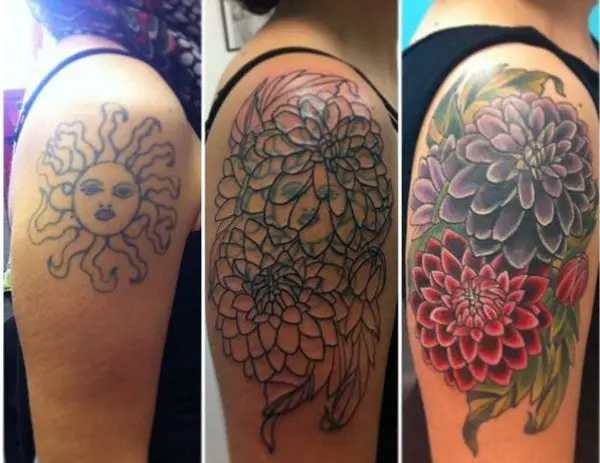 Cover up tattoos are one of the most difficult tattoos to do for many tattoo artists. Unfortunately, tattoo cover ups, including cover up tattoo for women, are not unusual requests in many tattoo parlors.
Tattoos can be wonderful and beautiful pieces of body art. Many people choose to get tattoos that are not only meaningful, but also aesthetically pleasing. However, not all tattoos are amazing pieces of artwork. Some aren't inked or designed well in the first place, while others may eventually become regrettable to the wearer.
When young and excited to get that first tattoo, some women may jump into the commitment too soon. They might skip researching good tattoo artists, for instance, or choose a design that they later grow out of or regret.
The good news is that most tattoos can be covered successfully, and usually with a design that's much more pleasing!
Take a look at some of these awesome tattoo cover up for women…
1. Zinnia Flowers Cover Up Tattoo
A sad looking sun takes on new life as a few colorful zinnia flowers in this tattoo cover up design!
2. Name Tattoo Cover Ups for Women
Some of the most requested tattoo cover ups for women involve a person's name, usually a former flame. This diamond tattoo was refreshed and updated with a ribbon to cover up a name.
3. Weird Fish to Wicked Owl Tattoo Cover Up
This strange looking fish became a pretty wicked looking colorful owl in this tattoo cover up design!
4. Anchor Tattoo Cover Up for Women
Anchor tattoos aren't just for the guys. Some anchor tattoo cover ups for women can look super pretty and feminine!
5. Lily Tattoo Cover Up for Women
Flowers are a popular option for cover up tattoos for women. These lilies are gorgeous, and they have successfully covered this sad looking tribal arm tattoo!
6. Full Back Tattoo Cover Up
Shoulder tattoos and lower back tattoos aren't uncommon tattoos for women, but they are also some of the more regrettable designs. For true body art enthusiasts, a full back tattoo can be a stunning way to cover both of these designs and create a seamless tattoo design!
7. Tramp Stamp Cover Up Tattoo
Lower back tattoos have unfortunately been dubbed tramp stamps, and these are commonly requested tattoo cover ups for women. This tree cover up tattoo is a stunning piece of art that covers a somewhat boring tribal tattoo design on the lower back.
8. Phoenix Cover Up Tattoo
Cover up tattoos for women don't have to be completely different than the original design. This woman, for instance, opted for simply a larger and better designed phoenix to cover up an old phoenix tattoo on her back.
9. Lily Back Cover Up Tattoo
Here's another fantastic cover up tattoo for women using lilies for the design, also on the back.
10. Sunflower Cover Up Tattoo
Large sunflowers are colorful designs that can be used in all sorts of cover up tattoos for women. In this example, a golden sunflower is used to cover up a small black cat tattoo.
11. Peacock Cover Up Foot Tattoo
Peacock tattoos have tons of color and detail in them, making them excellent tattoo cover ups for women!
12. Cute Mummy Girl Cover Up
A poorly tattooed jester is easily covered by a clever little mummy girl tattoo design here.
13. Dreamcatcher Cover Up Tattoo
As with some other successful tattoo cover ups for women, dreamcatchers are generally very detailed designs. This can sometimes be very useful for covering some other designs, as seen here.
14. Rose Tattoo Cover Ups for Women
Roses are feminine and beautiful designs, making them great options for cover up tattoos for women!