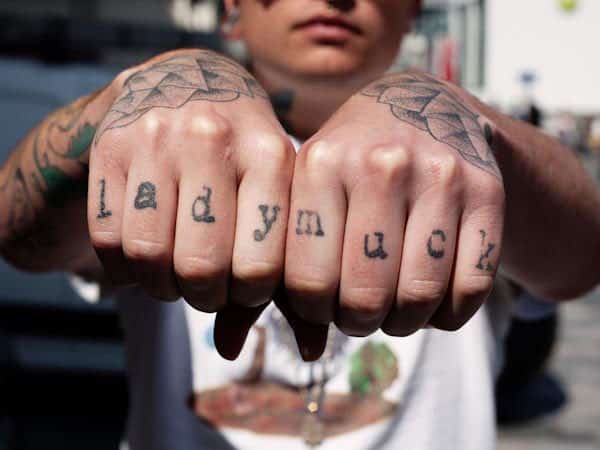 So, you're wondering what a cool tattoo would be to get that stands out in any crowd, gets some attention, and is affordable. What you may be looking for is a knuckle tattoo. It may or may not be right for you but either way, we're confident that this list of 10 Bone Crunching Knuckle Tattoos is sure to have what you need. You'll find a good bit of variety in this list and it'll most definitely help guide you in the right direction when it comes to getting your very first tattoo on the knuckle area. We know that you've probably seen a lot of tattoos in your day but you can never see too many. This is especially true if you're considering getting a new tattoo soon.
Why? Because there's nothing like having a little bit of added inspiration. We hope that you enjoy this list of knuckle tattoos and will consider sharing it with your friends, family, and anyone else that you think may be interested in getting some new ink. At the end of this list, you will also find links to other great lists related to tattoos and who knows, you may end up deciding that you don't even want a knuckle tattoo but would rather get some other form of body art. Regardless of where you want your next tattoo, we have got you covered!
Cool Knuckle Tattoo
What a cool knuckle tattoo! Don't you agree?
Tribal Knuckle Tattoo
If you want something that is very different, use this for inspiration!
Knuckle Cross Tattoo
Get the perfect cross tattoo but on your knuckles!
Unique Knuckle Tattoo
This tattoo is definitely unique, huh?
Funny Tattoo on Knuckles
This tattoo actually won a contest. It's hilarious!
Neat Knuckle Tattoo
How cool is it to be a bookworm but still have a knuckle tattoo?
Epic Fail Tattoo
What an epic fail this tattoo is but we had to share it!
Live Life Tattoo
And you thought that you loved your life!
Cool Nerd Tattoo
Live the nerd life with this tattoo!
Lady Muck Tattoo
Finally, how about this Lady Muck Tattoo?
Were we right? We hope so because that would mean that you enjoyed this list! Hopefully you'll be able to figure out what your next tattoo will be and as we mentioned above, it's okay if it isn't a knuckle tattoo. We still have plenty of other lists related to tattoos that will help give you some added inspiration when it comes to getting your very next tattoo. All that you have to do is check them out and see what you think. Now, what are you waiting for? Let's work on your very next tattoo and see what we can come up with for you together!
If you liked this list of 10 Bone Crunching Knuckle Tattoos then check out  13 of the Best Video Game Tattoo Designs,  Gotta Catch Em All: 15 Pokemon Tattoo Designs, and  5 Cool Tattoo Designs For Her.