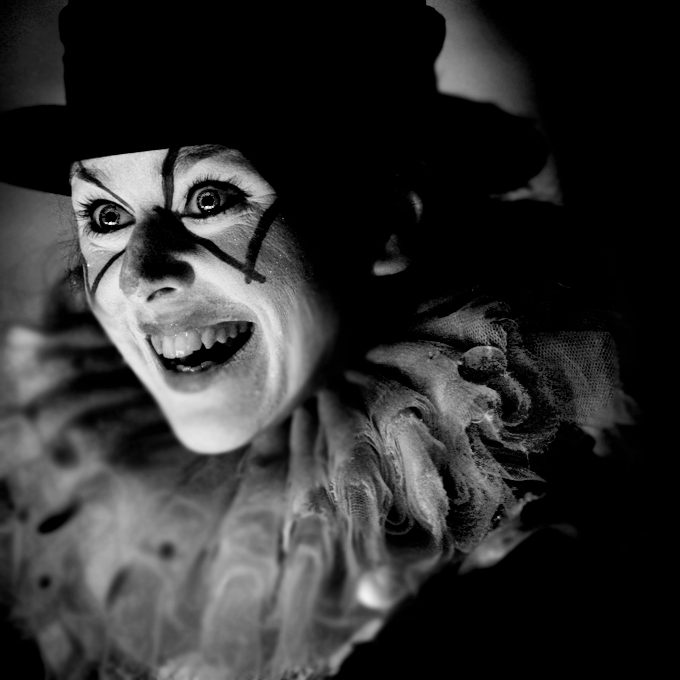 A clown is a big part of children's lives when they're growing up. One look at the white makeup and the typical round red nose, and you know you're in front of a clown. The earliest clowns were entertainers who told the people of a town funny jokes and sang funny songs. Against the colorful backdrop of circus tents, clowns put on their amazing shows delighting both kids and adults. Entertaining people are what a clown's life is all about, so today you can find musicians dressed up with a clown face, or friends wearing clown costumes on a festive day in town.
The face makeup is what identifies a clown, and the makeup can range from just a blob nose, to very dramatic thickly applied paint to create interesting looks. With a touch of artistry clown faces can be made up to show different expressions, from sadness to joy, to anger, and much more. Along with the clown's made up face, the costume also plays a big part in making the right impression. The brightest colors, the baggy trousers, and large amounts of imagination go into designing the costume of a clown. Often, clowns wear wigs in neon shades to add more drama to their getup. Color is not all there is to the appearance of a clown, as it is the patterns also that make up the complete look.
Clown Pictures in black and white look magnificent as you can clearly see the play of patterns on the face.
Clown makeup can show all the shades of human feeling, and the mask-like frozen look can be also used to show dark emotions, like the figure of the Joker in the Batman series.
If you like this article, you might be interested in some of our other articles on Random Funny Pictures, Family Guy Pictures, Smiley Face Pictures and Funny Harry Potter Pictures.
Clown Photo
Check out this amazing black and white photo that plays with light and shade on a clown's face.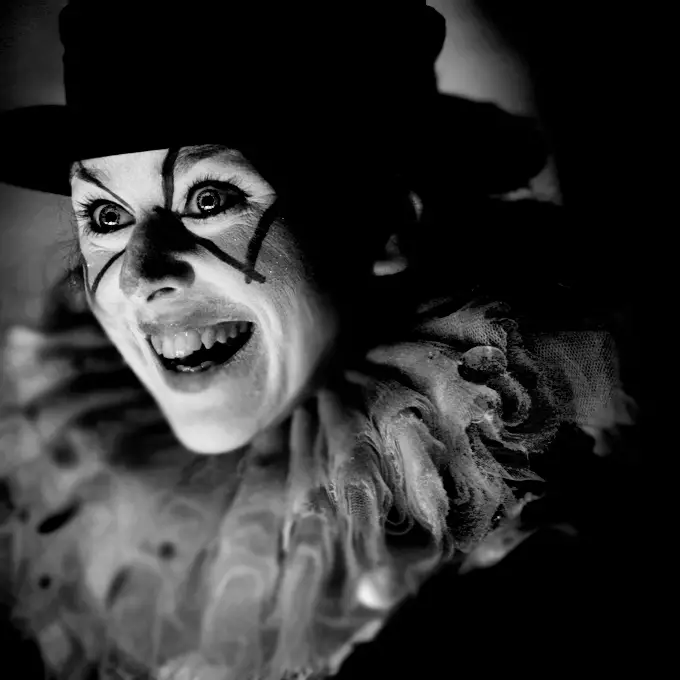 Aliceland Clown
This clown in a suit holds a flower inside a modern-day Wonderland with a dream like feel.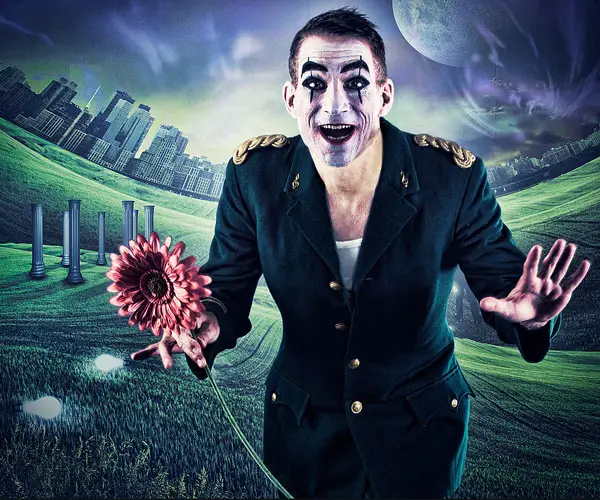 Football Clown
The bright orange wig with braids really goes well with the face of this football fan made up as a clown.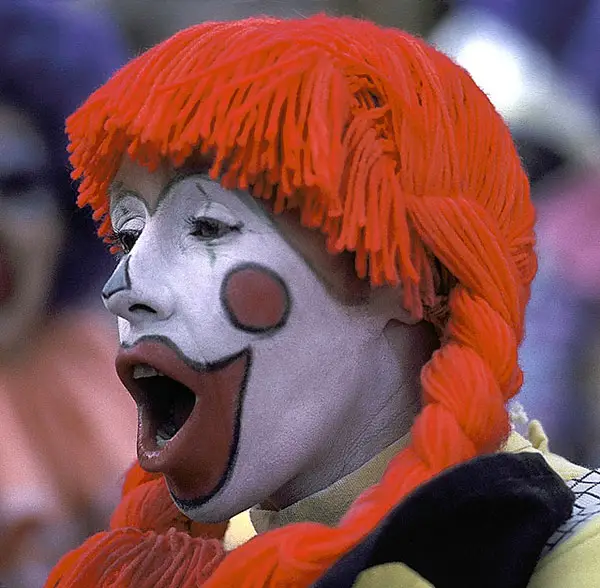 Movie Clown
This picture may remind you of the Joker played by Heath Ledger, one of the scariest clowns possibly in the world of movies.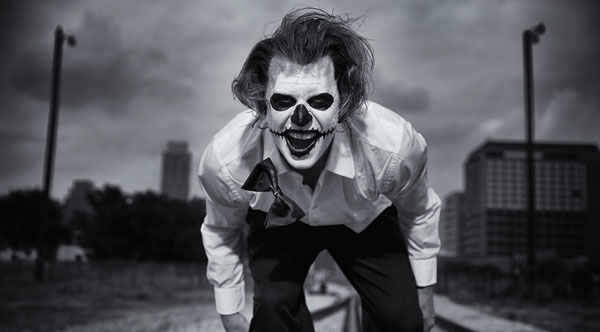 Petite Clown
Purple hues wrap this beautiful woman as she poses with her face done up in subtle clown makeup. Is she a fool for love? Perhaps.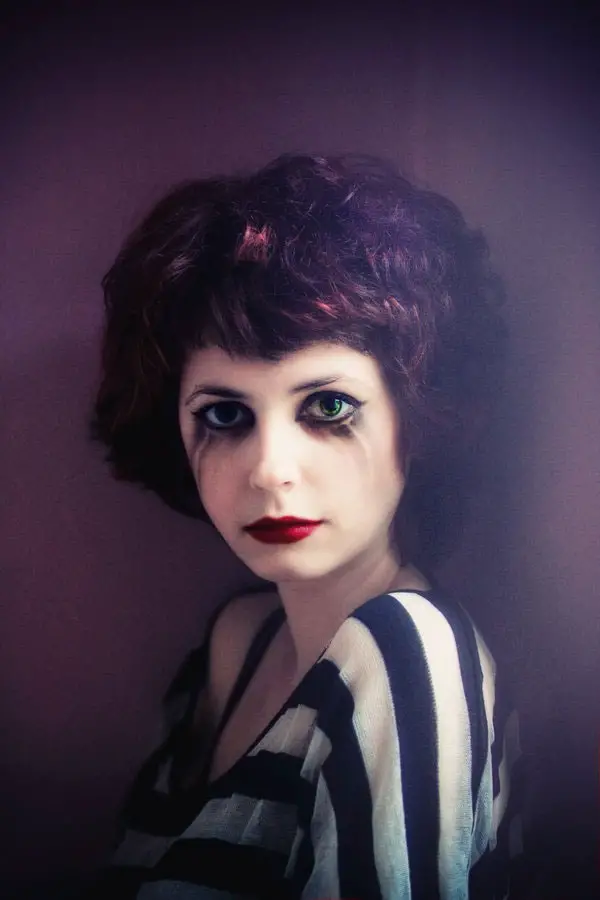 Clown Timeless
The brightest rainbow shades, polka dots, and baggy clown costume in place, this clown with a clock has a timeless appeal.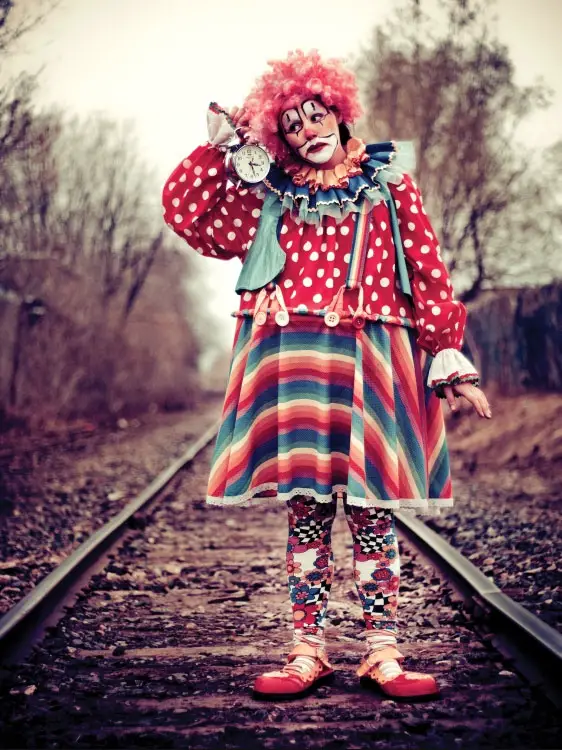 Clown Duo
Take a look at these two friends who've gone for full clown makeovers for a special day in town. The smiley flower between them looks super cute.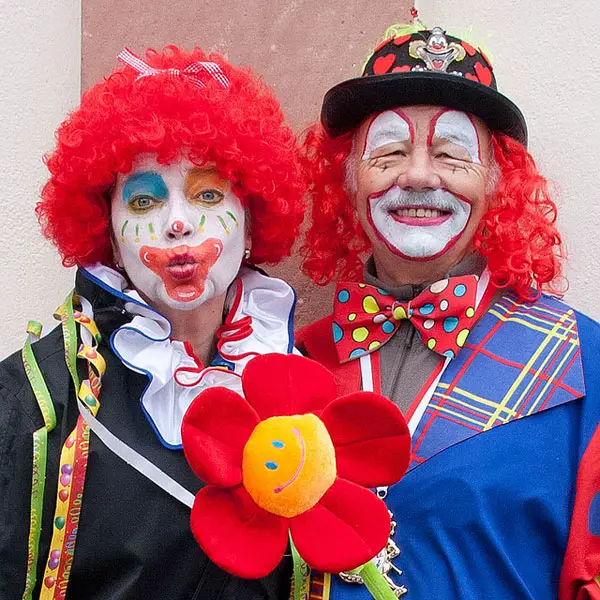 Sees Clown
Step up, close, and personal to the textures of the skin in this detailed sepia tinted picture of clown makeup.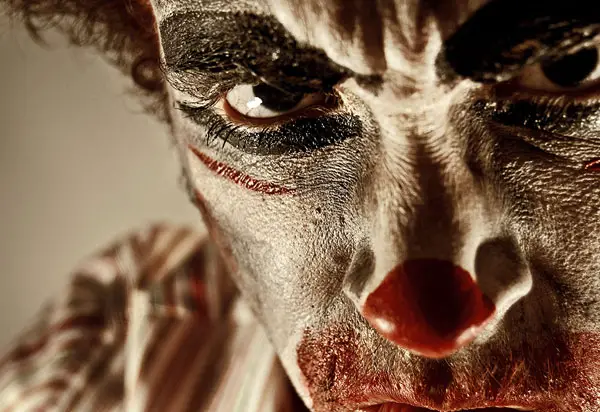 Kee Clown
The big round knobbly nose and circular makeup around one eye give a funny look to the clown in this classy photo.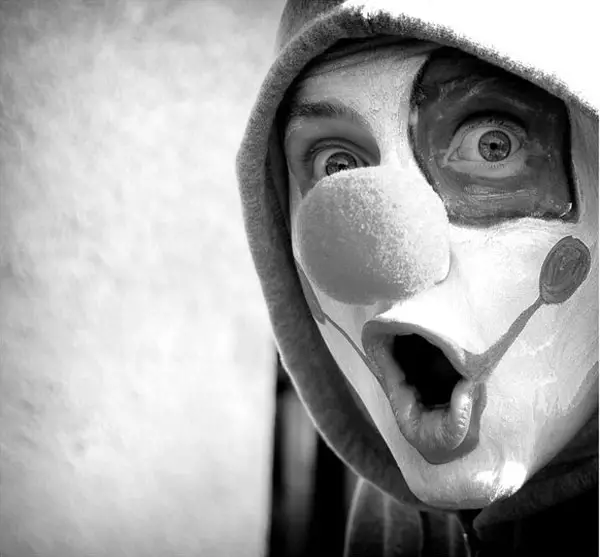 Alone
Styled in a top hat and horse rider's costume this smiling clown shares gentle vibes as he walks all alone.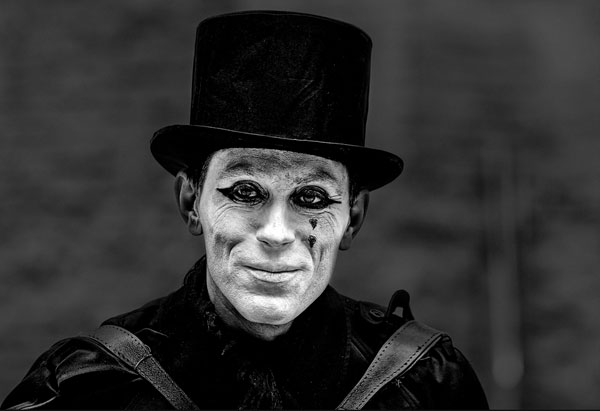 Clown
The bright costume in many-colored polka dots and the cheerful cap make for a classic clown getup.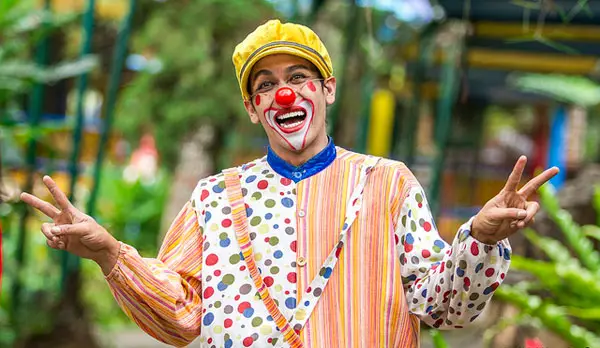 Polka Clown
Quirky shapes like an Ace of Hearts and bright green leaf shapes pattern this clown's face dramatically made up in blue, pink, red, and black.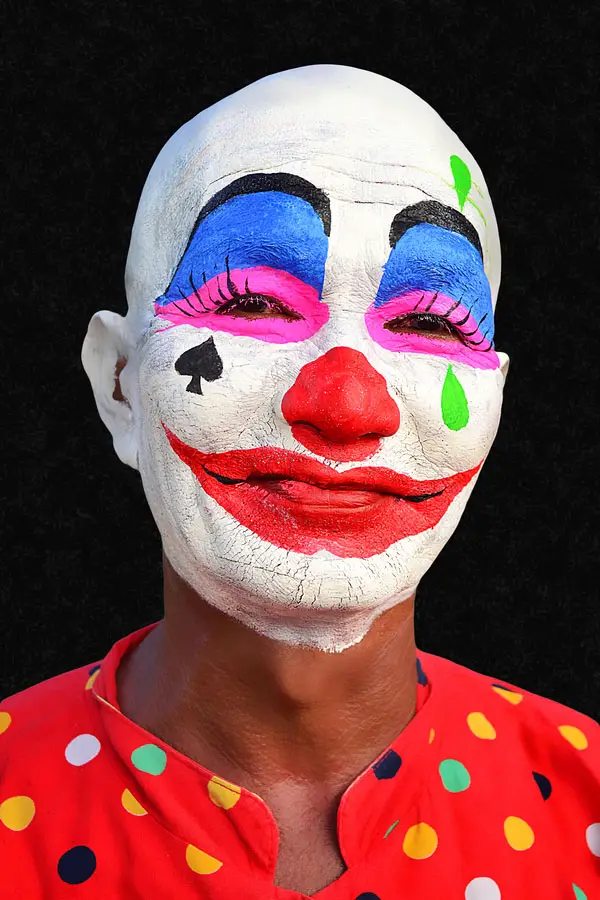 Clown Relationship
Sometimes it is best to let a clown walk out of your life, this picture of a clown and a beautiful woman in green seems to say.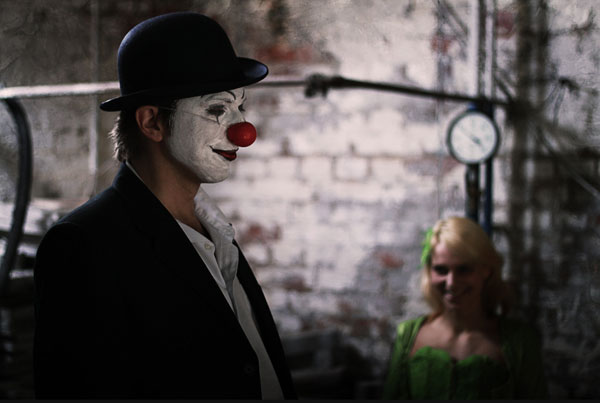 Bright Clown
Dressed up in a bright blue suit and a red hat this young guy seems all excited about playing a clown for the day.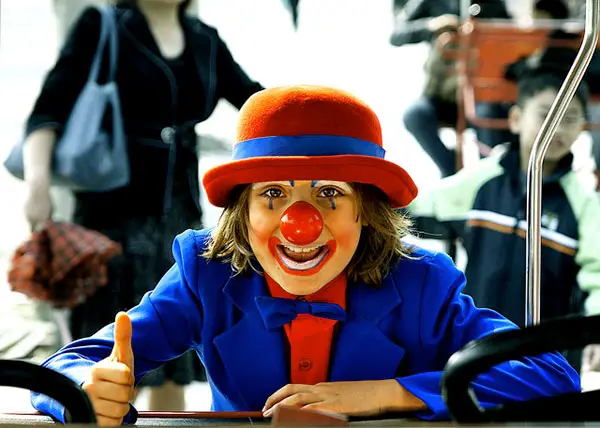 Clown Style
All dark and dramatic with a cigar burning in his hand this clown in oversized trousers and breeches makes a very powerful impact.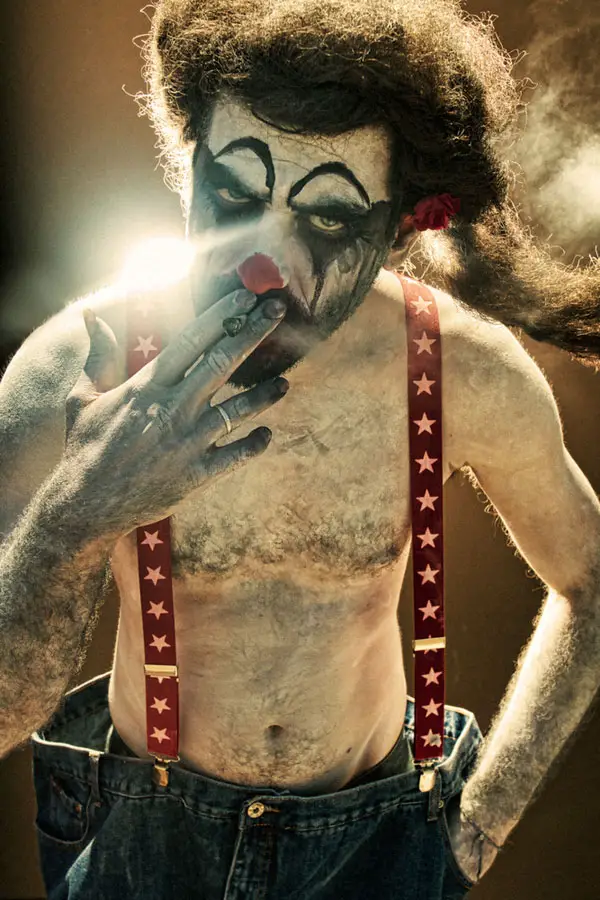 Wild Clown
The forest green shock of hair and the touch of green on the wig look perfectly fairytale like on this clown face.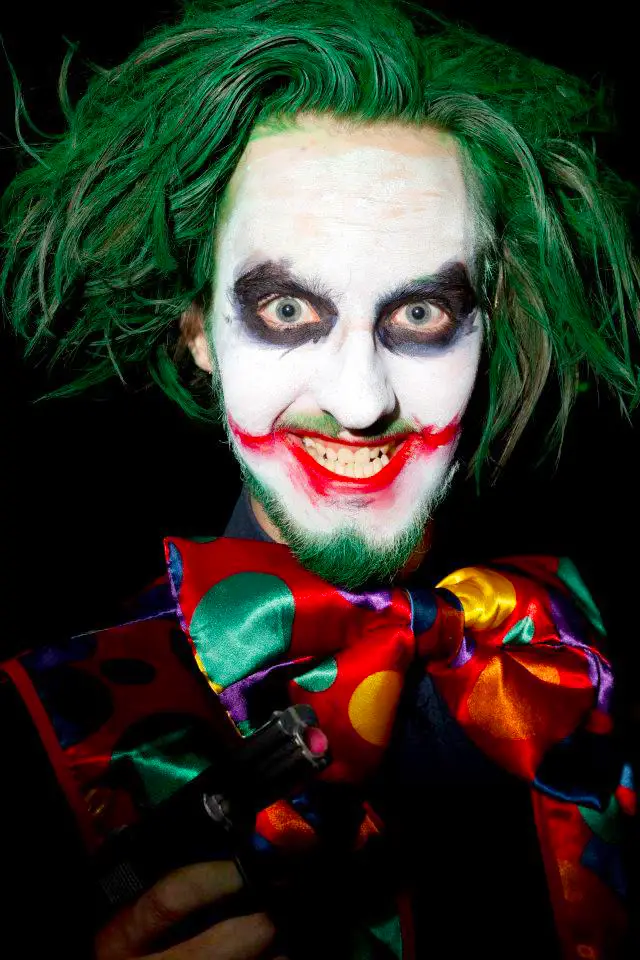 A Clown Lover
The Polaroid picture gives a dreamy feel to this lover clown dressed in a red polka-dotted costume and an orange wig.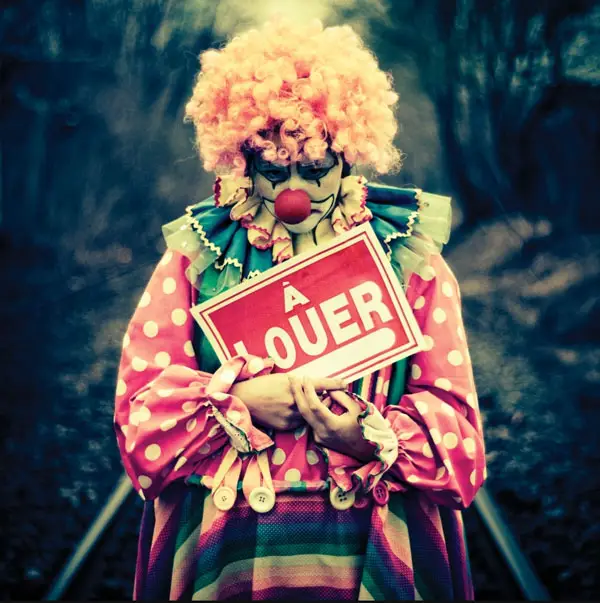 Clown Time
Bright blue wig and matching eye makeup come together in this modern-day clown's face to make a stunning impression.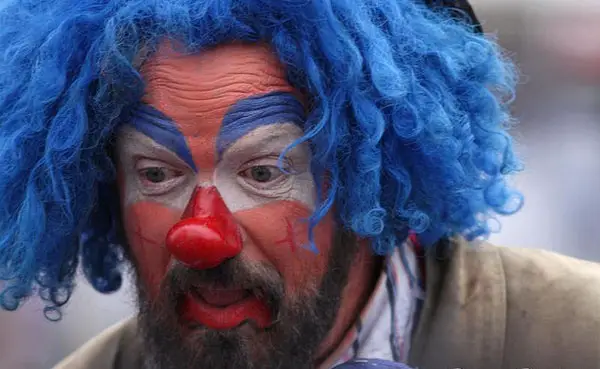 She Clown
Sharp black lines edging downward from the eye and red lips painted to curve upwards in a smile create a mysterious look on the face of this woman.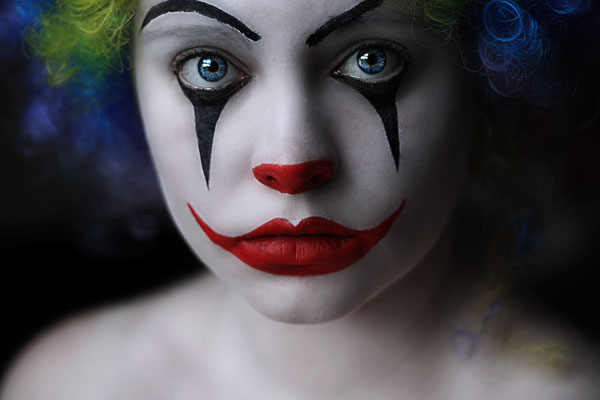 Dark Side Of A Clown
The bald head heightens the effect of the white paint on the face of this clown with dramatic black and red makeup.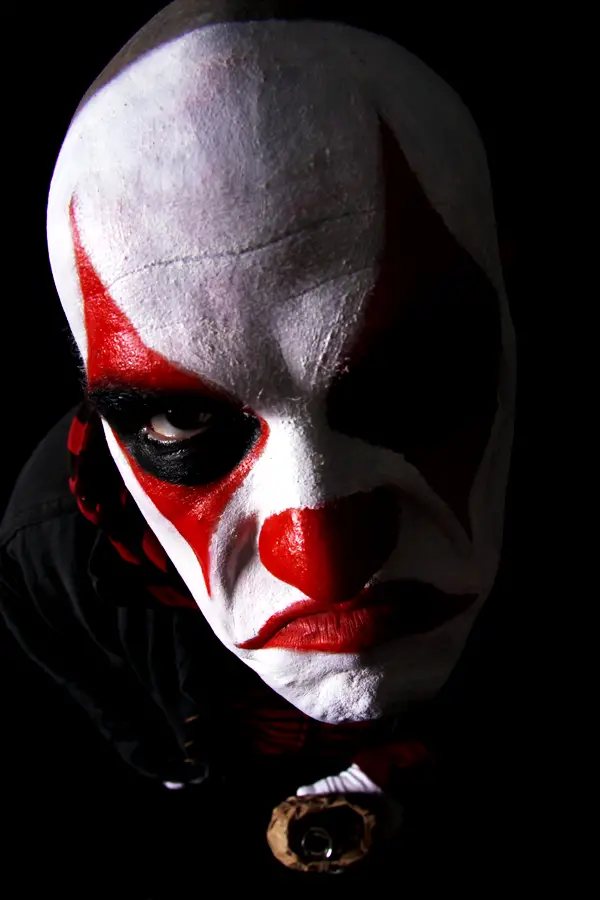 Playing A Clown
Take a look at the hat with many bells that used to be worn by clowns many centuries ago for pageants and plays. The intricate face makeup adds to the getup.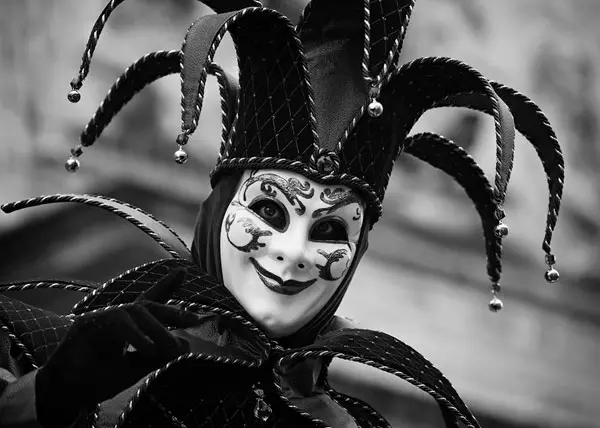 Glittering Clown
A touch of glitter on the golden eye makeup and red lips brings a dramatic look to the face of this clown.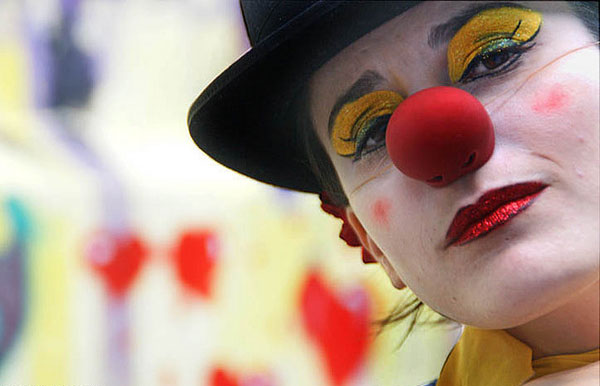 Scarred Clown
Untidy white paint and red patterns on the face give a sad and scarred expression to this clown woman.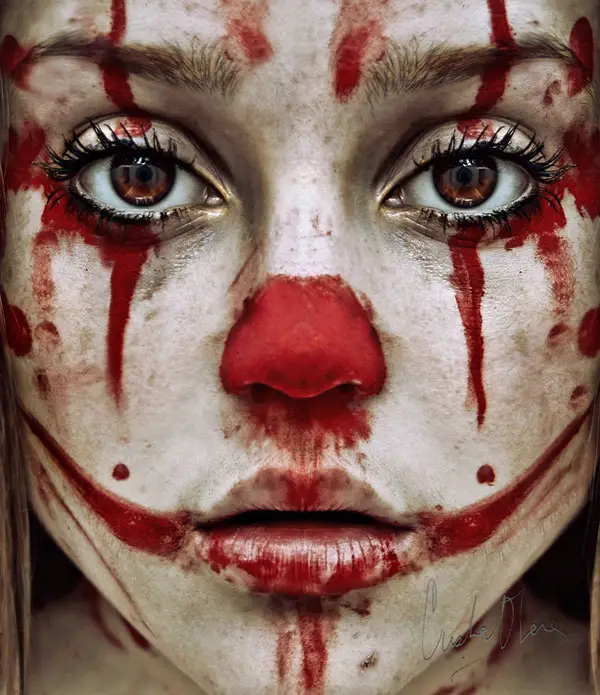 Clown Musician
With bright clown makeup on his face this man looks happy to be entertaining as he plays the harpsichord in a public place.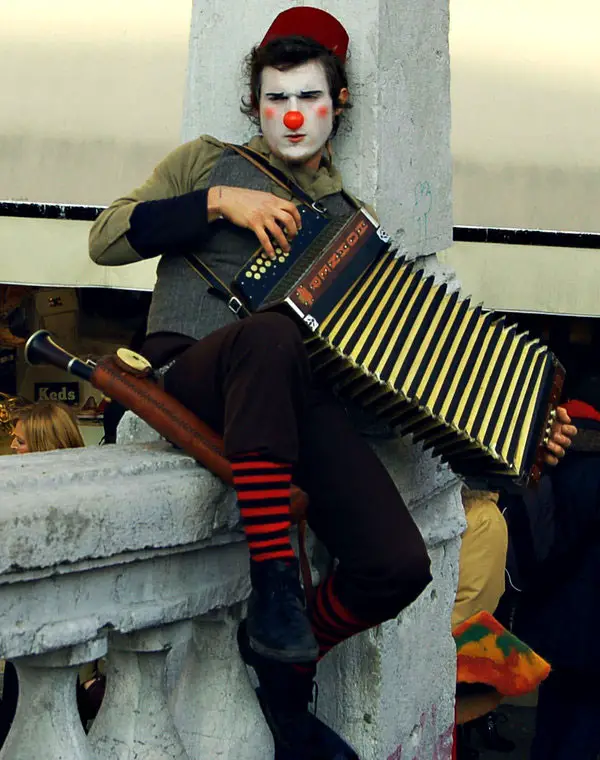 Old Time Clown
The checkerboard costume and touches of clown makeup give a look of faraway times to the face of this sad old clown.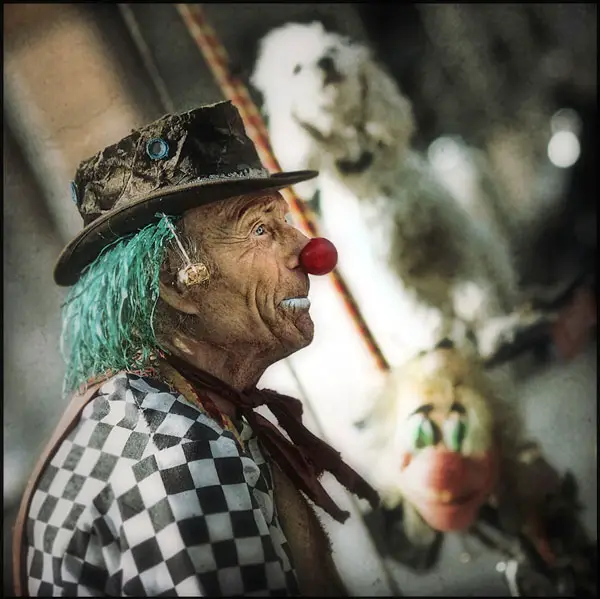 Smoke And Clown
Check out the bright blue wig that is bound to draw attention as this clown poses with a cigarette between his lips.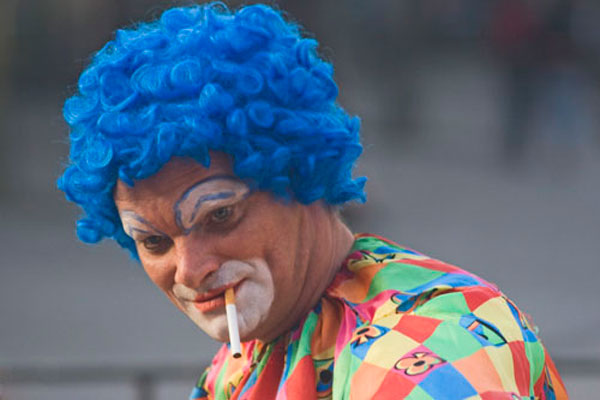 Clown Makeup Arty
Masses of bright brown hair and a clown face with vampire teeth are great Halloween makeup ideas. Check out the painted eyebrows drawn artily to look like serpents.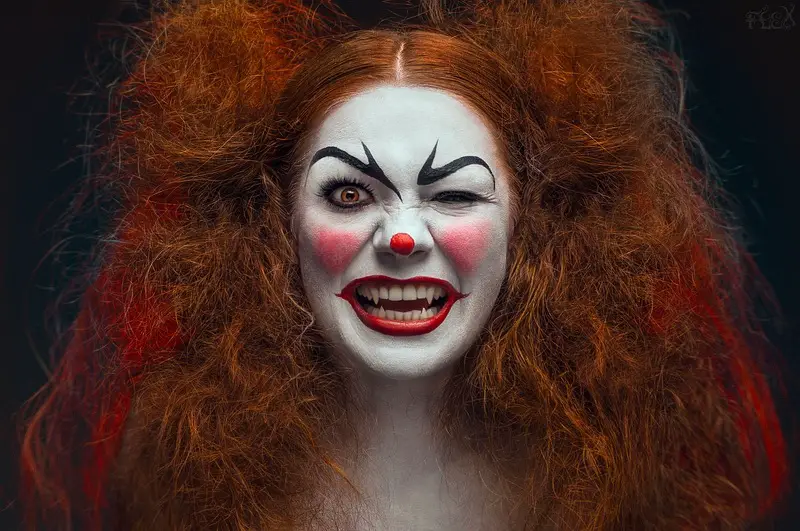 A Clown's Life
This casual photo captures a regular day in a clown's life as he sits and reads the newspaper in a public transport.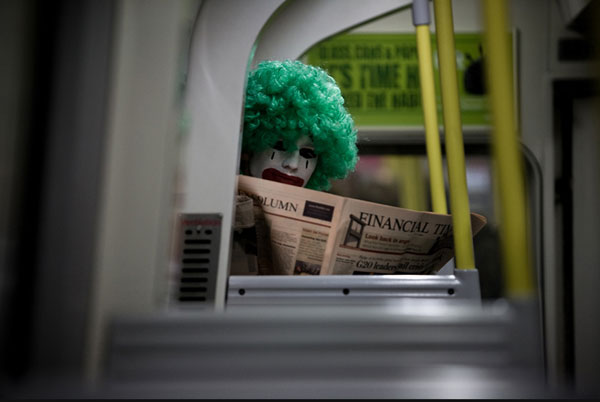 Corporate Clown
The heavily formal corporate suit dramatically contrasts with the clown face in this picture.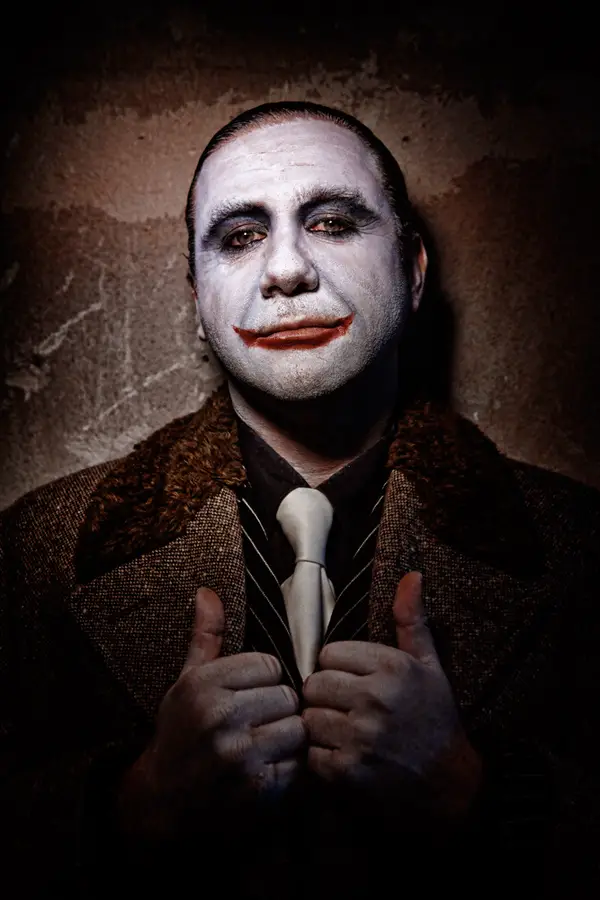 Clown Doll
Long false eyelashes, orange hair, a red bob nose, and tiny painted red lips make for beautiful clown doll makeup.