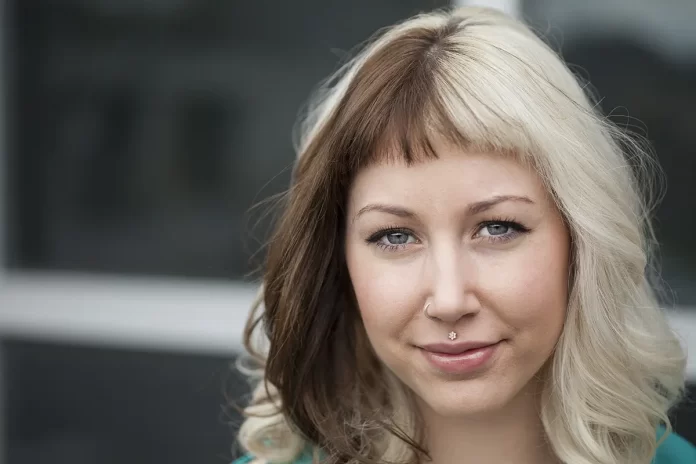 A lot of people use facial piercings as a form of body art. For them, like tattoos, piercings offer a way to express themselves or their experiences.
A philtrum piercing or medusa piercing involves the placement of a stud in the groove just above the center of the lips and under the nose. It comes in two variations: the vertical and the double.
If you are interested in getting one, you need to know exactly what you're getting. You can consider this article your ultimate guide to understanding the process, healing time, aftercare, and more.
What Is A Philtrum Piercing?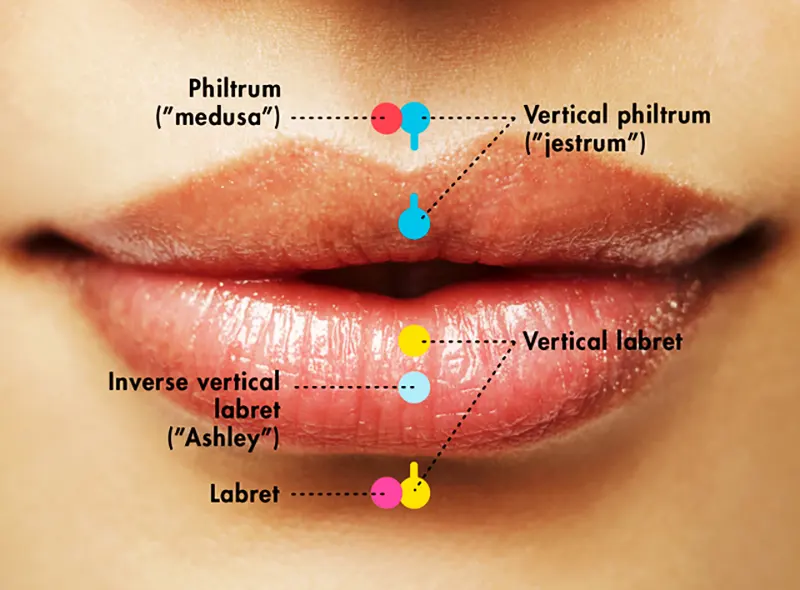 A philtrum piercing is named after the anatomical part of the body. You can find it above the upper lip and below the septum. It is also called medusa piercing.
A Canadian hairdresser invented the term. The piercing is known as a medusa because it sounds more appealing than an inverse labret stud or a philtrum piercing.
For the Dogon people of Mali, lip piercing holds a significant meaning. It symbolizes how their ancestor spirit created the world. 
How Much Do the Medusa Piercings Cost?
Most tattoo shops are also experts in doing lip piercings. Although prices may vary depending on the shop or piercing, medusa piercing runs from $40 to $80.
We suggest you never cut yourself short in terms of the price and don't settle for cheap shops. It is better to spend more on this process so you can ensure your safety.
Ask whether the piercer has a great background and if they belong to the Association of Professional Piercers (APP). This can help ensure that the piercer has the skills and knows proper piercing techniques. Also, they must observe up-to-date lip piercing processes and good hygiene and cleanliness.
How to Prepare Yourself Before and After the Procedure
Getting a piercing, particularly if it's the first time, can be overwhelming. To help you understand the process, take a look at the list of tips below:
Know The Type of Piercing You Want
Coming into a piercing shop and asking for a lip piercing, the piercer might ask you whether you want a low-grade piercing or a lip piercing. The said piercing types fundamentally differ from each other.
To know what to choose between the two, you need to consider what type of jewelry you want to wear in the piercing.
Lip Piercings
Lip piercings are done almost vertically. These are placed in the mouth more externally which reduces the possibility that you might suffer the risk of enamel erosion, gum, and bone softening. However, the only jewelry you can attach to this piercing is a curved barbell or a ring.
Labret Stud
Labret piercings are done horizontally into the tissue. They can be positioned anywhere on the lower part of the mouth.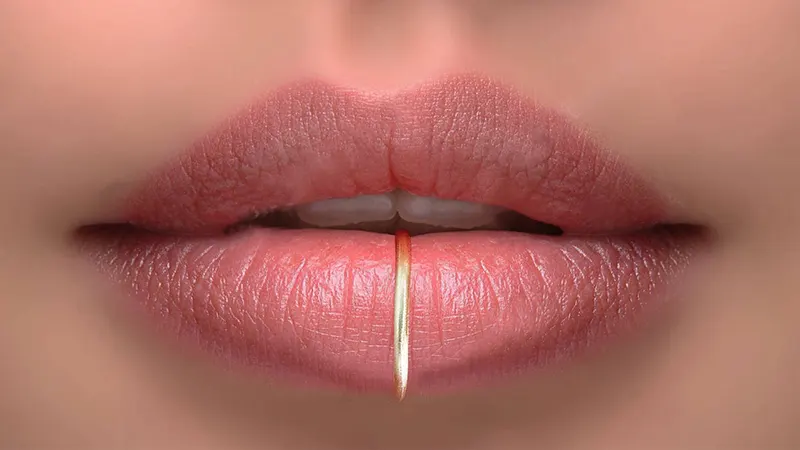 With this oral piercing, the flat disk is in touch or constant contact with your gum surface and teeth. Piercers usually position it above or below the gum line.
Do Not Smoke, Drink, and Eat
Avoid smoking, drinking, and eating for the first 3 hours after having your jewelry on. Try to speak as little as possible. You should also refrain from consuming the following until your piercing is fully healed:
Drugs, alcohol, coffee, and tobacco
Meals that are sticky, such as oatmeal
Gum, candy, and hard foods
Savory foods
Sour foods
Chewing on objects that aren't edible, like your fingers, pencils, and pens
Do Not Change the Jewelry Until It's Completely Healed
Changing your piercing jewelry before it is completely healed can irritate the skin. If you do this, the piercing hole may close immediately.
Don't Touch the Piercing
You should only touch your piercing during cleaning time. Over-touching increases the risk of infections, swelling, pain, and delayed healing.
Don't play with it or let others play with it. You should also refrain from:
Both oral sex and kissing
Food, beverages, and utensils are shared.
Playing with your piercing with your tongue or fingers or by licking it
Rigorous exercise and face-to-face physical contact
Does Medusa Piercing Hurt?
The philtrum where the needle will go through has more nerve endings. This means that this location above your lips is very sensitive.
Some people who already have undergone this procedure rate the pain level around six to seven over ten. When you get it done, expect to feel a sharp pinch when the needle pierces the skin.
Aftercare and The Healing Process
Religiously taking care of your lip piercing after the procedure can lessen the possible risks. Also, by using the proper care products, you are ensuring a good healing process as well as preventing yourself from getting infections.
Note that piercings, especially oral piercings, need special care and attention. Here are the things you need to observe after having one:
Average Healing Time
The average healing process of having a lip piercing is roughly around 8 to 12 weeks. During this time, you need to clean it multiple times daily, especially during your shower.
You can use a mild antibacterial liquid soap when cleaning. Expect some bleeding and pain around the piercing.
Rotate the jewelry when cleaning and rinsing it. Do not forget to sanitize your hand very well before doing this procedure.
Aftercare Supplies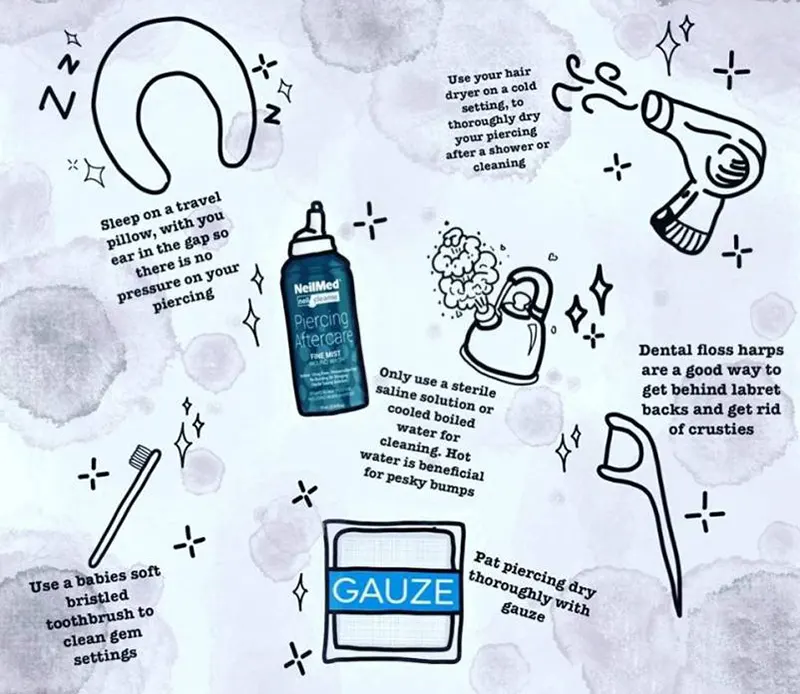 Buying your aftercare products after the procedure isn't really ideal. With a swollen lip, you might end up forgetting something important.
So before you get it done, make sure you have the following:
Sterile saline spray
Non-iodized salt
Alcohol-free mouthwash
Mild and fragrance-free antibacterial soap
Soft toothbrush
Hydrogen peroxide
Eat Properly
During the first days, soft foods are preferred. If you are ready to masticate some solid food, you need to cut it into bite-sized pieces. Assist you're eating well by placing the food directly to your molars to avoid contact with the lip.
Below are some of the food items you can eat:
Cold foods and beverages to alleviate swelling
Ice cream
Yogurt
Don't use chewing gum until your piercing heals.
Pudding
Look Out for Signs of Infection
You should know how to spot some early signs of infection. Symptoms include green or yellow discharge, some pus, extreme redness, unbearable pain around the piercing, and swelling.
When these symptoms persist, leave the jewelry intact. Do not take it from your skin. Rather, seek medical attention immediately.
Watch Out for Allergic Reactions
Another thing that you should know is what allergic reactions appear like. Nickel is a common component of body piercing and jewelry.
However, it can also induce allergic reactions in some people. Oftentimes, allergies can surface within 12 to 48 hours and may appear through:
Itching
Swelling
Crusty or scaly blisters
Redness
Rash
Dry skin
Observe Proper Oral Care
When brushing your teeth, you must be gentle while removing some food leftovers inside your mouth. It is best if you brush and floss your teeth every meal.
Rinse and gargle your mouth with a saline solution or an alcohol-free mouthwash after eating and drinking for about 30 seconds.
Take note that pierces do not recommend you to smoke during the healing process as it may pose some problems.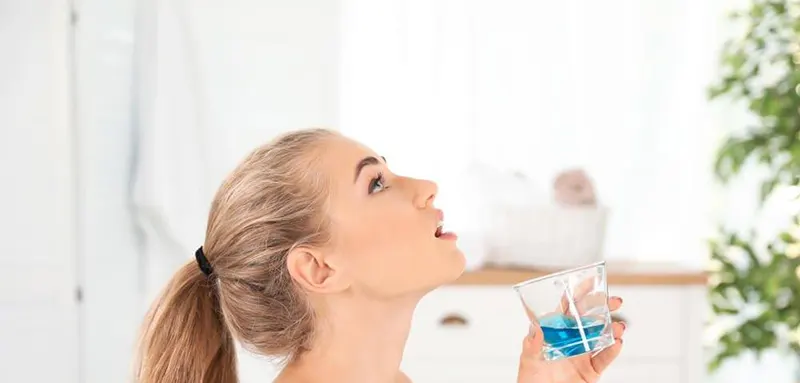 Mix a 1/4 teaspoon of non-iodized sales to make the saline solution with 237ml or boiling water. Afterward, stir well to dissolve the salt and set aside to cool thoroughly. An increased salt content might irritate your mouth.
Soak the piercing
To avoid infection, you can soak the piercing in a small cup filled with salt solution. Leave the new jewelry for 5 to 10 minutes, then rinse with warm water.
Lessen the swelling
Suck on tiny pieces of ice to reduce swelling and pain. Anti-inflammatories that reduce pain, such as ibuprofen, can also be used.
Long-Term Care Tips
Once you know that the piercing area has healed, please do not stop cleaning it. You may stop the saline solution and salt rinses, but ensure to continue taking good care of your oral hygiene to avoid complications.
Check whether the jewelry is still in good condition and of good quality. It is better if it is made of titanium, steel, or 14-karat gold.
Takeaways
As you can see, having a lip piercing will hurt; however, after the swelling has subsided, you can already appreciate the jewelry.
The most significant and most crucial part, however, is the aftercare. Be extra careful during this process. We are confident that you now know how to brace yourself during the healing time.
See your piercer for assistance.
Until your piercer gives you a different recommendation, you should keep doing your regular cleansing and soaking process. Follow this regimen until all symptoms disappear and your lip piercing is fully healed.
If your symptoms don't go away in two to three days or if they get worse, visit your piercer. They can examine the piercing and provide detailed cleaning and maintenance advice.