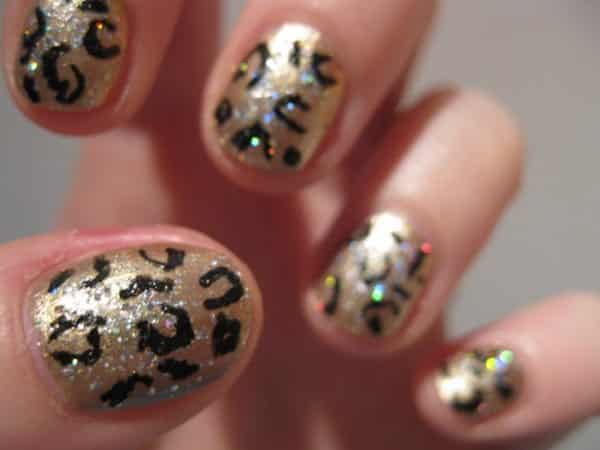 Sometimes the hardest part of creating nail art designs is painting the tiny little details. A great solution to this hurdle is using Sharpie markers to create your nail art designs!
Sharpie nail art is a fantastic way to create amazing designs on your nails whether you're a nail art novice or veteran. Creating Sharpie nail art eliminates the need to wield tiny nail art brushes and painstakingly paint complicated designs. Sharpie nail art is as easy as drawing a designs on your nails. Plus, any mistakes can easily
Sharpie markers also come in a wide range of colors, including basic black, metallics, and a rainbow of other colors. So, your Sharpie nail art designs are really only limited to your imagination. If you're looking for some inspiration for your own Sharpie nail art, it'd be hard to go wrong with these fun designs!
1. Leopard Print Sharpie Nail Art
Leopard print nail art has never been this easy!
2. Gold French Tips
A chic black and gold French manicure design is extremely simple with a metallic gold Sharpie marker!
3. Comic Book Sharpie Nails
All you need is a black Sharpie marker and—POW!—fun comic book nail art!
4. Sharpie Tiger Print Nail Art
These wild tiger stripe nails require nothing more than some sparkly gold polish, a black Sharpie, and a clear top coat.
5. Bright Sharpie Watercolor Nail Art
Watercolor nails are one of the most amazing Sharpie nail art designs you can try!
6. Pastel Sharpie Watercolor Nails
Use lighter colors applied in thinner layers for a subtler watercolor Sharpie nail art look.
7. Sharpie Marble Nail Art
You'll be stunned at how easy these Sharpie marble nails are to create!
8. Sharpie Dream Catcher Nails
Intricate designs, like this whimsical dream catcher, are much easier to create with fine tip Sharpie than a tiny nail brush!
9. Tie Dye Firework Sharpie Nail Art
These tie dye burst Sharpie nails look more complicated than they really are…
10. Flaming Sharpie Nail Art
Some freaky flaming nail art is a breeze with Sharpie markers!
11. Read Heartbeat Nails With Sharpies
These cute heartbeat nails can be created lickety split with nothing more than a red Sharpie marker!
12. Polka Dot Gradient Sharpie Nail Art
Use a black Sharpie fine tipped marker to easily create some stunning polka dot gradient nail art!
13. Blue Polka Dot Gradient Nail Art
For a little splash of color, try a blue polka dot gradient.
14. Tribal Sharpie Nail Art
A tribal design is a breeze when you use a Sharpie marker!
15.Sharpie Peacock Feather Nails
Peacock feather nails are amazing, but normally complicated, nail art designs…unless you use a Sharpie, that is!
16. Metallic Sharpie Polka Dot Nails
Metallic Sharpie markers are perfect for adding some shimmery polka dots to white nails.
17. Sharpie Stripe Nail Art
Polka dots not your thing? Try some fun stripes instead!
18. Pastel Stripe Sharpie Nail Art
Use some light pastel Sharpies for some cute and sweet striped nail art!
19. Sharpie Word Nail Art
Sharpie markers are the perfect tool for creating some word nail art!
20. Sharpie Chevron Nail Art
Finally! An easy way to try the chevron nail art trend!
The final step in any Sharpie nail art design is to seal it with a top coat. However, brushing a top coat over a Sharpie nail art design can sometimes cause the design to blur and bleed a little. To prevent this, you can give your Sharpie nails a quick spritz of hairspray before adding a top coat.