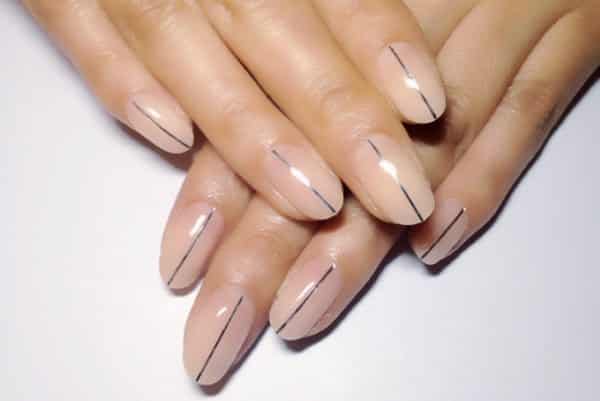 Complicated and detailed nail art is gorgeous; there's no doubt about that! But, as they say, sometimes less is more. And that's where minimalist nail art comes in!
In recent fashion seasons, designers have been rocking some very simple nail art designs. They consist of very basic colors, usually neutral or nude colors, and it's not at all uncommon to see minimalist nail art designs on natural nails either. A good minimalist nail art design also consists of a very basic designs, like a straight line or some simple dots. Nail art enthusiasts can embrace the minimalist nail art trend for a couple reasons. First, these are nice modern nail designs to incorporate into nail art rotations. Probably one of the best reasons to try out some minimalist nail designs, though, is that they are oh so simple to do and easy to paint! Anyone can try some minimalist nails in just a few minutes!
If you need a little inspiration for your own minimalist nail art, check out these awesome modern minimalist nails!
1. Single Thin Stripe Nails
A single thin stripe down the center of the nails makes a clean and chic design. This minimalist nail art design can be created with a thin nail art brush or nail art striping tape.
2. Vertical and Horizontal Nail Stripes
A variation of the striped minimalist nail art design involves mixing vertical stripes with horizontal stripes on the nails. That is, stripes that run down the center of the nail with stripes running across the width of the nail.
3. Wide Center Nail Stripe
Thin stripes aren't the only way to pull off a minimalist nail art design. A wide stripe running from the tips of the nails halfway up, to the center of the nails, can also look modern and trendy. It can even be pulled off on natural or nude nails.
4. Blue Wide Center Stripe Nails
For those of you who want a little color in their minimalist nail art design can try a wide stripe halfway up colored nail polish. A soft pastel color, like this light blue, works well for this design!
5. Side Stripe Nail Art
Painting a single stripe down the center of your nails gives them a modern look, especially when you use contrasting white and black nail polish.
6. Black Triangles on Natural Nails
Black triangles painted on the nails make a fun and simple design. They become an ultra minimalist nail art design when you paint them on plain natural nails.
7. Chevron Minimalist Nail Art
Chevron nail art designs are trendy as well these days. Pair some simple chevron patterns with short natural nails for a modern and sophisticated nail design.
8. Single Dot Nail Art
Think polka dot nail designs look a little too busy? Try just one single dot at the base of the nails.
9. Line of Dots Nail Art
Three dots in a line from the base of the nail look thrice as nice! It's an especially minimalist nail art design when used as an accent nail design.
10. Modern Polka Dot Nails
Here's another fantastic modern twist on some polka dot nail art!
11. Simple Star Nail Art
Polka dots are fun, but stars are so much more enchanting! This simple star nail art design looks like it could be completed in almost no time at all! A thin Sharpie marker could even be used to create the star shapes.
12. Thin Sloped French Manicure
French manicures may be classic and simple nail designs, but they're pretty far from modern! Put a trendier spin on this classic design by painting some super thin sloping tips.
13. Diagonal Tips Nail Design
Wider diagonal French tips also look amazing, especially with a rich color!
14. Half Moon Mani on Natural Nails
The half moon mani has recently become fashionable, and it's often seen as something of a reverse French manicure. There's no doubt that this modern mani looks stunning n short natural nails!
15. Outlined Nail Art Design
Outlined nails may take a little more effort than some other minimalist nail art designs, but the result is so worth it! Try a bright color, like this hot pink, for a nice pop of fun color!
The minimalist nail art designs shown here only take a few moments to pull off. Plus, minimalist nail designs look great no matter what look you're going for. You can wear them as art of a casual style, or to the office. They also make a great nail design for a night out on the town!