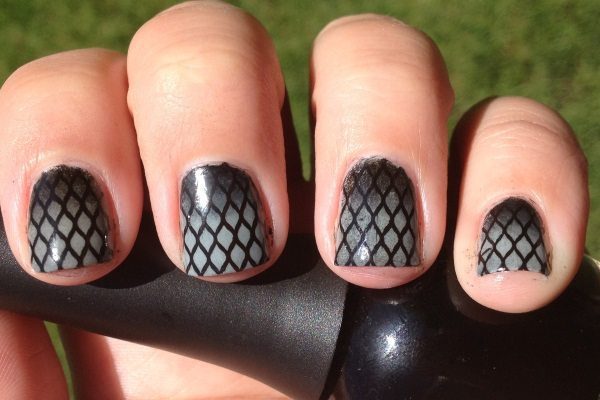 Looking for some awesome sultry and sexy nail art designs to try? Fishnet nails might be just the thing!
Fishnet nail art designs are reminiscent of sexy sheer fishnet stockings. They also have quite an interesting and unique design to them and can be created in a myriad of different color combinations. Probably the easiest way to create fishnet nail art is by using a nail art stamper with a fishnet design plate. However, fishnet nail art can also be painted freehand or added with thin nail striping tape. Embellishments like rhinestones and nail art studs can also add some nice pizzazz to your fishnet design!
Not sure where to start? Check out these fishnet nails for a little inspiration!
1. Gradient Gray Fishnet Nails
A gray to black gradient makes an awesome background for some black fishnet nails!
2. Black Tipped Fishnet Nail Design
Figuring out how to end a fishnet nail art design can be a bit tricky, but this black tipped design nailed it!
3. Lace and Fishnet Nail Art
A lacy pattern makes these awesome fishnet nails a little sexier and a lot sweeter!
4. Fishnet Nail Tips
If you don't want to go full on fishnet nails, you can always cover just the tips of the nails in a fishnet design for a unique and creative look!
5. Pink Fishnet Nails
Use a black fishnet nail design on pink nails for a feminine yet edgy look.
6. Pink and Black Diagonal Fishnet Nail Design
These pink and black fishnet nails have an added diagonal black design to make them stand out from the crowd a bit!
7. Red and Black Fishnet Nail Art
Check out these super hot red and black fishnet nails!
8. Polka Dot Fishnet Nails
These cute fishnet nails can easily be recreated with a small nail dotting tool and carefully placed dots of polish.
9. Purple Fishnet Nails
Purple gradient nails and a black fishnet design mix beautifully on these nails!
10. Nail Striping Tape Fishnet Design
Nail striping tape can also be used to create a fishnet nail art design.
11. Polka Dot and Fishnet Nail Design
Add some cute polka dots to your fishnet nails for an awesome eye popping mani!
12. Fishnet and Rose Nail Art
How sweet and sultry are these rose and fishnet nails?!
13. Outlined Silver Fishnet Nail Design
Outline fishnet nails for a modern, trendy little twist.
14. Heart Fishnet Nails
Red and white fishnet hearts in the middle of glossy black nails are definitely pretty awesome!