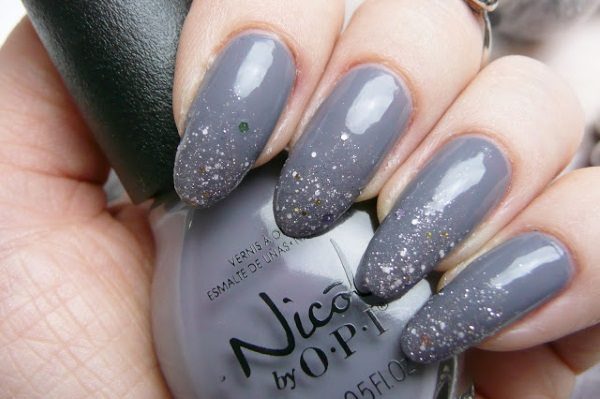 Gray nail polish usually isn't the first thing that pops into people's minds when they think of glitzy and glamorous nail art designs. Most people see gray as a drab, dull, and even depressing. However, gray nail designs can be anything but drab and boring!
If you have some gray nail polish to use, it may be time to think a little outside the color wheel. With a little added effort and additions, gray nail art designs can be just as glamorous as other nail designs. They can even be quite sexy, sultry and sophisticated.
Need some ideas for your own gray nail designs? Check out these looks for some fantastic ideas!
1. Gray Glitter Gradient Nails
One quick way to turn gray nails from drab to fab is by adding a sparkly glitter gradient layer to the tips.
2. Black Tipped Gray Nail Designs
Black glitter nail polish can be painted on the tips of gray nails for a modern twist on a French manicure. Add a silver glitter accent nail for some fun sparkle!
3. V-shaped Gray Nail Design
A couple of diagonal swipes of black and metallic champagne polish at the tips of the nails, and you can easily create some stunning v-shaped gray nail designs!
4. Gray Lace Nail Art
Matte gray nails are the perfect background for some sexy black lace nail art and a few sparkling rhinestones!
5. Gray Flower Nails
Some polka dots, lines, and flowers in white and black stand out beautifully on these gray nails, which are anything but boring and drab!
6. Silver Glitter Accent Nail
Don't have time for complicated gray nail designs? Just add a couple coats of silver glitter polish to your ring finger for a fun and sparkly accent nail!
7. Gray Gradient Nail Design
Black and gray make a beautiful gradient nail design!
8. Gold and Gray Nail Art Design
How do you turn matte gray nail designs into instant glamicures? Add a little gold, of course!
9. Gold Studded Gray Nail Art
Adding some gold studs and glitter gold polish to your gray nail designs can really amp up the glam too!
10. Pink Tipped Gray Nails
You can even add a nice pop of color to your gray nail designs by painting just the tips a fun color, like this hot pink!
11. Gray Marble Nail Designs
If you're looking for unique gray nail designs, do consider this gray marble nail art design. It's sure to get you quite a few compliments!
12. Shades of Gray Nail Design
Paint every nail a different shade of gray, from the lightest to the darkest, for a creative and oh so simple gray nail art design!
13. Gray Dandelion Nails
A simple black line and polka dot design makes a quick and easy dandelion nail design on gray nails.
14. Red and Gray Paid Nails
Finally, you really can't go wrong with gray plaid nail designs! They're funa dn can be paired with nearly any outfit and occasion, depending on the colors you use!
As you can see, gray nail art can be just as pretty as other nail art, so don't be afraid of that gray nail polish. Add some rhinestones or glitter for glamorous gray nail designs or pair it with some bold colors for some fun gray nail art!