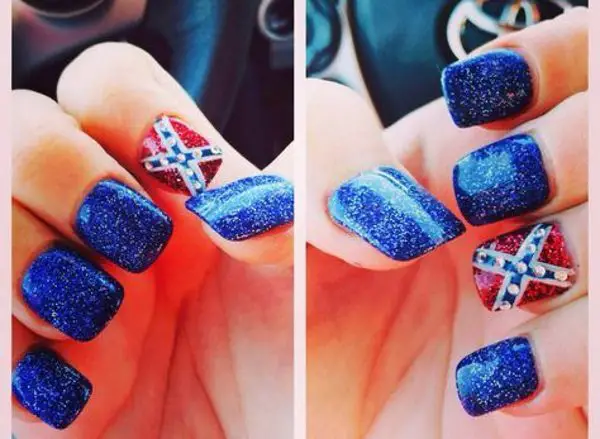 The Southern rebel flag has been the subject of quite a bit of controversy in the pat. However, some people see the confederate flag as a symbol of heritage, Southern pride, and going against the grain. The rebel flag can alo be a symbol of country living. Southern women and country girls even sport rebel flag nail art!
Rebel flag nail art is relatively simple to do. It consists of a red background with a white and blue X lined with stars. With a steady hand, the design can be simply painted on the nails, but tape can also be used for crisp clean lines. Rebel flag nails can also be adorned with rhinestones and glitter for a girlier look. Rebel flag nail art can be painted on all of the nails or nail tips or on just one or two of the nails as accent nails.
Looking for some rebel flag nail art ideas? Check out these examples for some great inspiration!
1. Blue Glitter Rebel Flag Nails
Rebel flag accent nails look smashing with these blue glitter nails.
2. Red Rebel Flag Nails
Classic red nails are a great base for a little rebel flag nail art on the ring finger.
3. Rebel Flag Nail Art With French Tips
Jazz up a classic white tipped French manicure with a rebel flag accent nail.
4. Rebel Flag Nails With Stars
The cute little white stars make these rebel flag nails just adorable!
5. Easy Rebel Flag Nail Tips
With no stars to paint, these rebel flag nail art tips are easy enough for just about anyone to create.
6. Rebel Flag Nail Art Tips
Another simple rebel flag nail art design on the tips of the nails.
7. Rhinestone Rebel Flag Nails
Rhinestones add a fun sparkly touch to these rebel flag nails!
8. Decorative Rebel Flag Nails With Blue Tips
Two little rebel flag nails add some Southern charm to these decorative blue tipped nails.
9. Red, White, and Blue Rebel Flag Nails
Rebel flag nails on the thumb and ring finger adorn cute red, white, and blue nails.
10. Matching Rebel Flag Nails and Toenails
Because you can't have rebel flag nails on your fingernails if the don't match your toenails!
11. Dukes of Hazzard Rebel Flag Nails
Any fan of the Dukes of Hazzard will recognize and appreciate these rebel flag nails!
12. Black and Silver Rebel Flag Nails
For a darker and more sophisticated look, try some rebel flag nail art as an accent to sparkly black and silver nails.