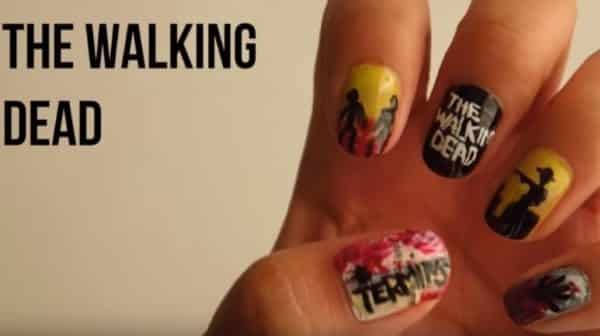 The Walking Dead has quickly become one of the most popular television series today. There's just something about zombies, groups of survivors, and a heroic bad boy with a crossbow to get people's blood pumping. The popularity of the show has spawned all sorts of zombie themed merchandise, from tee shirts to coffee cups.
Female fans can also express their love for the show in another way—The Walking Dead nail art!
The Walking Dead nail art designs vary, depending on the artists, but they almost all center around the undead and a dark work. Typically, dark nail polish colors are used, but splashes of red for the often seen blood on the show is also common.
If you're a fan of this zombie survival show, check out these The Walking Dead nail art designs for some awesome new nail art designs!
1. White Walking Dead Nails
Shades of gray, black, and red splashed across these nails makes this some creepy, yet pretty cool, Walking Dead nail art!
2. Gray Walking Dead Nails
Gray nails are a nice backdrop for The Walking Dead nails. The white lettering and red splotches help break up what would be an otherwise dull ray mani!
3. Walking Dead Portrait Nails
These portraits of Rick and Daryl make for some amazing The Walking Dead nail art!
4. The Walking Dead Nail Art Tutorial
Watch a quick video tutorial and create your own The Walking Dead inspired nail art!
5. Blood Splattered Walking Dead Nails
The red splattered polish resembles a creepy bloody mani, making it quite fitting for The Walking Dead nail art!
6. Creepy Matte Walking Dead Nails
A matte mani just seems more fitting for The Walking Dead nail art.
7. Blood Smeared Walking Dead Nail Art
This The Walking Dead nail art design has it all—Rick, Daryl, walkers, and even warnings. Combine that with some "bloody" smears, and you have a super creepy mani!
8. Dripping Blood Walking Dead Nails
The bloody elements seem to be a bit of a recurring theme in The Walking Dead nails, don't they?
9. Daryl Dixon Nail Art
It's no surprise that sultry bad boy Daryl Dixon would pop up in a list of The Walking dead nail art. He is, after all, a fan favorite!
10. I Heart Daryl Nail Art
Ok, so this is more like "I crossbow Daryl," nail art, but we get what you mean!
11. Daryl Dixon Wings Nail Art
If you don't want to go overboard with your Walking Dead nails but still want to add a little Daryl to your life, these Daryl Dixon wings might be just the thing!