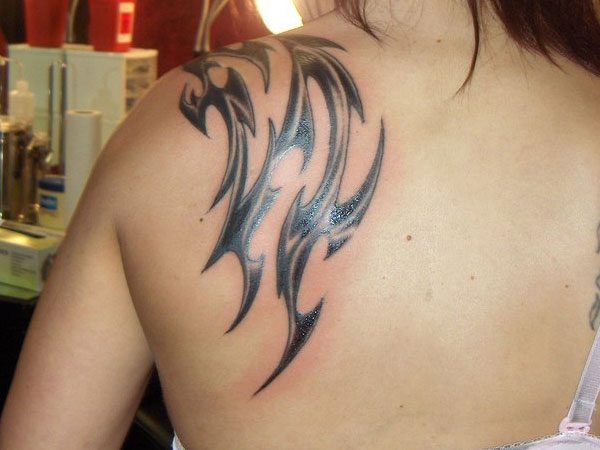 History and tradition always attracts us and we keep coming to them for inspiration and guidance. There is a lot that they have to give and they do that generously without demanding anything in return. The modern style statement of tattoos is also not bereft of the traditional influence. They draw a lot from the past. If we talk of tribal tattoos, they are a rage with men and women. The cool look of the tribal tattoos attracts them to get the art work carved on their various body parts. One very favorite spot is the shoulder.
Tribal shoulder tattoos look great with their meandering curves and sharp, pointed angles, when created here.
There are many designs and patterns that can be created on the shoulder with the tribal theme. Since, these tattoos have a bold display they catch attention very easily. Wearing a tribal tattoo also symbolizes that the person is a believer of tradition and culture. Many people who have a tribal lineage also get the design carved on their body. Here we are presenting a collection of 30 tribal shoulder tattoos that will give you more details about their aesthetics. Have a look.
If you like this article, you might be interested in some of our other articles on Arm Sleeve Tattoos, Hand Tattoos, Samoan Tattoos and Inspirational Tattoos.
Lovely Shoulder Wrap
The girl has chosen a nice tribal pattern to grace her shoulder that looks very acute and crisp.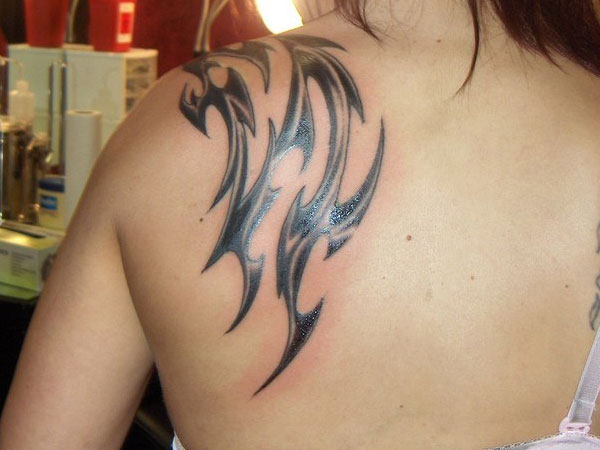 Criss Cross Tribal Design
Bold arcs intersecting each other in between create a fabulous design that is also a simile for the turns and twists of life.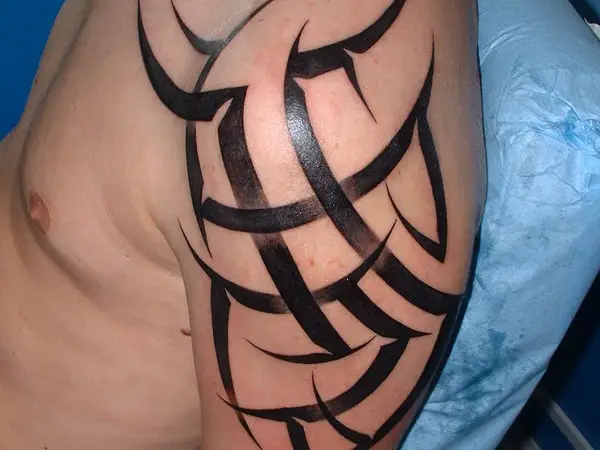 Tribal Shoulder Tattoo
The guy makes a show of his long tribal tattoo stretching up to the back that looks very vivid.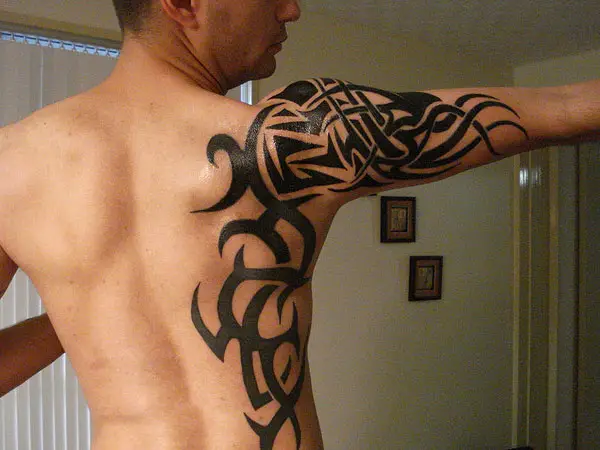 Messy Tribal Shoulder
This tribal tattoo design has got a maze like look that is puzzle some and quite enthralling.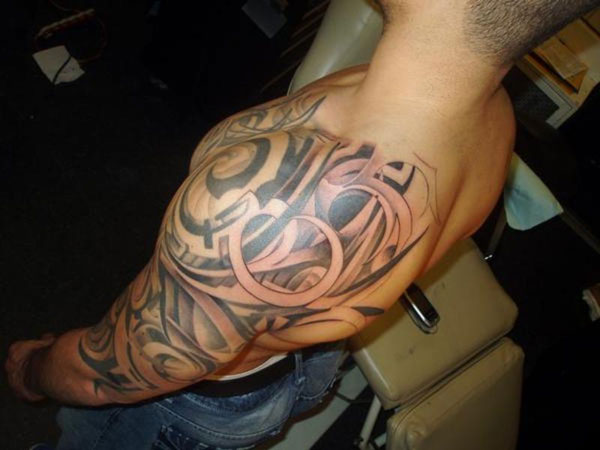 Long Tribal Piece
Stretching from shoulder to the back, this tattoo has a marvelous look that is quite striking.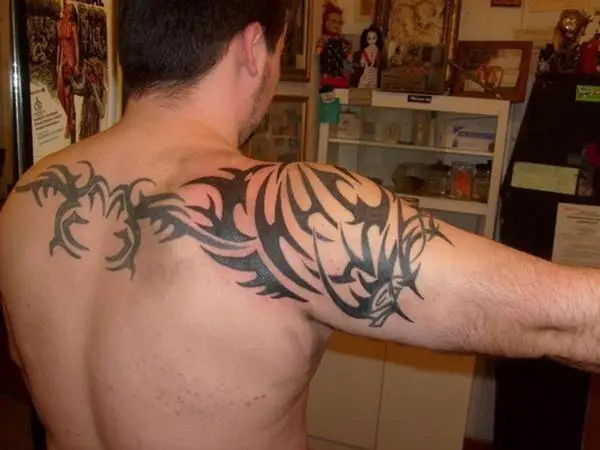 Tribal Tattoo Profile
This black and curvilinear tribal tattoo, created on the shoulder makes for a catchy portrait.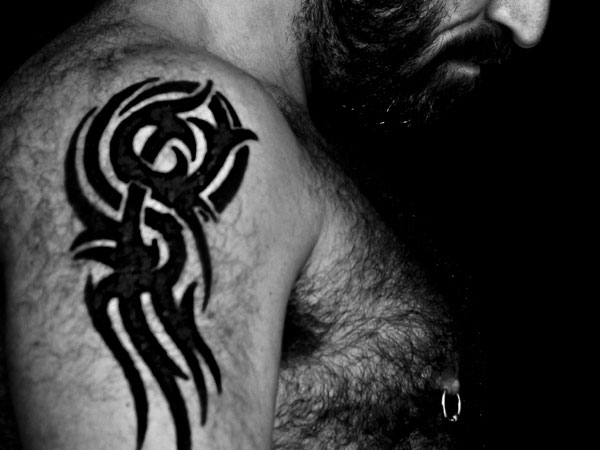 Bloody Tribal Tattoo
A large, red tribal tattoo represents angst and aggression towards all that needs to be changed.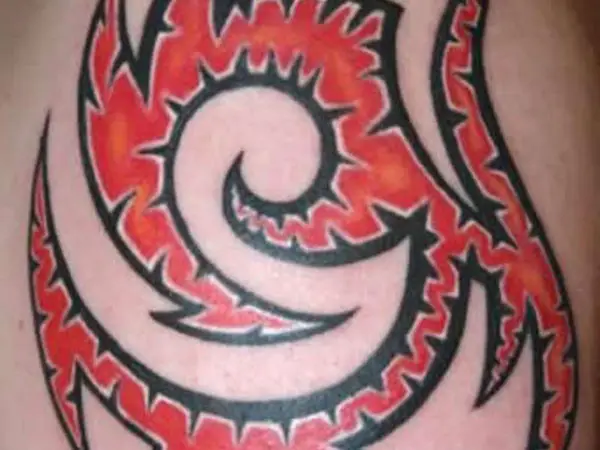 Bold And Badass
The tribal tattoo, resting on the robust shoulder makes it look more appealing and strong.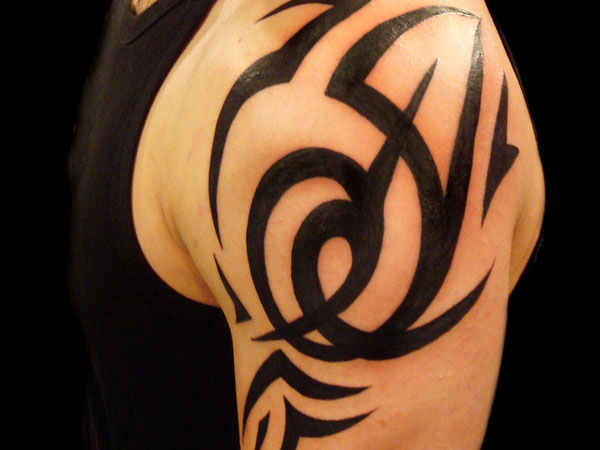 Colorful Tribal Design
Carved in white, red and black, this tribal tattoo has got a nice and elegant look.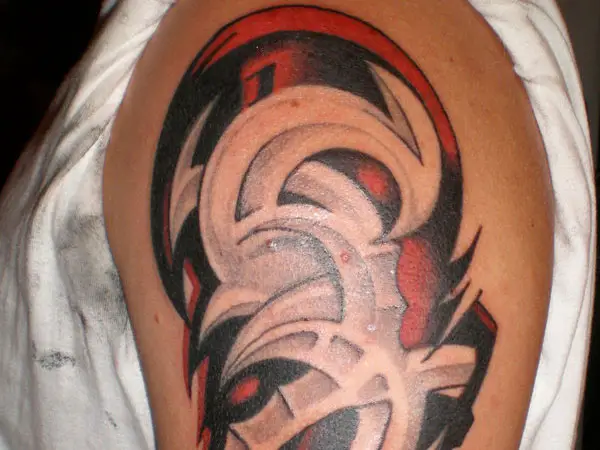 Love Tribal Art
This man has decorated himself with tribal tattoo design on shoulder, face and chest to show his love.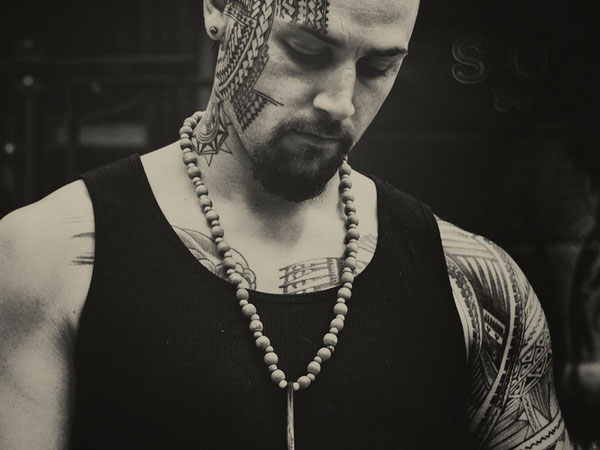 Shoulder Side Tattoo
A sharp and pointed design with curves and circles that looks fine, sitting on the shoulder.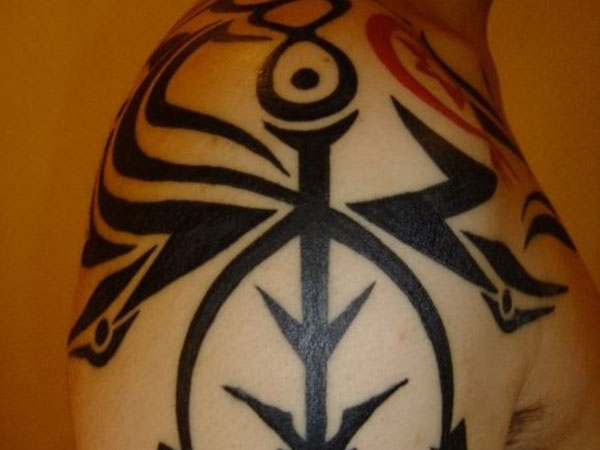 Tribal Fill In
Tribal fill in design that resembles the raging dragon, carved on the shoulder, looks pretty cool.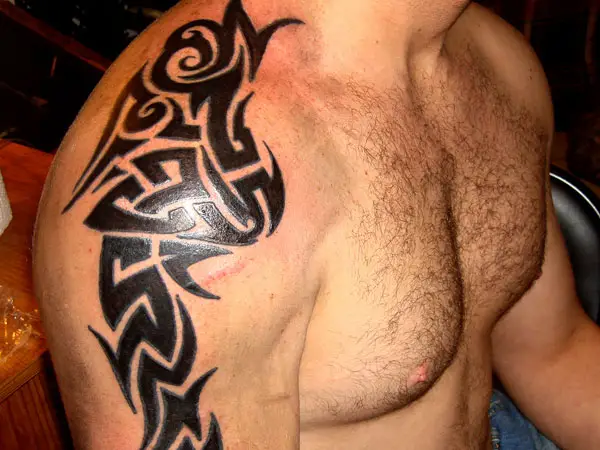 Shoulder Cap Tattoo
Displaying green shade, this freehand tribal tattoo design, has got a sober and eco-friendly look.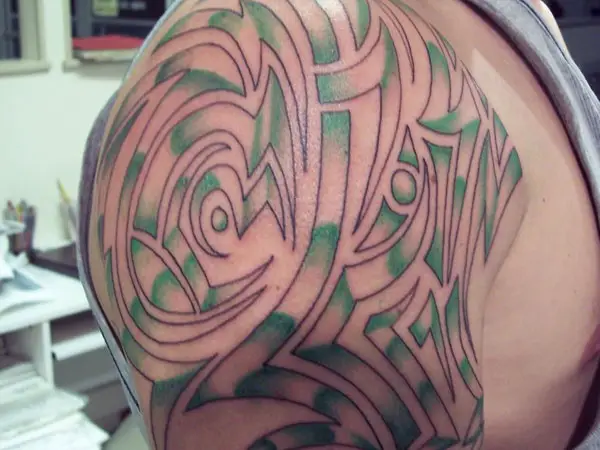 Pretty Tribal Tattoo
This tribal tattoo, carved with strong ink, has got an exquisite look that is cool and well-composed.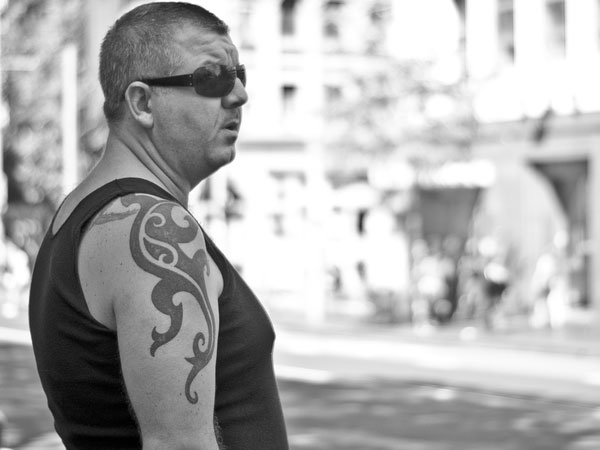 Beautiful Bold Tattoo
The shoulder is really a cool place to get a tribal tattoo as it looks damn charming on this location.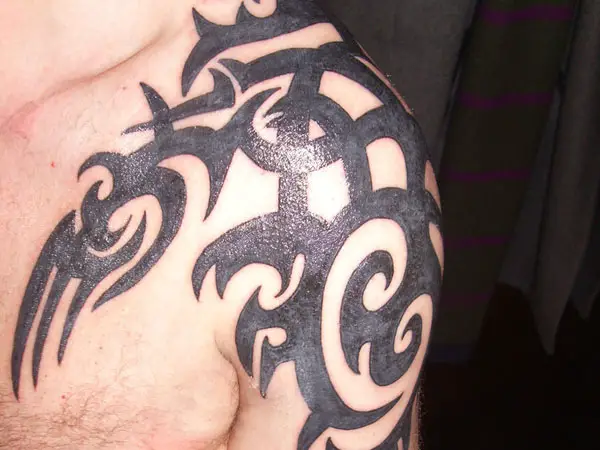 Maori Carving
This tattoo, finds inspiration from the Maori tribe in New Zealand and represents inner strength.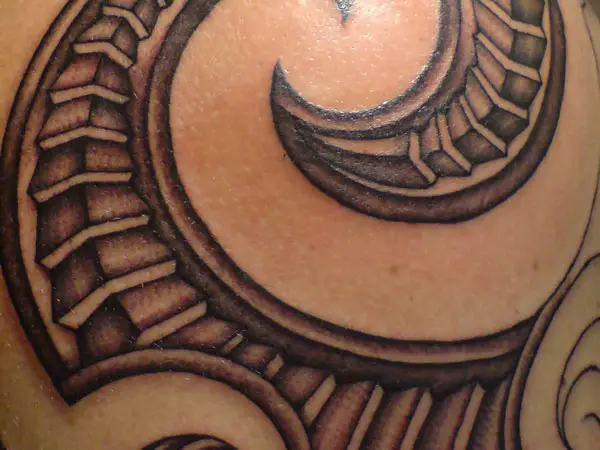 Ethnic Body Art
The tribal tattoo symbolizes the fact that the wearer believes in roots and tradition.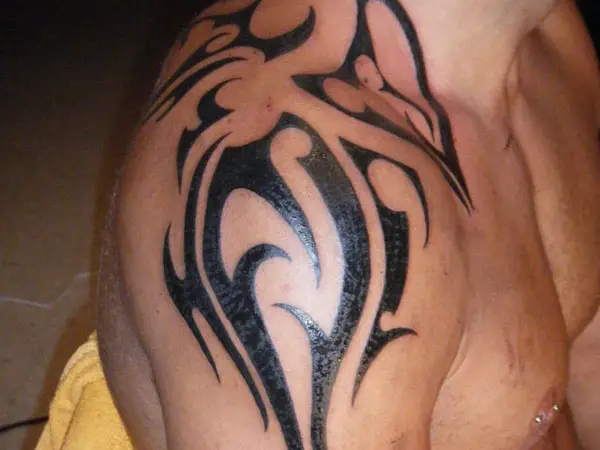 Vines Tribal Tattoo
Expansive and eye-catching, this tribal tattoo symbolizes the significance tribes bestowed on nature.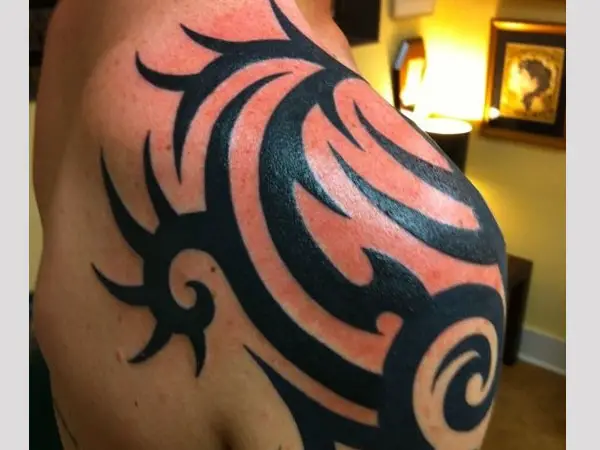 Vines Tribal Tattoo
Tribal Fish Design
Look at this shoulder tattoo closely, it has a fish like appearance that appears quite charming.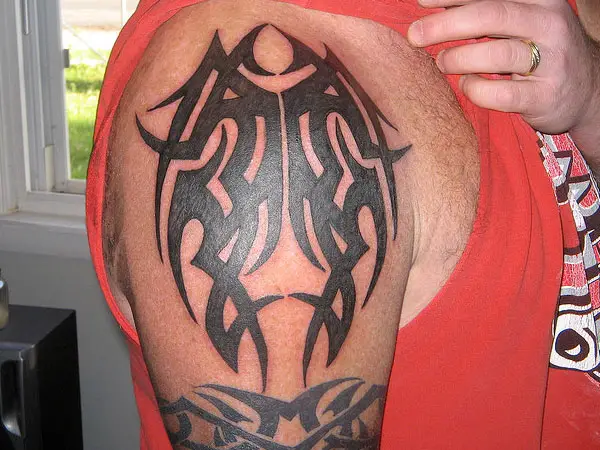 Tribal Shoulder Tattoo
A nice aesthetic piece that has got a freaking traditional look makes for a stunning portrait.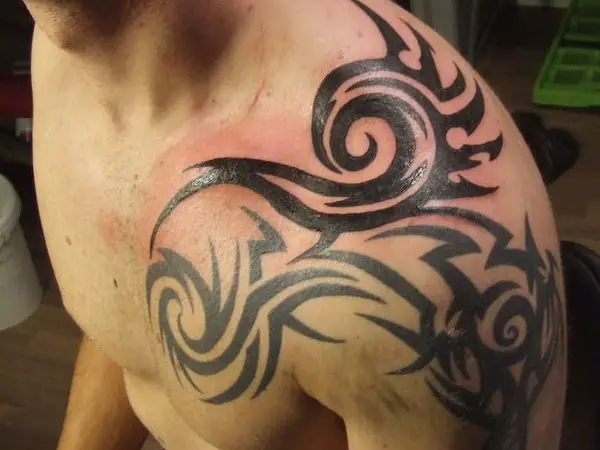 Tribal Shoulder Tattoo
Tribal Fox Tattoo
A symbol of shrewdness and cunning nature, this decorative tribal fox is looking very distinct.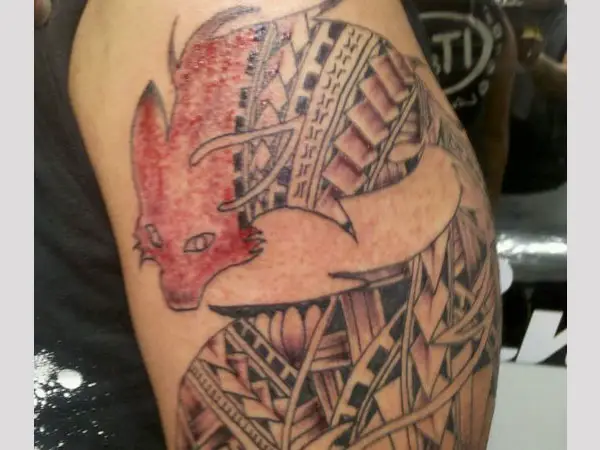 Tribal Design Tattoo
Bold and curvy lines done in black ink on the brown skin are a treat to watch as they look luscious together.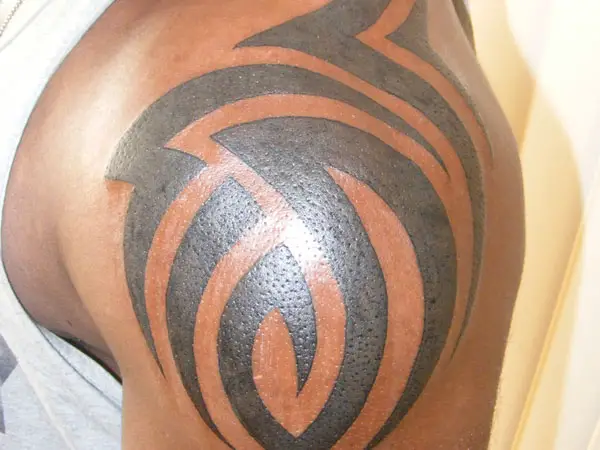 Cool Tribal Shoulder
Looking like a creeping insect, the tribal shoulder design looks quite creative and charming.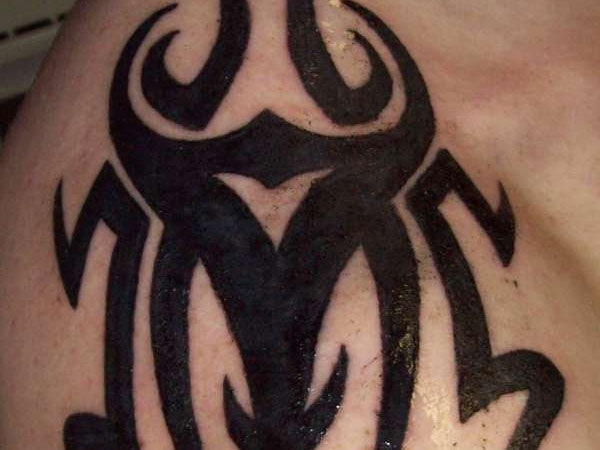 Mechanized Tattoo
Carved with black ink, this tattoo, having sharp nails and tools design, is sure to appeal a techie.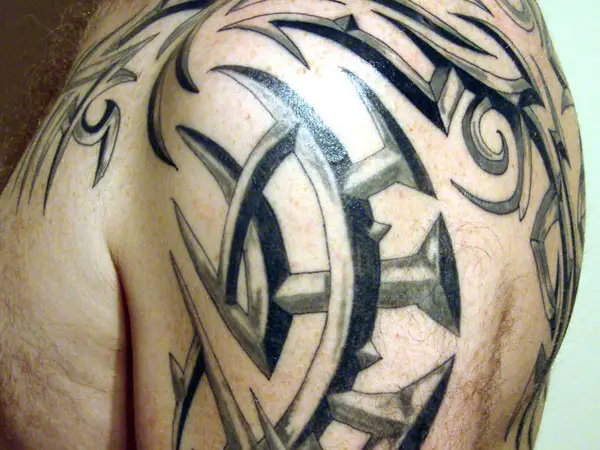 Polynesian Style Tribal Tattoo
This tattoo can be considered to be the genesis of the body art as the Polynesian word gave birth to the style statement.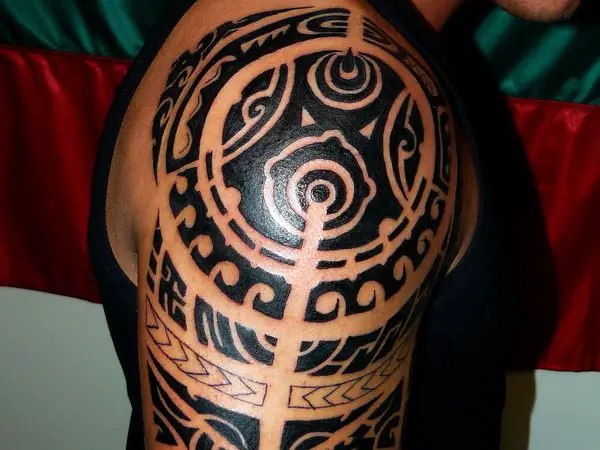 Polynesian Style Tribal Tattoo
Distinct Tribal Tattoo
The tribal tattoo has a unique look oozing with boldness that enhances the appeal of the style statement.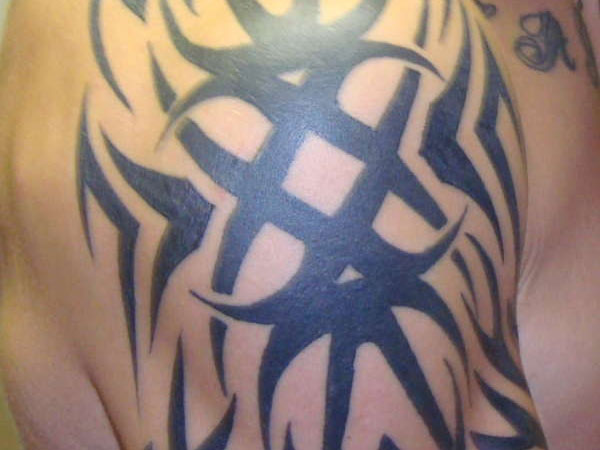 Sexy Tribal Tattoo
Carved on the shoulder, this tribal tattoo has got a very appealing look that is clear and distinct.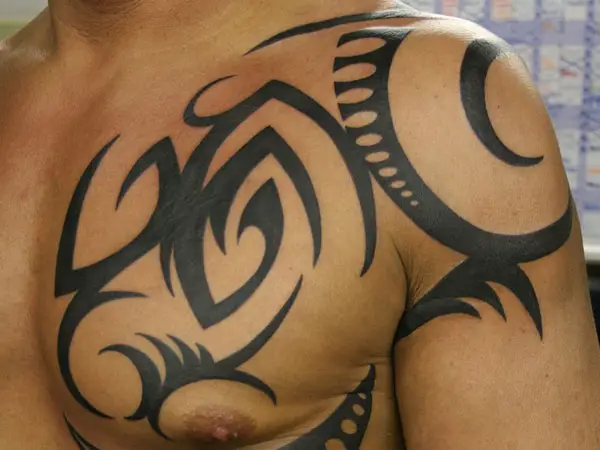 Creepy Tribal Tattoo
Displaying a skull, an eye and flames, this gothic tribal tattoo looks scary.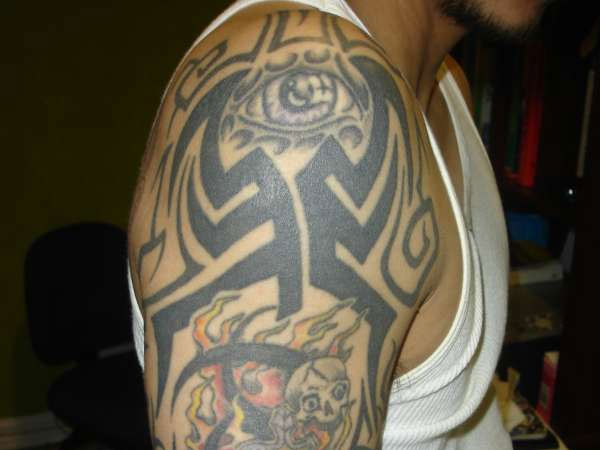 Tribal Shoulder Plus Arm
Pointed and angular, this shaded tribal tattoo looks like a snake crawling on the shoulder.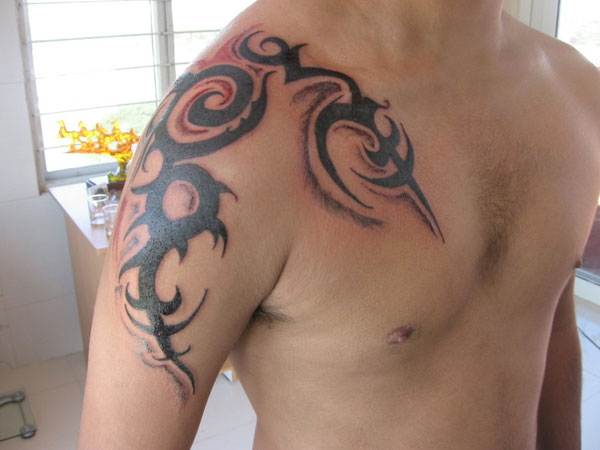 Creative Shoulder Tattoo
Tribal tattoo with Celtic knot makes for a spiritual and traditional style statement