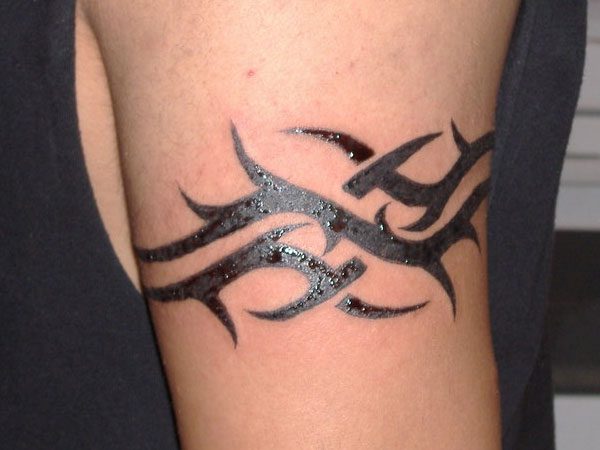 Anything that is ethnic is of great interest and curiosity. These tribal band tattoos are no less. They have a general theme of curves and geometrical shapes forming a rope around the wrist, ankle or leg like a sort of band. Most of these tattoos have the classic dark and bold lines and shapes that look very prominent. There are some that have different colors for a change. Also, some have other themes that combine with the band tattoo to form an unusual form of artistic display that is quite attractive.
Tattoo art has a lot of freedom of expression. Themes change from person to person and so do ideas within the theme. They have the usual bold dark lines and curves that are characteristic of these tattoos. But each has a small difference that makes every one of them a piece of art worth imitating. The dark ones as well as the colored or shaded ones have an inherent artistic style that looks superb whether the design is big or small.
If you like this article, you might be interested in some of our other articles on Tribal Dragon Tattoos, Polynesian Tattoos, Hand Tattoos and Free Tattoo Pictures.
Art and Glory
This tribal band tattoo has a very simple design but in bold dark lines that show off the perfect formation of the curves. The knife-edge kind of points and the interwoven look makes it a very artistic tattoo.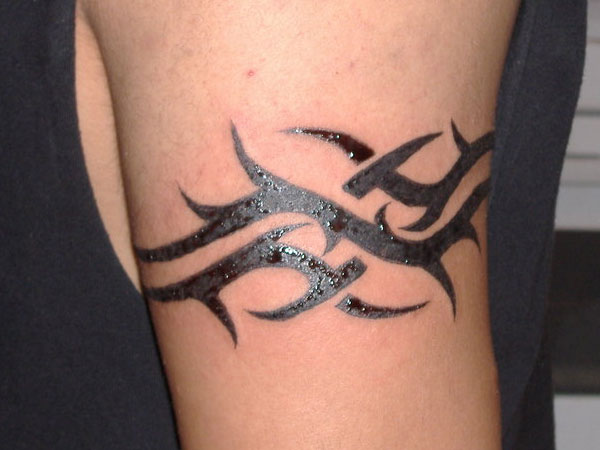 Flames in a Row
This picture shows a tribal tattoo that looks like a line of flames rising up in an inferno. The curved form of the tattoo lines makes the flames look as if they are almost real.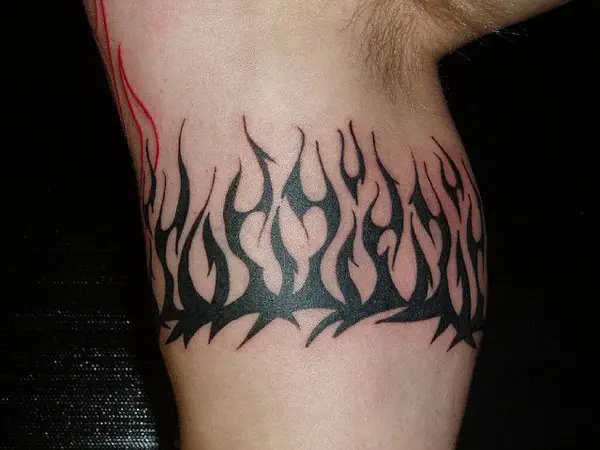 Symmetry and Geometry
This tribal tattoo with a Hawaiian flavor looks very classy. The symmetrical lines are parallel and look like a very intricate design of delicate art.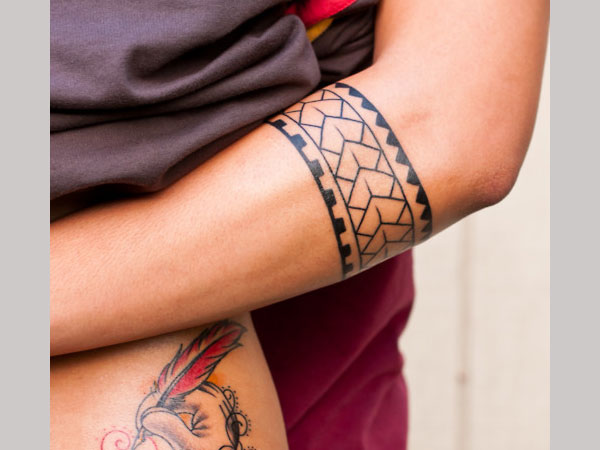 Symmetry and Geometry
Sharks and Fish
This tribal tattoo on the bicep looks like it has been inspired by marine life. The almost shark-like shapes look menacing and awe-inspiring, especially since they have been designed in such bold lines.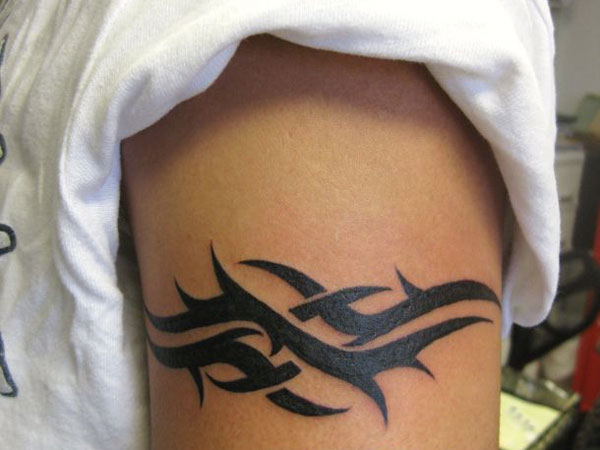 Nature
The tribal tattoo in this picture, with its bold dark lines looks like a band of thorns that have got entangled. The shapes have been designed with perfect symmetry and no line is out-of-place, making it a great artistic piece.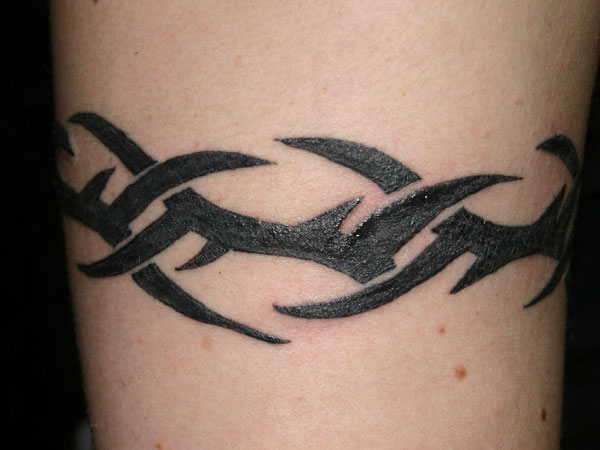 Worth Showing Off
This tribal band tattoo is worth showing off. The simple yet artistic flavor of the thick parallel lines with the simple curves within them, make it a classy and prominent tattoo to have.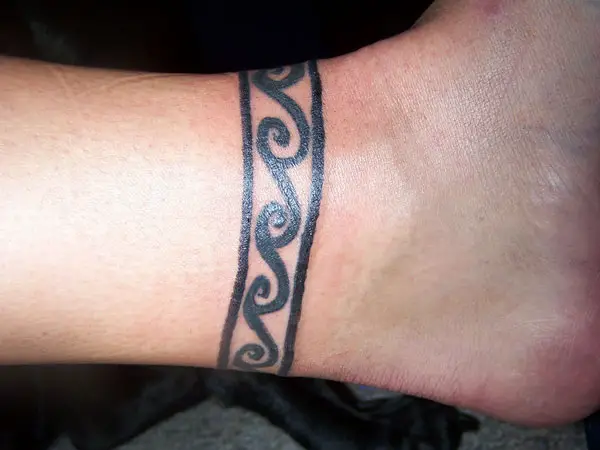 Crusaders of Religion
The tribal band and the shield combine together to form a very bright and artistic tattoo. The shield resembles those carried by the ancient Knights Templar who had the responsibility of protecting religious treasures.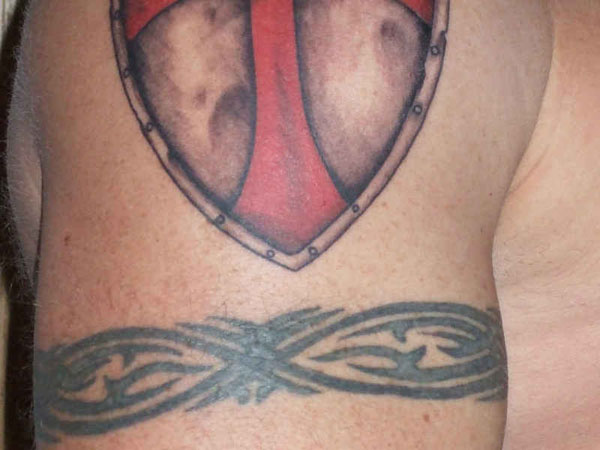 Geometric Masterpiece
Geometric designs are the classic style in tattoo art. This tribal band tattoo has an array of curves and shapes that fit perfectly within the framework of the band around the leg making it very prominent and stylish.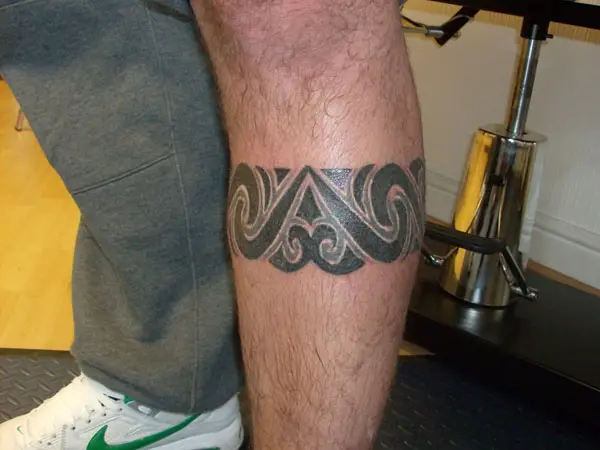 Barbed Wire
This tribal wrist band tattoo reminds one of barbed wires. The curves and sharp points all form a circle around the wrist in an unusual display of simplistic tattoo art.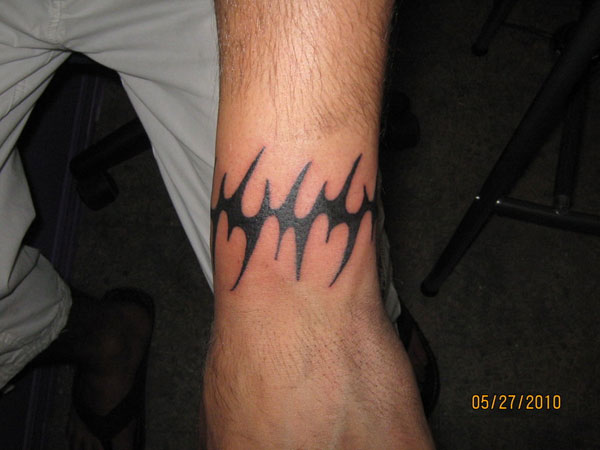 A Sudden Change
This is an unusual blend of themes that go well together despite their disparity. The tribal band tattoo with its usual curves and points looks very artistic in its pitch black formation. Then, there is the image of Popeye in blue pants with his muscled arms ready for a fight.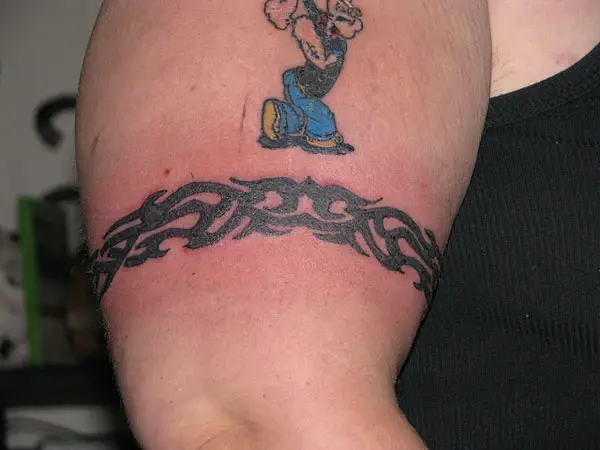 The Classic Tribal Band
This has a classic look. The design is in simple dark lines and curves with the traditional tribal look about it. It reminds one of arrows, shields, trellis-work and garden implements because of its strange shape that is an attractive whole.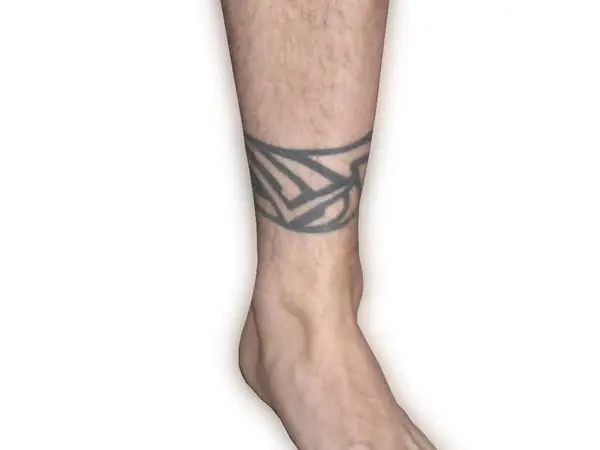 Superlative Tattoo
The design of this tribal band tattoo is superlative. It looks like a complicated rope tied around the arm with its many twists and shapes that seem to be woven one into another. The shading makes the band look very classy.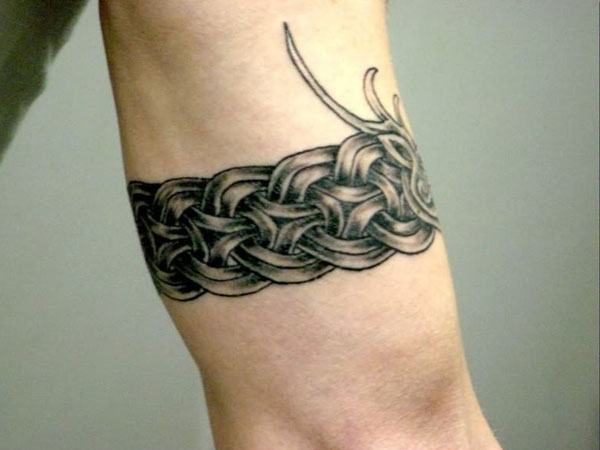 Superlative Tattoo
V and Curves
This is class where tattoos are concerned. The "V" shapes and the pointed curves mingle together to form a fantastic tribal band tattoo that is bold and prominent and worth showing off.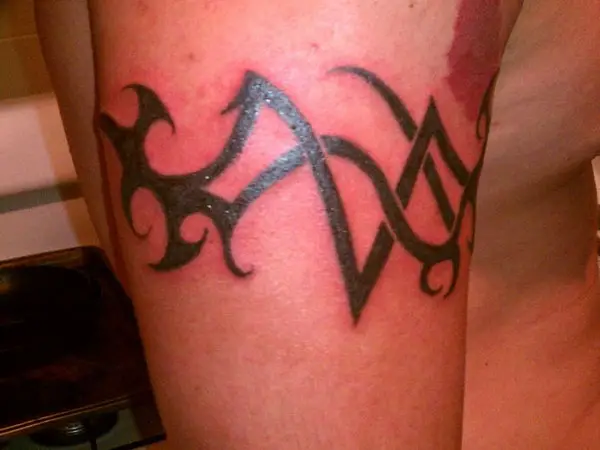 Warrior Art
This picture shows a tribal band tattoo that is more like an artistic pile of a warrior's swords and knifes. They dark and bold curves overlap to form an interesting design that looks great.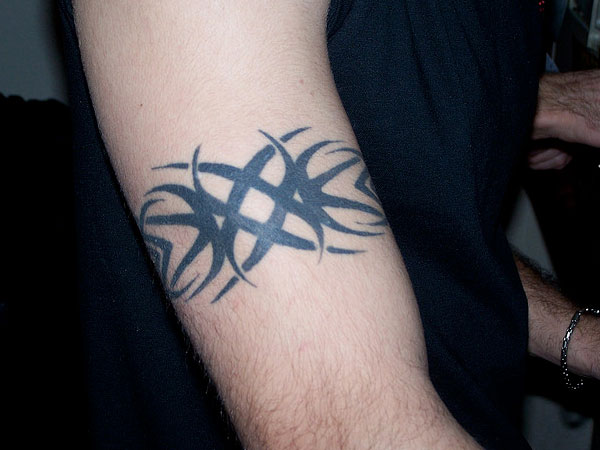 Undecided or What!
This is a strange combination of tattoos. The tribal band tattoo is the usual but classy piece of art with its bold and dark curves and lines. Then there is the tattoo of a pair of cherries in red splendor that makes the combo seem odd, but may mean something to the wearer.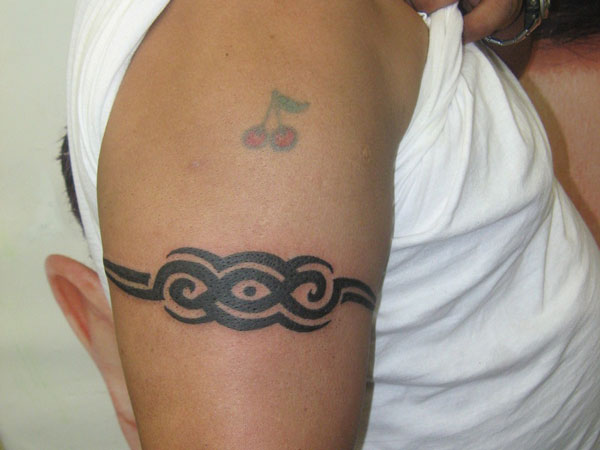 The Class One
As tribal band tattoos go, this is an unusual one. Most such tattoos are only in black. This has superb shades of green and blue, but the basic theme of interwoven curves and shapes has remained the same, making it a very attractive art form.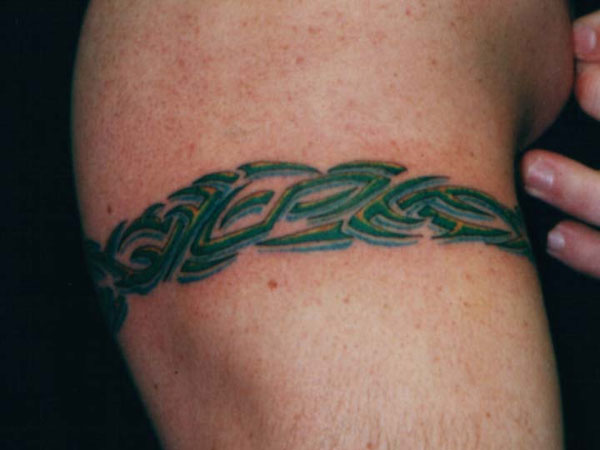 The Class One
Oriental Tribal Art
A superb combo comes into existence when you have a tribal band tattoo with an oriental letter tattoo. The band tattoo has an unusual design that looks like twisted barbed wire and the oriental letter makes the whole picture very uncommon.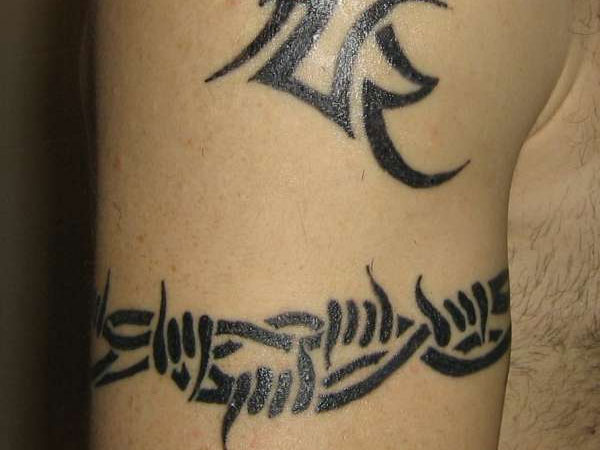 Bright Splash of Color
This is a fantastic piece of tattoo art. The usual tribal band tattoo with it dark bold lines and curves is interspersed with bright red triangular shapes making it a tattoo worth copying.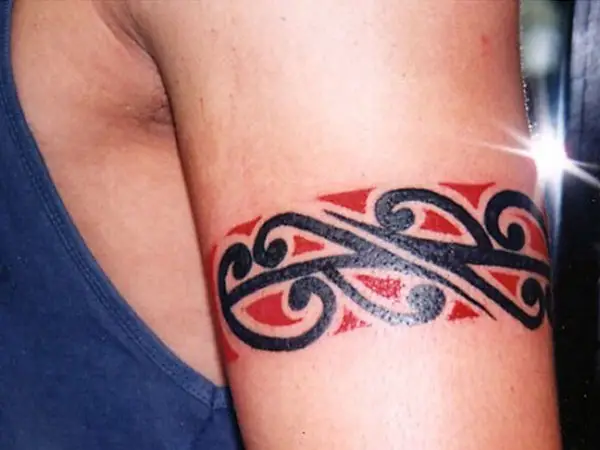 Bold and Slim
This is a slightly out of the ordinary tribal band tattoo. Most such tattoos have very dark and bold lines that are characteristic to the style. The thin parallel lines within the main shapes make this a superb piece of art.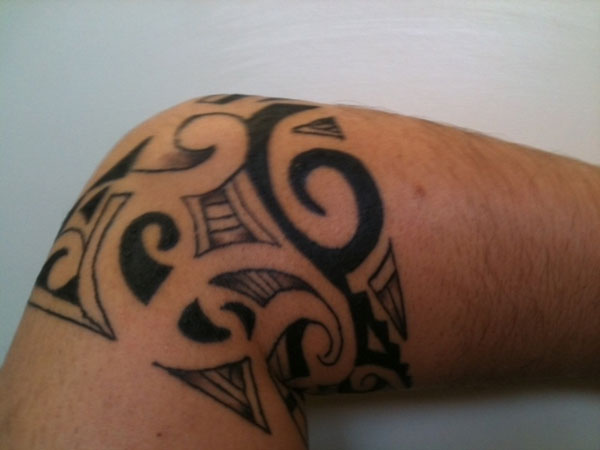 Almost Like Letters
This is a display of artistic license. The tribal band tattoo, with its usual curves and shapes suddenly seems to look like a line of alphabets in some language. This artistic effect makes the tattoo a superlative one.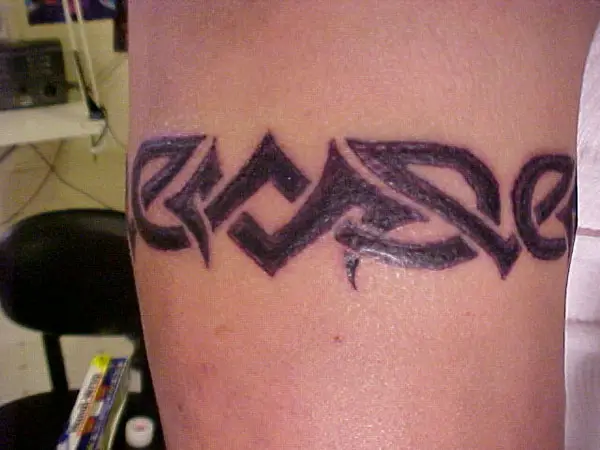 Almost Like Letters
Class Apart from the Rest
Tattooing geometric shapes and curves is not a new concept. But as tribal band tattoos go, this one takes the first prize. The bold and dark shapes are filled with yellow and red shading making the whole design look very artistic and stylish.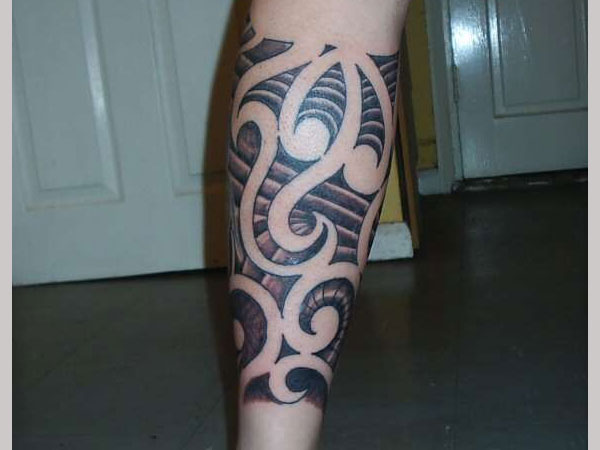 Dual Tattoo Effect
Two tattoos, a single design like a letter and a tribal band tattoo below it, makes a very classy design. The band looks like barbed wire with its twists and points but has a superb artistic talent written all over it.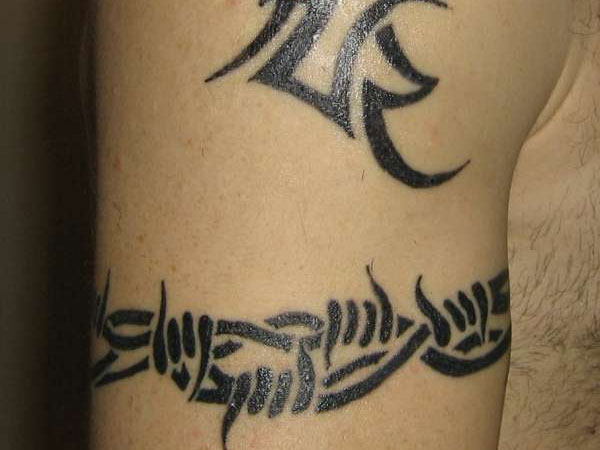 Monuments and Galleries
This tribal band tattoo reminds one of monuments and balconies with its bold curves flanked by two bands of think parallel lines. The design is very prominent and an obvious style statement.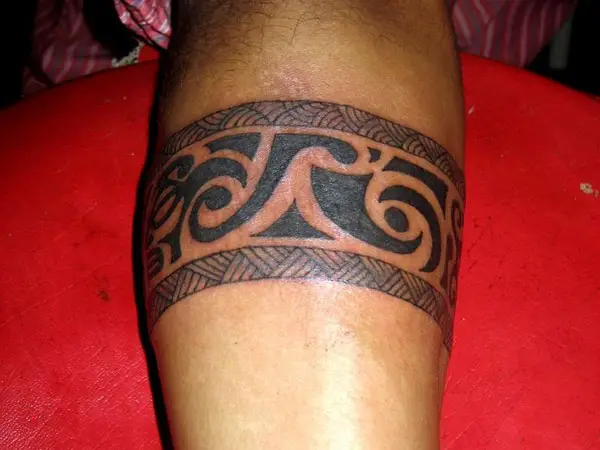 Roped Wrist
The rope like shapes of this tribal band tattoo is truly classy. There is no blank space and the design is intricate and full. The shading of the rope like tattoos in pinkish gray is worth imitating.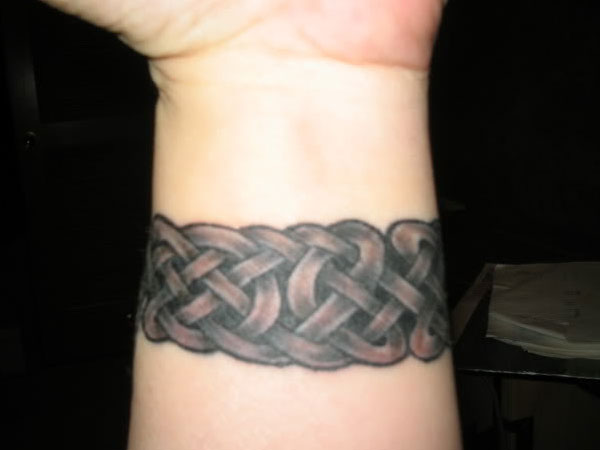 Moon Theme
This tribal band tattoo seems to have a general theme of the shape of the moon. The delicate shapes have an occasional filling of bold geometrical shapes to make a superb combination of styles.