Among the tattoo wearers there are also animal lovers who like to get their favorite pet or animal carved on their body instead of decorative pieces. Amazingly, this section comprises both men and women. Though their tastes are different, certain animal tattoos are equally liked. The stallion tattoo is one such tattoo. It brings a beautiful and stately look to your body. The horse has always been a friend of man and took him on various amazing expeditions. Therefore, it is revered across all civilizations for its usefulness and benefits.
The stallion tattoo, apart from being handsome, also possesses spiritual significance and meaning. The animal is said to be blessed with holy powers and guides man on his spiritual journey. It also symbolizes wisdom and strength. Since, time immemorial the horses have carried men on various adventurous expeditions and journeys and this very ability has found them the respect and love of human beings. They are also worshiped in some cultures and said to wield spiritual powers. Well, in the current times, the symbolism and look both matter and even if they don't anyone who gets a stallion tattoo engraved on his skin gets applause from onlookers. Check out these 20 stallion tattoos and you will know why.
Black Stallion
This black horse tattoo carved on upper back of the woman is known to have extraordinary endurance and power.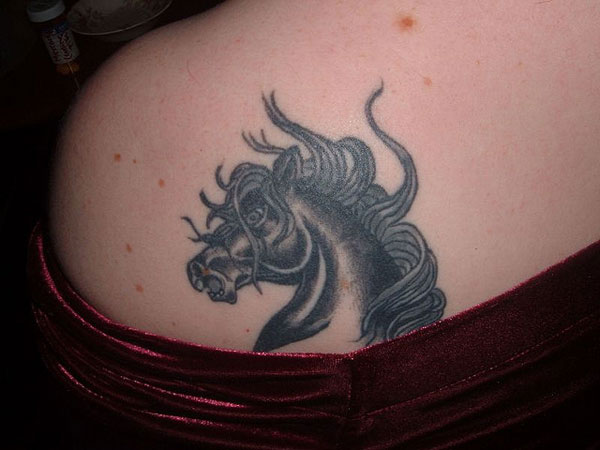 Giant Leap
This black and white stallion tattoo carved on upper back of the woman has a graceful and majestic charm.
Stallion Pride
This proud owner has a docile looking stallion carved on his calf.
Spirited Stallion
This stallion is neighing loudly and wants to break free all the shackles.
Let Us Run
These two stallion friends with black and white shade on their body are looking at some danger approaching them.
Stallion Of The Cimarron Tattoo
Blue Stallion
A bright, sky blue color stallion carved on the forearm looks lively and energetic.
Jumping Stallion
This stallion is warming up before a rigorous ride to be undertaken by his master.
Shoulder Mane
The curly, vine like mane of the stallion carved on the shoulder is the major attraction of this tattoo.
Black Magic
The woman wearing an off shoulder red top has a black stallion on her upper back that looks fabulous.
abc
Flaming Mare
This mare with yellow-orange flames around her body represents passion and fire.
Marvelous
Carved above the ankle in black color, this stallion tattoo looks mind-blowing.
Amazing Piece
This large and black stallion tattoo carved on the back has a fine, smooth body.
Bicep Tattoo
This tribal horse carved on the bicep appears to be in a sour mood.
Black Ink Tattoo
This dainty tattoo created on the back has a mysterious charm.
Stallion Pair
These two stallions sitting along side each other look somber and lost in thoughts.
Wild Stallion
This chest tattoo showing a stallion taking vigorous strides indicates that it has ran away from its stall.
Stallion Head
The flowing mane of this stallion and the calm look on its face signify strength and wisdom.
Yellow Stallion
This is an exclusive stallion tattoo piece that looks stately.
Tough
A stallion is known for its sturdy and strong qualities which make it the ultimate majestic animal.
Wedding Special
The bride wearing a small stallion tattoo on her upper back looks unique courtesy the horse piece.