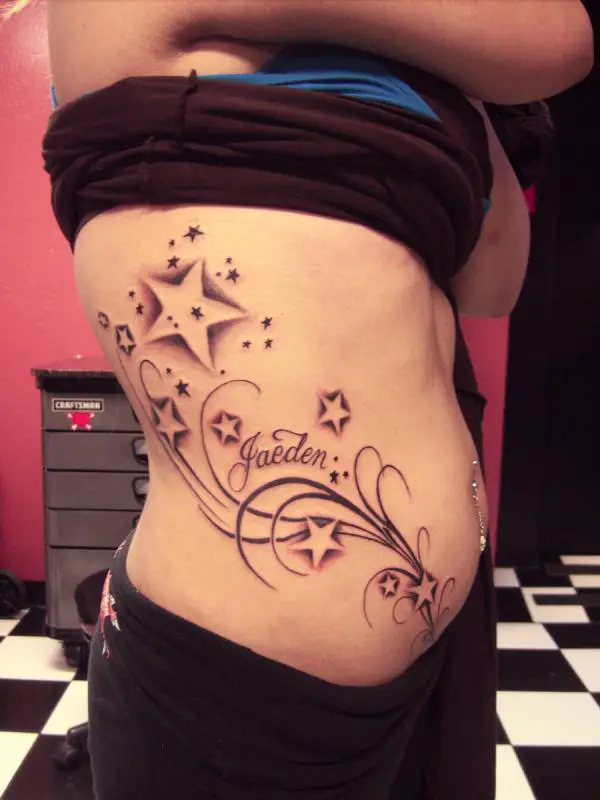 Side tattoos, which you also know as the rib tattoos are a real treat to the eyes. Exotic side pieces usually include striking designs, bold colours and intricate artwork, unless you do not opt for soft or cute themes. Be it for men or women, side tattoos are loved by both crazily. You need to possess extreme enthusiasm and conviction for tattoo art to sport a great looking sidepiece. It takes a lot of confidence to sport a side boob tattoo but it is definitely one of the better places to get inked. Side tattoos or Rib tattoos can surely get anyone's attention, especially when you're at the beach and sporting a bikini. That is why we are going to show you what we believe to be some of the coolest side tattoos that we have ever seen.
Side Tattoos types:
One can go for a big design or smaller according to one's taste. Small tattoos rank low on the Tattoo Pain Chart while big tattoos just adds more design to your body. A side tattoo may extend from the shoulder to the waist for a real sultry or bold look. Use your creativity and turn heads with side tattoos. Here's an assortment of 80 different types of tattoos to match the tastes and styles of all. Go over the list below and you will surely find a design that catches your eye. you may even find a design that you would like to have tattooed on yourself.
This article is divided in 16 Sections:
Side Tattoos for Women
Pretty designs for women to tattoo on their side body and put forward their unique style statement.
Girl Side Tattoo
This girl's side tattoo is composed of pretty looking stars, curly swirls, and the wearer's name Jaeden. Rib tattoos are usually personalized so that wearers can show them off.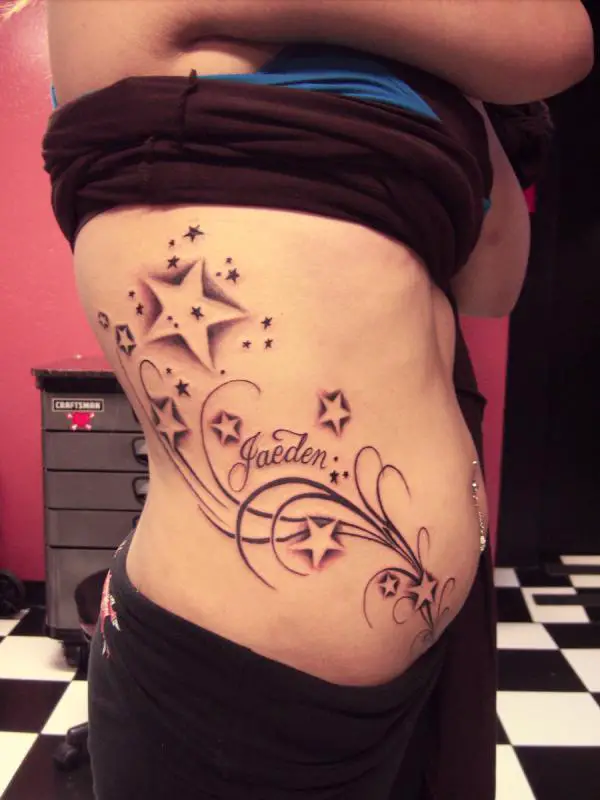 Finished Cherry Blossom
Tall cherry blossom tree with lovely flowers and solid bark tattooed all along her beautiful curves. This tattoo design is so intricately inked on the wearer's body that it looks like it was painted on a canvas instead. Side tattoos for women are interesting and has a sexy quality to them.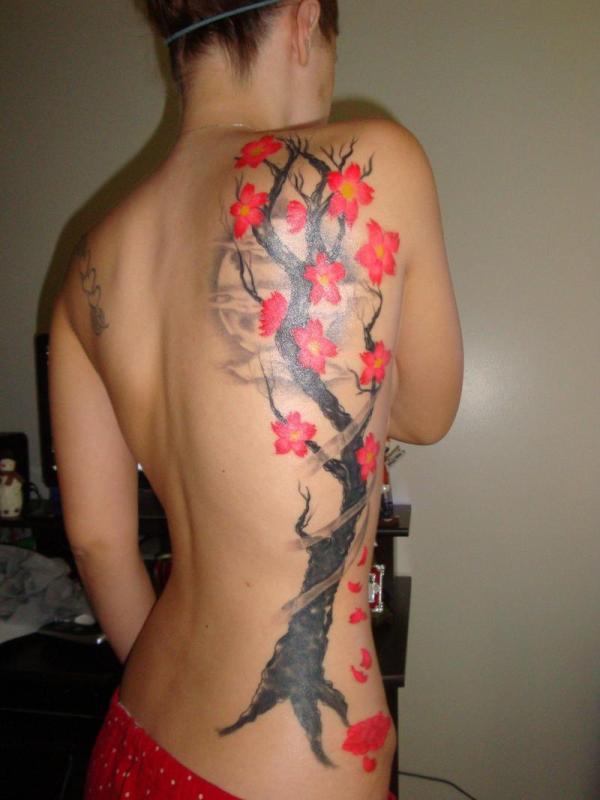 Ex-Girlfriend Side
"Fight for love" lettering inked in beautiful typography inked down the side rib tattoo. Rib tattoos with the most fascinating quote are one of the rising trends that have swept tattoo parlors off their feet. A side tattoo like this is one of the more common tattoos to see at the beach.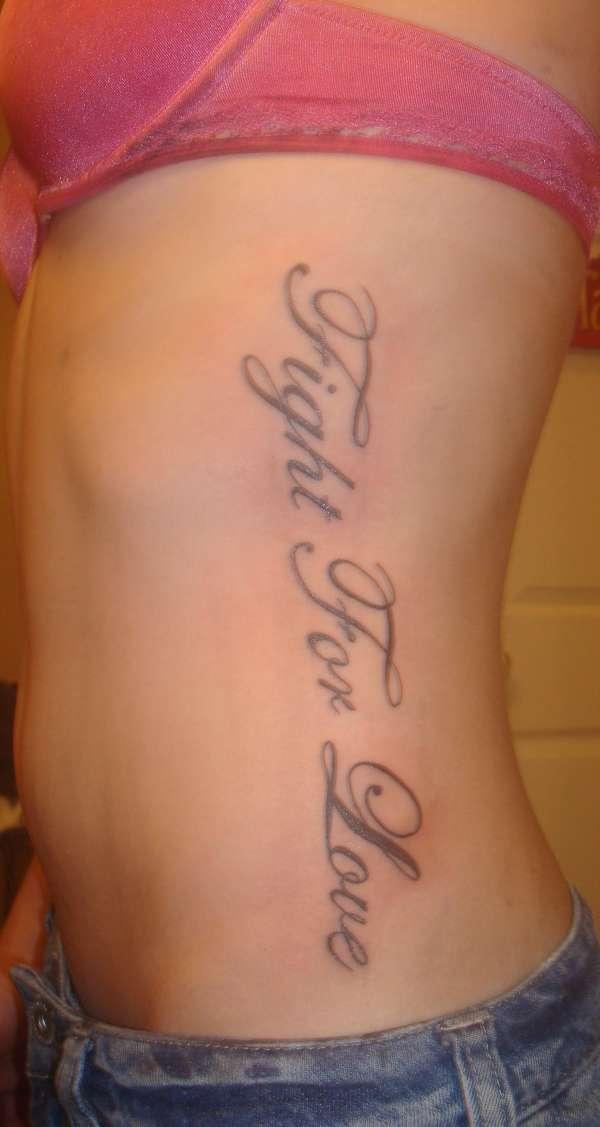 Side Musical Tattoo
A rib tattoo of stars, swirls and music notes on a dark scroll ribbon in the background. This collection of rib tattoos is one great way to show off your passion for the field of music. A side tattoo such as this is also a great conversation starter among new friends and peers.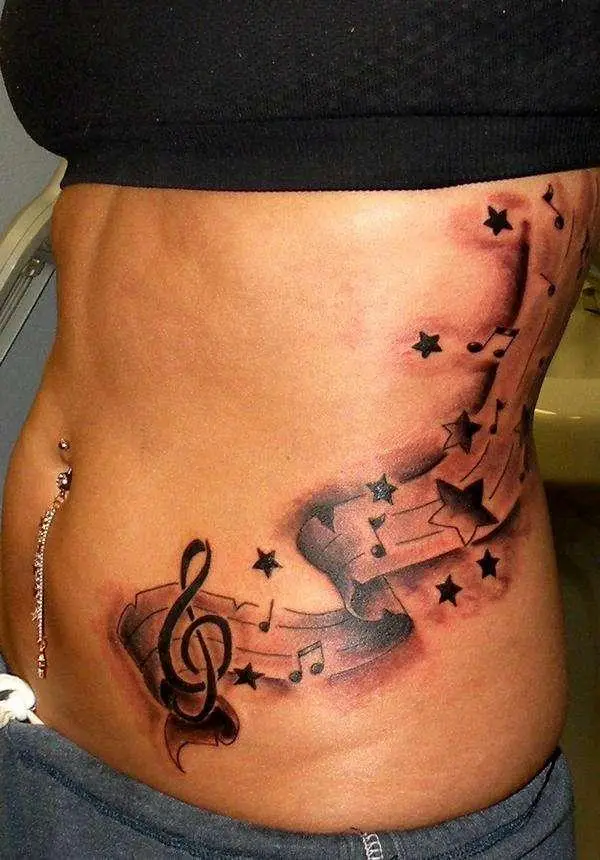 Girl Body Art
Chained-in flowers of different colors and different types as a tasteful side boob tattoo. This side boob tattoo is filled with spring colors on its flowers which look absolutely phenomenal. The wearer is also proving that not all side tattoos for women have to be sexual. They can be wholesome too.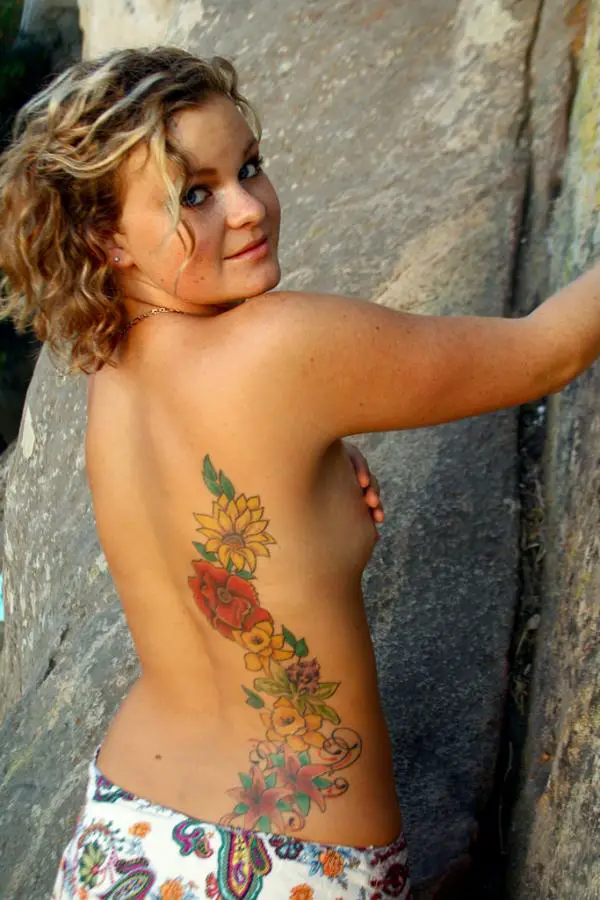 Side Tattoos for Men
Men usually like their tattoos to be very impactful and striking, and some side tattoo designs are listed below for guys to consider and be inspired from.
Tattoos Right Side
Sketch-style graphic of a boxer with warning lettering, "Don't Try". This side tattoo for men would show their passion for the sport of boxing. It is common for side tattoos for men to show off their likes and dislikes. After all, tattoos are one of the best ways to start a conversation with a stranger.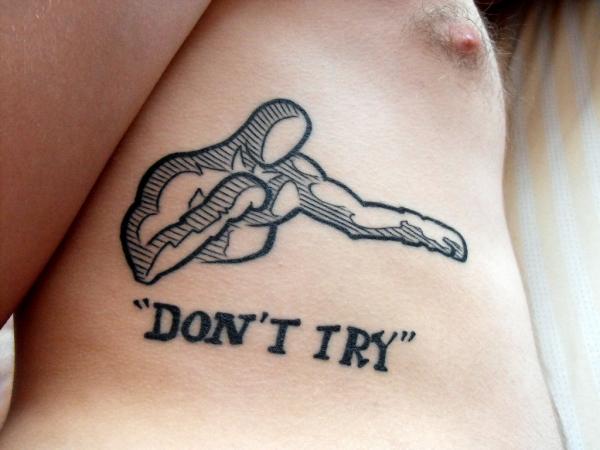 Side Tattoo Filled In
This is a shifted version of Bam Margera's tattoo. Bam Margera is an American personality more famously known for his stint as a professional skateboarder and as a cast member of the MTV series Jackass. This side tattoo for men is one of those in celebration of the famous Bam Margera.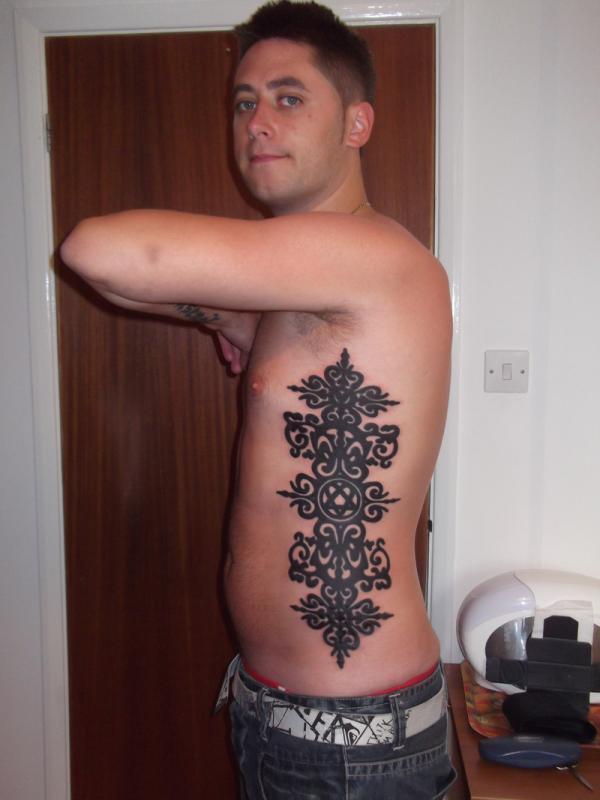 Side Men Tattoo
Gothic tree tattoo with spectacular shade work and magnificent concept of putting skulls in the bottom. Forget small tattoos for men. This wearer went all out at the tattoo parlor when getting his side tattoo done. The intricate details on his side tattoo is truly astounding.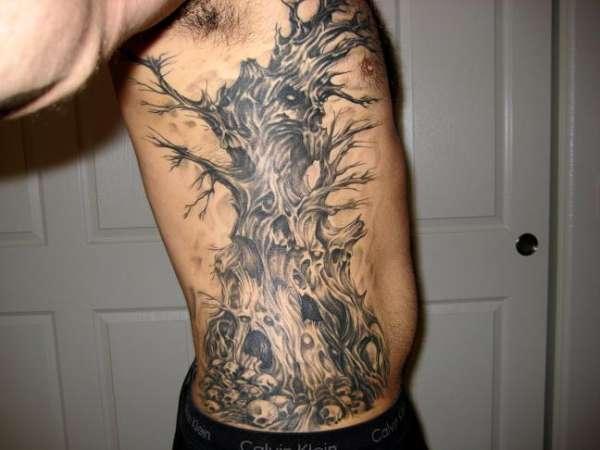 Eagle Side Tattoo
Flying Eagle tattooed on his ribs in nice dark shade work and great details. It's not every day that you see side tattoos for men that are also exuding patriotism for the land of the free. The wearer of this side tattoo is proudly showing his American pride with a tattoo of a bald eagle, the national bird of the United States.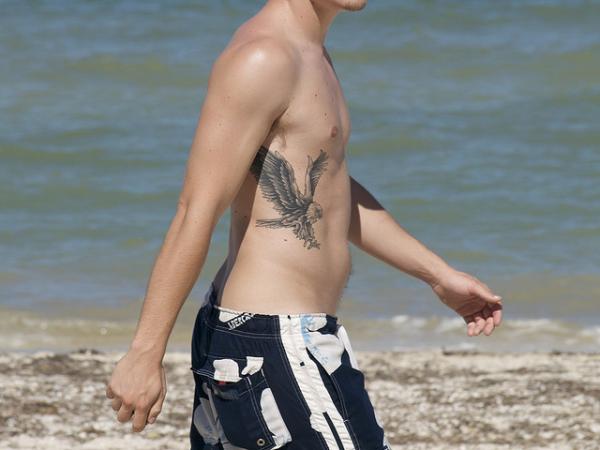 Keys And Egyptian Ankh
Cool car key hung to a cute Cross keyring tattooed on the ribs in black. This side tattoo is the perfect intersection of antiquity and modernity. While allowing the wearer to celebrate Egyptian history, the wearer is also adding his own modern twist — the car keys.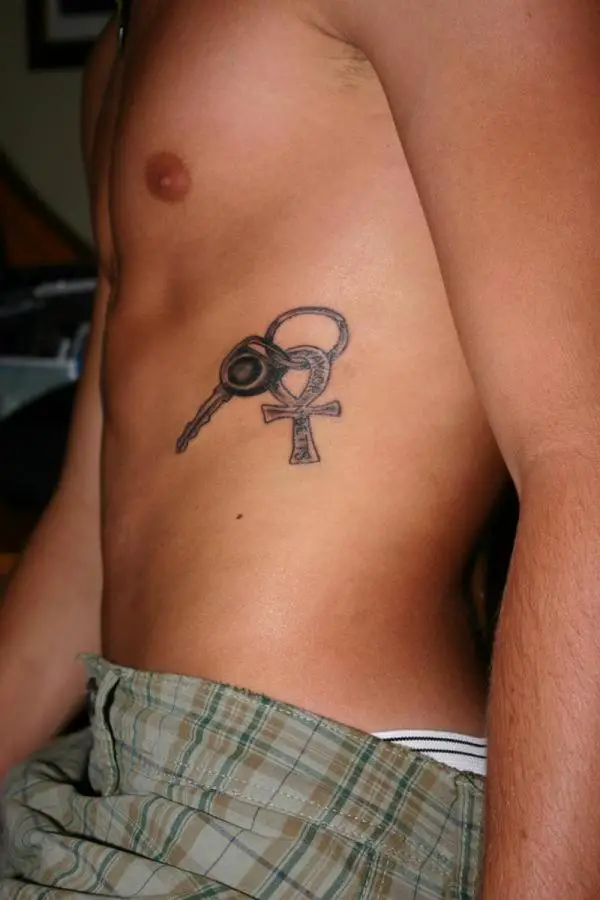 Cute Side Tattoos
If you are looking for cute designs to tattoo on your ribs or side back, the examples below will surely inspire you.
Side Bird Tattoo
This creative side tattoo is composed of multiple aspects: A couple of green birds paired with a cluster of blackbirds silhouettes. This tattoo of multiple birds could have a deep meaningful meaning to the wearer.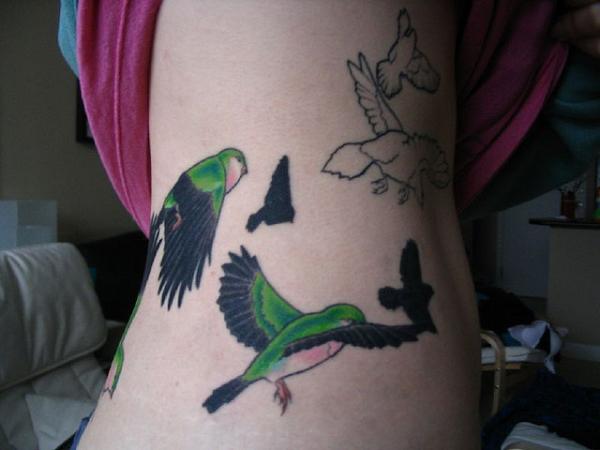 First Cute Tattoo
Black dandelion plant with flying black birds looking really pretty and intriguing. Flying birds are one of the more common tattoo designs that a tattoo parlor will make during their time in business. It could represent multiple things but the more popular translations are: change, moving forward, and moving on.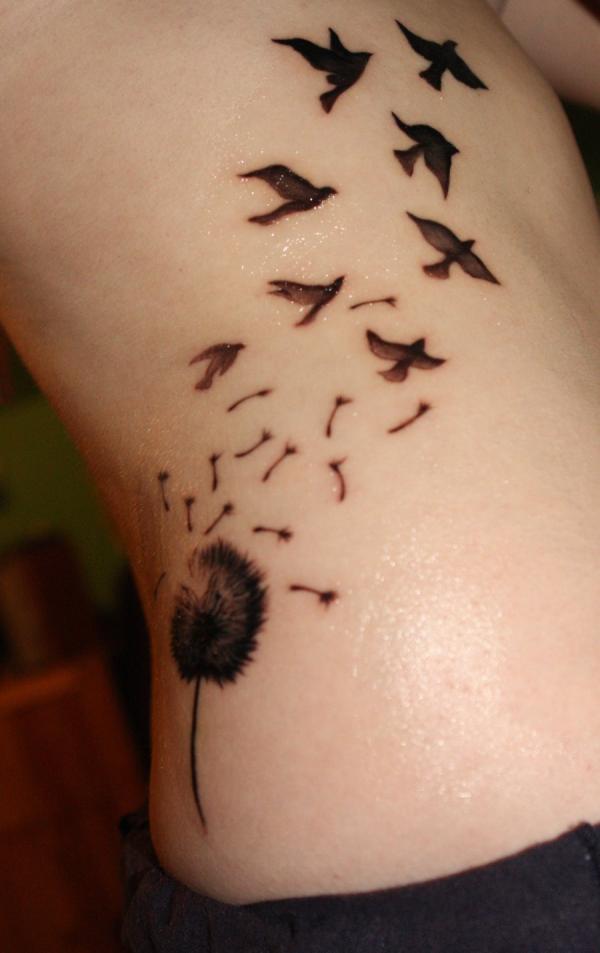 My Cute Butterfly Side
Heavenly design of butterflies done in lovely golden and blue with sweet flowers. Butterflies are one of the more common tattoo designs when you talk about side tattoos for girls. Butterflies are gentle and delicate creatures that are absolutely beautiful to look at.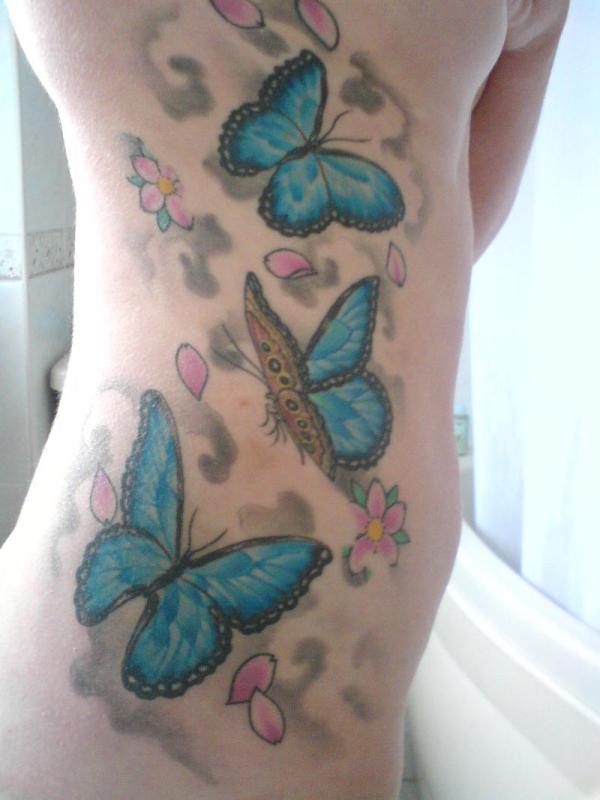 My Cute Butterfly Side
Goodbye Blue Monday
Really cute tattoo to distract you from the Monday blues. This tattoo art is a minimalist tattoo composed of text and simple lines. Obviously intended, this side tattoo shows off the wearer's sense of humour in dispelling the regular case of Monday blues.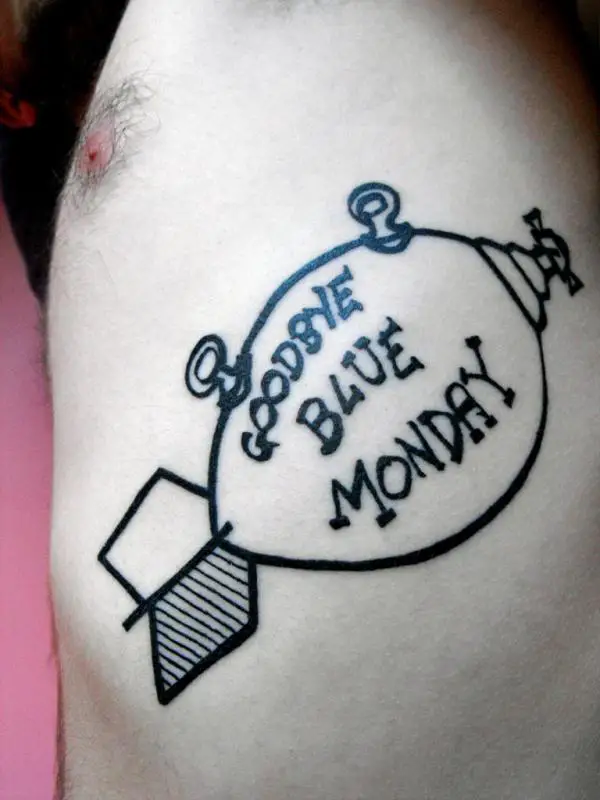 Alphonse Mucha on Side
Masterpiece on the side as a tattoo design inspired by an Alphonse Mucha drawing. This side tattoo is truly a masterpiece that could put even art paintings to shame. Just the intricate details inked on this girl's side is astoundingly precise.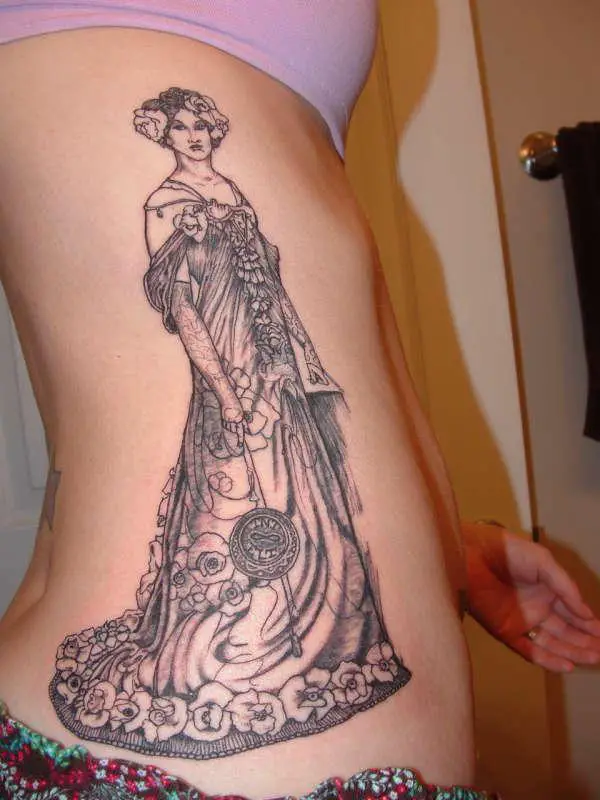 Side Tattoos for Girls
Take a short tour of lovely designs for side tattoos for girls in the examples below in this section.
Pin Up Girl
Fantastic design featuring a pin-up girl inspired by Marilyn Monroe style. Marilyn Monroe is a true female icon that has led to many using her face or fashion style as the design for side tattoos for women.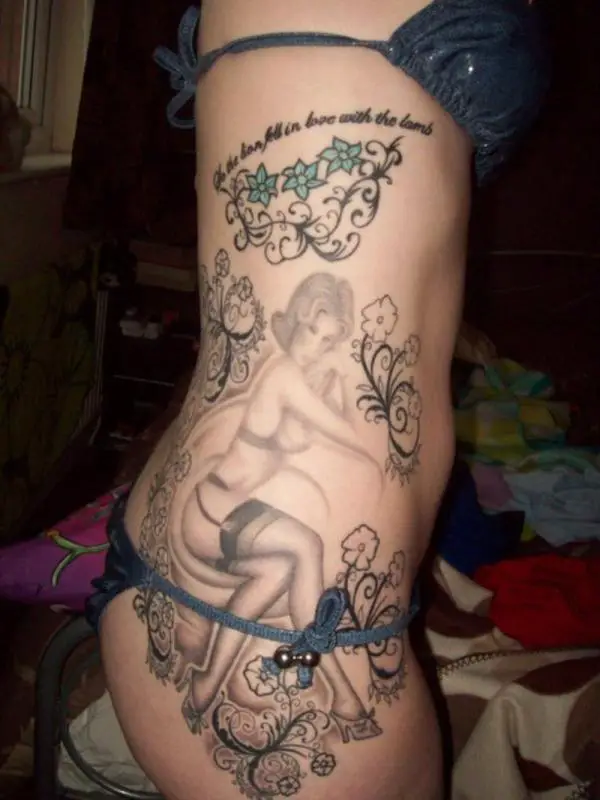 The Dark Sparrow
Beautiful dark sparrow tattoo with lettering, which I wish was made more visible to be able to read. A sparrow bird has a lot of meaning, primarily joy, protection, simplicity, and community. Sparrows are also known for their teamwork which is one valuable quality that humanity has to learn.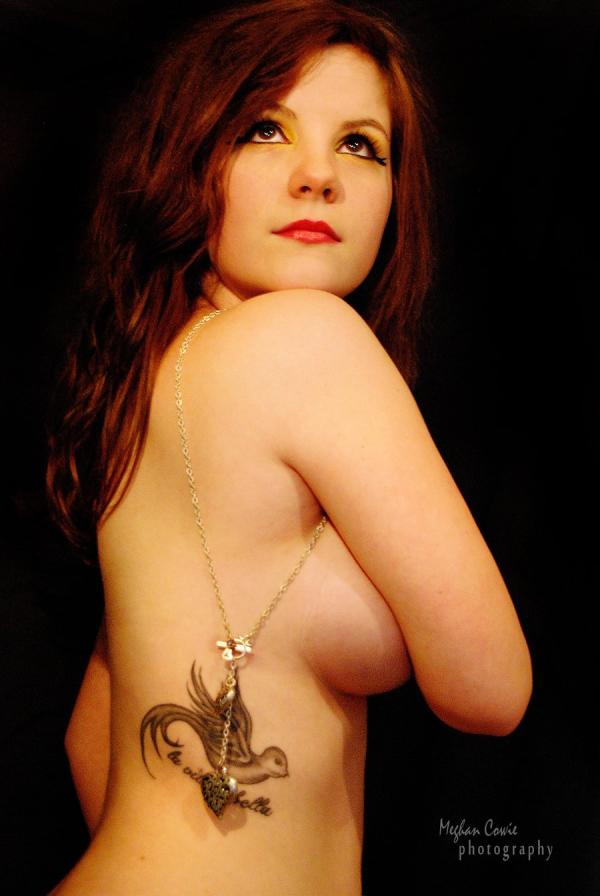 Leopard Print Tattoo
Bold and beautiful leopard print spots in black color across the ribs. The main goal of rib tattoos is to properly decorate your midsection. This Leopard print tattoo does just that. The wearer of this tattoo must be a dedicated Leopard lover to have something like this tattooed on her body.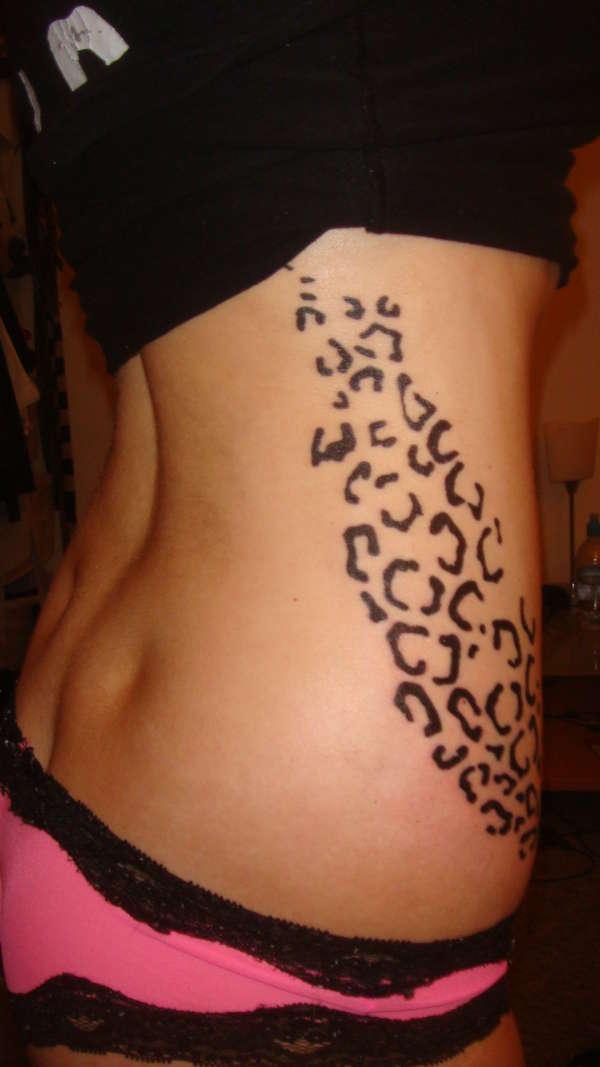 My Spoon Tattoo
A cute spoon in dark shade work tattooed on a side for a unique style statement. This minimalist tattoo is cheeky and is sure to attract many questions which you can turn into a nice ice breaker and conversation starter. The symbolic meaning could also be kept a secret adding to your mystery.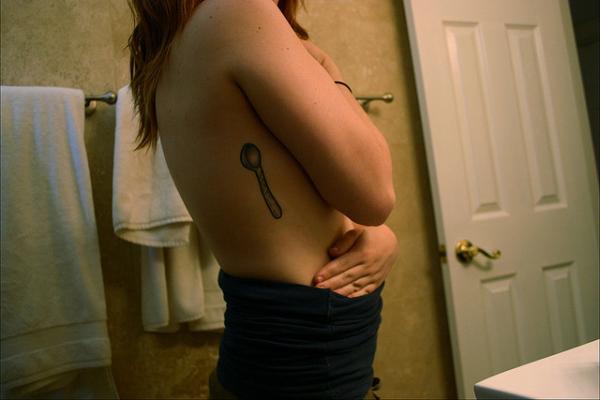 Tattoo Girl Side
Great looking typography used to display her favorite quote on her side. Cool tattoos usually come with a quote that is personal to the wearer's life. By adding your favorite quote into it, you are personalizing your side tattoo and making it even more special.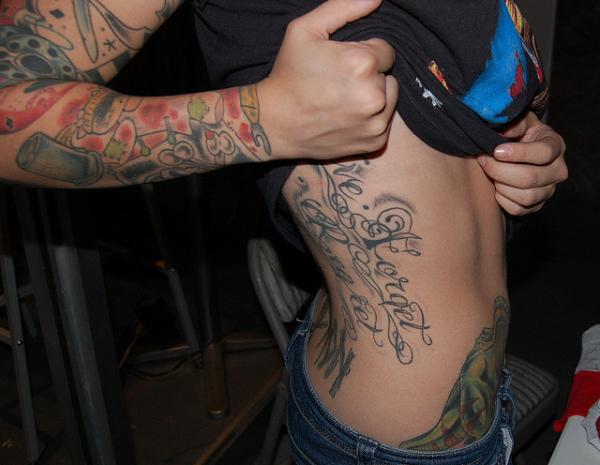 Tattoo Girl Side
Side Tattoos for Guys
Cool side tattoo designs for guys to get them on the edge of their seats. Look what moves you the most.
Cross
Cross tattoo with beaded rosary and another little Cross hung on to it. Rib Tattoos are one convenient way of flaunting your faith and belief. The image of a cross has long been connected to the Christians and Catholics which is why this wearer chose to have it tattooed on his side.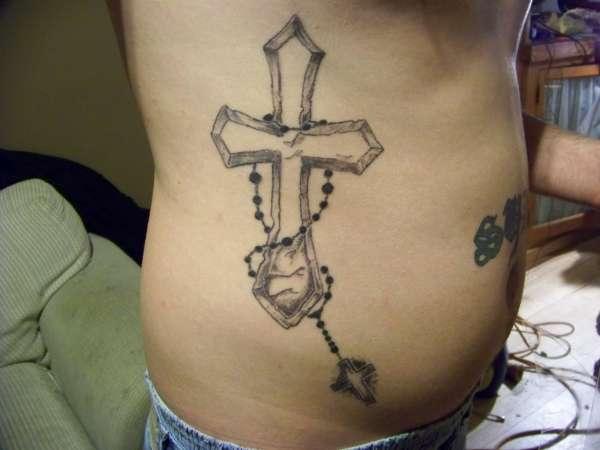 Giant Hops Tattoo
Stunning vine of green leaves showing is great enthusiasm and love for nature. This side tattoo is a stunning tattoo design that requires the touch of a professional tattoo artist. When you go to a tattoo parlor for this tattoo design, make sure that you will be inked by a master tattoo artist.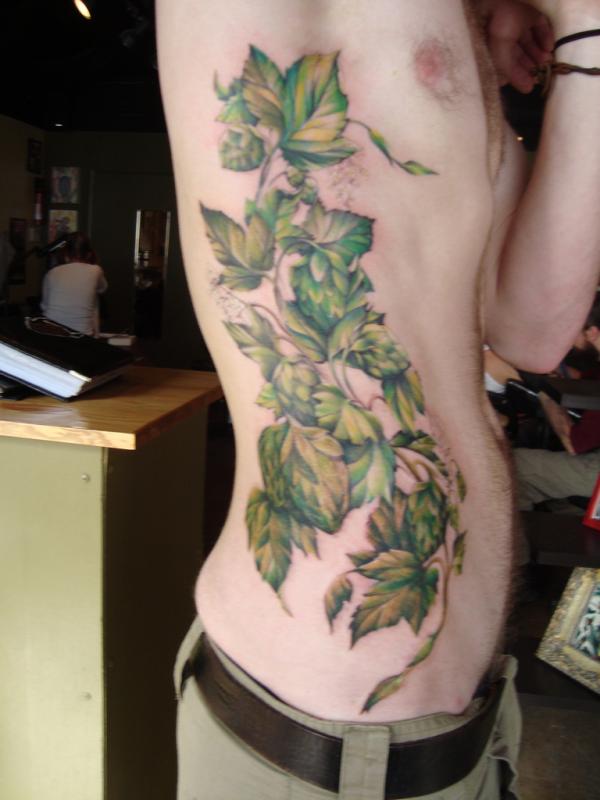 Guy Side Tattoo
Latin quote on guy's side, "Vincit Qui Se Vincit", which means, "He Conquers Who Conquers Himself". This quote tattoo just exudes optimism. This age-old quote means that a person who overcomes his weaknesses and able to control his emotions and actions will win at life while those who let their impulses get the best of them lose.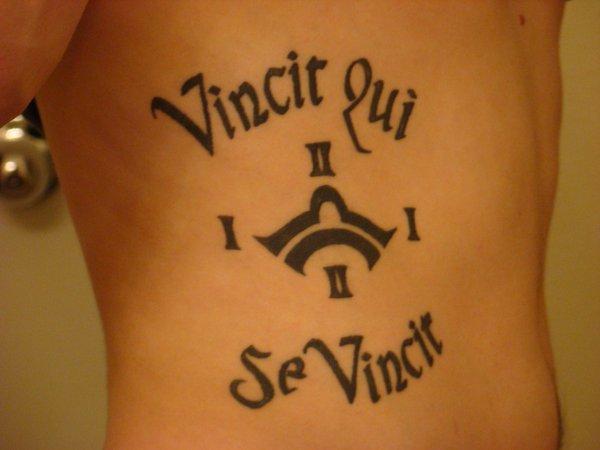 Guy Initials Tattoo
Initials tattooed on side back in old English typography. Your name is one of the most important words that identifies you as an individual. Your family, friends, and even acquaintances will use your name to call you. This is why it is also common for tattoos to bear the name of their wearer.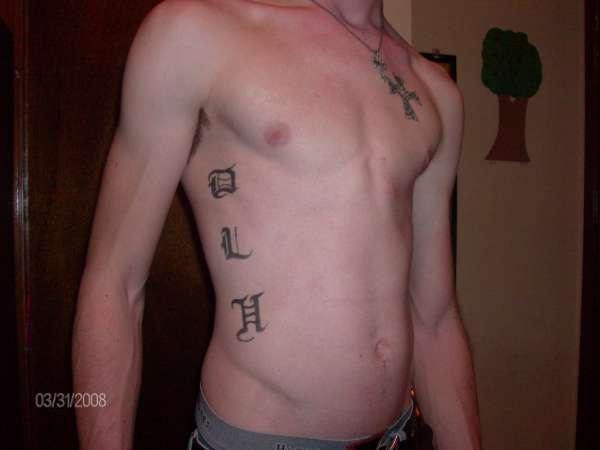 Quality Ink Tattoo
Motivational phrases in Spanish inked on ribs for everlasting inspiration. The meaning of Amor Aeternus in English is Love Forever which is quite a romantic take. Love is an important aspect of life and having it forever is a goal in life.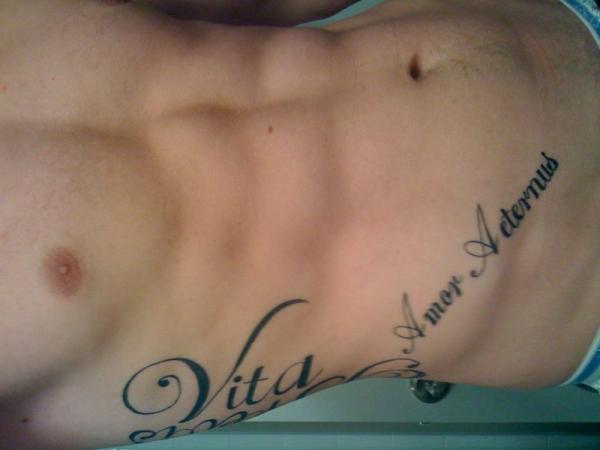 Side Rose Tattoos
Roses ones of the most favorite designs those who wish to tattoo on side body. Take a look at the examples to know why?
Rose Tattoo
Vivacious rose in bold colors, yellow edges and long thorny stem. Roses are the favorite design for side tattoos for women. This side tattoo in particular is a sensual tattoo design that entices anyone who sees it.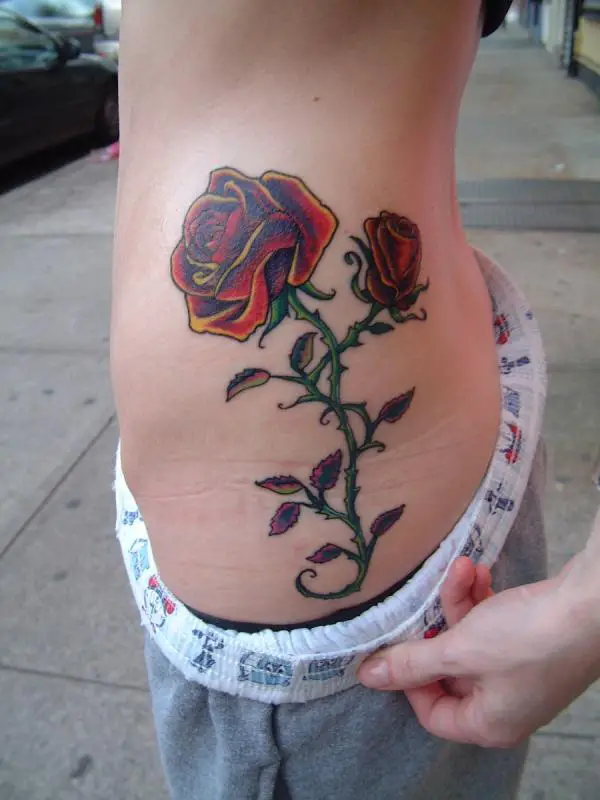 Side Rose Tattoo
Dark rose with realistic details giving an artistic black and white effect. The name of the wearer is inked alongside the intricate design of this rose tattoo. Cool tattoos like this are great accoutrements to your overall aesthetics.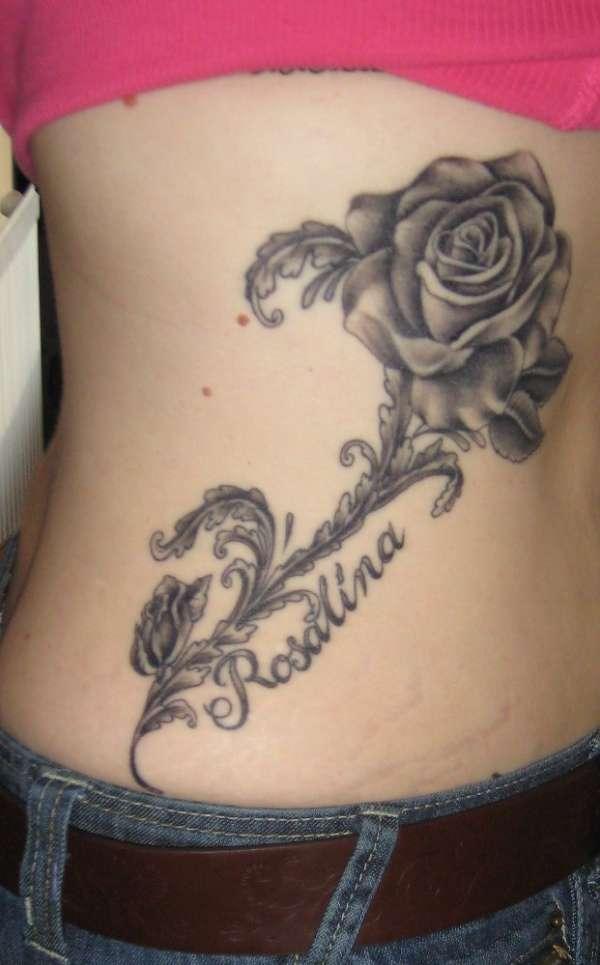 Rose Side Tattoo
Beautiful roses chained onto a tribal vine pattern, accentuated with superb shading. This tattoo wearer's name is inked on the curly lines of this rib tattoo. Side tattoos for women are enticingly sexy and this one is no exception.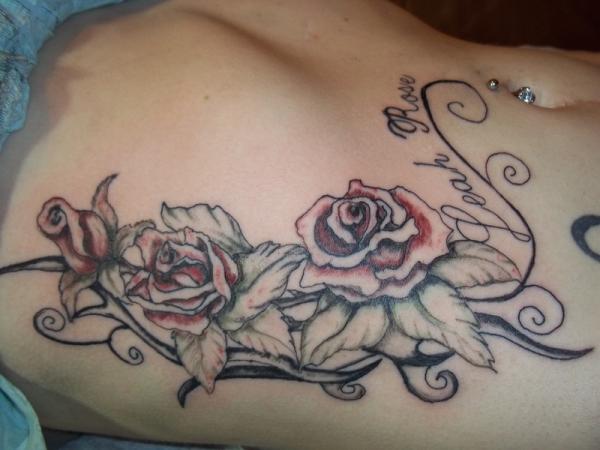 The Black Rose Tattoo
Glossy black rose print impressed forever on side lower back. A black rose is one gothic tattoo design that looks perfectly badass. This is one side tattoo that could attract anyone that you want to entice.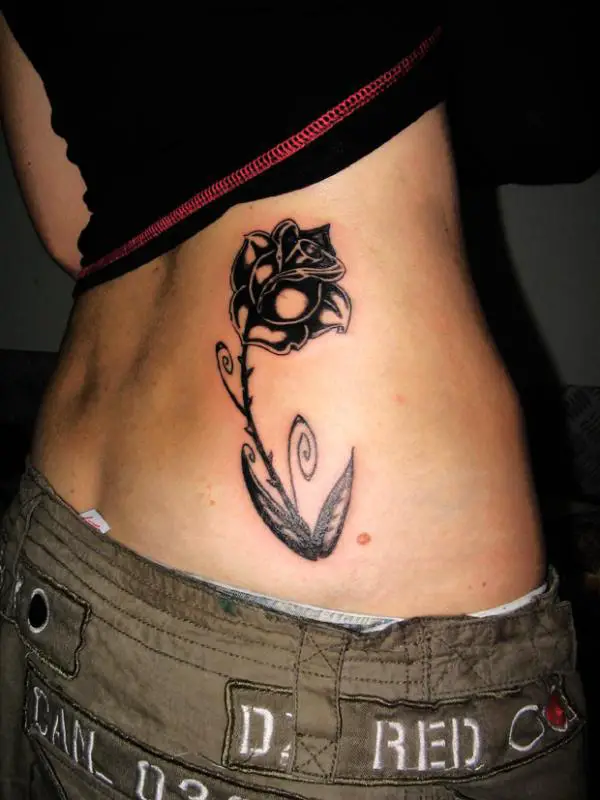 Roses On Side Tattoo
Roses of different shades chained on to a green leafy vine. Side tattoos of roses are pretty on anyone's skin. Three intricately drawn roses with leaves tend to capture the attention of anyone who sees it.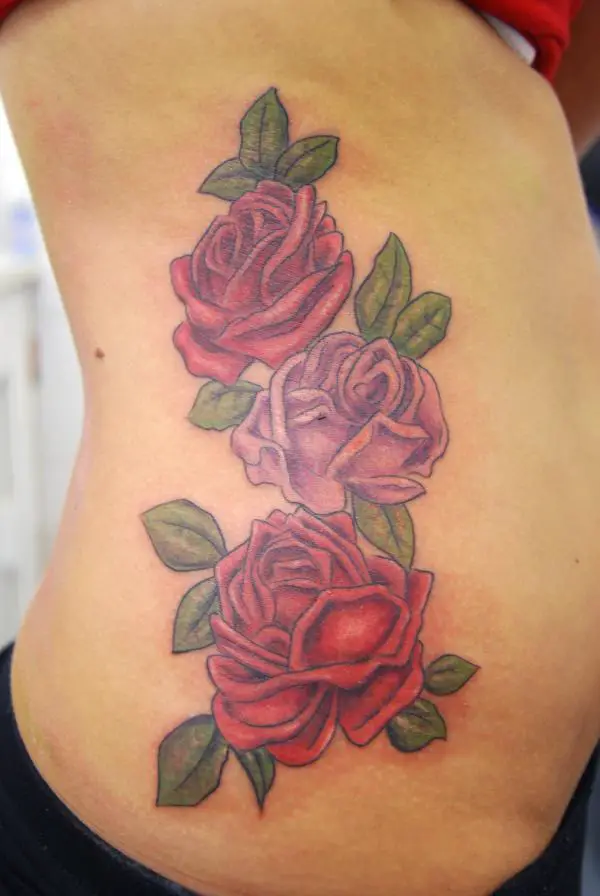 Flower Side Tattoos
You can choose from numerous creative flower tattoo designs, which look fantastic on side body.
The End
Flower from the children's book "Ferdinand" on ribs. Ferdinand talks about a bull who prefers to sniff flowers on a field than fight in bullfights. Ferdinand, who grew up to be a strong and majestic bull, is taken to the ring where he goes against a matador's wishes of fighting. This children's story, once banned by the German dictator Adolf Hitler, is a children's tale whose social commentary is quite revolutionary.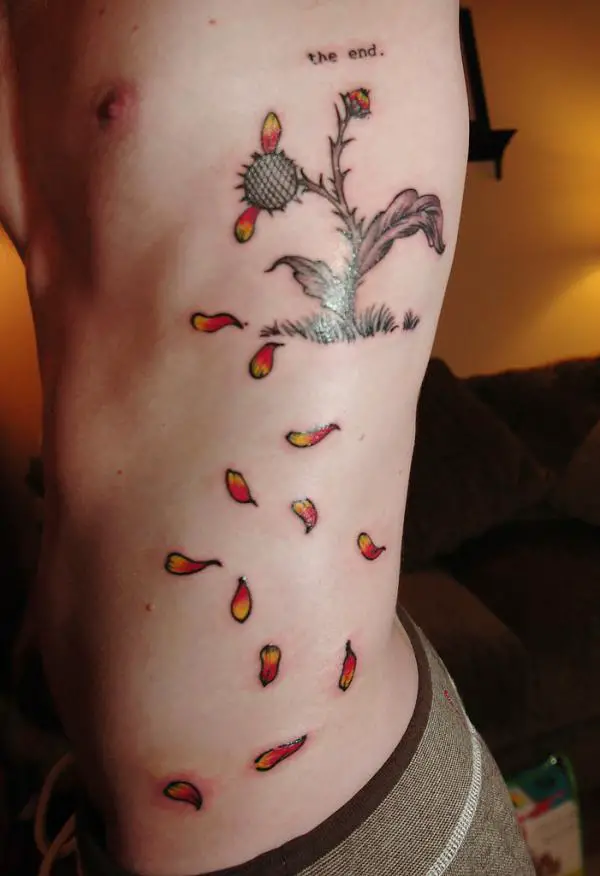 Flower Side Tattoo
Lovely floral side tattoo in great-looking dark shading. This side tattoo is a simple tattoo design of a flower. Without much color or flair, this tattoo is great for those who don't want anything too flashy for their tattoo.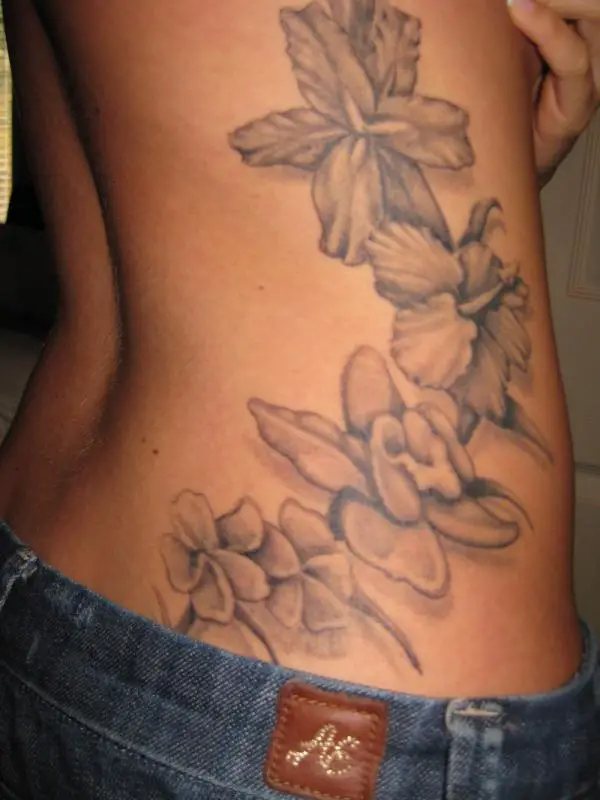 Flower Tattoo On Side
"Live happy, die pretty", with a very pretty floral piece in dark shade work. By having a rib tattoo of a flower and a quote, the wearer of this tattoo is ensuring that he or she stays optimistic and happy.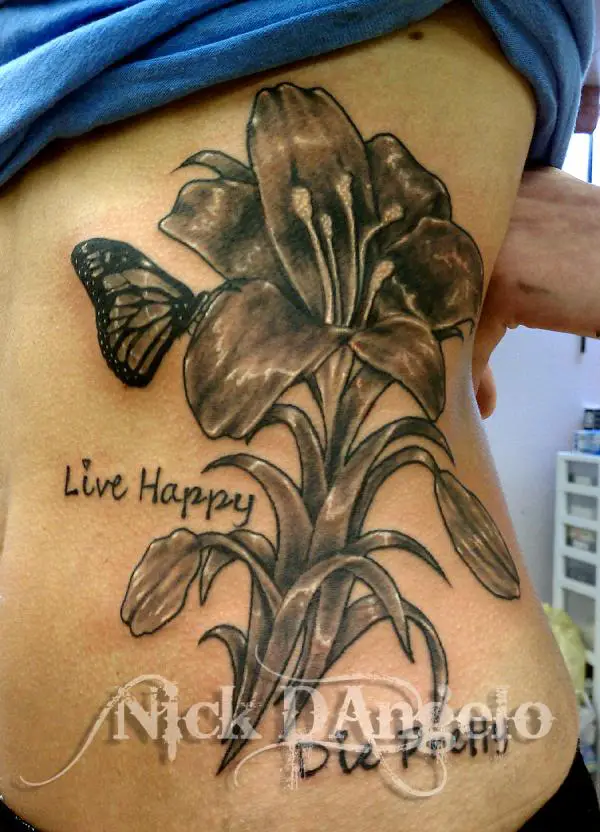 Flower Pattern On My Side
Sleek swirls and vine pattern paired with lovely yellow flowers. This flower pattern may be simple but looks elegantly designed. This tattoo serves as proof that tattoos would look pretty despite its simplicity.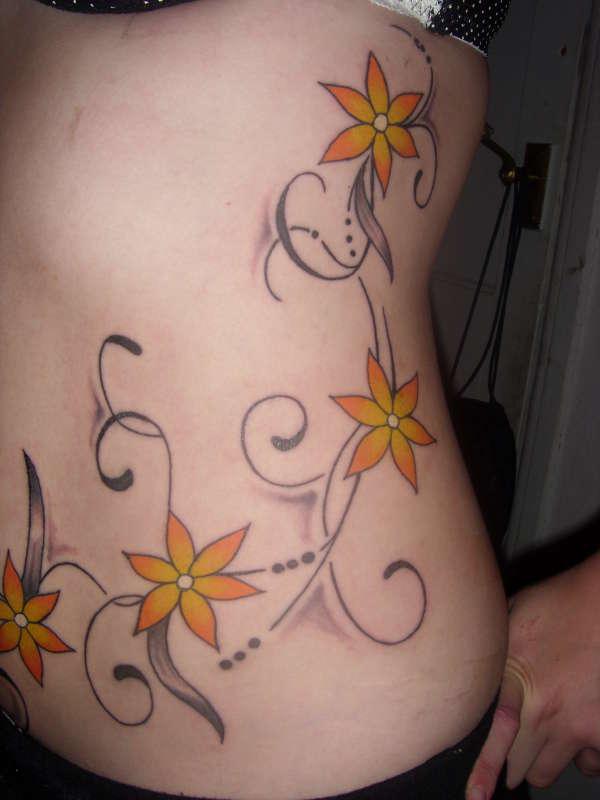 Strength Flower Tattoo
"Strength" lettering done in a beautiful font with a gorgeous dark flower. Sometimes, life just throws everything it has at you. This is why the wearer of this tattoo chose to have the word Strength inked on his body to remind him not to give up.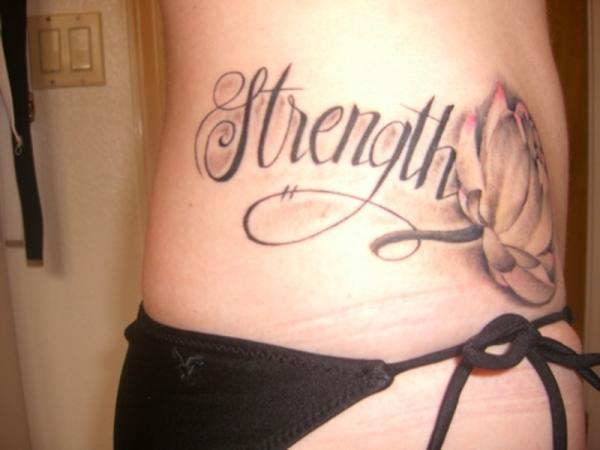 Star Tattoo On Side
If you wish to express your free-spirit and belief in dreams, you can sport stars on your side.
My Star Tattoo
Bold star outlines of varied sizes inked on the side back. Stars, since the dawn of man, have fascinated humanity to no end. Having them tattoed into our bodies have become quite a norm, carrying special meanings dependent on the wearer.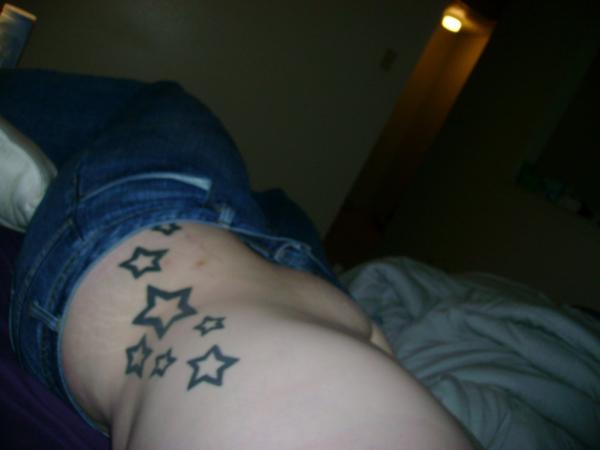 Star Tattoo On Side
Stars and swirls done in black in a beautiful pattern on the hip. The stars and swirls on this side tattoo seem to make the tattoos on the wearer's animated and alive. With such an interesting piece of body art,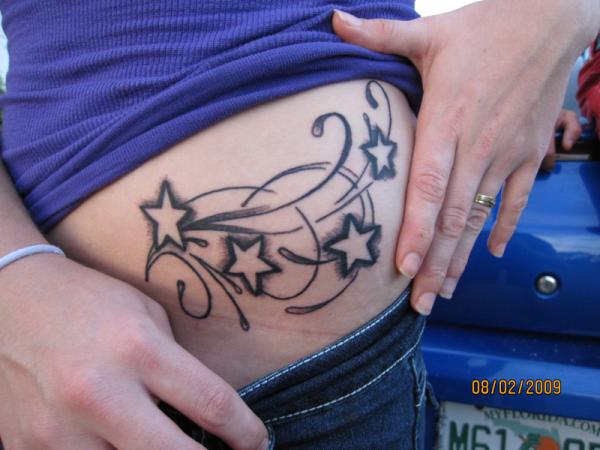 Stars Down My Side
A big star with several little black stars and soft pink waves in the background. Side tattoos for girls used to be small and minimalistic. Now, they are bold and covers a lot of skin which perfectly accentuates their bodies.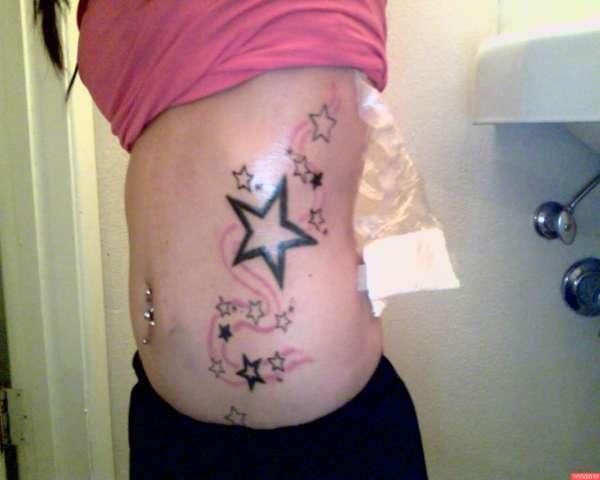 Tina Star Tattoo
Impactful nautical stars with attractive swirly pattern and shade work. A side tattoo of differently-designed stars is perfect. Feel like a star with these stars on your body.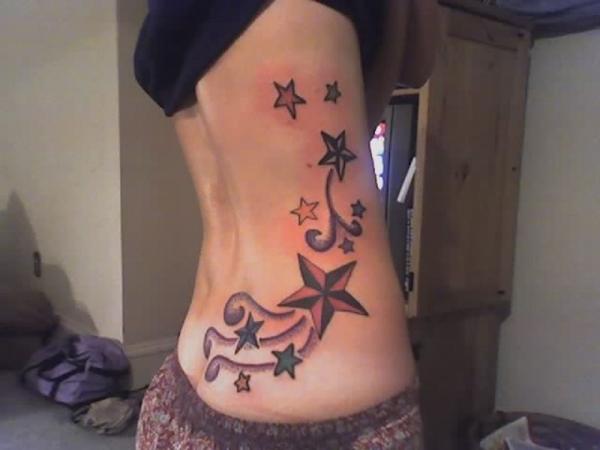 Tina Star Tattoo
Cool Side Star Tattoo
Clea shade work and nice placement of a beautiful star piece on side. With cool stars like this, you can now feel more confident wearing a bikini at the beach. Curvy lines and a bunch of stars will make your body look so much better. This cool side star tattoo is one of the most awesome designs you can get at a tattoo parlor.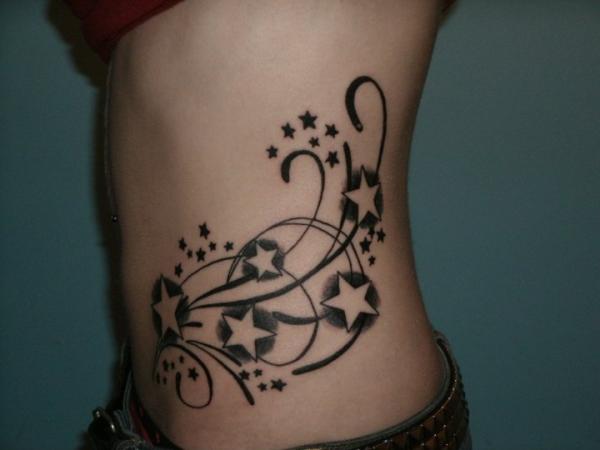 Cool Side Tattoos
If you wish for something, which could give you a cool style statement, these side tattoos listed below may give you your desired design.
Free Will In Chinese
Floral piece with Chinese script lettering, which means "Free Will". Free Will is man's ability to choose between different courses of action without a third party to coerce you towards any of the choices. Free choice is a special aspect that could mean a lot to someone.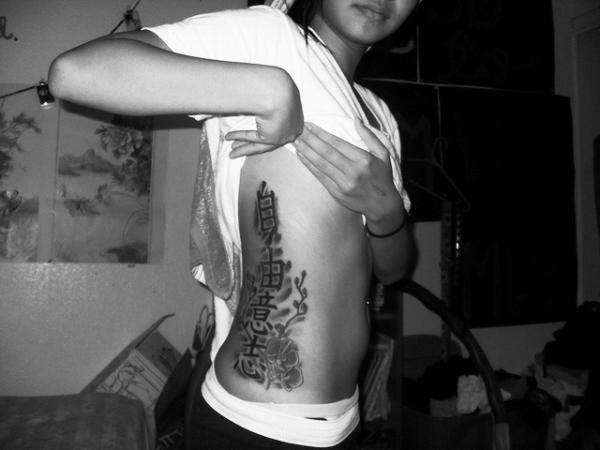 Cherry Blossom Side
Wondrous cherry blossom twig in very pretty colors representing spring and happiness. The cherry blossom represents the extreme beauty yet short fragility of life. This tattoo is a reminder that everyone should enjoy life instead of worrying about the outcomes.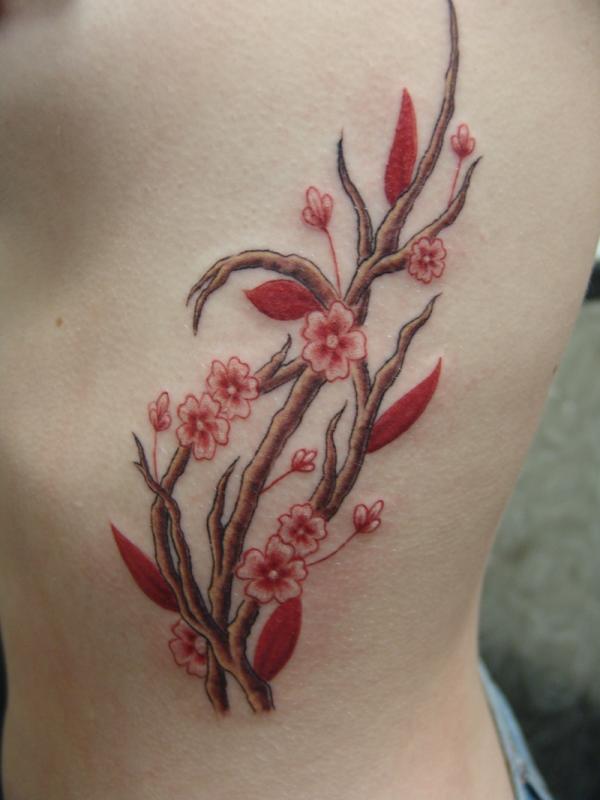 Phoenix Side Tattoo
The symbol of rebirth, phoenix bird, in dark shading. The phoenix is a mythological creature that bursts into flames when it dies. However, instead of actually dying, they are reborn as a younger phoenix from the ashes.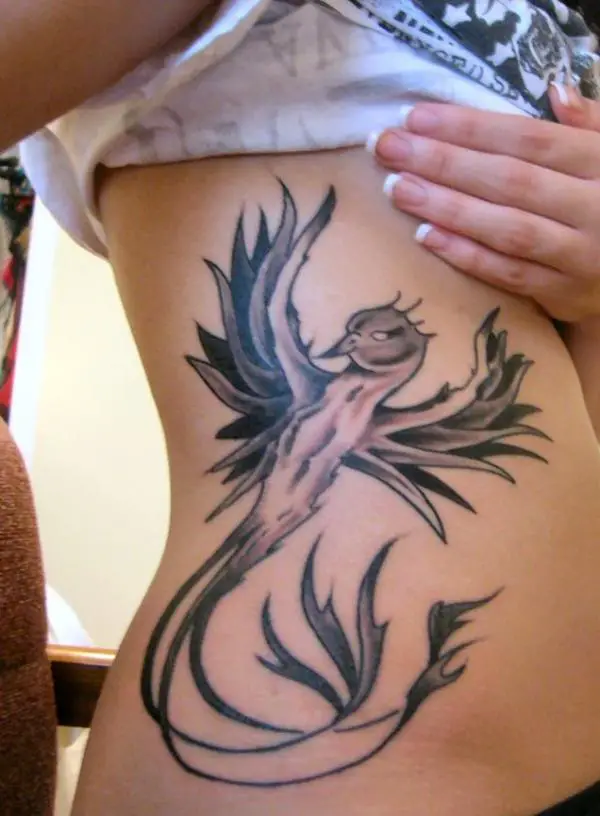 Side Name Tattoo
Initial "K" with sleek blue floral vine design on lower side back. This is one way of paying special attention to your identity. This side tattoo design is perfect strays away from the conventional dark tattoos as it showcases a bright color that stands out on the wearer's skin.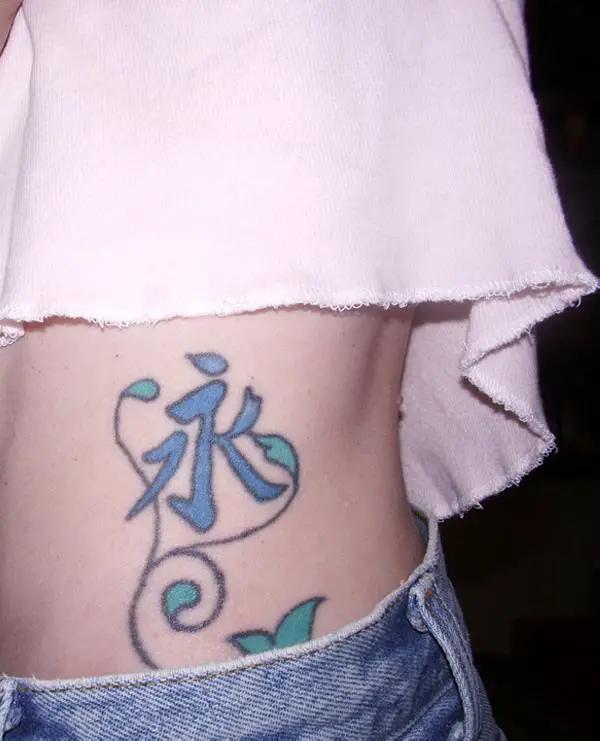 Side Tree Tattoo
Tree of life with roots patterned as the peace sign and lettering piece. This quote has a strong and deep meaning to the wearer. Quote tattoos are very much in demand from tattoo parlors as sometimes we need to get reminded of the more important things in life.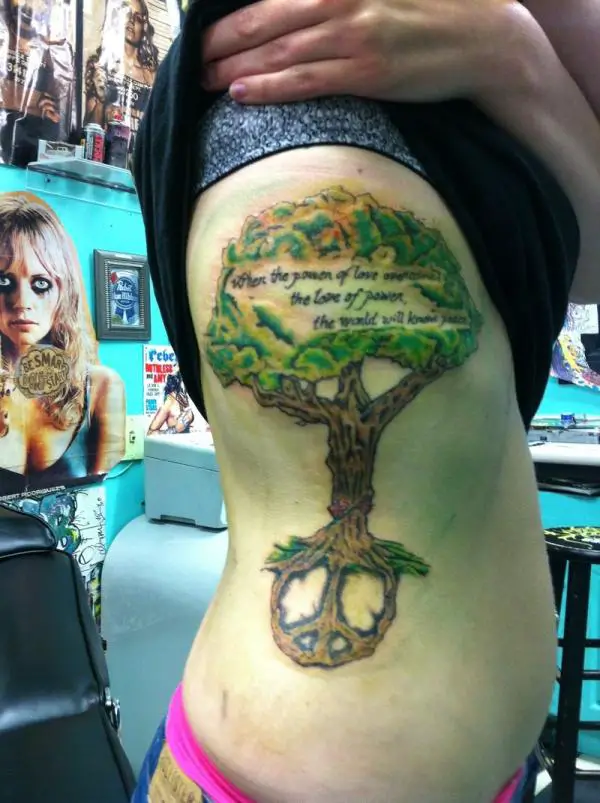 Side Neck Tattoos
Neck tattoos are one of the most prominent locations, which is always visible and so you must choose the design with utmost care. Check out some examples below.
Black Light Neck Tattoo
Leopard-print spots in bold black pink spots to express your wild instincts. This is one good way of saying that you are a free spirit. Release your wild side with this tattoo design. This side tattoo will also make the side of your head look more attractive.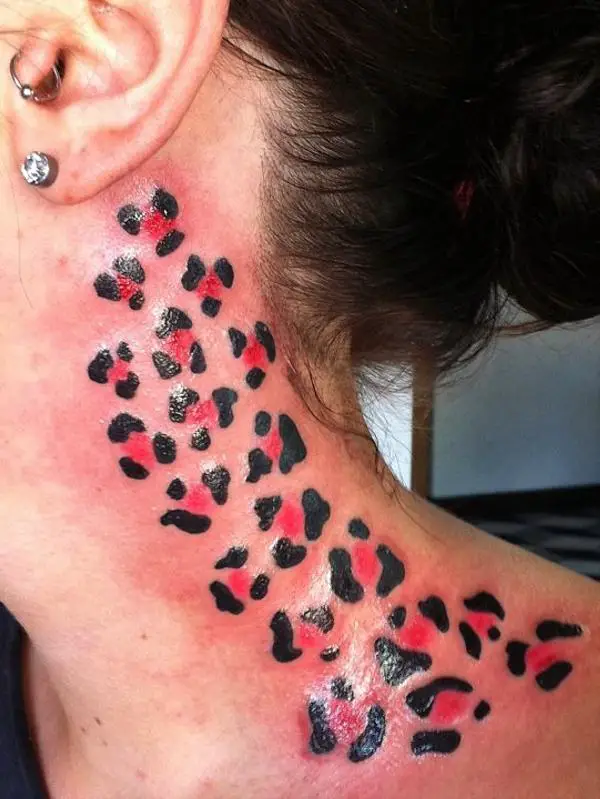 Dove With Heart
Little dove with a long tail, which looks like that of a phoenix with heart. It is believed that doves represent Love and Peace. They may also be considered as messengers. The image of a dove also appears in many religions — Judaism, Christianity, Islam, and Paganism.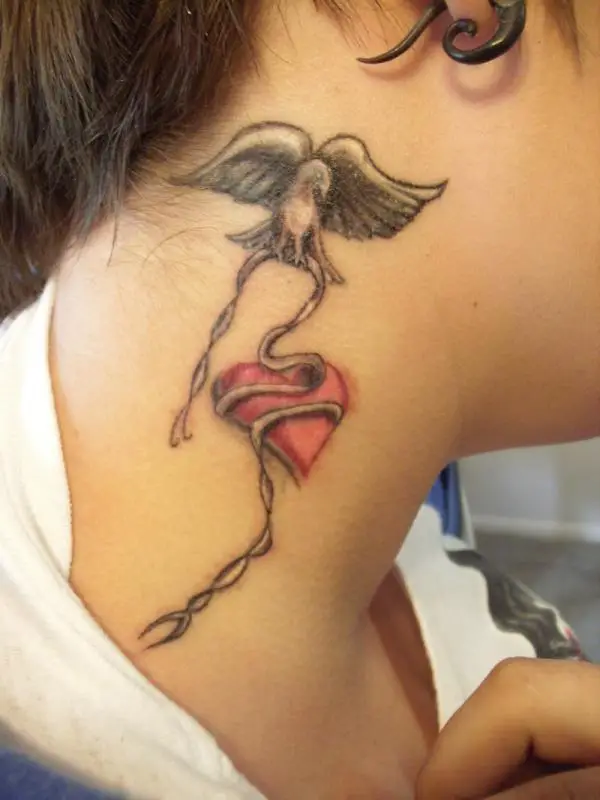 First Neck Tattoo
Cool warrior's head guard piece designed in a very intricate style on the neck. This side neck tattoo is something that is very edgy and roughs you up very much so.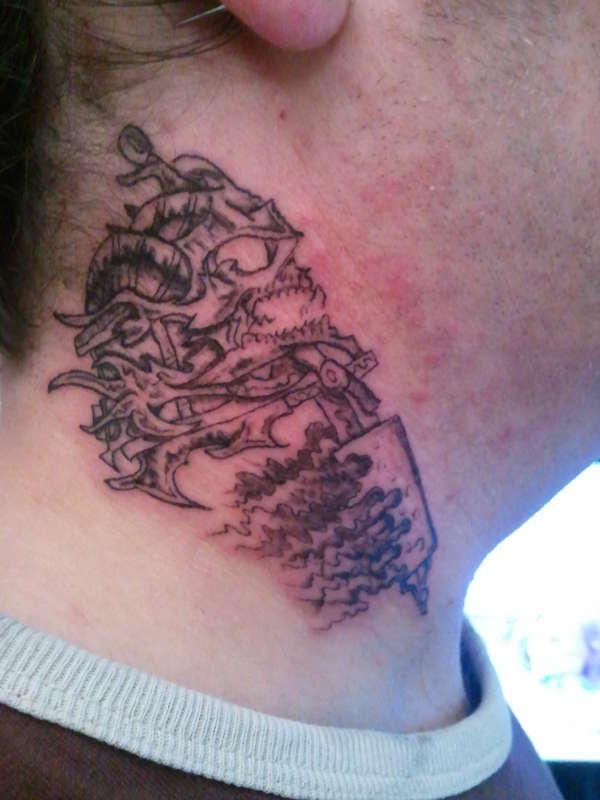 Neck Crown
Great looking crown in clean colourwork and details. You may not be from the Royal family but this side tattoo will definitely make you feel like royalty. A side tattoo like this will also give your aesthetics a cool boost.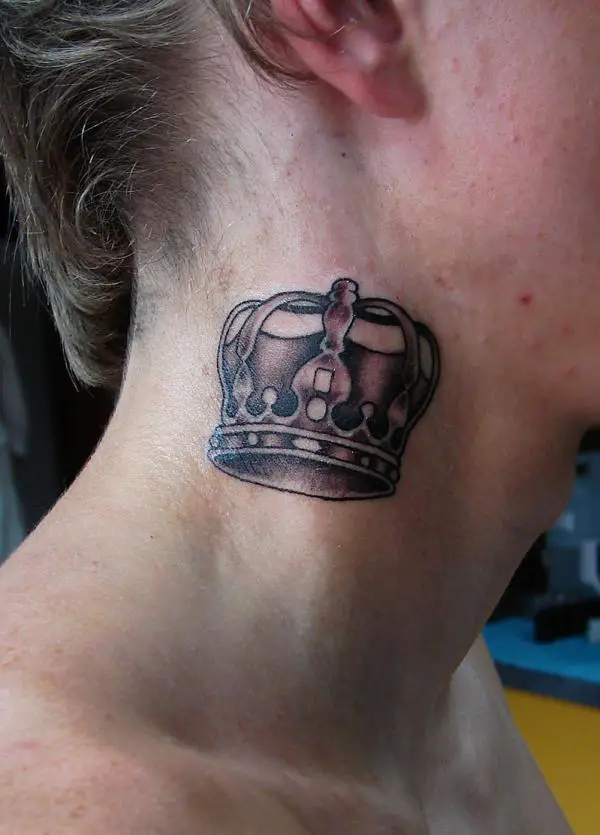 Cherry Blossom Neck Tattoo
Blue and purple cherry blossom twig looking lovely on the neck. This floral side tattoo will definitely make your neck look so much prettier than it was before. This tattoo design is colorful and will attract so much positive attention from onlookers.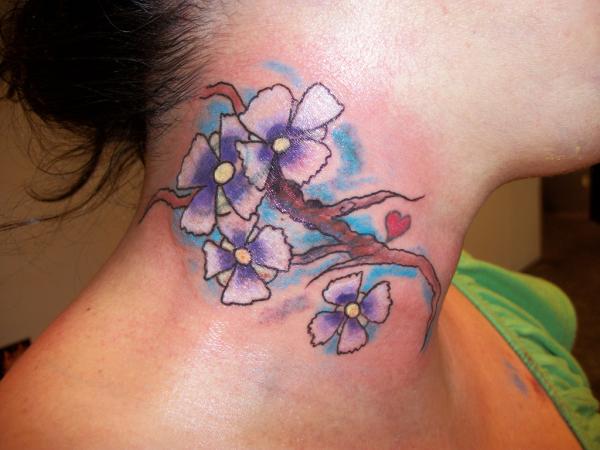 Side Arm Tattoos
Side arm tattoos make very impressive and bold style statement. The list below feature amazing designs for your sleeve.
Skull Cloud
Gothic art with scary skulls and the Superman logo on the arm. This tattoo will surely make you look so much cooler and more badass. It is also one definite way of giving your bicep an extremely rebellious makeover.
Tribal Arm Tattoo
Awesome tribal arm tattoo design is done in bold black and red. This Tribal tattoo design is the perfect bicep tattoo for those who want their arms to look badass. This is also perfect for people who desire to have a tattoo that has color and yet still a minimalist tattoo.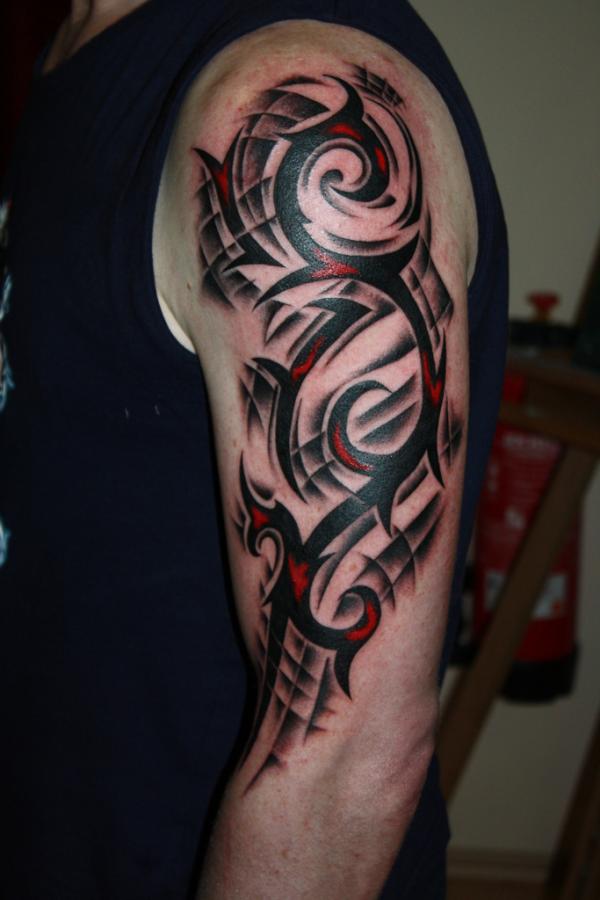 Toki Kawa Tattoo
Great looking blue waves in the background and Kanji lettering, which means, "Time, River". This colorful tattoo will definitely get a lot of attention from onlookers. The wave-like design of this side tattoo completes the whole meaning for the wearer.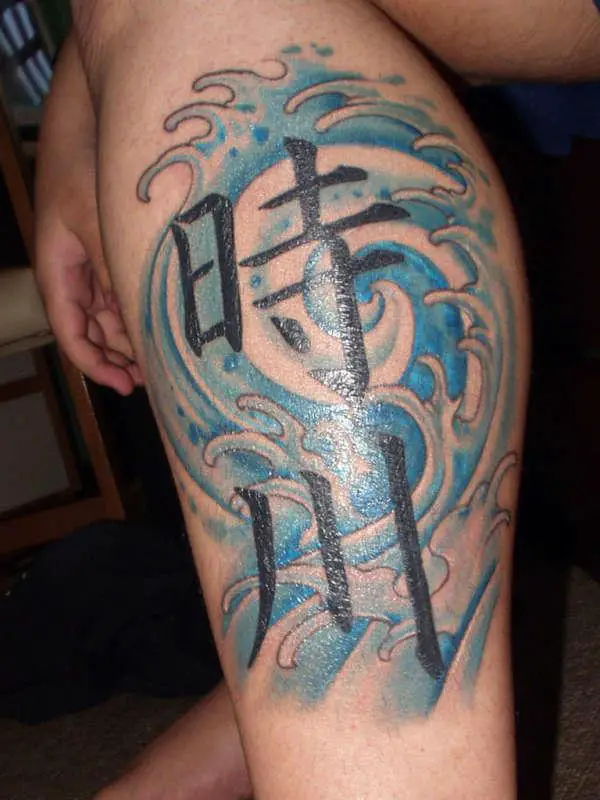 Side Arm Tattoo
Beautiful landscape, antique compass and broken heart with scroll. This landscape tattoo is so intricately designed it is as if the tattoo artist was painting on a canvas and is on the actual venue.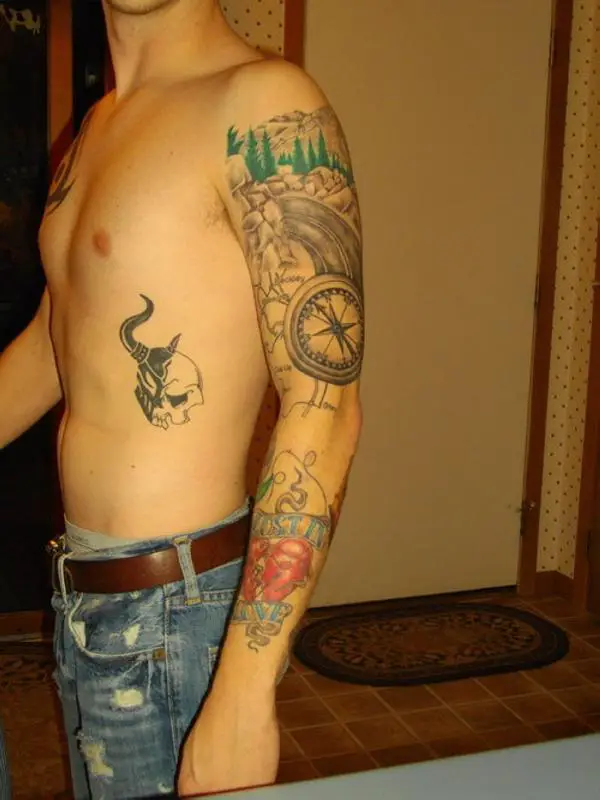 Side Sleeve Tattoo
Stormy landscape, tree and birds in fabulous shading work.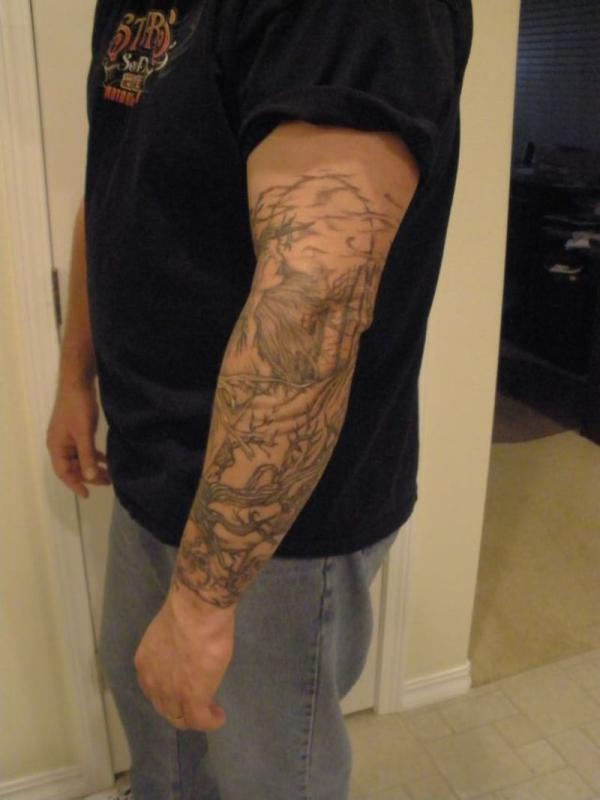 Side Foot Tattoos
Get your foot tattooed with lovely designs, themes and colors to stand out in the crowd.
Foot Tattoos
Classy tribal vine design with pretty butterflies tattooed across leg, ankle and foot. This tattoo design is so elegant that you will never feel insecure about the lower part of your body ever again.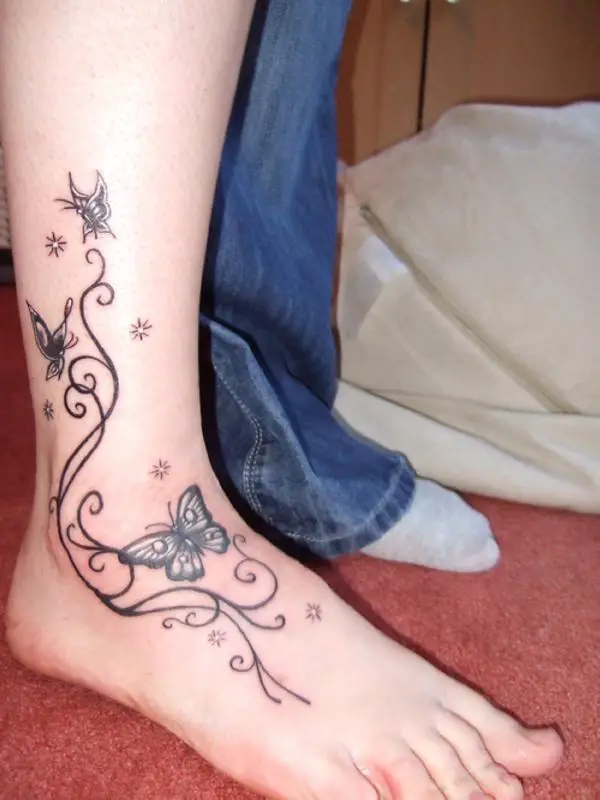 Butterflies Tribal Tattoo
Tribal tattoo design with two dragonflies on leg and foot.  It is believed that dragonflies symbolize Change, Transformation, Adaptability, and Self-realization. Getting this tattoo for the wearer could have a deep significant meaning to the wearer. It could also mean emotional maturity which is something that everyone should strive for.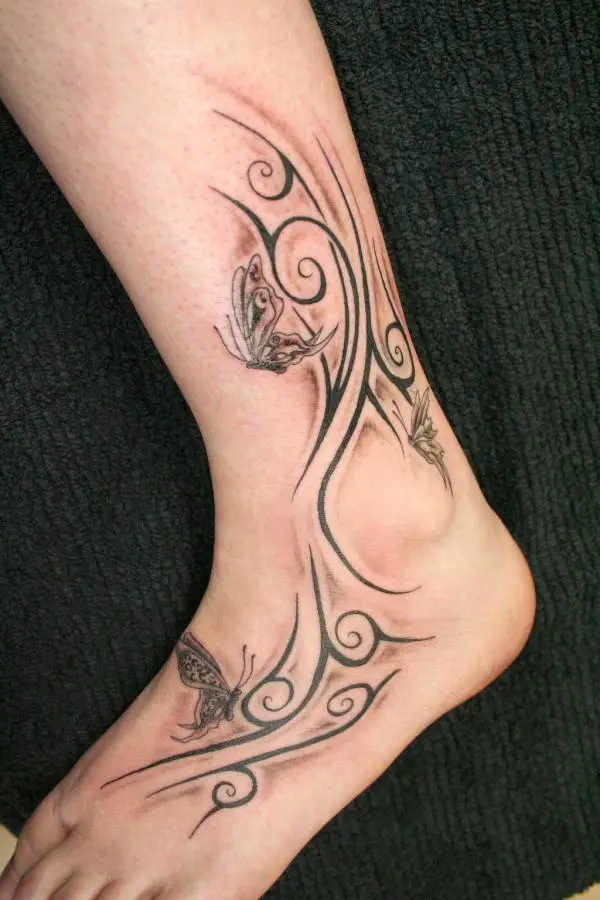 Lotus Tattoo
Sacred purple lotus in lovely color treatment and nice details. This leg tattoo is so detailed and looks so realistic. A subtly colored tattoo such as this needs a very professional and skilled tattoo artist.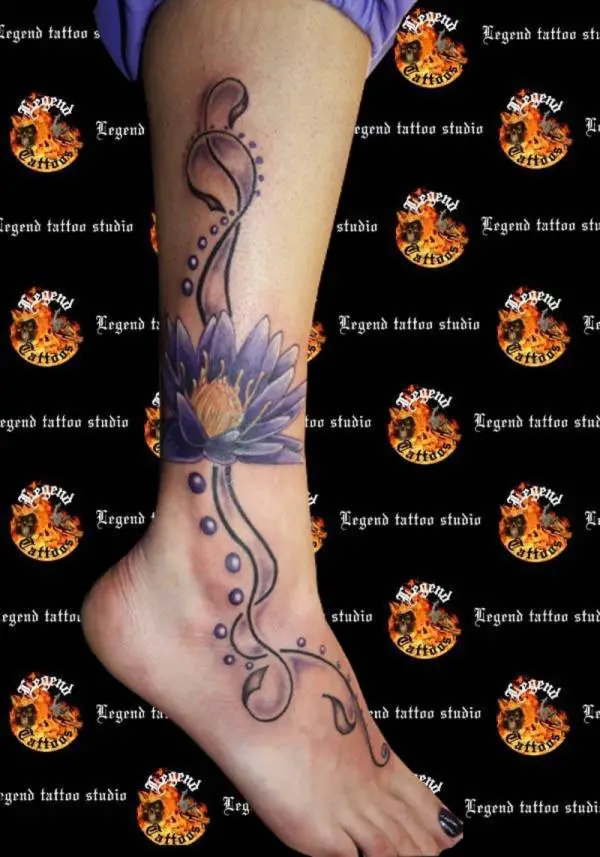 Flowers On Foot
Most women feel insecure about their legs and feet which is the main reason why they do not wear open-toed sandals, shorts, and any other articles of clothing that would reveal their lower body. However, with this colorful ankle tattoo, it is guaranteed that they would not feel as insecure and thus boost their confidence.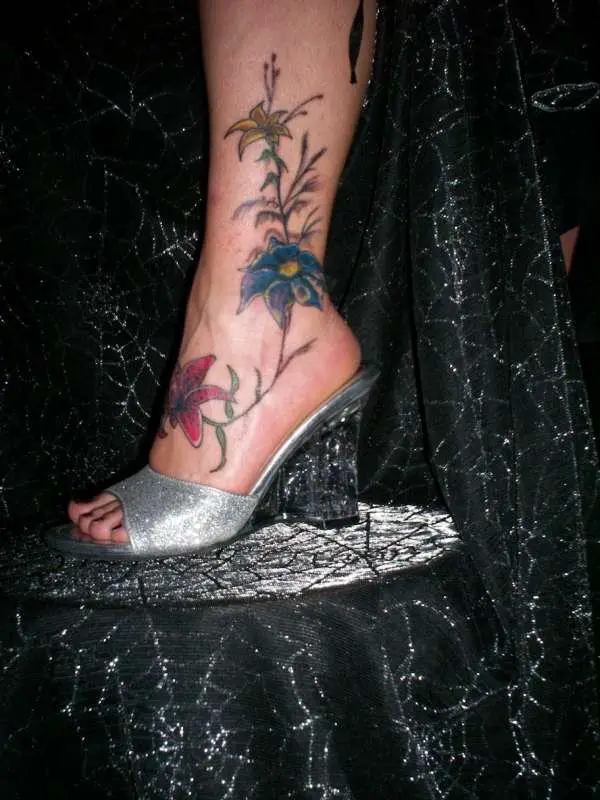 Foot Tattoo
Glittery blue flowers with sleek vine and butterflies. This is another aesthetically pretty tattoo that will surely improve your confidence regarding your foot. Now this wearer can wear slippers and sandals anytime she wants instead of hiding her foot every time she goes outside.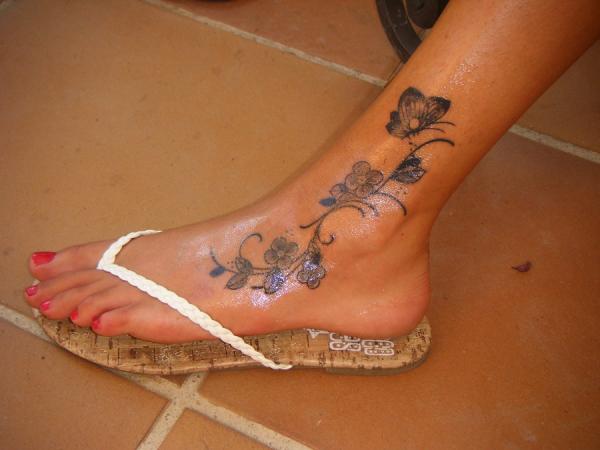 Side Hip Tattoos
Sexy hip tattoos usually feature striking designs and deep-felt quotes.
New Hip Tattoo
Colorful phoenix tattooed on her on the lower waist making a striking style statement. With the phoenix signifying reborn, the wearer of this rib tattoo is showing his rebirth as a new man. It can also mean rising from the ashes which is an optimistic way of looking at things after a major failure in life.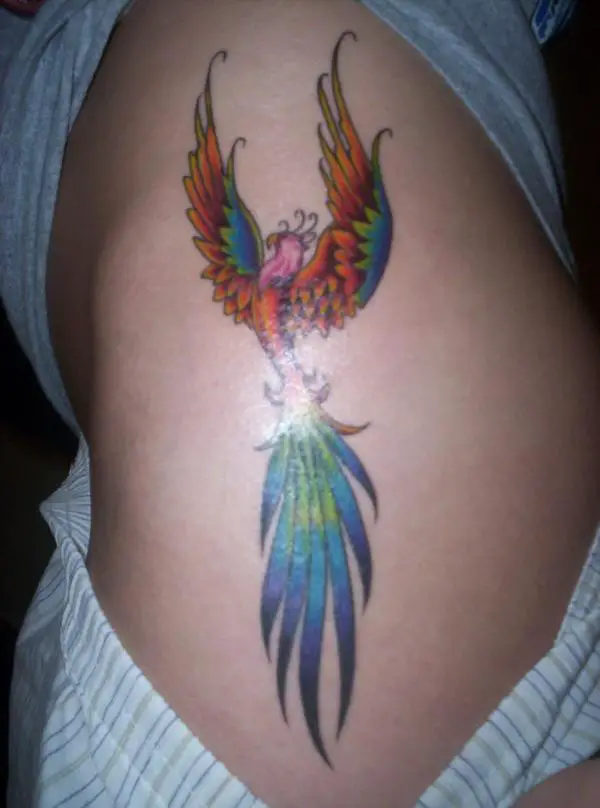 New Hip Tattoo
When Words Fail
Ultimate music enthusiasm expressed with a lettering, "When words fail, music speaks".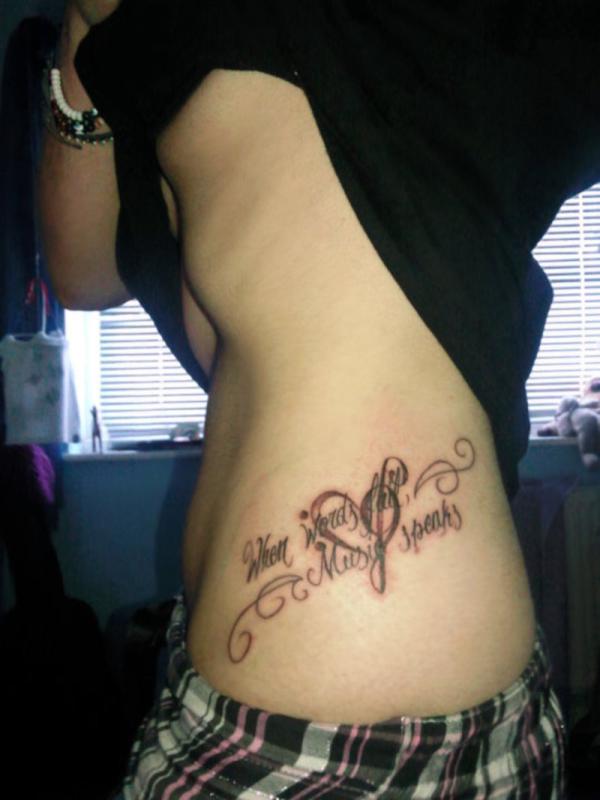 Hip Tattoo
Badass but one of a kind tattoo, which needs deep enthusiasm for the concept.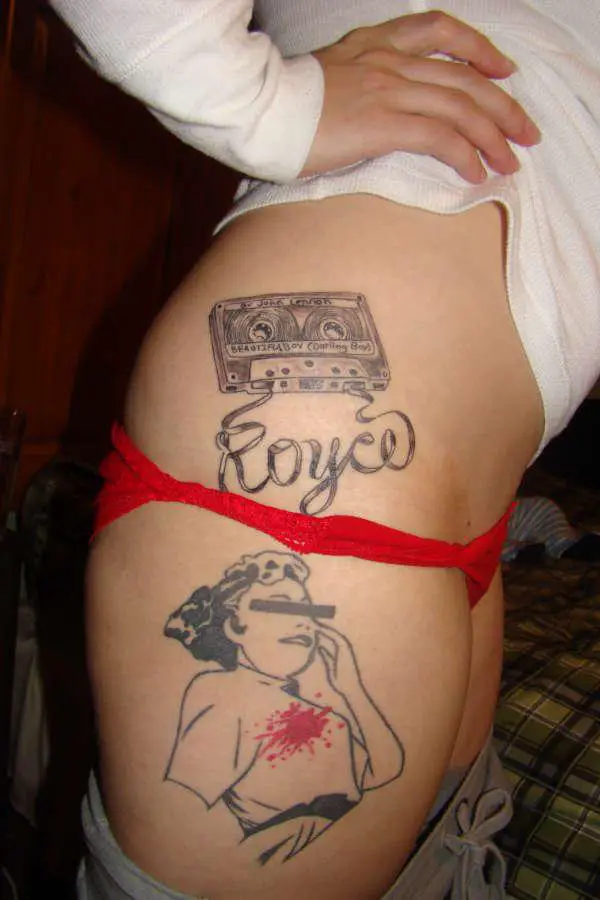 Feminine Hip Tattoo
Mythical woman tattoo with sacred symbols infused with mystic patterns and colors.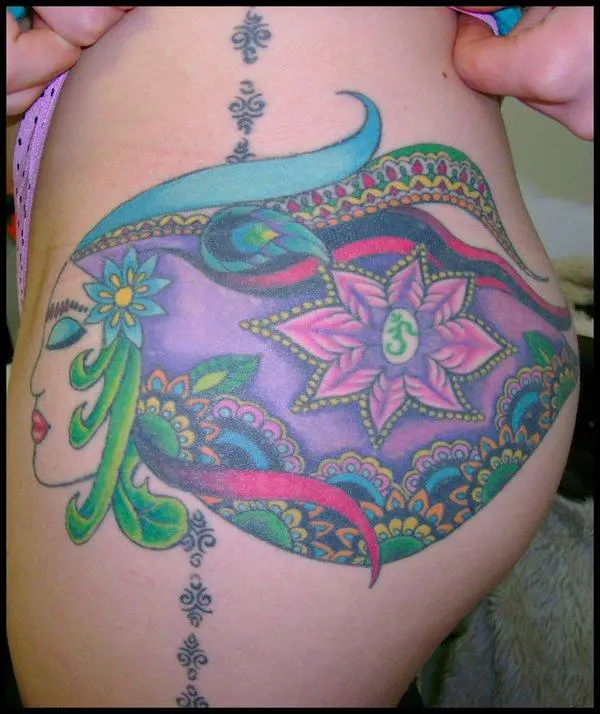 Royal Hip Tattoo
A great looking tribal pattern tattooed in black on the hip.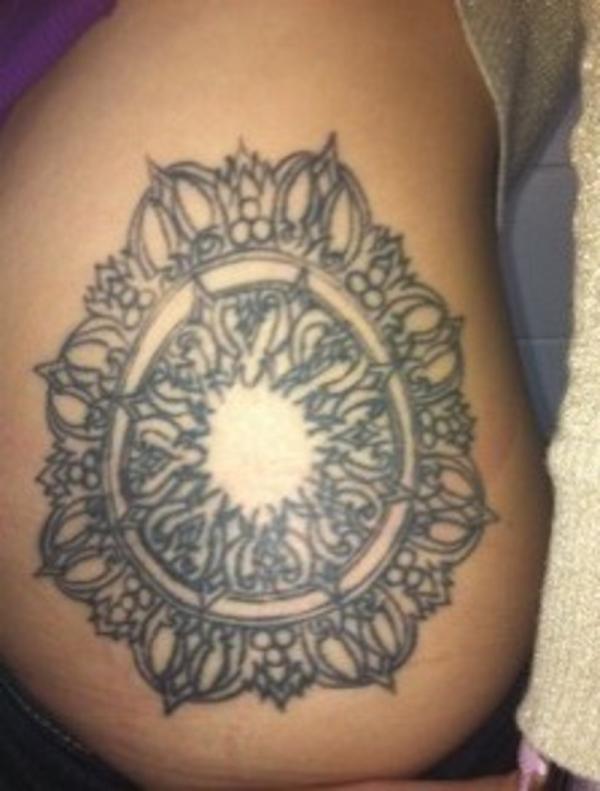 Side Piece Tattoos
A collection of spectacular side piece tattoos featuring intriguing concepts and designs.
Mucha Side Piece
Awesome tattoo inspired from Alphonse Mucha's 'Evening Contemplation'.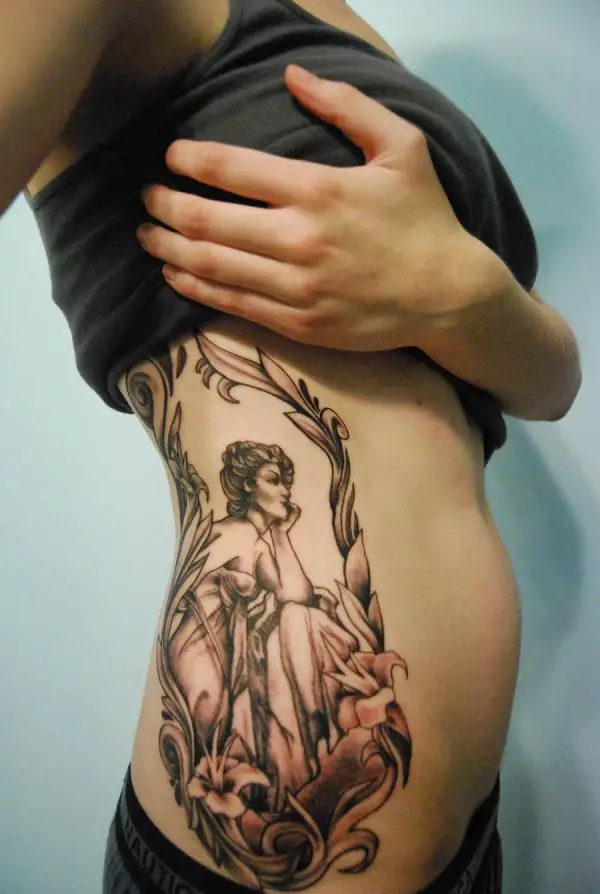 Side Piece
Bio design yet girly and colorful for displaying the unique beauty of the art.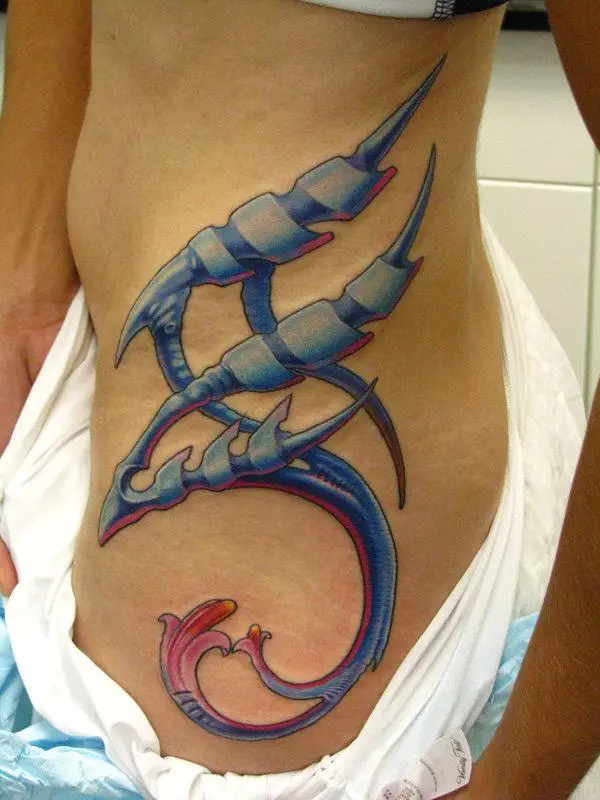 Cherry Blossom Branch
Holy flowers of cherry blossoms with cool wavy effect on the ribs.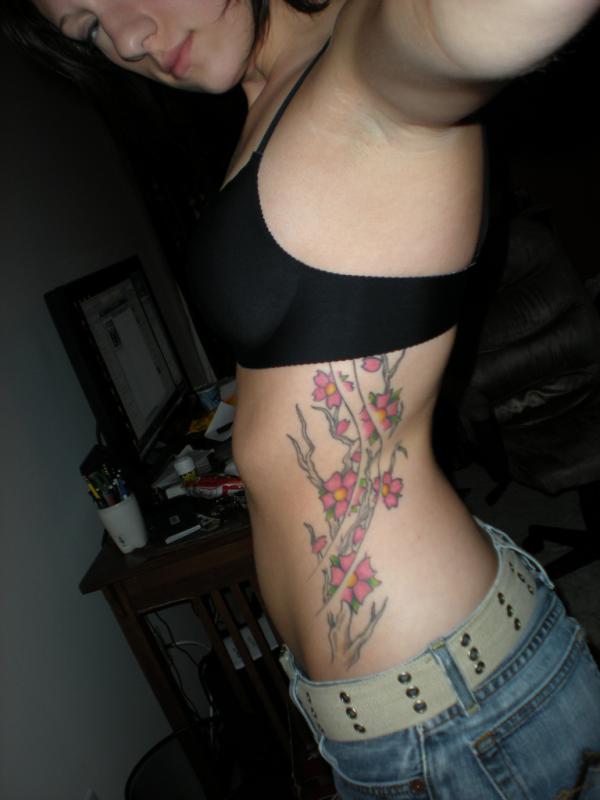 Side Fairy Piece
Red and blue fairies, which somewhat also resemble dragonflies.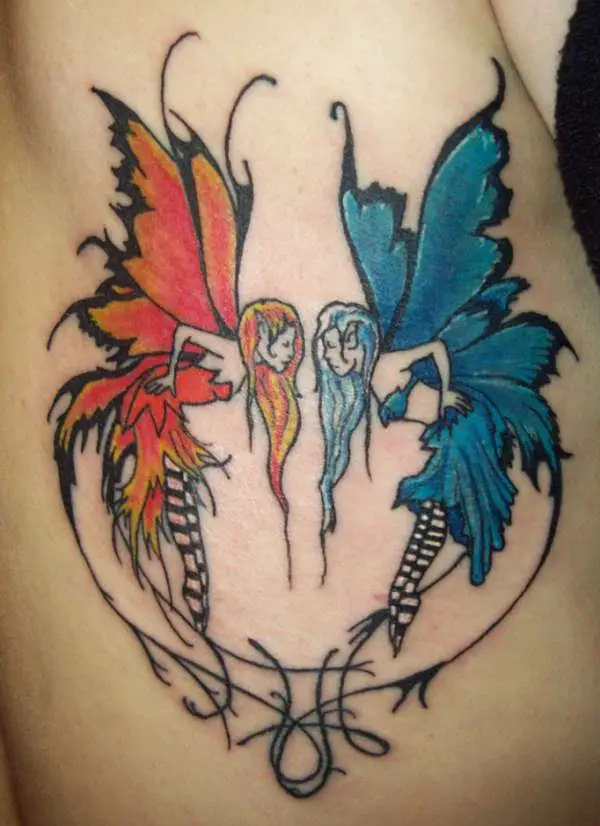 Amazing Side Piece
Terrific large scroll tattoo done in awesome dark shading with Bible scripture.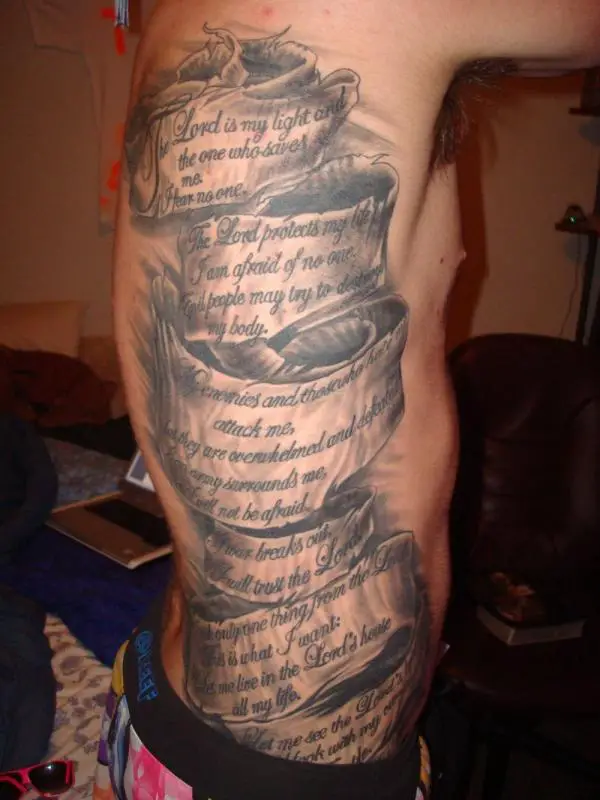 Side Cross Tattoos
Crosses look really great tattooed along your curves of side body. Below is a little assortment of side Cross tattoos.
Cross Side Piece
Holy Cross in dark shading, flowers and Biblical message.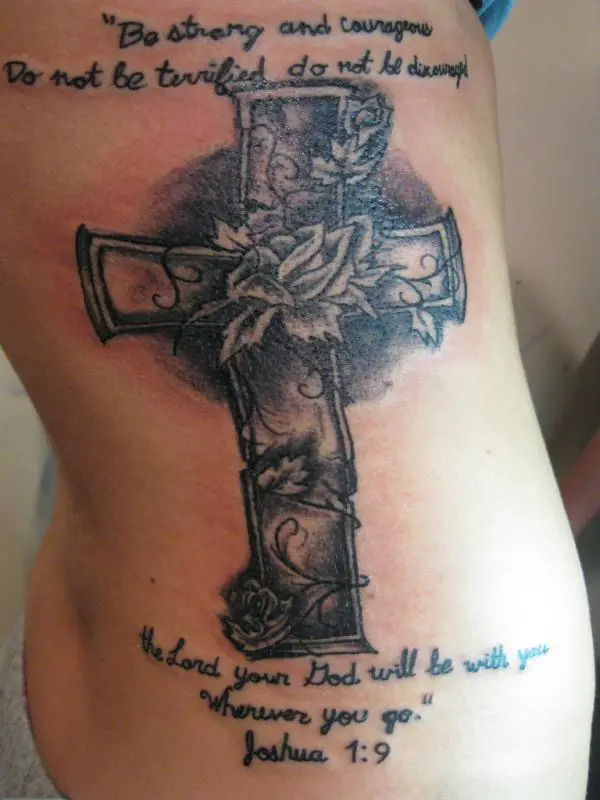 Cross Side Piece
Side Celtic Cross
A large 3D Celtic Cross rib tattoo dedicated to their mother.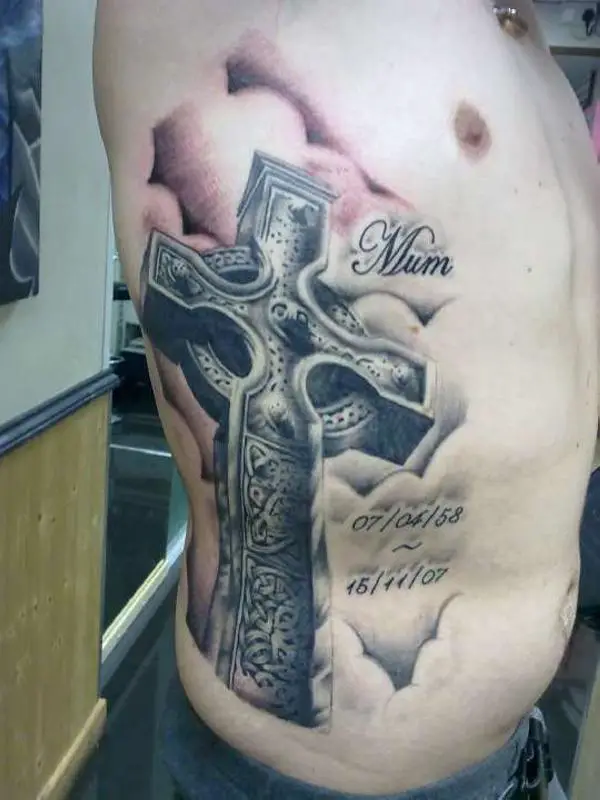 Side Celtic Cross
Cross Down My Side
A Side Cross tattoo for men with a deep philosophical quote.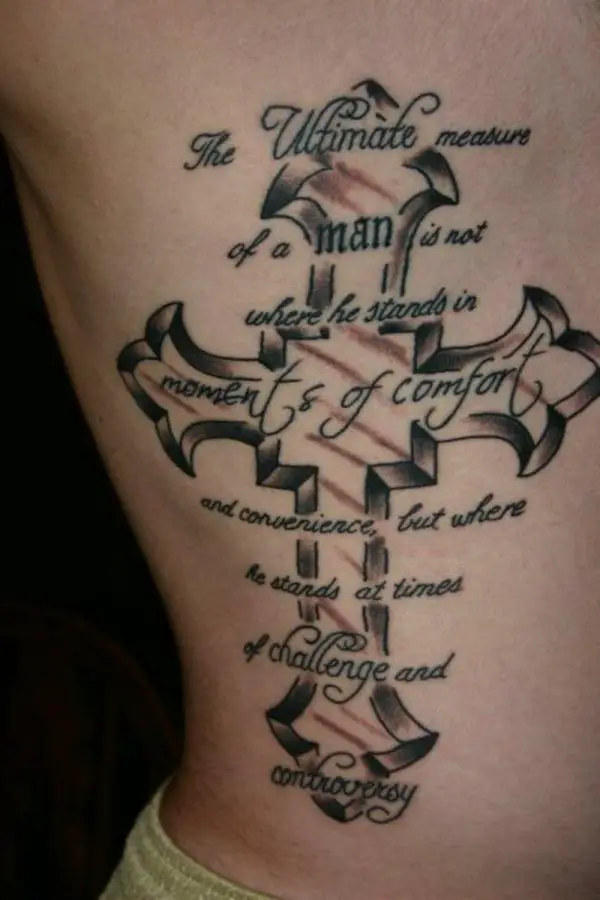 Custom Side Cross Tattoo
Gorgeous Cross with traditional pattern and beaded rosary.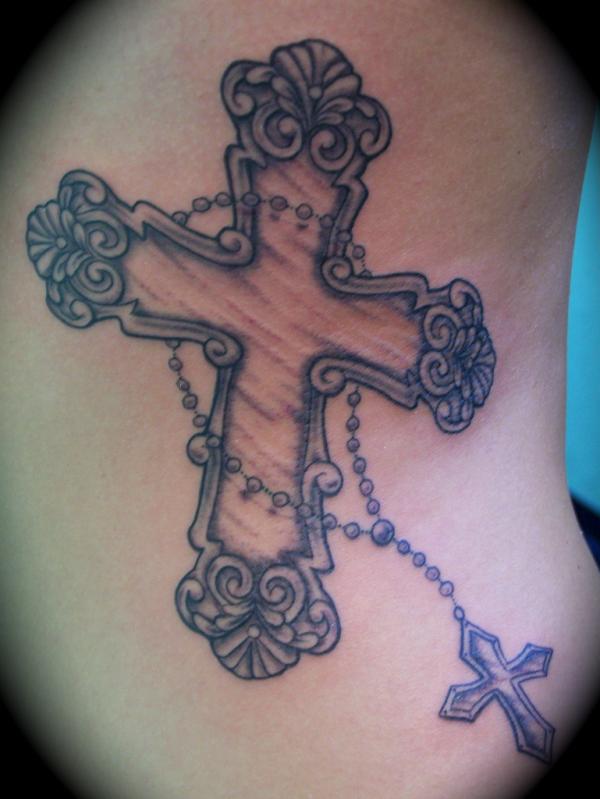 Cross On Left Side
A Wooden Cross side tattoo with a green vine wrapped around it.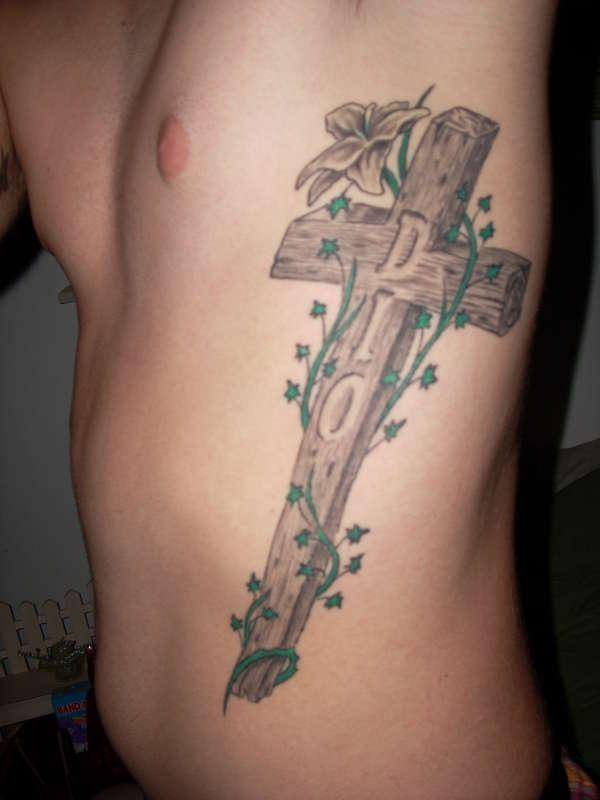 Celebrity Side Tattoos
A few tattoo enthusiast celebrities have further pumped up the craze for side tattoos. The pictures listed in this final section are worth taking a look.
Shenae Grimes Tattoo
Self-obsessed Shenae Grimes has got "Myself" as a side boob tattoo.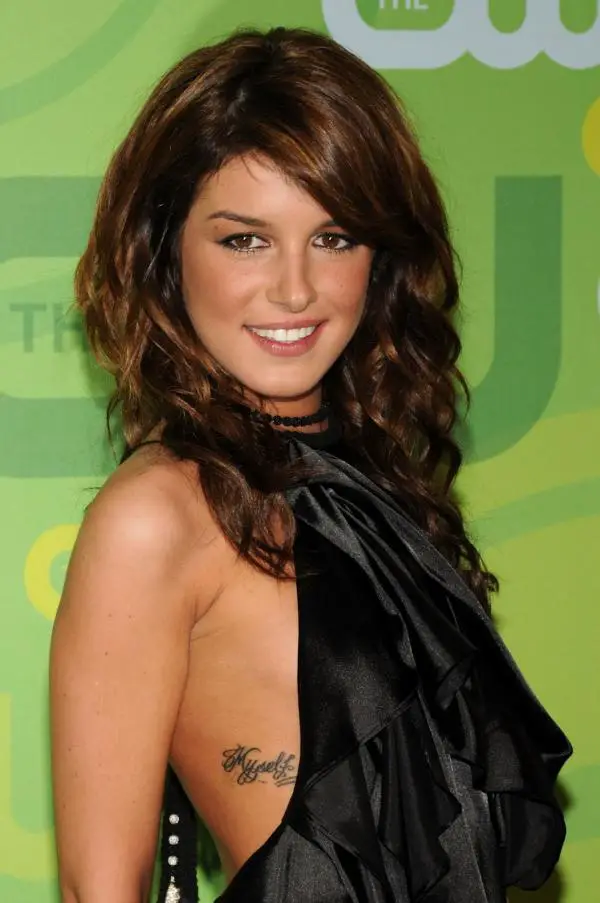 Rihanna
'Unfaithful' girl Rihanna showing her pistol tattoo on her rib tattoo.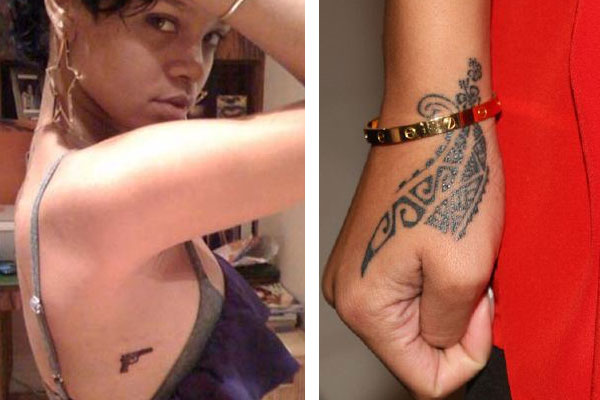 Shia Labeouf Tattoo
Handsome hunk Shia Labeouf has a cool rib tattoo on his side.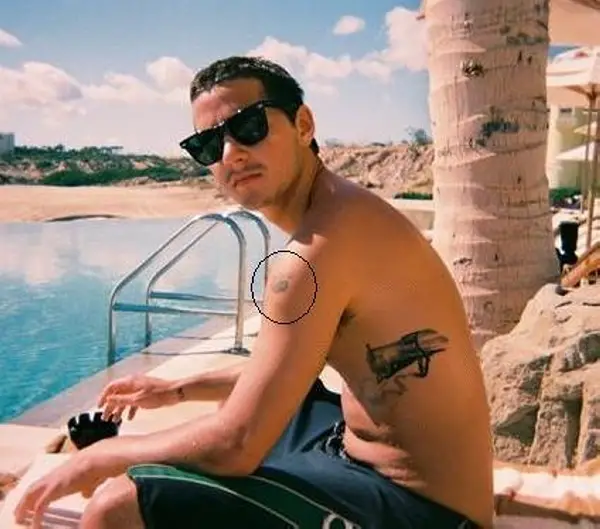 Megan Fox Tattoo
Megan Fox's popular side tattoo with a popular quote.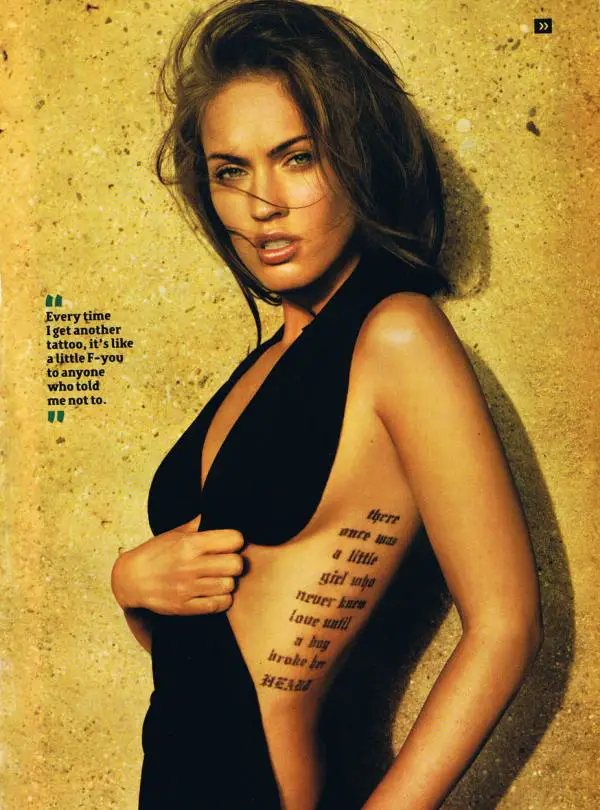 Fearne Cotton Tattoo
Gorgeous Fearne Cotton flashing her tribal tattoo on her hip.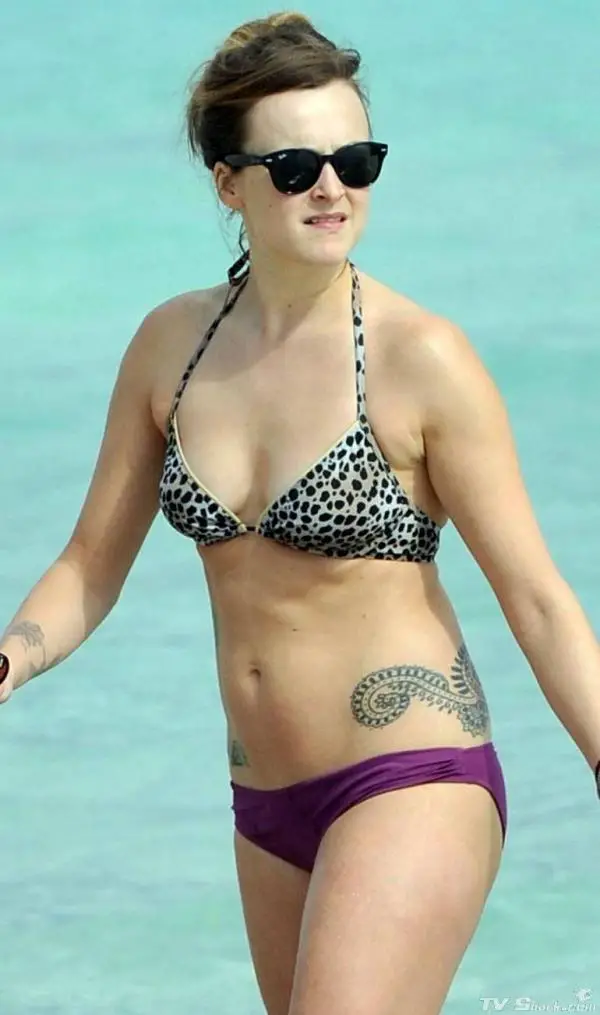 As you can see from looking at the list above, a lot of women and men are crazy about side tattoos. That is why so many people out there decide to get these tattoos. Hopefully, by looking at this list it has sparked your interest and creativity. Maybe you will be inspired enough to go to your local tattoo parlour and get a side tattoo or rib tattoo of your own.
If you like this article, you might be interested in some of our other articles on  Knuckle Tattoos,  Tribal Arm Tattoos,  Side Tattoos For Girls  and  Free Tattoo Pictures</a.