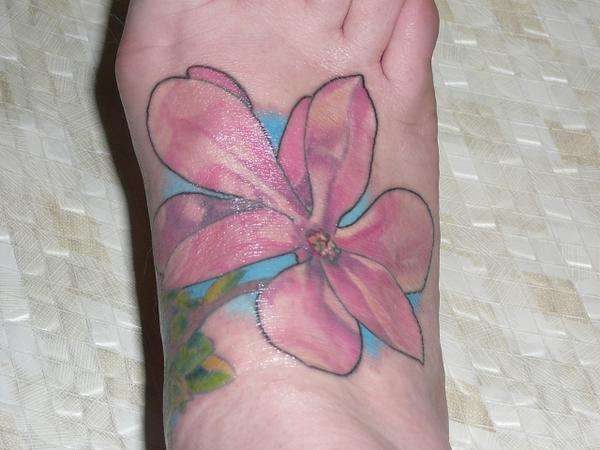 Flowers are a favorite theme for tattoo artists to play with, and whether it is for their shapes, colors, textures, or patterned looks, floral theme tattoos have a very artistic effect. The flower designs go beautifully with the delicate female form, so they make for popular tattoo ideas for women. The large petaled magnolia comes in a variety of colors that makes for great tattoo designs. The best part of Magnolia Tattoos is that they can be inked on different parts of the body in combinations with other themes like leaves and fish as a creative expression.
The effect of floral themes on a bared arm or the back of a woman can be extremely sensuous and stunning. The delicate pink hues of a flower on the shoulder, or a lilac and white shaded floral pattern inked near the waist, or even a large pink magnolia inked on the foot, all make for imaginative body art ideas. There are so many colors of magnolias that can be found in Nature that tattoo artists have a rich and colorful palette for their tattoos.
Magnolia tattoo designs also combine with themes such as the koi fish, a symbol of luck, to make for a meaningful tattoo.
An elegant flower can also be a beautiful ink design done in memory of someone dear and departed. Flowers are rich in patterns, and lead to amazing design ideas in tattoo art.
If you like this article, you might be interested in some of our other articles on Scary Tattoos, Card Tattoos, Extreme Tattoos and Simple Tattoos For Girls.
Magnolia Pink
A spot of bright blue ink is used to contrast with the delicate pink shades of the single magnolia in this colorful foot tattoo idea.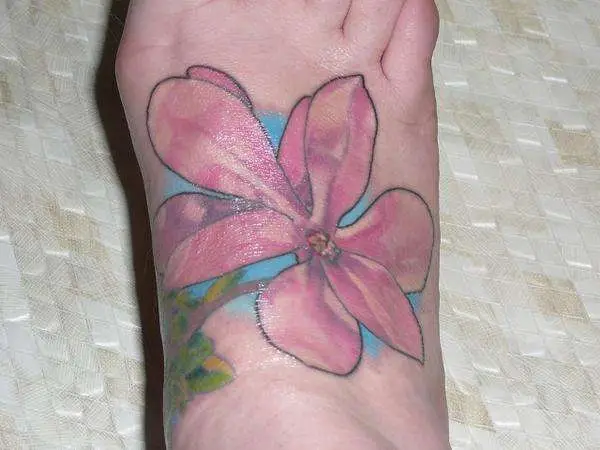 Magnolia Back
This is a pretty floral tattoo design using the shapely patterns of the magnolia for inspiration. The dark pink patterns give a delicate look to this tattoo.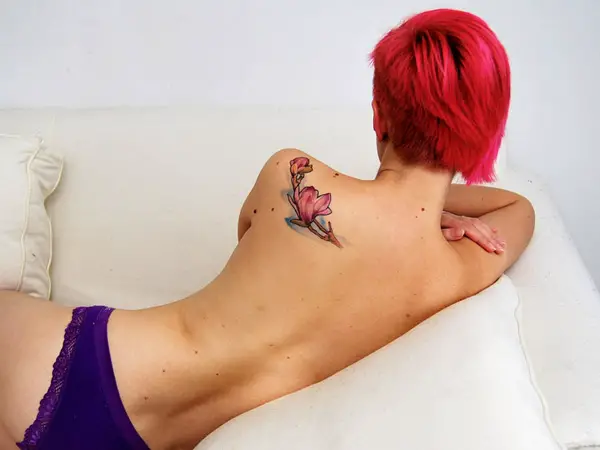 Shoulder Magnolias
The black outlines of these bare floral patterns look beautiful against the mint green shades of the leaves in this shoulder tattoo.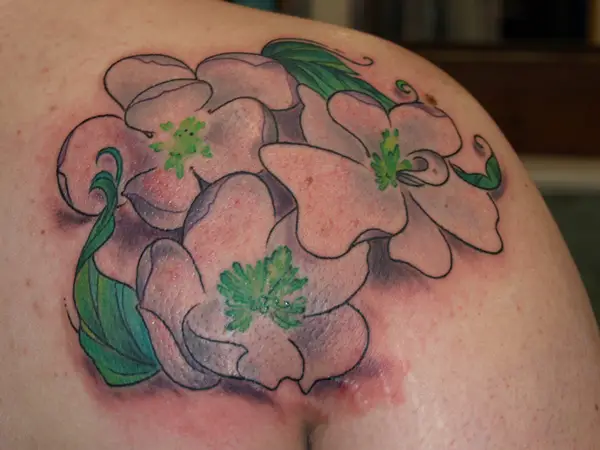 Arm Magnolia
Rich black shades on the petals give an amazing 3D effect to this single colored magnolia flower tattoo design on the upper arm.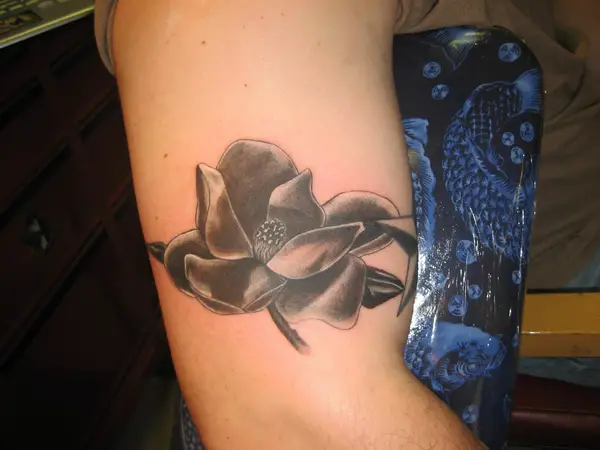 Artistic Magnolia Tattoo
Take a look at the etchings inked into this single colored magnolia tattoo design. The etchings seem inspired by pencil sketch patterns.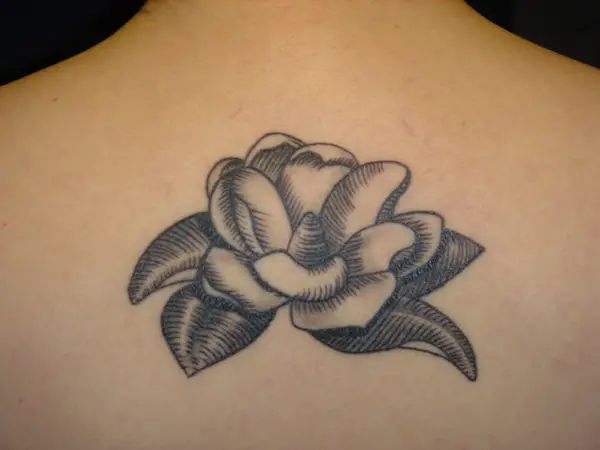 Lotus Magnolia
The rich black outlines bring out the light gray and dark green shades in this magnolia with leaf theme tattoo design.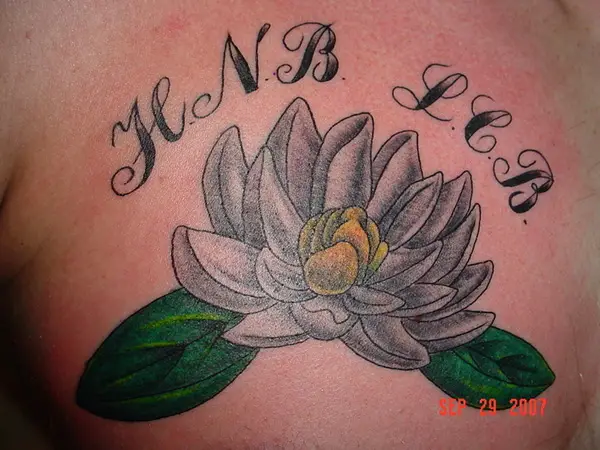 Watercolor Magnolia Tattoo
The soft shades of the pinks merge with the yellows to give a dreamy watercolor effect to this artistic arm tattoo.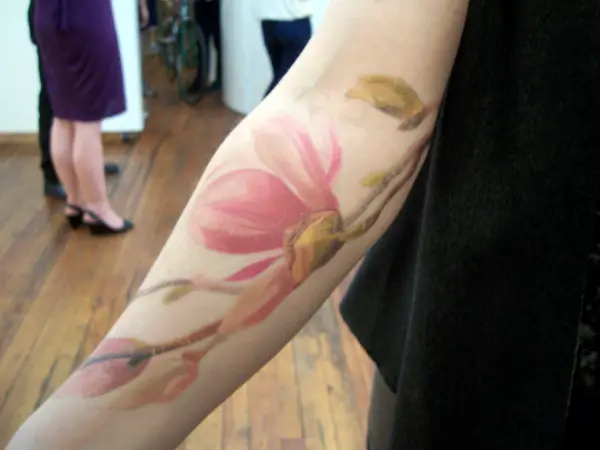 Lovely Magnolias
The mauve shades add a rich look to the white petaled magnolia flowers in the delicate tattoo inked above the waist.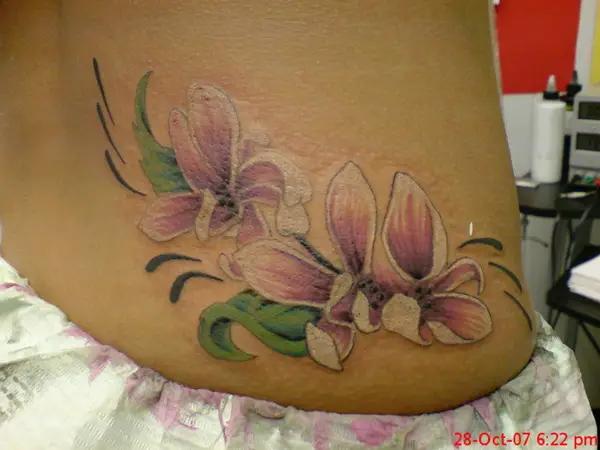 Magnolia Masterpiece
Simple outlines combine in rich and complex patterns in this stunning full back floral theme tattoo. The touch of pink adds a beautiful contrast to the single color outlines.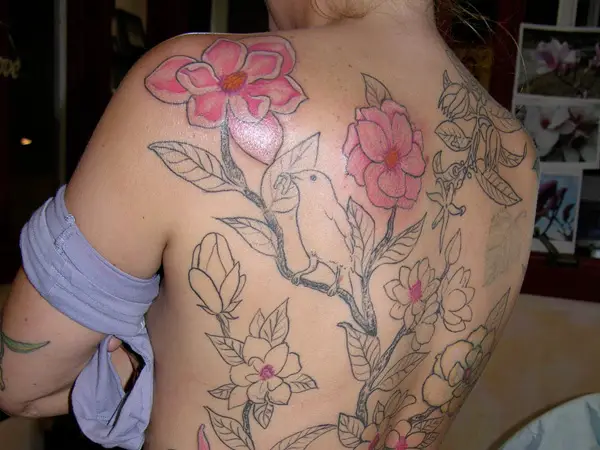 Magnolia Single
The three green leaves sticking out on the sides of the delicate red shaded single magnolia make for a pretty upper back tattoo.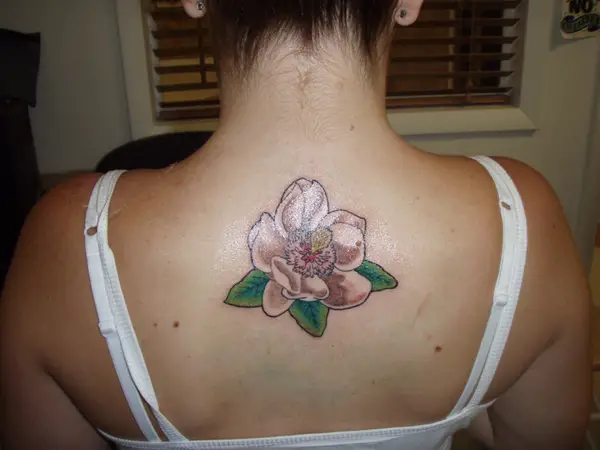 Blooming Flower Tattoo
Rich shades of gray in this wide flower design make for a beautiful pattern with the green leaves spread out on all sides.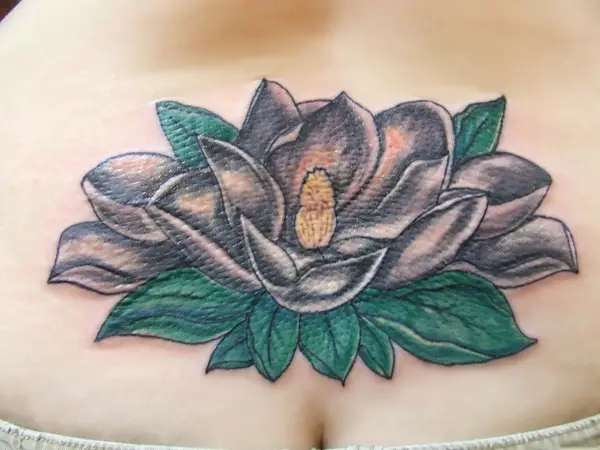 Magnolia Garland Tattoo
Dark maroon flowers combine with the black outlines in this garland design tattoo on the upper part of the thigh.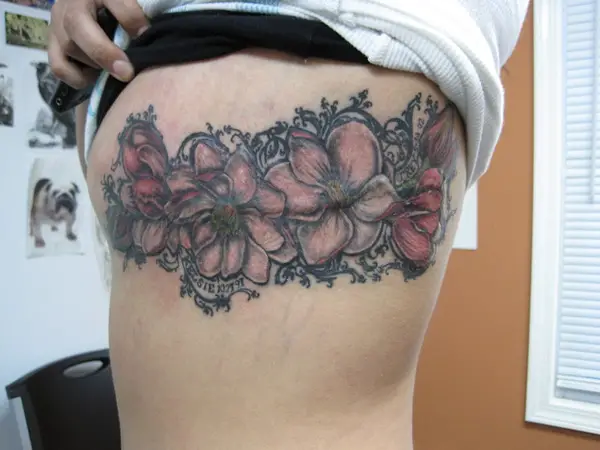 Chinese Magnolia Tattoo
This is a beautiful flower tattoo design inked in shades of black. Magnolias and roses combine in the design.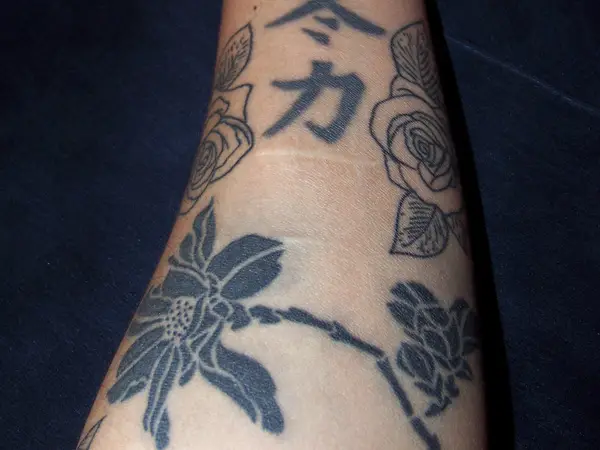 Design With Magnolias
The shaded effect of the delicate branches goes beautifully with the simply outlined magnolia flowers in this fresh tattoo design.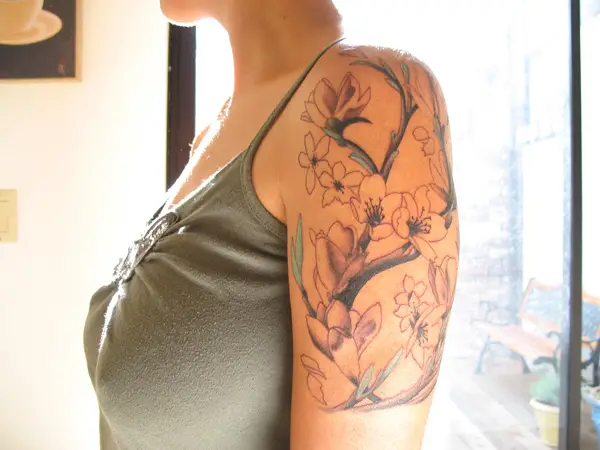 Lucky Magnolia Tattoo
A richly inked green koi fish and a pink magnolia flower combine in this vivid and colorful flower tattoo design in which blue waves dance in the design background.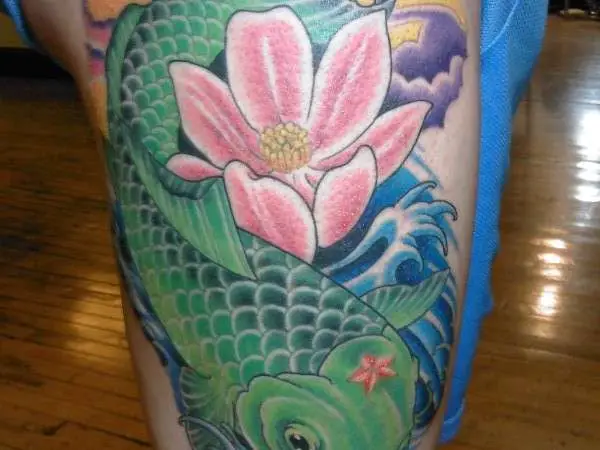 Sketchy Magnolia Tattoo
This magnolia flower tattoo idea draws on pencil sketches for inspiration. The soft look adds to the pencil shaded effect of the tattoo.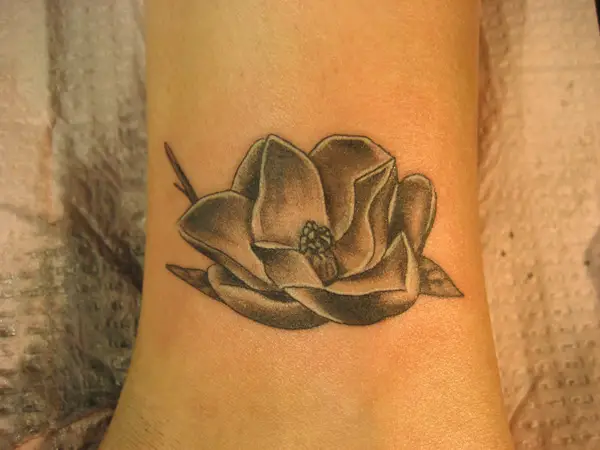 Magnolia Bluetouch
The delicate touches of blue and green on the leaves and the spiraling patterns make a subtle contrast with the single colored magnolia in this tattoo design.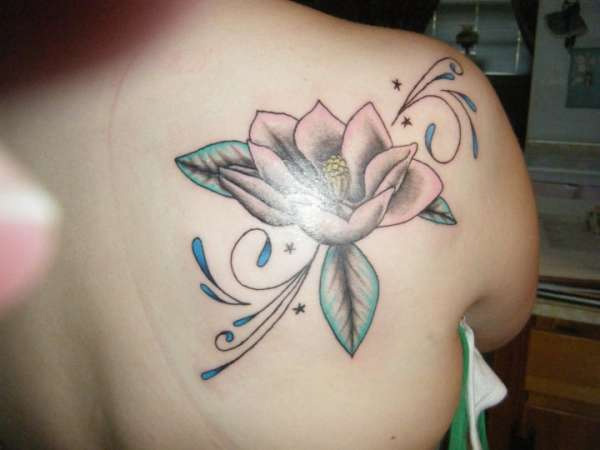 Magnolia Tattoo
This pink magnolia sits at the heart of a flower and text theme tattoo that has been inked in memory of a dear departed one.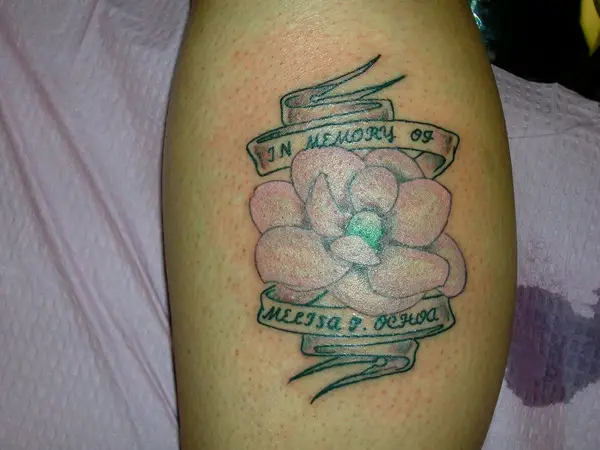 Red Magnolia
The rounded petals with point edges are shaded in bright red in this single magnolia tattoo design inked with black outlines.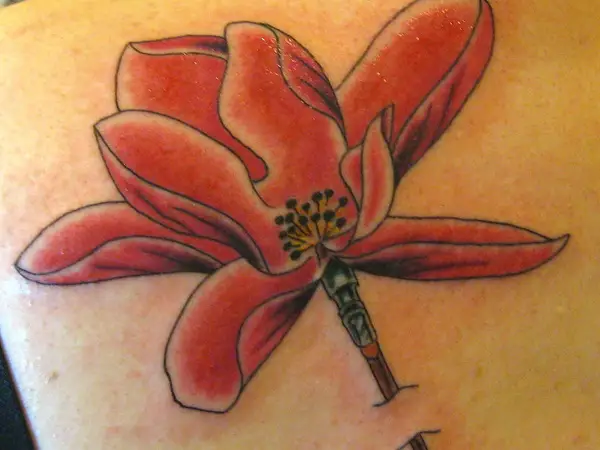 Magnolia Wave Tattoo
Gorgeous magnolia flowers in pale blue and gold bloom in artistic patterns in this pretty arm tattoo design.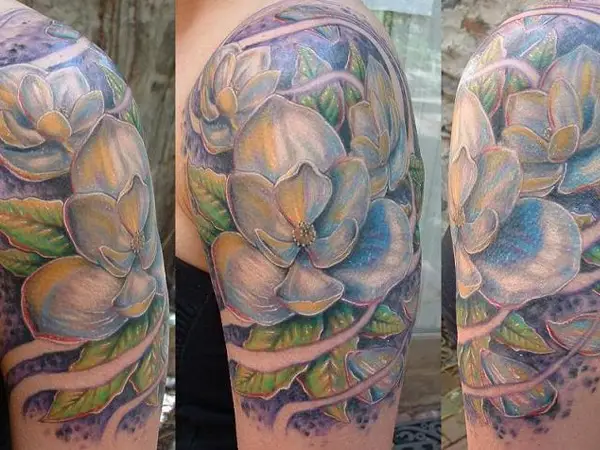 Magnolia Black Design Tattoo
This magnolia tattoo goes for a bold look in simple black with shades. Check out the black outlined shape and the black shaded areas that add depth to this tattoo.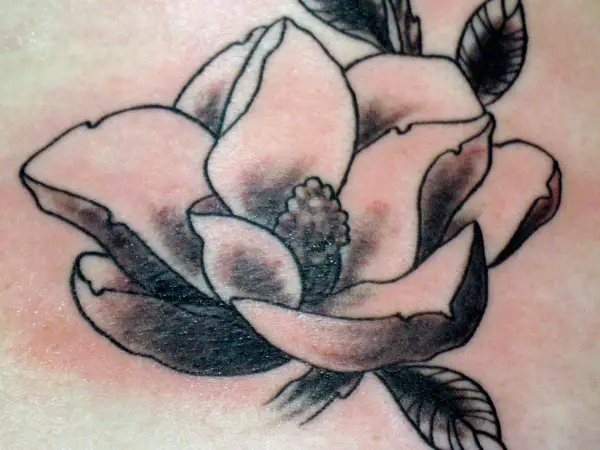 Magnolia Bare Tattoo
Powerful curves and a touch of shaded hues give an artistic look to this magnolia leafy patterned tattoo design.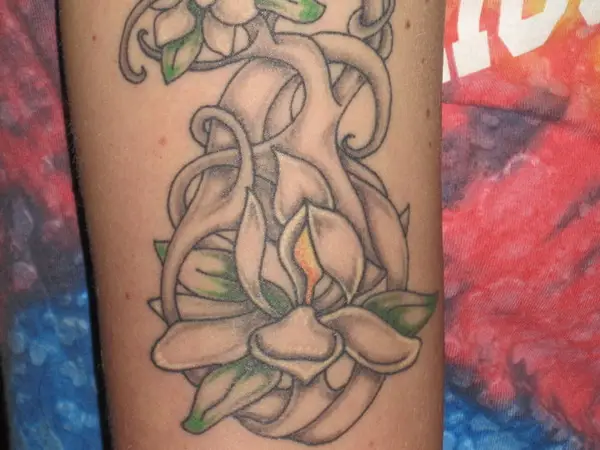 Magnolia Wrist Tattoo
The black spirals add an artistic touch on either side of this beautiful wrist magnolia tattoo inked in white.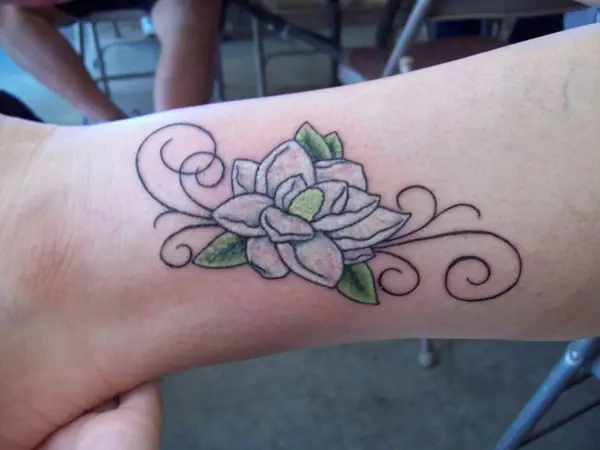 Awesome Magnolia Tattoo
One big red magnolia sits next to a smaller flower in this flower and leaves design back tattoo.