LeBron Raymone James is a well known NBA star, who is popularly nicknamed as "King James". Since his high school days LeBron earned acclamation for his basketball skills by becoming three a three-time "Mr. Basketball" of Ohio in high school and the rest is history.
LeBron James tattoos earned him further popularity as each one of his ink styles reflected his motivation for the game and his solid personality. His popular back tattoo "Chosen" came after the Sports Illustrated gave him this title on one of the covers. Explore more of his awesome tattoos in the list below.
If you like this article, you might be interested in some of our other articles on David Henrie Tattoo, Bow Wow Tattoos, Megan Fox Tattoos and Victoria Beckham Tattoos.
LeBron Chest Tattoo
The basketball king has got a winged lion piece on his chest.
LeBHron James In Blue Jersy
LeBron James in Blue Jersey showing his arm tattoos which has a crowned lion on his right arm and his left arm too bear cool pieces.
Name Tattoo
NBA star showing his back arm tattoos which are the initials of his names.
NBA LeBron James
The king of NBA who represents himself with his crowned lion tattoo.
LeBron Chest And Ribs
LeBron James flaunting cool tattoos on chest and ribs.
LeBron James In Yellow Jersy
The basketball champion performing and also flashing his sleeve tattoos.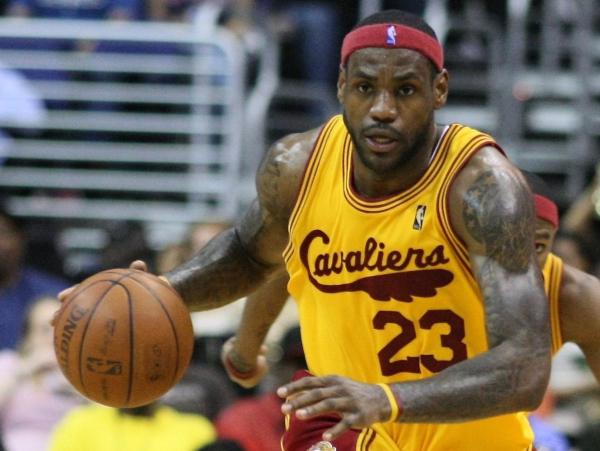 LeBron Back Tattoo
God's Chosen basketball champ LeBron James with his back tattoo.
LeBron James Shoulder Tattoo
LeBron's left shoulder Beast tattoo with stars and another lettering that says, "Hold Your Own".
LeBron James In White Jersey
The tattoos fanatic champion has got about dozen tattoos on both his arms.
His Arm Tattoo
His crowned lion tattoo, which James got while he was in high school.
LeBron James New York City
Some black flames on his forearm representing his fiery attitude for game.
Nba Final
LeBron's crowned lion tattoo has also got lettering above and below it, which says, "King" and "James".
LeBron's Left Arm Tattoo
Left forearm has got two lettering and two other pieces dedicated to his sons.
LeBron James Shoulder Tattoo
A side view of his popular crowned lion and King James tattoo.
LeBron's Forearm Tattoos
LeBron's forearm tattoo is dedicated to his second son Bryce Maximus.
LeBron James Stare
Above his Beast tattoo is a realistic portrait of his first son.
Terrific Arm Tattoo
His amazing arm tattoos beside a crowned lion sport a "Gloria" piece dedicated to his mother.
abc
LeBron James Delighted
Another look at his amazing inspirational tattoos on arms.
LeBron James Rib Tattoo
LeBron James's winged lion piece and "Loyalty" lettering on his ribs.
LeBron James Rib Tattoo
LeBron James In Full Swing
LeBron James in full swing to hit the basket in one go. His tattoos make him a style icon for his fans.
LeBron Wallpaper
The tough NBA star has utmost love for his mother, evidence of which is his "Gloria" tattoo on his right arm.
LeBron James Goal
The initials "L" and "J" on backside of each of his triceps.
Snatching The Basketball
LeBron James got his first tattoo while he was in his high school.
LeBron James Clicked
His left arm tattoos are dedicated to his two sons, besides there are two lettering tattoos.
LeBron James Playing
LeBron has also got a tattoo on his leg saying, "Witness".
LeBron James What
His right forearm tattoos include a piece that says, "330".
LeBron James Stating
At inside of his forearm is another lettering, "No one can see through what I am except for the one that made me".
LeBron James Struggling
James loves his two little champion sons and he has got a tattoo for both.
Cool LeBron James
The initials inked on his triceps display very attractive font style.
Wizards Vs Heat
A view of his inside arm tattoo which is a cool lettering piece.
Fantasy Basketball
Roaring like a lion, LeBron James well justifies his lion tattoos.
Washington Wizards Vs Miami Heat
Recently LeBron also sported a tattoo that says, "Family".
Washington Wizards Vs Miami Heat
Wizards Vs Cleveland Cavaliers
The rockstar player proudly declares himself as "King James".
Wizards Vs Cleveland Cavaliers
LeBron Lionhead
A look at his lion head which later got a crown on its head.
LeBron James All Star
Stars studded on the shoulder of the NBA star player.