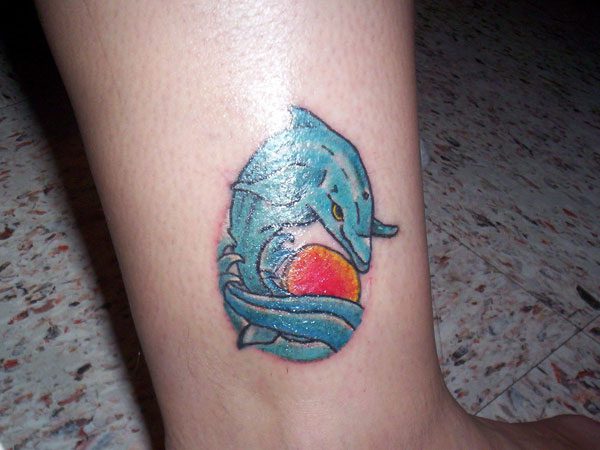 Animals and birds enjoy huge popularity as tattoo designs. People love to get these living creatures carved on their body part as tattoos. Dolphin tattoos are also part of this design segment. The friendly mammal is very loving and cute in nature. It bears close resemblance to human beings and is considered to be an intelligent animal. Its free and fun loving spirit makes it more famous as tattoo. They are also painted as symbols of love and harmony. Dolphins exude warmth and positivity and they are believed to wield auspicious vibes. Men and women both like to get dolphin tattoos to adorn their body.
The dolphin tattoos are mostly displayed on arm and feet but they are also engraved on other body parts. Black and white or colored, the charm of dolphins remains same. They are amazing water creatures that have a cool and soothing aura about them. Good luck and success is also associated with them and they are worn for this reason too. Today, we bring for you 30 dolphin tattoos images that show them in amazing styles and colors. Take a look and enjoy the joyful and adventurous journey with these cute water creatures.
Sporty Dolphin
The glad dolphin holding a football in its tail looks like a sports buff.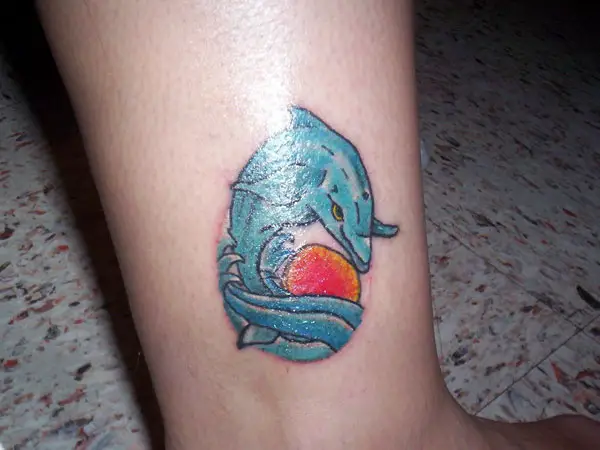 Dolphin With Star
Two naive looking grey dolphins with stars created around them on leg look cute.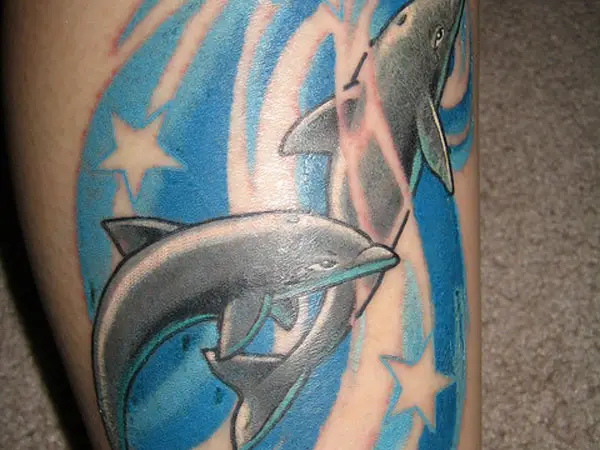 Cool Dolphin Tattoo
Two tribal wave dive dolphins rollicking in the waters look splendid together.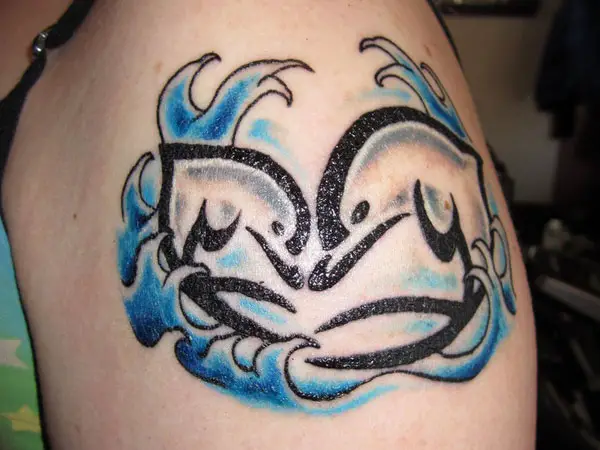 Dainty
A small dolphin in the center of the feet carved as tattoo looks graceful.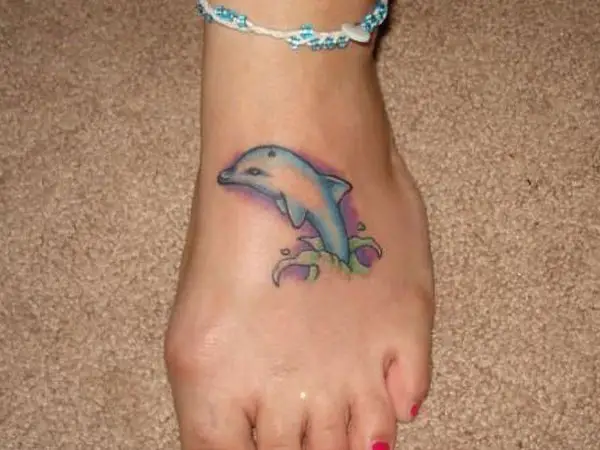 I Love You
These two dolphins kissing each other symbolise love and affection.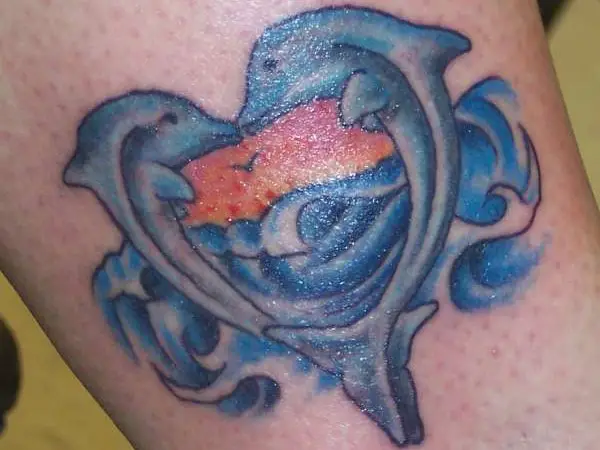 Beauty Conscious Dolphin
This dolphin with a shell necklace is very concerned about her looks and likes to wear jewellery.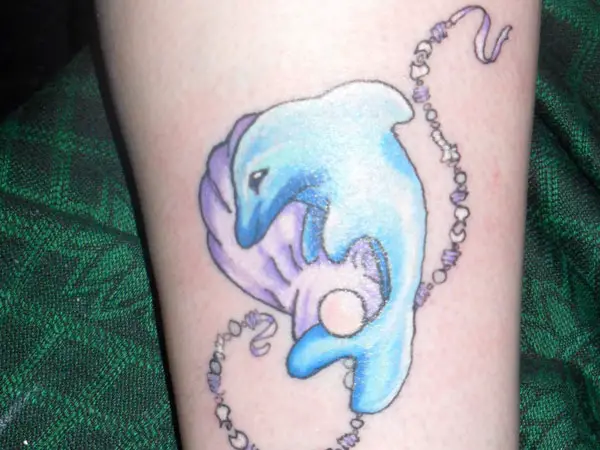 Foot Dolphin Tattoo
A blue dolphin with a bubble carrying the initials, carved on foot, looks cute.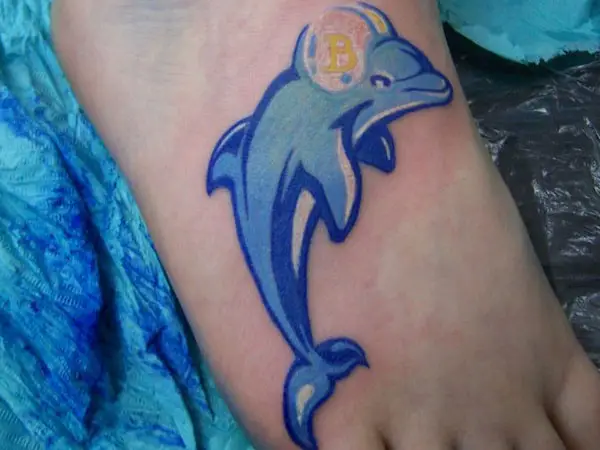 Foot Dolphin Tattoo
Fun With Dolphin
A black dolphin with red outlines making a splash in the waters, inked above the ankle, looks cheerful.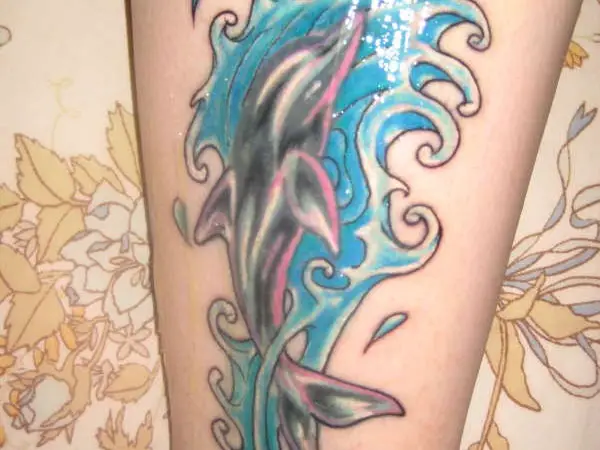 Back Blues
A blue dolphin emerging out from the waters to take a breath of fresh air inked on back.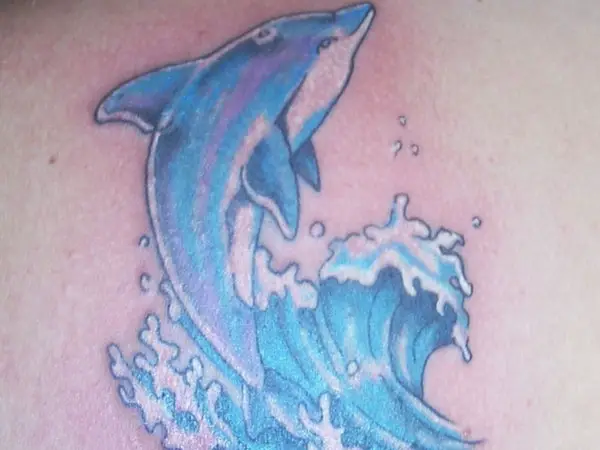 Plain Dolphin Tattoo
A clear black dolphin tattoo that looks simple but beautiful.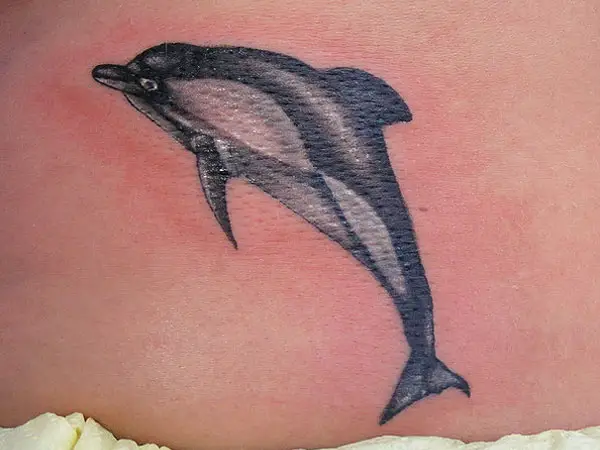 Pretty Dolphin
A small blue dolphin carved with a sun motif on the leg has a sweet and charming look.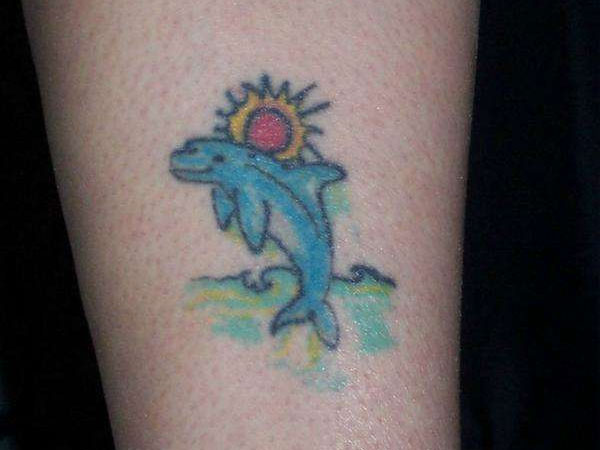 Musketeer Dolphins
These three dolphins with orange stripes are like the three musketeers who always stayed together.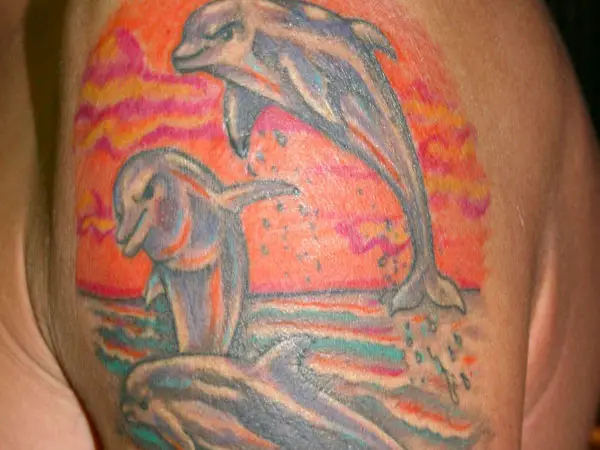 We Are Family
This tattoo with four dolphins and bubbles created on the arm in a round resemble a family of four.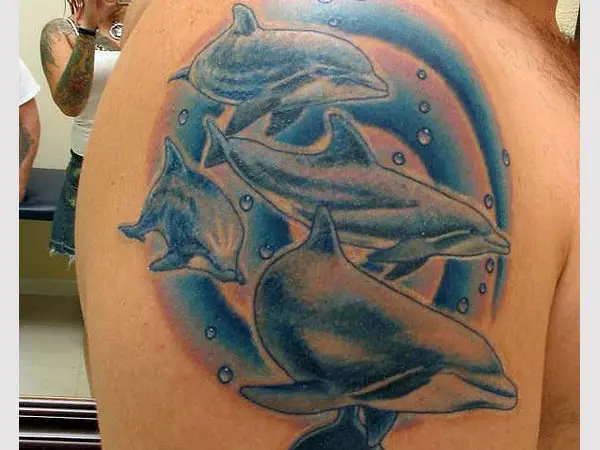 Marvellous Tattoo
A large dolphin swimming in the sea with a celtic symbol and butterflies hovering over it looks amazing.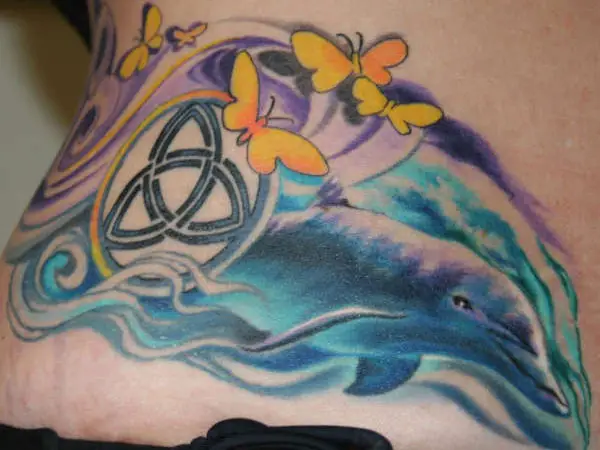 Dolphin Celtic Butterfly Tattoo
Playful
This cute tattoo carved on arm shows a dolphin making a splash in the waters.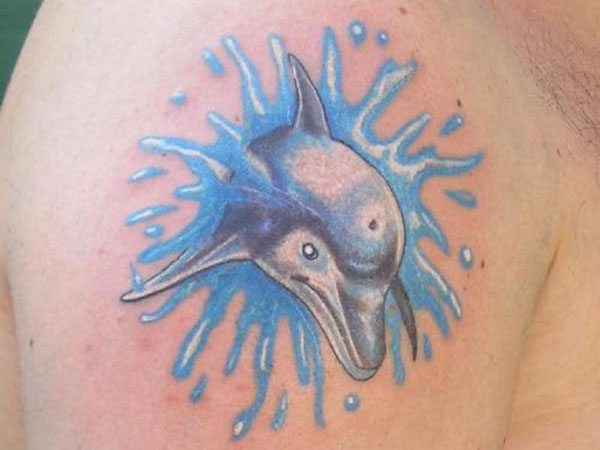 Sweethearts
A pair of dolphins having fun in the water exude the true spirit of love and life spirit.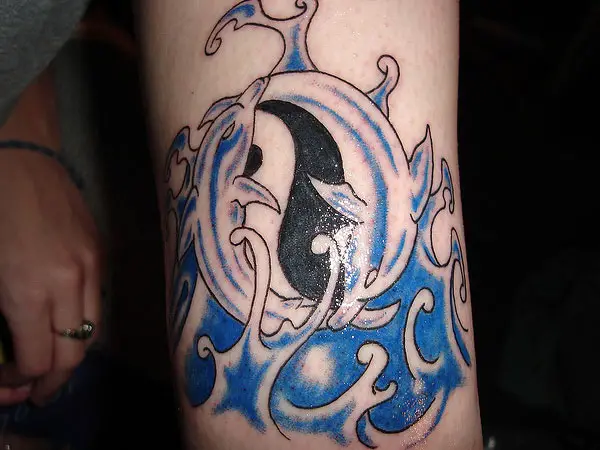 Right Calf Tattoo
This dolphin has an innocent look in her eyes and looks very lovely.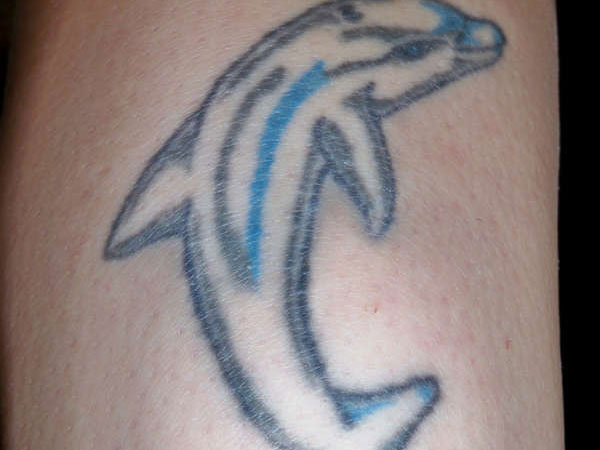 Flower Fins
Two bright red flowers around the dolphin, engraved on arm, look sober.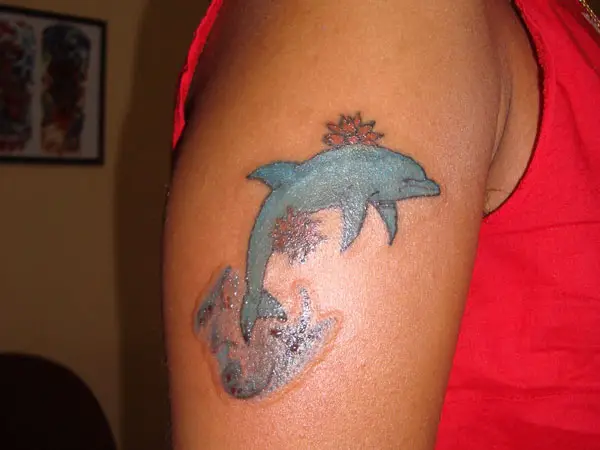 Above Water
A slim, black dolphin lying around the ankle with blue sea waves below it, looks beautiful.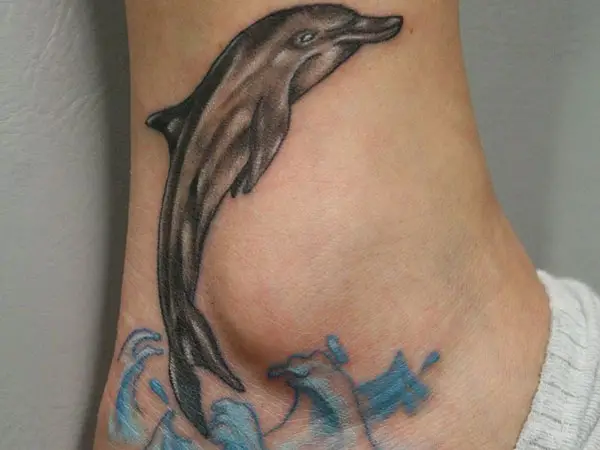 Glossy Dolphin
A blue-green dolphin motif with waves carved on leg has a sparkling touch that looks vibrant and bright.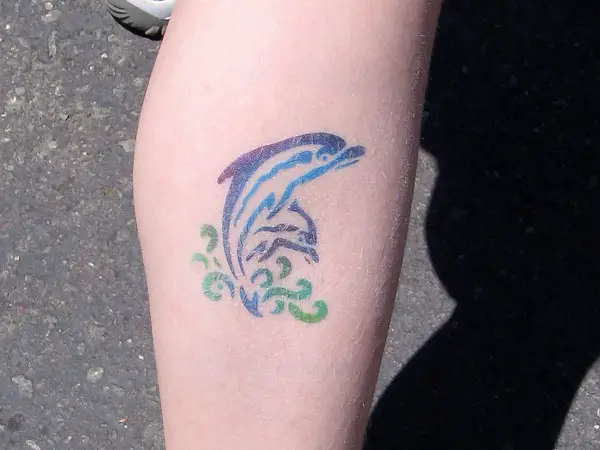 Memorial Tattoo
The girl has carved this small dolphin tattoo with heart shapes on her upper back in the loving memory of her mother.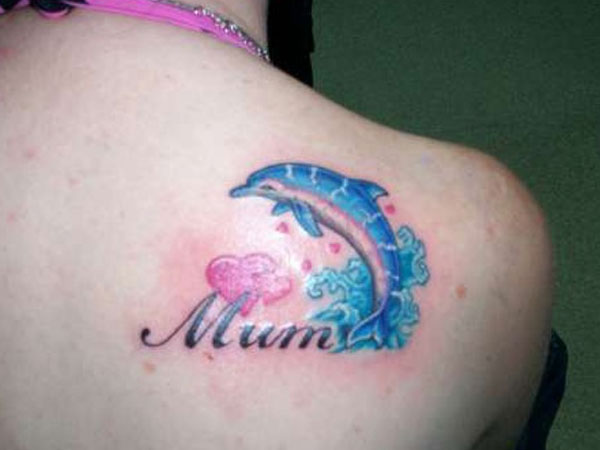 Artistic
This dolphin with vine motif around its body and the letter "R" curled into it has an aesthetic look.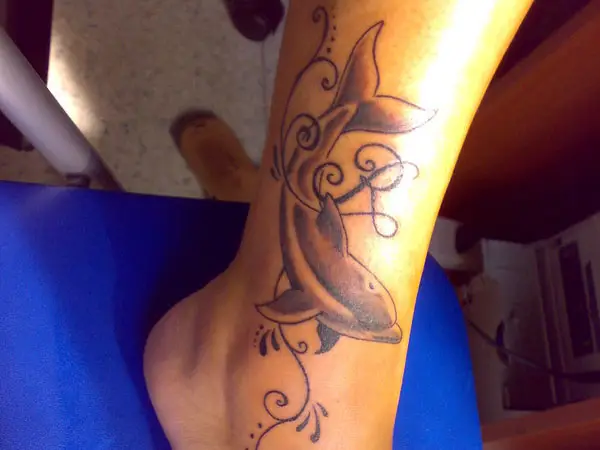 Dolphin Pirate Tattoo
The dolphin with glasses and bandana over its head shaped up as a pirate looks comic.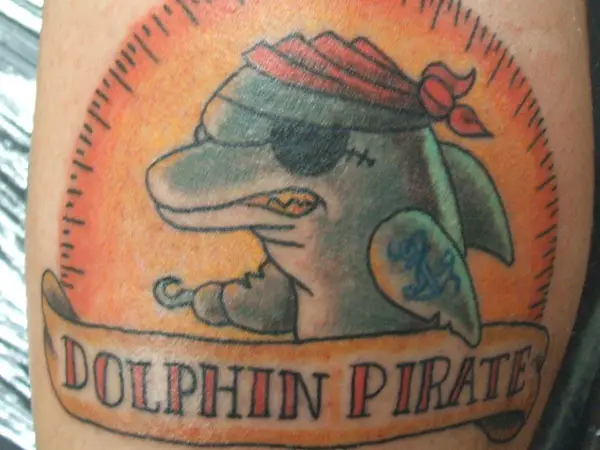 Biceps tattoo
Dolphin tattoo showing the mammal frollicking on waves arouses adventure and fun.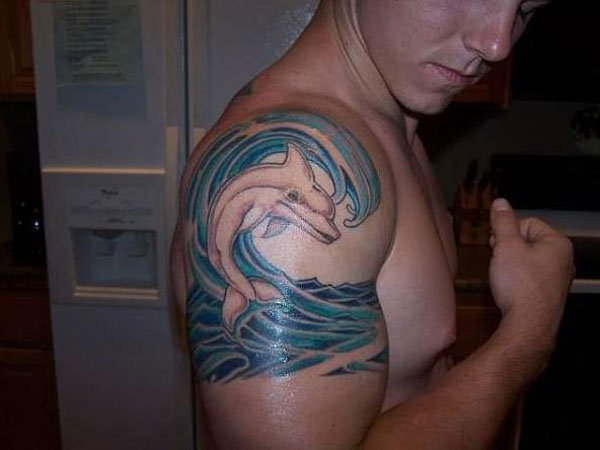 Colorful Dolphin
The dolphin tattoo is believed to bring positive energy and wisdom to the wearers.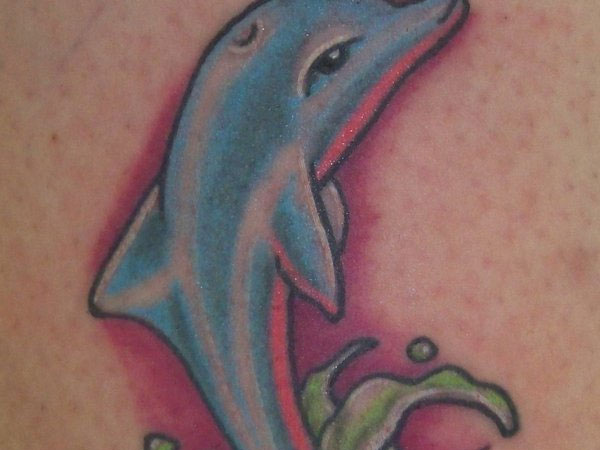 Taking The Plunge
A tiny dolphin tattoo created below the belly about to take a massive dive into the sea has a sexy look.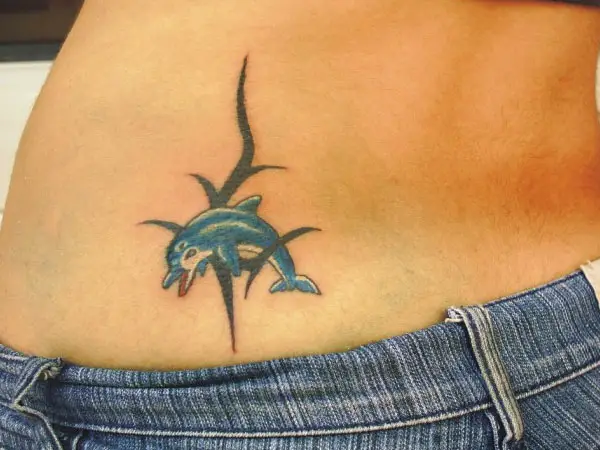 Shoulder Blade Tattoo
A small and broad outline of dolphin picture created on the shoulder-blade in black looks tasteful.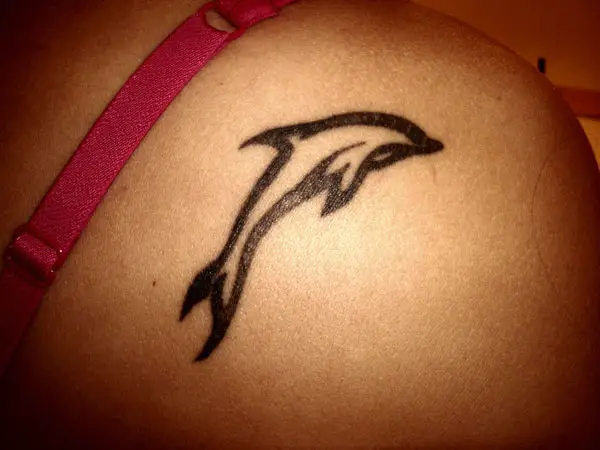 Sacred Tattoo
This dolphin tattoo with an Arabic script lettering has a deep spiritual meaning.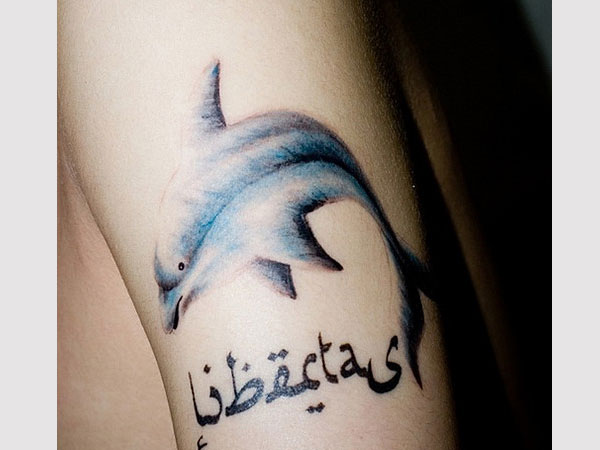 Arm Tattoo
Elegant Dolphin Tattoo
Nice dolphin tattoo piece whose simplicity and elegance makes it attractive.
Dolphin And Kanji
Two dolphins following each other in a circular form with a kanji symbol at the center, inked on leg.