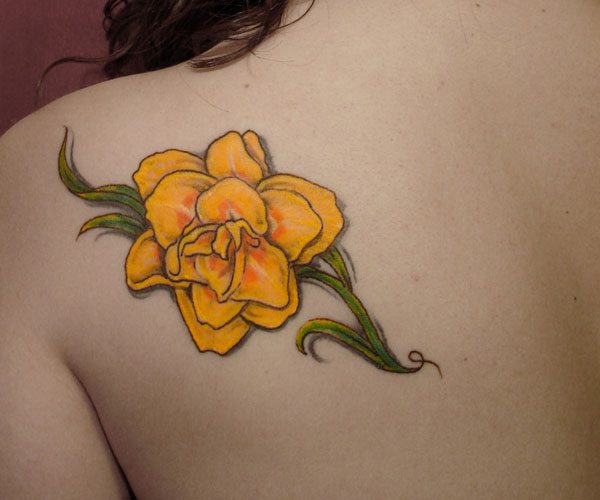 The relationship between women and flowers is a strong one. The dainty and soft natural creations are so adored by the fairer sex that they like to keep them in various forms in their vicinity. For example, floral prints on clothes, flower hairstyles, accessories with floral decorations and last but not the least, flower tattoos. All these are part of women's fantasy and they are just in love with these flower varieties. Talking about tattoos, there are various flowers that are popular and considered to be top-notch in this genre.
The daffodil tattoo is one such tattoo design.
The daffodil flowers are associated with feelings such as love, faith, forgiveness, truth etc. They bloom in early spring and are therefore, considered to be hardy and possess a strong survival instinct because they fight against the severe winter and come out with blooming colors in the spring. This is the reason why the daffodil flower tattoo is worn as a symbol of fight against cancer. This tattoo also has a pleasing and attractive look and having been blessed with multiple color shades, it attracts women all the more and they feel tempted to get their body parts carved with these designs. Today, we bring for you a collection of twenty daffodil tattoo designs in various elegant and colorful moods. Take a look and enjoy the variety.
A Double Daffodil
Though it may not be apparent but there are two flowers mingled together in this bright, upper back, daffodil tattoo.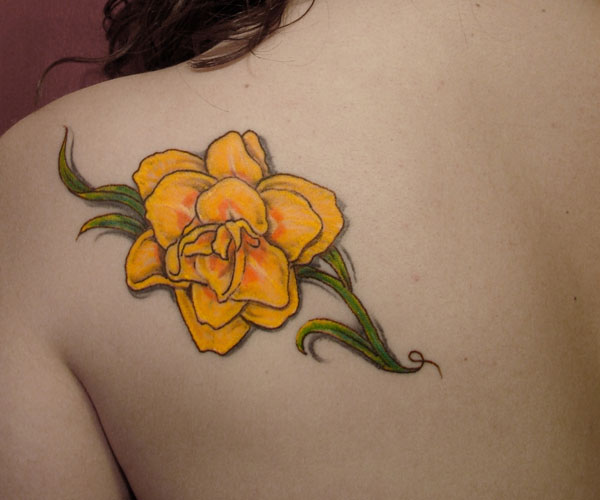 A Double Daffodil
Tribute Tattoo
This daffodil tattoo created in the memory of mom has a heart shape with blood, gingerbread man and a pumpkin.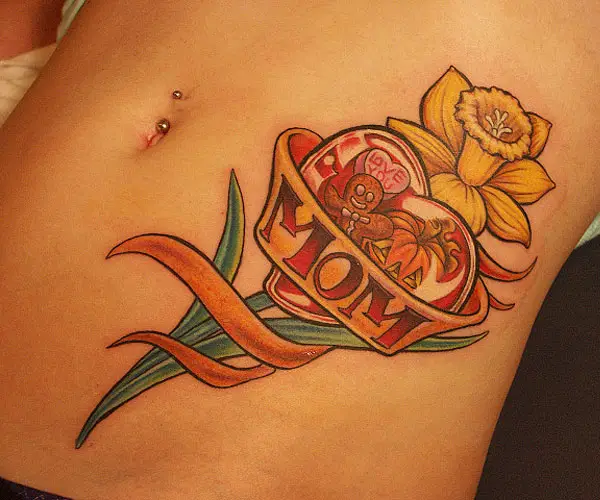 Narcissus Tattoo
The wiltering yellow daffodils engraved on inside of the leg are sobbing over the death of Narcissus.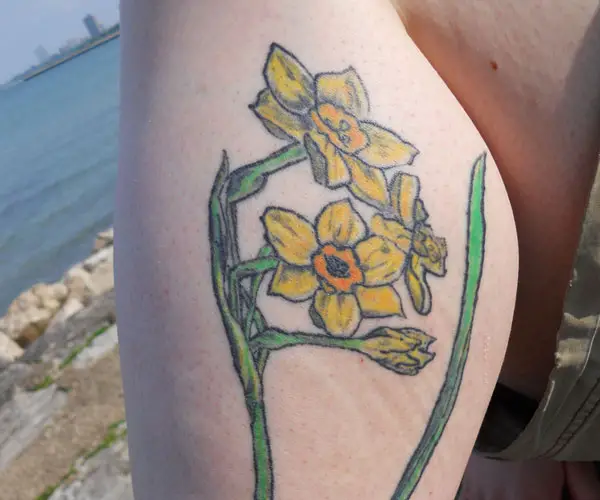 Lovely Tattoo
A single yellow daffodil flower with blooming lush petals engraved on foot has a fresh look.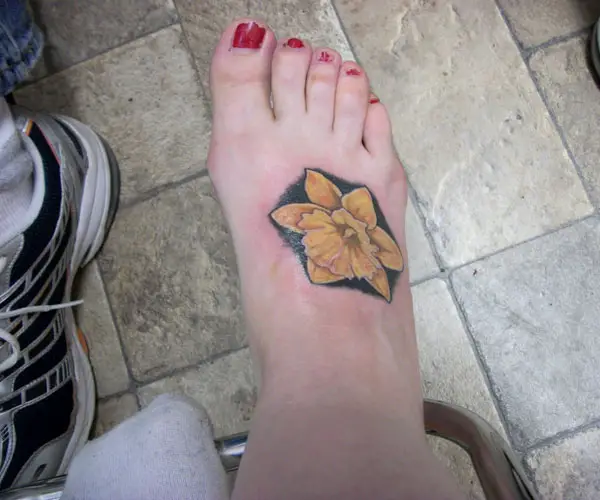 Bewitching
This pretty yellow daffodil with pink ribbons tied in a fancy way below, looks elegant.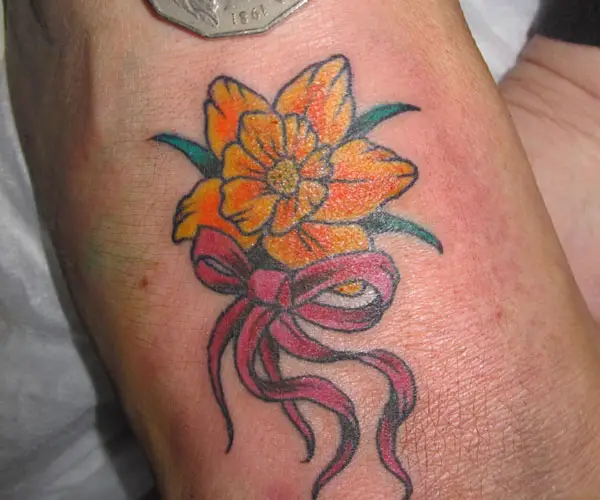 Multi Colored Daffodils
Four daffodil flowers of purple, pink, yellow and light blue color overlapping each other, carved on waist looks vivid.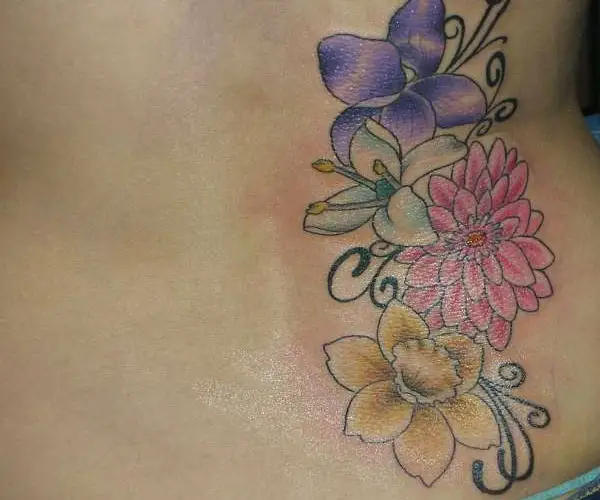 Fiery Beauty
The fearsome sea dragon jumping on the cute daffodil flowers, having same color, looks awesome.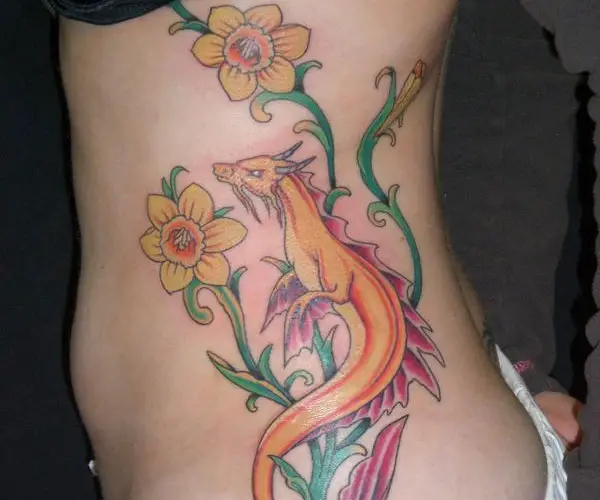 Unity Blooms
This bunch of yellow daffodils with green shoots, projecting in different directions, are unified at root.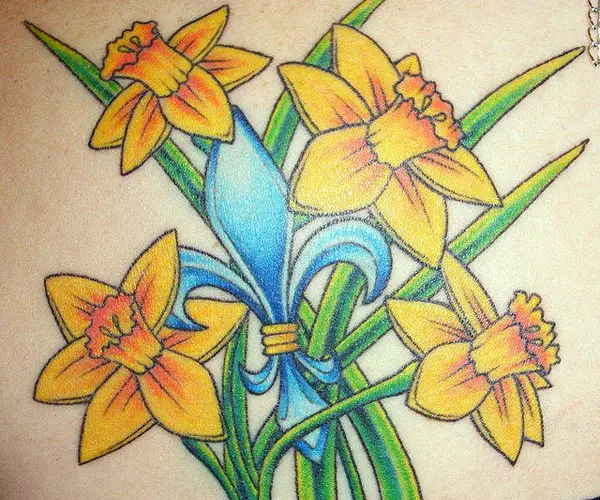 Bunch Of Daffodil
Dazzling
Yellow and pink daffodils with lush green leaves carved on the arm look vibrant and peppy.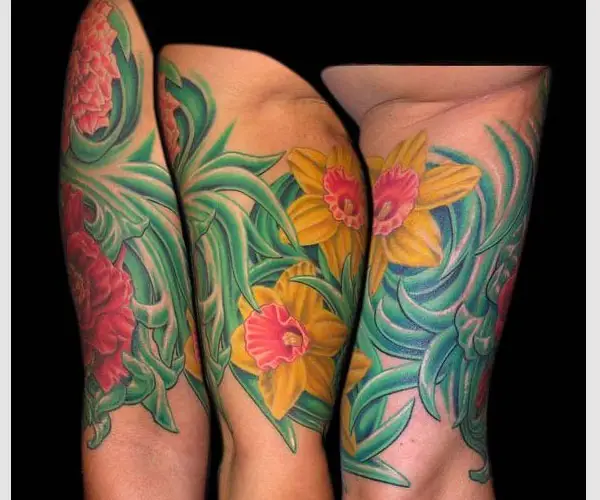 Birth Month Flower
Daffodils Galore
These daffodils, in different shapes, engraved on thigh are a way of remembering the relatives who are no more.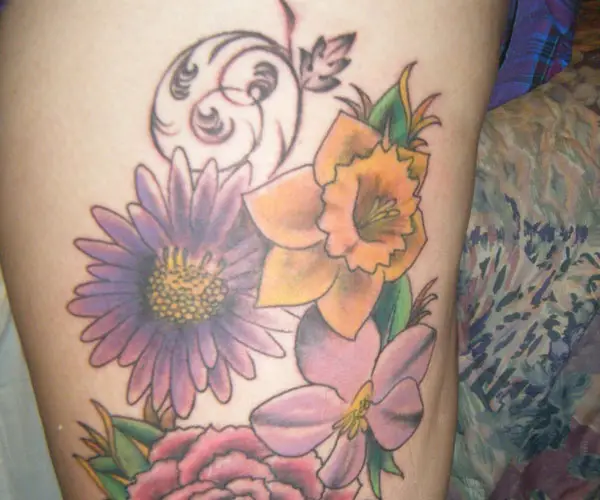 In Loving Memory
These yellow and violet daffodils have been carved in the loving memory of Michael who died fighting a battle of survival against cancer.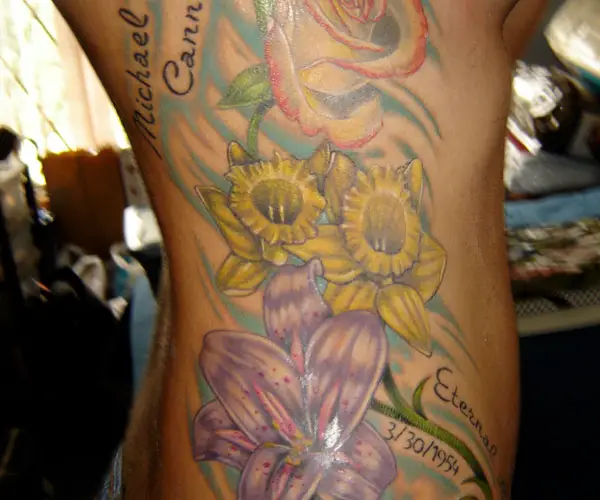 Sexy With A Cause
Yellow daffodil with pink cancer ribbons hanging from the vines not only raises awareness but also looks charming.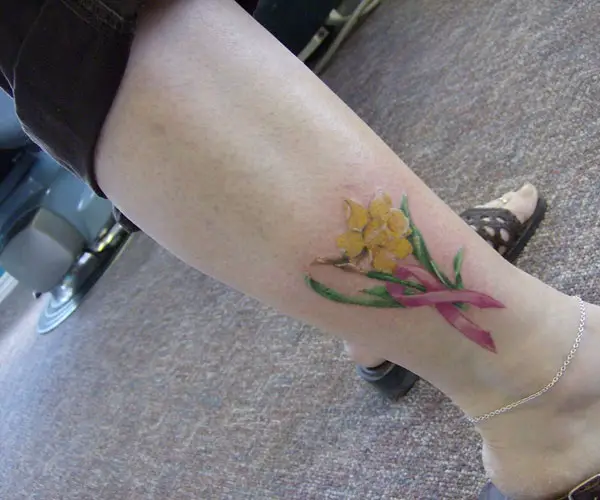 Soft And Colossal
The big and yellow daffodil flower carved on foot cover almost the whole skin space and look mighty.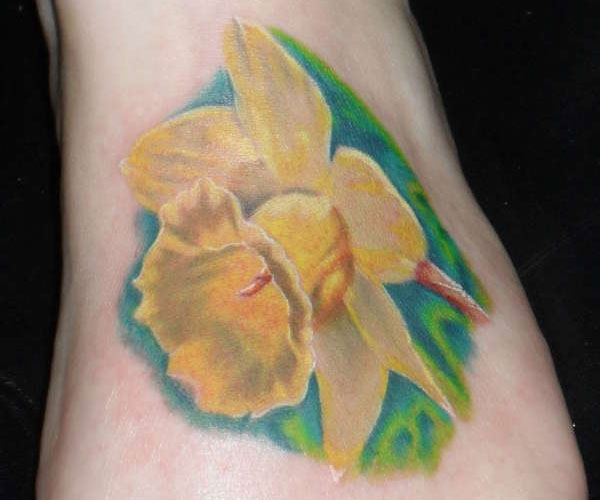 Pretty
Yellow daffodils put inside a coffee mug and carved on the arm of this smiling lady look beautiful.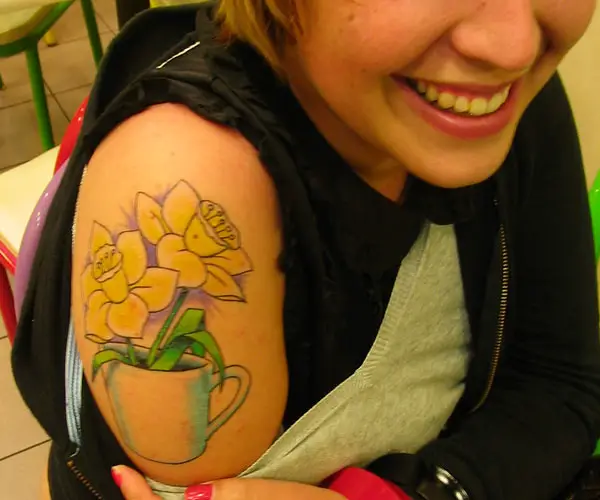 Fight Against Cancer Symbol
The yellow daffodil is known to represent the fight against cancer and this tattoo stands up for it.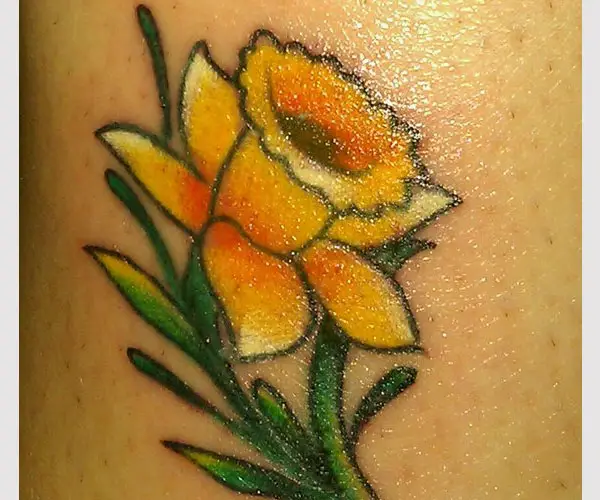 Elegant
The sober yellow color daffodil carved on the foot with the name of her lover is a nice love tattoo.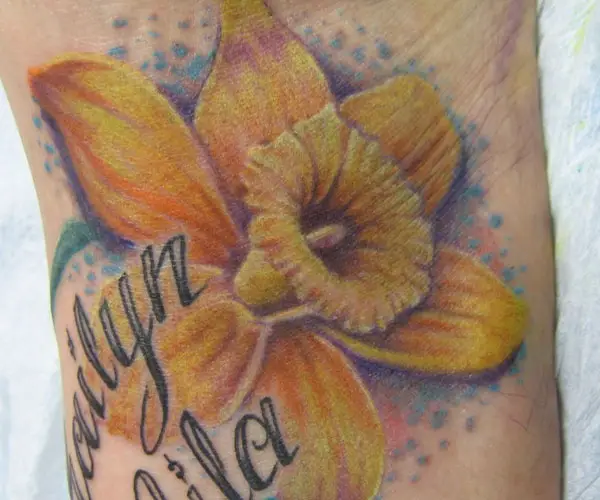 Marvelous
This orange color daffodil with sharp-edged petals looks very beautiful and bright.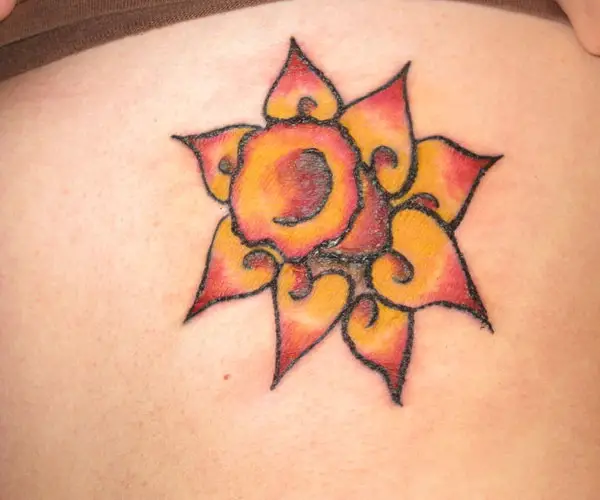 Floating Delights
Soothing and light, this violet shade of daffodils spread out attracts with its graceful look.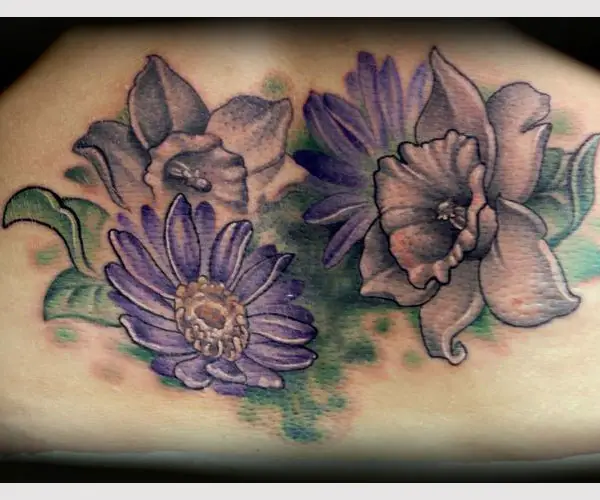 Aster Daffodil Tattoo
This Is It
A bee hovering over the colorful daffodils in search of nectar is a pointer to the attractive look of the flower.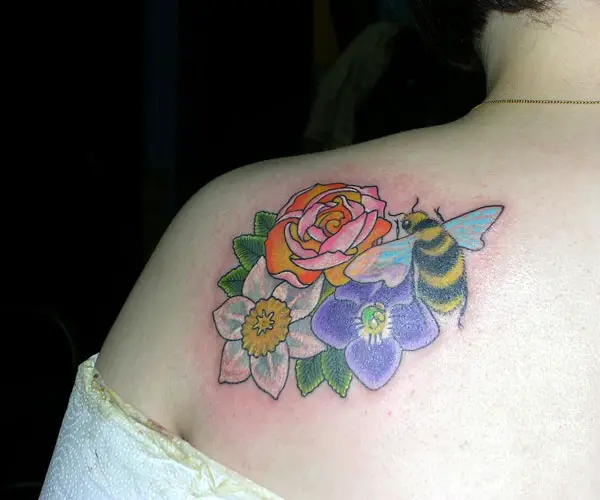 Cute Foot Tattoo
The lucid and plain daffodil with leaves carved on foot and a little above looks pretty on the child like, soft foot.