Look who has made to our glamorous tattoo features today. It's none other than Rihanna's most controversial ex and the singer of double platinum singles, Chris Brown. We are not here to gossip about another of his controversies, but his super cool tattoos. Chris got most of his tattoos inked when he was just thirteen. His first tattoo was Jesus with music notes, because he wanted to express gratitude to God for blessing him with music.
From his girlfriend's face on his arm to his striking chest piece, Brown's tattoos do attract a lot of media attention making him a style icon. He is a passionate tattoo enthusiast, which is evident from his sleeve, his chest piece and stars on his neck similar to that of Rihanna's neck tattoo.
Let us take a detailed tour of Chris Brown Tattoos.
If you like this article, you might be interested in some of our other articles on Pauley Perrette Tattoos, Anchor Tattoos, Cool Tattoos For Guys and Tyga Tattoos.
Chris Brown Posing
Flashing his cool sleeve tattoo, while performing at one of his shows.
Rihanna And Chris Brown
Three stars on his neck. It is rumored that Chris got these similar to Rihanna's neck piece as a symbol of their love.
Rihanna And Chris Brown
Chris Brown Take
Chris Brown leaves no empty space on his arms. Sporting his stars, smileys and portrait on forearms.
Chris Brown Take
Under The Light
Flexing muscles under the light, and his another sleeve tattoo giving us its a distant glance.
Chris Famed Tattoo
Long shot of what all pieces stay flashed on Brown's front body.
Chris Back Tattoo
A big smiley showing all its teeth, on Chris' back.
Chris' Tattoo Skills
It's not Chris' leg but a little piece that he etched on his tattoo artist's leg instead.
Chris Brown Chest Tattoo
Angels, red roses and lettering saying, "Symphonic love" running across a diamond.
Chris' Heart Tattoo
It's anatomical heart with a flame, and which is trapped around with a green leafy vine.
Skull With Halo
Skull with Halo on Chris' hand, symbolic of death which leaves nothing of you, but bones and memories.
Cool Chris
His fabulous sleeve pieces, which are hard to find close look of, but we have found that there is Jesus, angels, smiling faces and of course, Karrueche Tran's face on his elbow.
Chris Brown Performing
Chris' sleeves making an impressive impact in pink lights of the stage that he has set on fire.
Chris' Arm And Chect Piece
Drenched look of his sexy and rocking arm and chest tattoos.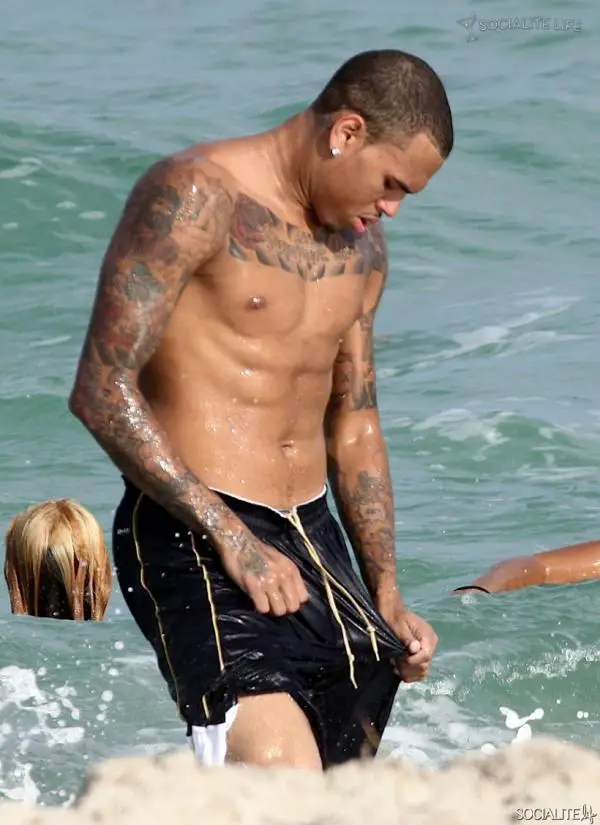 Christ Right Hand Tattoo
Stars, faces and a lot of figures on his hand that have been inspiring him.
Skeleton Head Tattoo
Closer look of one of his earliest tattoos. It is the skull with a halo.
Chris Brown At New Orleans
Performing from heart the rock star leaves no chance to flaunt his tattoos.
Girlfriend Tattoo
Expressing his commitment to girlfriend Karrueche Tran, with her portrait on his elbow.
Chris Wrist Tattoo
Chris' cute inner wrist tattoo. It has stars and his mother's name Joyce.
Jeez Tattoo
Chris Brown's amazing Jesus portrait tattoo on his bicep.
Fame Tour
Spectacular portrait on his shoulder, showing Chris' taste for great ink art.
Shoulder Portrait
Posing with a big smile, Chris showing off his shoulder tattoo.
Chris Brown Jerry Tattoo
Closer look of Brown's shoulder piece which is a Jerry's portrait with a "J".
Symphonic Love
Amazing piece, which is inked below his collarbone. Symphonic love on a diamond.
The Tattoo Fanatic
Both arms crowded with numerous tattoos he dedicated to his birth place, beloved, God and childhood hero, to mention a few.
Forearm Tattoos
Full of exotic characters, Chris shows up his exotic forearm.