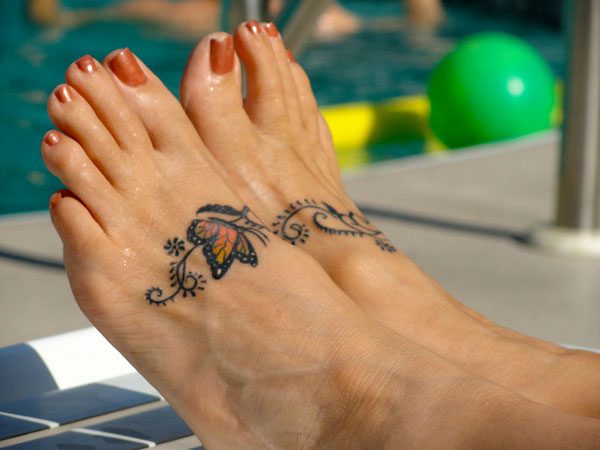 Tattoos are a great option to enhance your style and looks. Of all the types of tattoos available for women, perhaps tattoos on the neck and foot are the most appealing. Floral patterns, especially those with butterflies, look great when done with a touch of imagination and creativity. Have you ever pondered over getting a beautiful butterfly on your foot? If not, start now.
The human feet can be extremely attractive if they are maintained properly. And the pretty feet of girls make perfect locations for butterfly tattoos. Butterflies evoke freedom and adventure, and impart a soft touch much cozy and different from the signs of power and ferocity. Girls and butterflies are just the right match. Butterfly tattoos on foot enriched with colored floral patterns curling down the feet are a sight to behold. Shades on the wings and color transitions add to the delight. A single small butterfly outline is just as elegant as a large one with multiple colors. Initials of name can be inked on the wings of the butterfly. Girls can also go for a group of butterflies rather than a single one. A design producing an almost real impression of a butterfly sitting on your foot is really wonderful. With a host of colors and designs to choose from, girls can work on what suits them best. Apart from creativity, a great tattoo needs just the right angle and colors.
If you like this article, you might be interested in some of our other articles on Zombie Tattoos, Shark Tattoos, Leopard Print Tattoos and Fish Tattoos.
Double Up
Although most girls go for tattoo on just one foot, this image shows why your design can continue to both of your feet and still be great.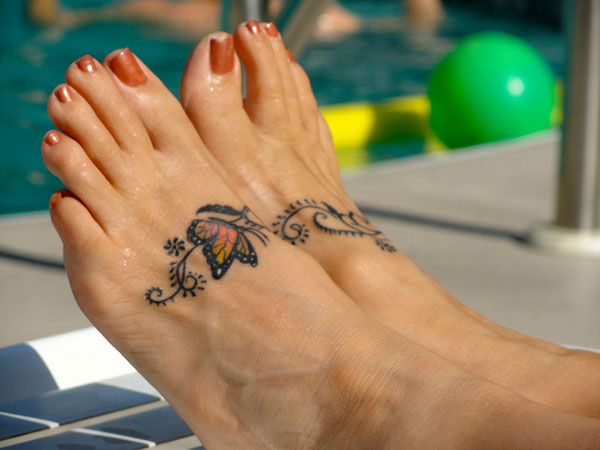 Purple Magic
Floral patterns are a great combination for butterfly tattoos, and using some space on lower legs adds to the delight.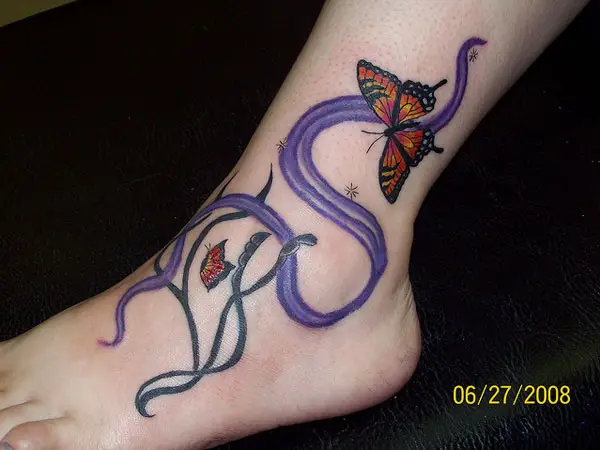 Date To Remember
A date inked to your body lets you capture and recall unforgettable moments of your life.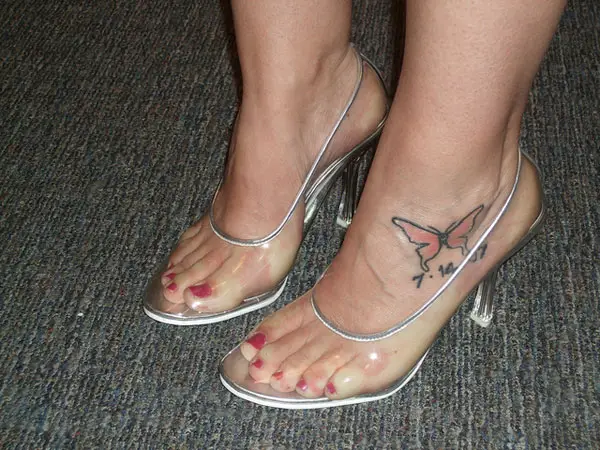 Awesome Tattoo
A beautiful depiction of why it's not explicitly necessary to use the side of your feet for tattooing. The front can be made equally sexy.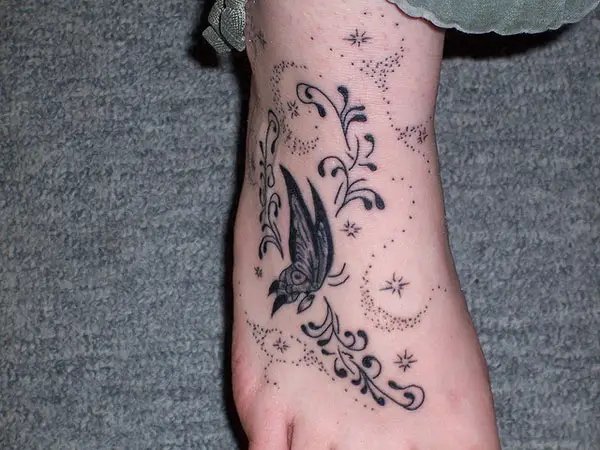 Soft Lines
Thin dark lines are a great option for tattoos. They look spacious and elegant; and the designs are very simple in structure.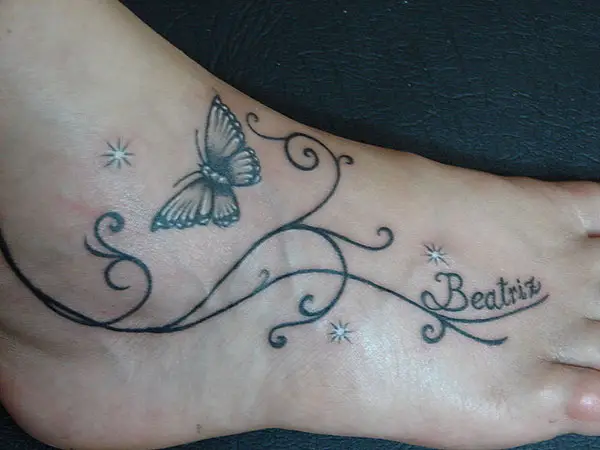 Nice Butterfly
The prime attraction in any butterfly tattoo is the four wings of the butterfly, so heavy patterns on the wings paint a real picture.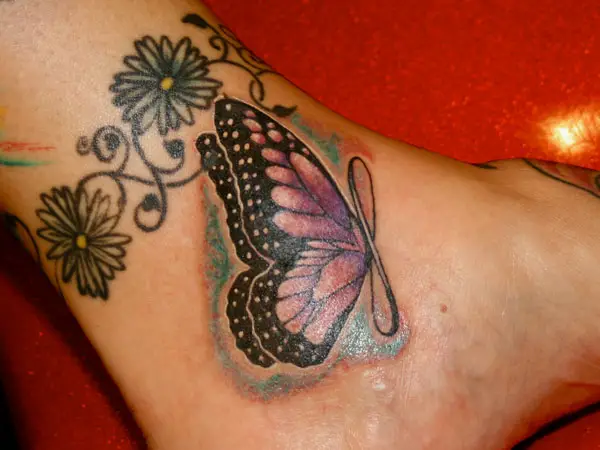 Dots And Stars
Yet another example of why thin dark lines with small simple structures like stars look astonishingly elegant.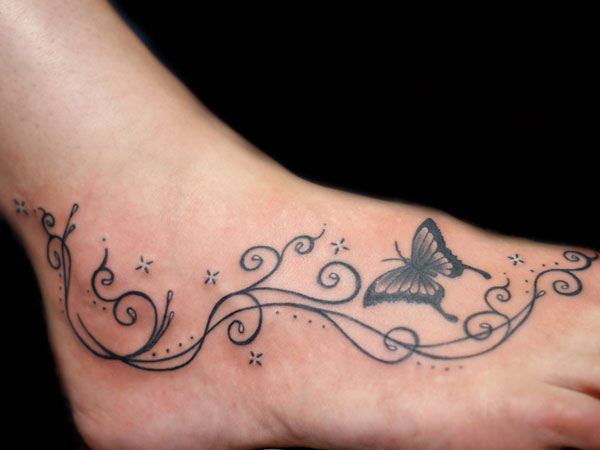 Feet Tray
You can also go for a horizontal pattern like this to suit your taste instead of the highly popular inclined (at an angle) tattoos.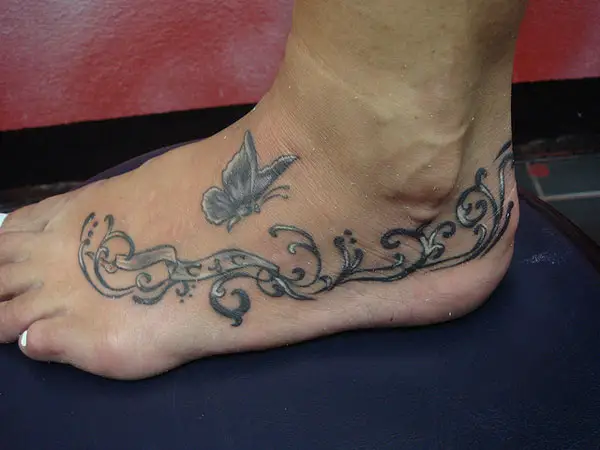 Butterfly And Stars
Simple in design, this tattoo does not use floral patterns at all to adorn the vicinity of the butterfly.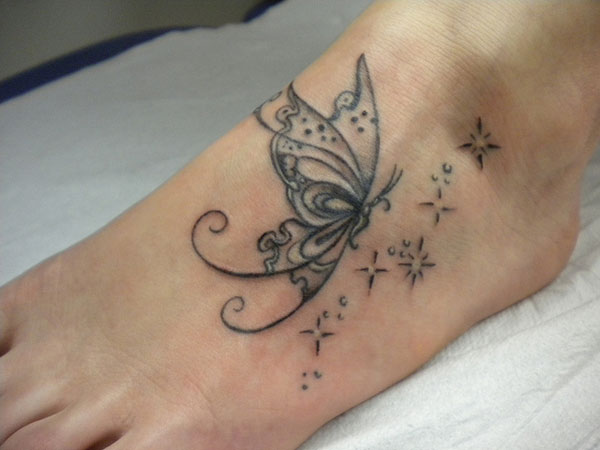 Blue Butterfly
A delightful combination of colors and design in a tattoo with floral lines along the right-angled structure of the foot.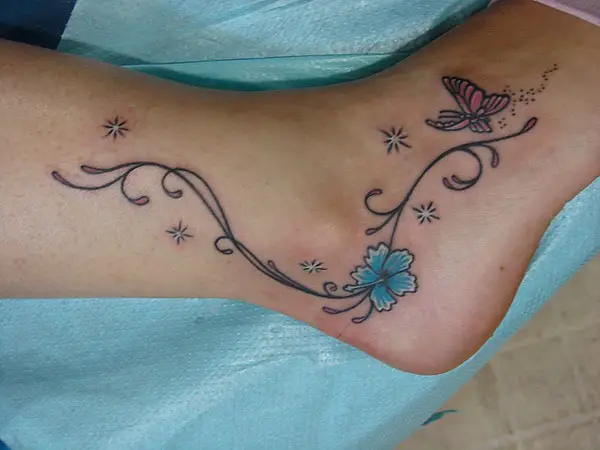 Gothic
Use of dots along lines helps emphasize them more, as this beautiful piece of art shows.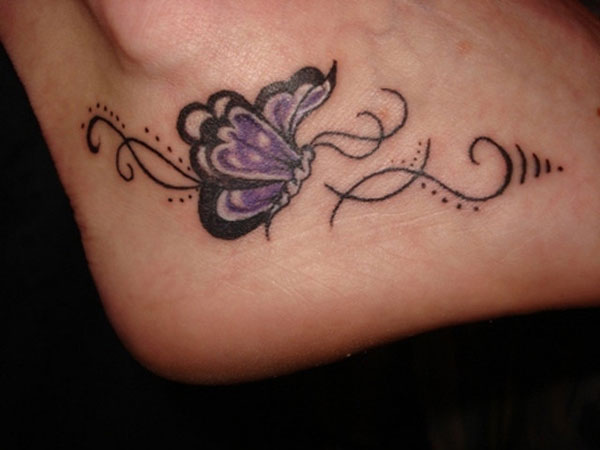 Dark Shades
The wings of the butterfly are very similar in structure and color to the floral designs with leaves.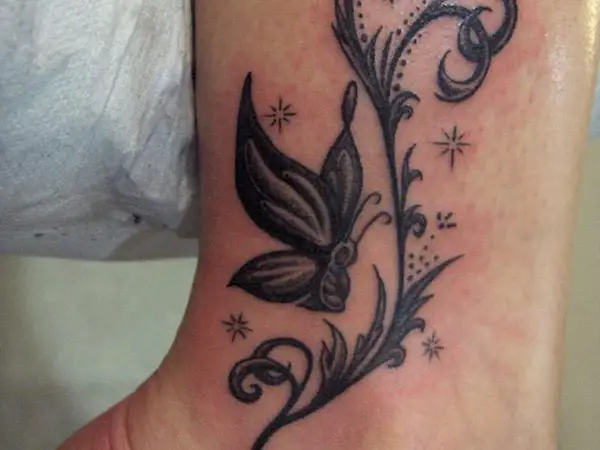 Color Fantasy
A delightful color combination produces a great design. Stars in tattoos are best when left with dark outlines.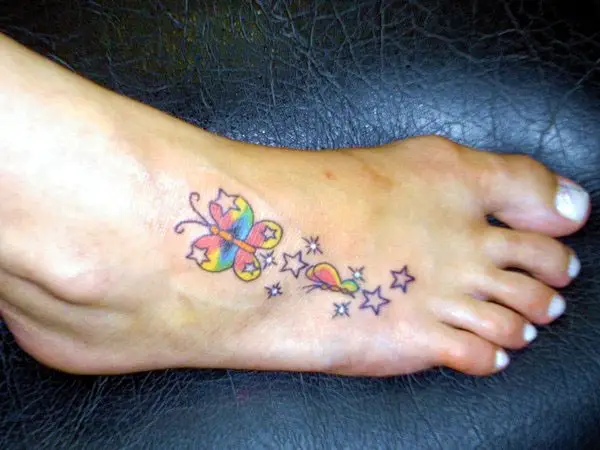 Golden Stars
A multitude of colors can be used to adorn your foot based on your taste.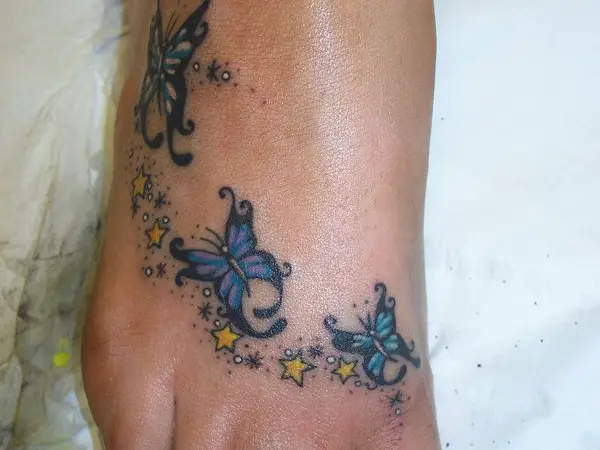 Alone
Sometimes going for just a butterfly and nothing else looks great. Keeping it simple is the art today.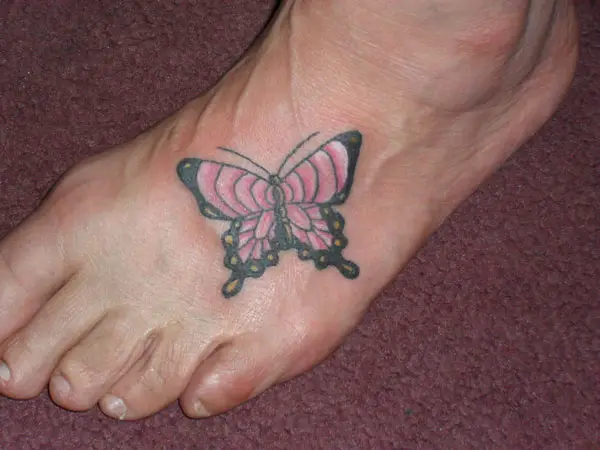 Colorful Outline
This design relies on richly colored outlines to get a butterfly structure, delivering a floral butterfly.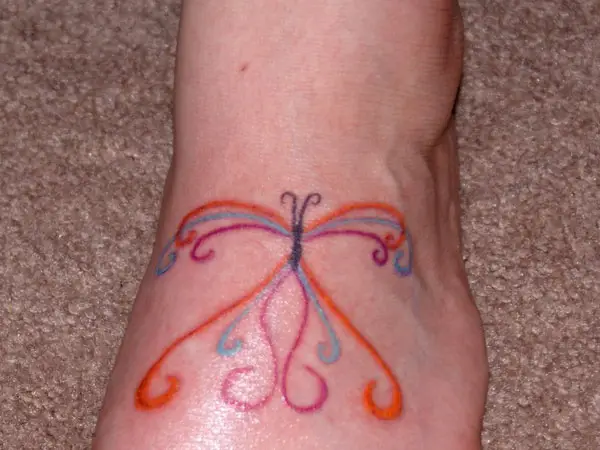 Colorful Outline
Small Wings
Components of small tattoos get more attention as compared to big ones as they have nothing else to take your attention.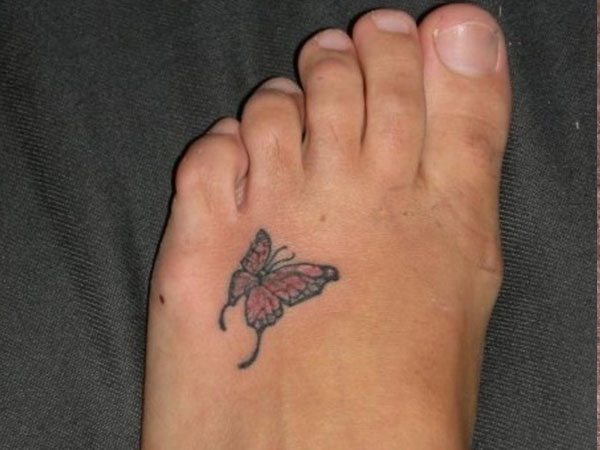 Blue Twilight
Initials can be a great part of a tattoo, as this one shows. Also, if the tattooist knows how to use colors, your feet are bound to get a seductive touch.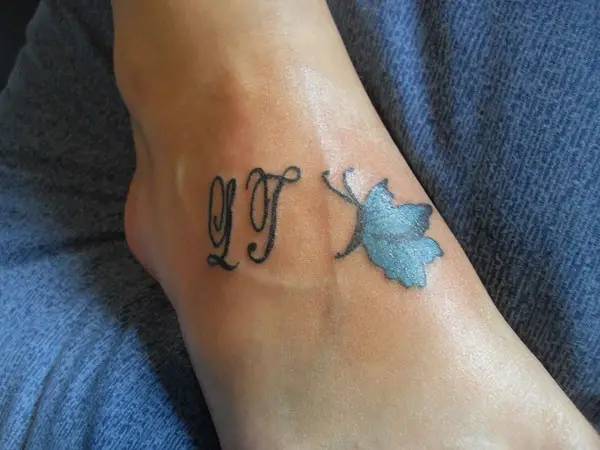 Blue Twilight
Floral Beauty
Flowers and butterflies have always been closely related. This tattoo beautifully integrates them.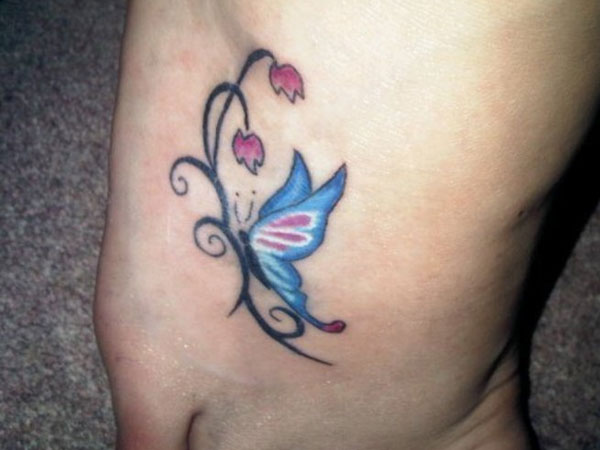 Variety Visited
Although one single butterfly seems more stunning, people with a taste for more than one can also get a number of butterflies inked, with each showing its unique colors.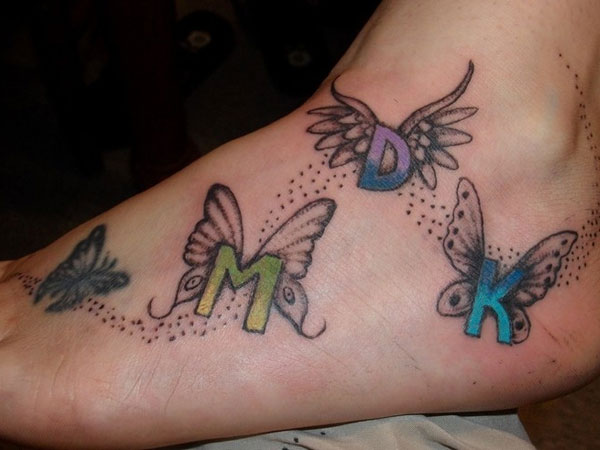 Awesome Wings
Using some specific colors on the wings and drawing a netted structure appeals as more realistic than other ones.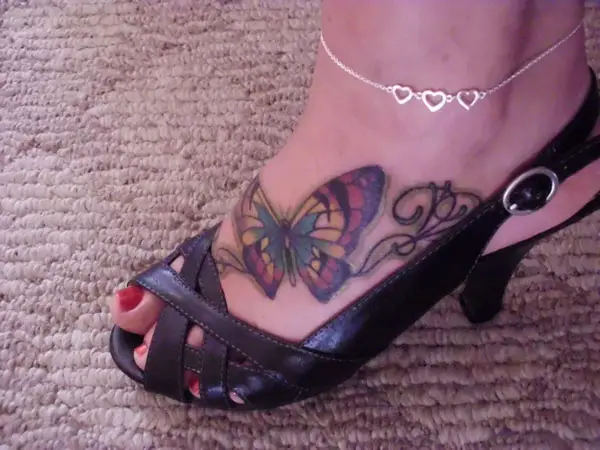 Butterfly Tattoo
The greenish-blue butterfly on the top seems so beautiful; even without its wings filled in, it looks great.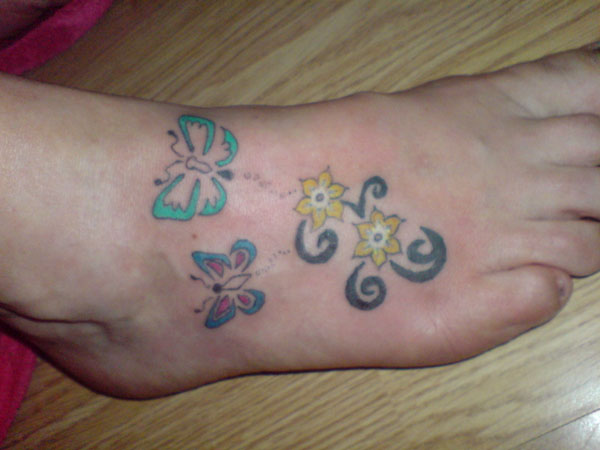 Real Butterfly Inked
This almost three-dimensional look integrates just the right combination of colors and shadow to give a beautiful butterfly that can be mistaken for real. Amazing.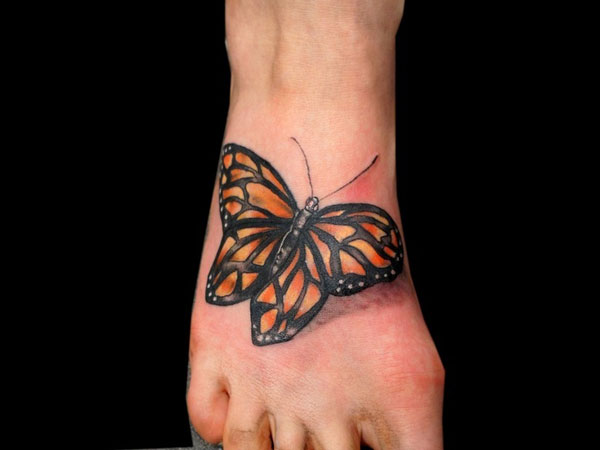 Real Butterfly Inked
Match
The tattoos on your feet should complement your footwear, as this image shows.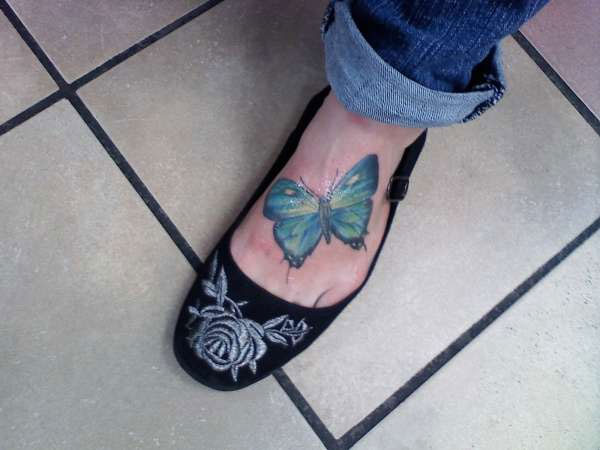 Simple Floral
Small ones or complex designs, each tattoo has its own beauty and identity. What you like is a matter of your choice.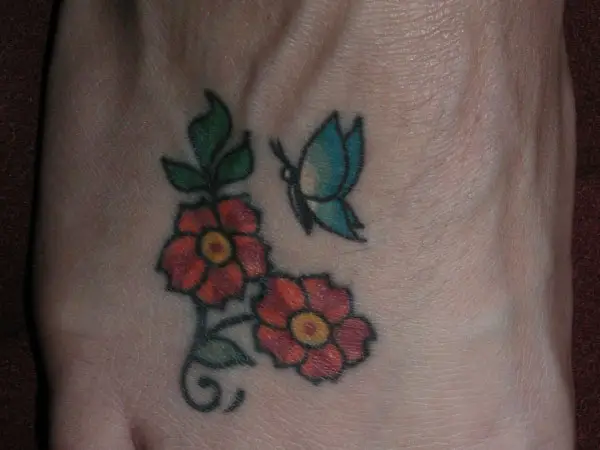 Orange Delight
The white dots on the border of the wings along with the great color combination makes this tattoo amazingly appealing and real-life.