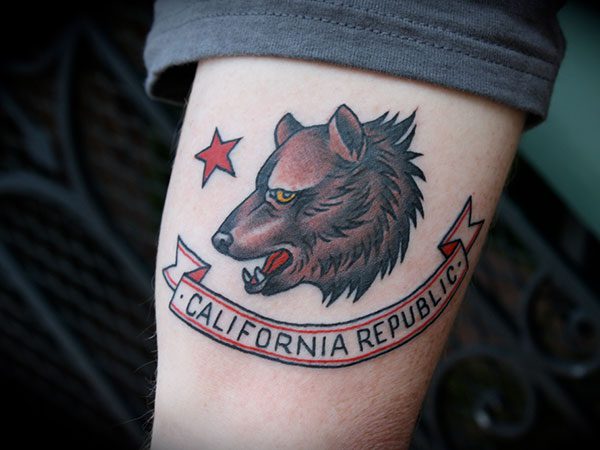 The bear means a lot of things to a lot of people. Some may perceive is as a horrifying and scary animal. Some may imagine a soft toy Teddy Bear whenever you mention the word bear. Whatever you may be thinking, a bear is a motif that cannot be ignored. These bear tattoos will prove to you that even when it looks menacing, a bear can look attractive at the same time. A soft toy is associated with children, joy and cuddling. It is often used as a huggable by a child. A Grisly on the other hand signifies ruthless power and death.
When you think of a bear, you prefer to think of a soft toy of a huggable. Some might conceive a bear as the terrifying and deathly Grisly Bear that spells danger. These tattoos of the bear range from cute to scary so that there is a tattoo for each one of you. Some have simple outlines and classic shading. Some have the realistic look with fur and frightening eyes that appear as they are trying to intimidate you. Whichever one you may choose, they are surefire attention grabbers because of their designs. The variety of tattoo styles ensures that there is one to please every preference.
If you like this article, you might be interested in some of our other articles on Sailor Tattoos, Zodiac Tattoos, Cancer Tattoos and Texas Tattoos.
State Motif
This tattoo is a very realistic example of the bear which is the state mascot of California.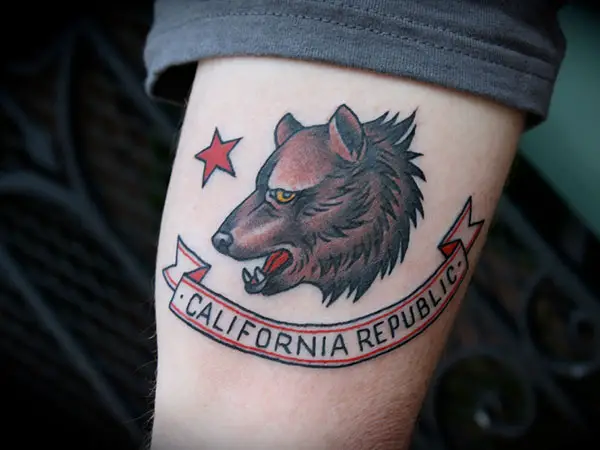 Pleasantly Bearish
A bear that is attractive and has a pleasant smile sounds odd. But this bear tattoo depicts just that picture.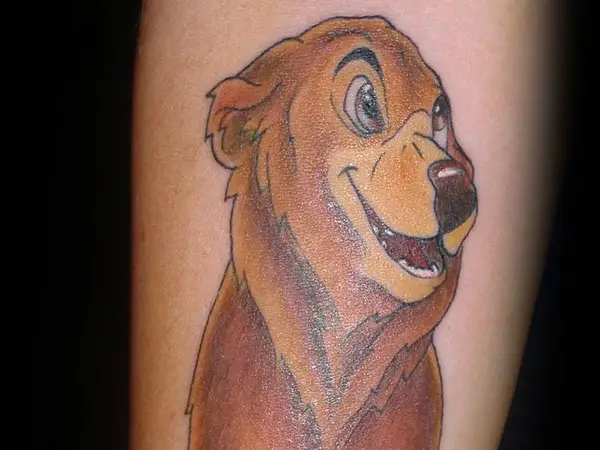 Intricacy Of The Bear
The intricacy of this bear tattoo is its beauty despite the fact that the bear is depicted in a scary manner.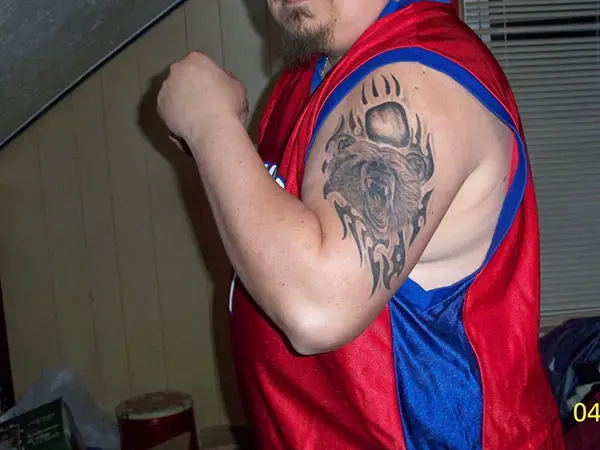 Showing Its Power
This menacing looking bear tattoo depicts the animal the most powerful and fearsome form.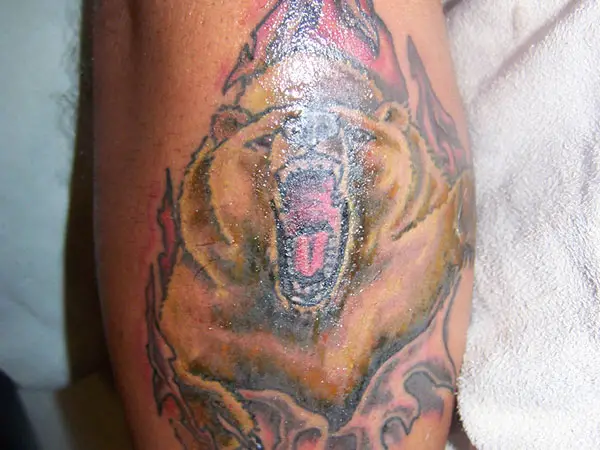 Showing Its Power
Tribal Bear
The tribal style geometric shapes have been used to create a very artistic and attractive bear tattoo.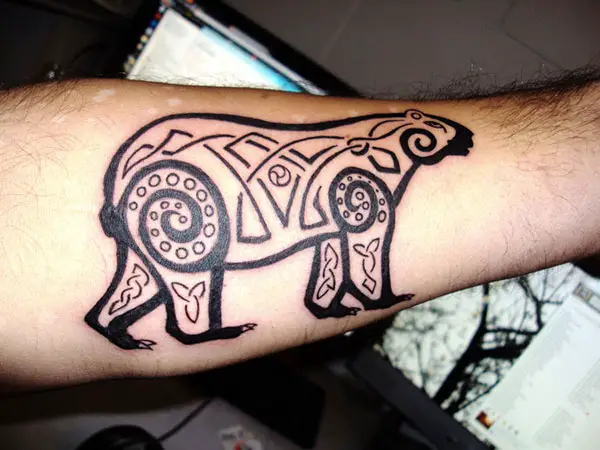 Realistic Grisly
This Grisly bear looks very real with it superb shading. The fur and its bared teeth look fearsome.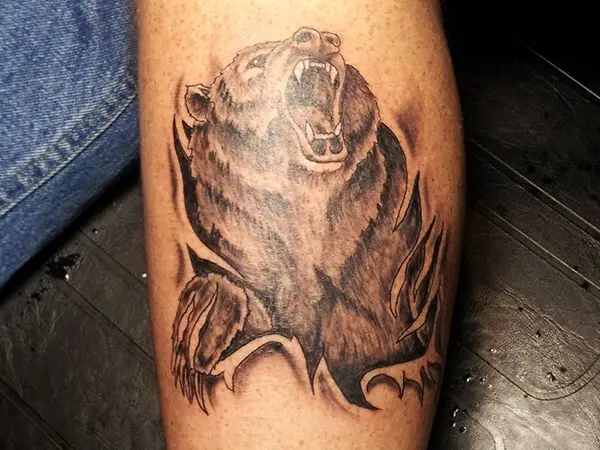 Ugly Bear
This is an artistically designed tattoo of an ugly bear. The menacing claws and paws look almost real.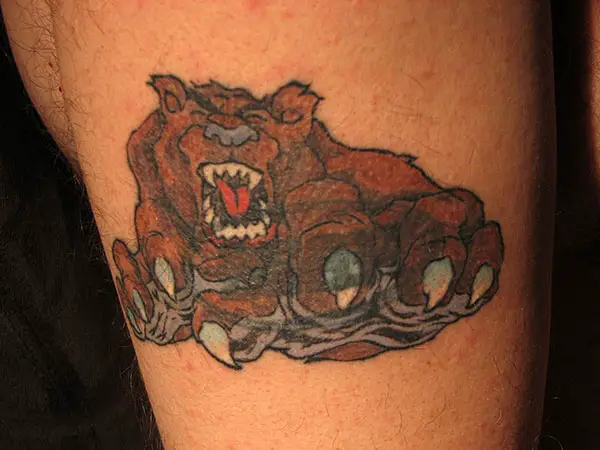 Bear And Skeleton
The bear and human skeleton appear to be doing a tango in this creative and artistic tattoo.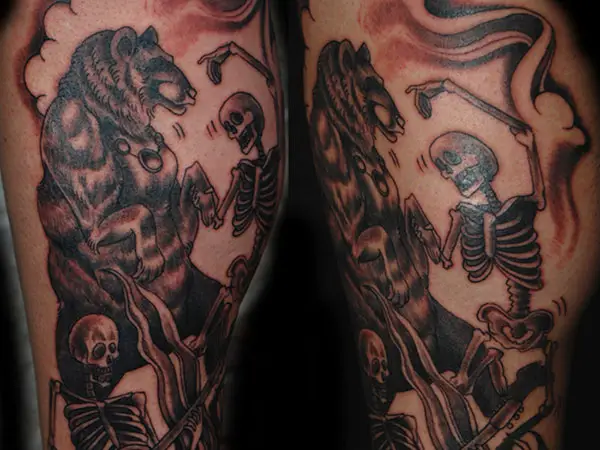 Delightful Bear
A delightful chubby bear like this one is sure to be a brand ambassador for a popular product, right!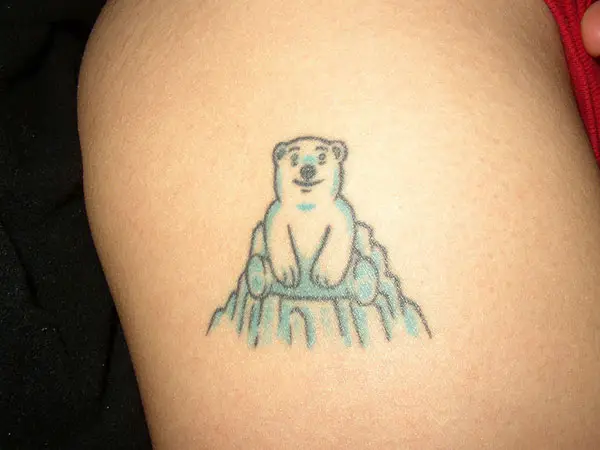 Classy Bear
This is superb tattoo art. Half the bear's face is in classical design and half is in realistic art form.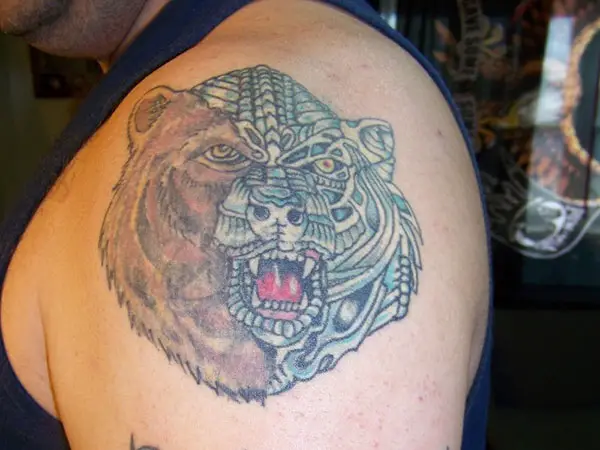 Tribal Bear Face
The bear's face designed in bold tribal tattoo style looks fantastic. It has a great combo of bold and thin lines.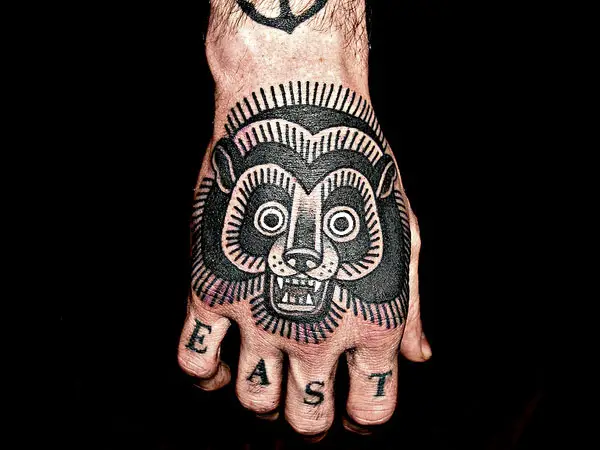 Soft Toy Bear
The soft toy Teddy Bear motif looks superlative in the form of a tattoo as well. The shading is lovely.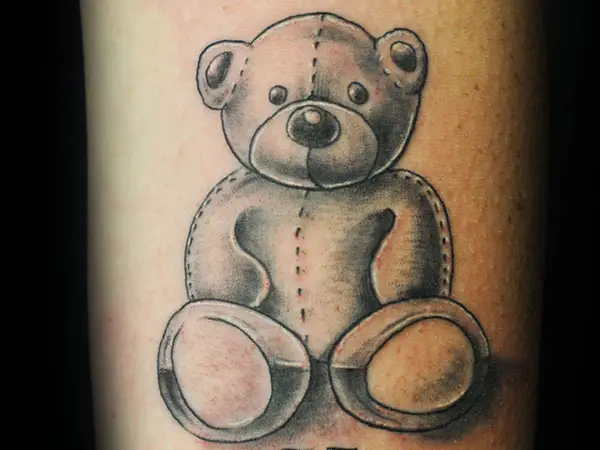 Cute And Cuddly
This tiny bear tattoo looks very cute and cuddly. The bear and the peanut look very adorable as a tattoo.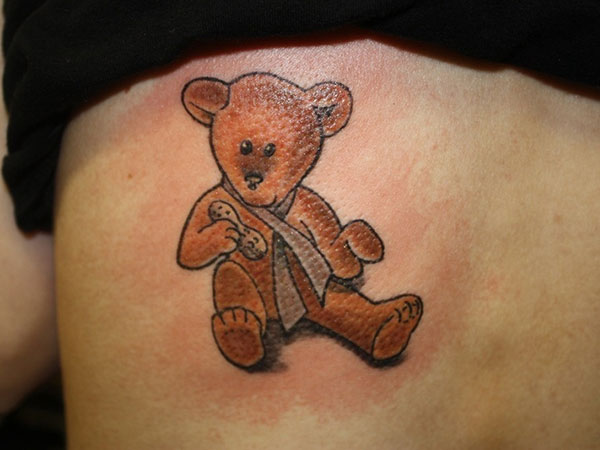 Daring The World
This bear is daring the world to come close. Its open claws and fangs look very intimidating and scary.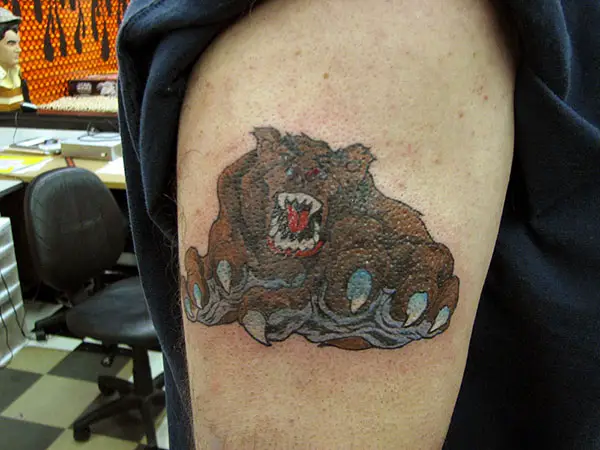 Flora And Fauna
The creeper and the Grisly are designed very artistically in this lovely bear tattoo.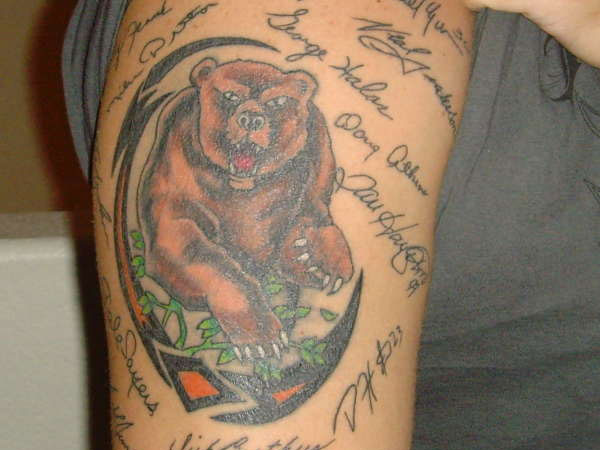 Bloodshot Eyes
The bloodshot eyes look very menacing in this bear tattoo. The redness of the roses only emphasizes the scary effect.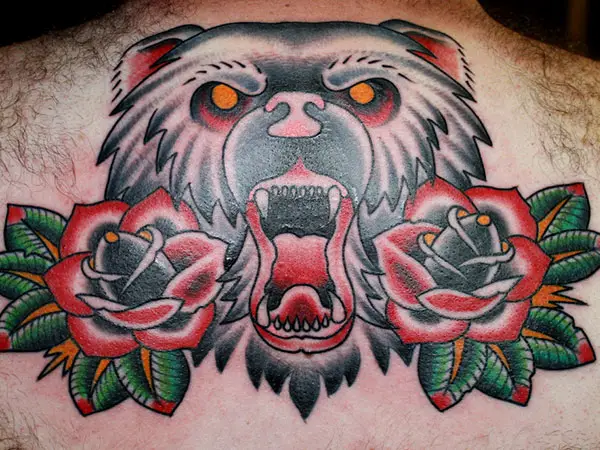 Winnie The Pooh
This is a very adorable tattoo of Winnie the Pooh, the children's favorite bear character.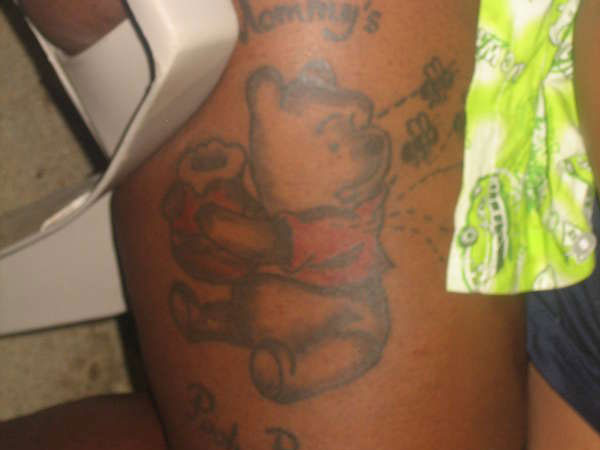 Intricate Bear
This tattoo has just the face of the bear. But every furry line and the menacing countenance look almost real.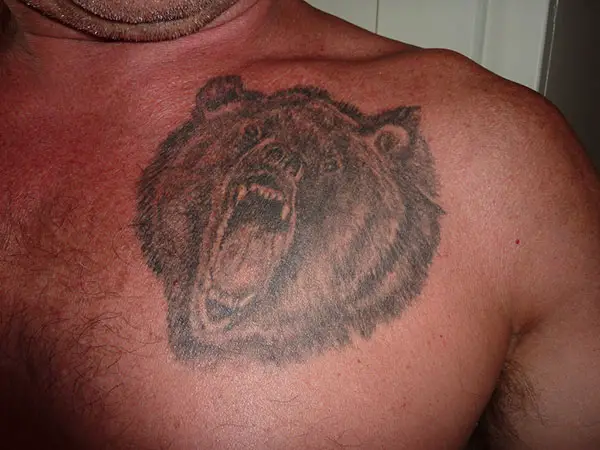 Horrifying Story
The concept of cutting and eating this bear makes this a very horrifying theme for a tattoo that draws attention instantly.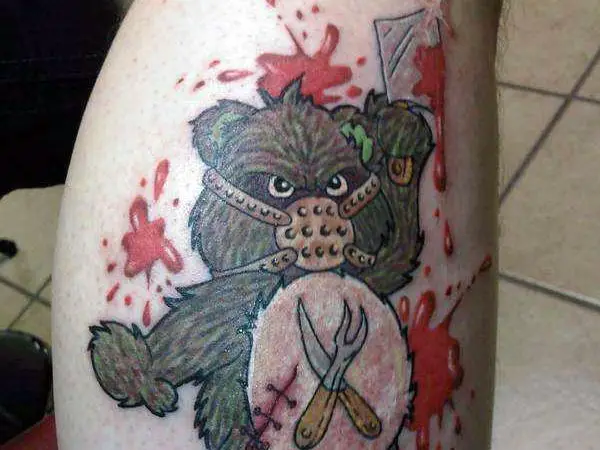 Bears and Strawberries
This mama bear is busy getting the batter ready for strawberry muffins. It is a very lovely tattoo design.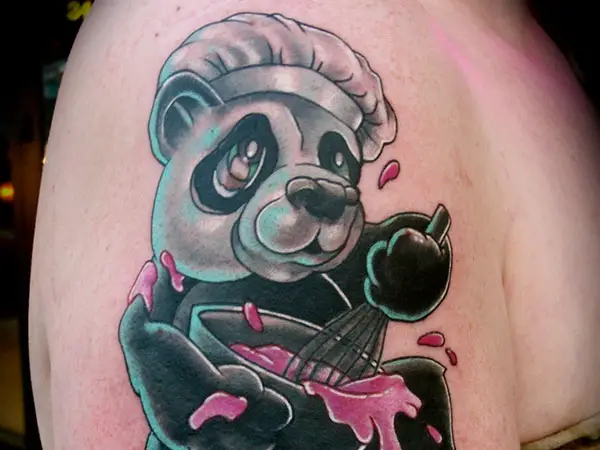 Paw Is Enough
Just the design of the bear's paw is enough to show how powerful and scary it can be.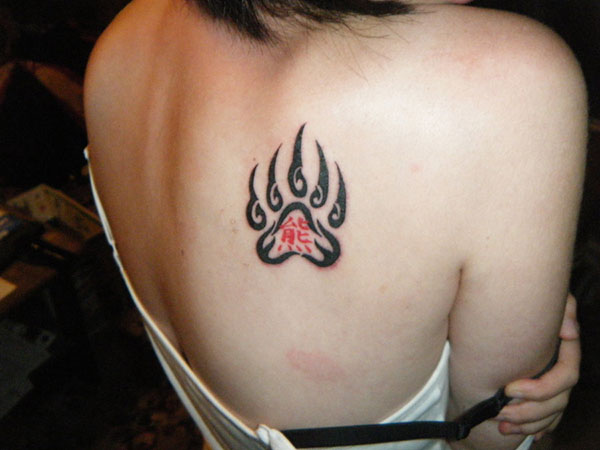 The Grisly Stalking
This is a very realistic representation of stalking Grisly tattooed with superb shading.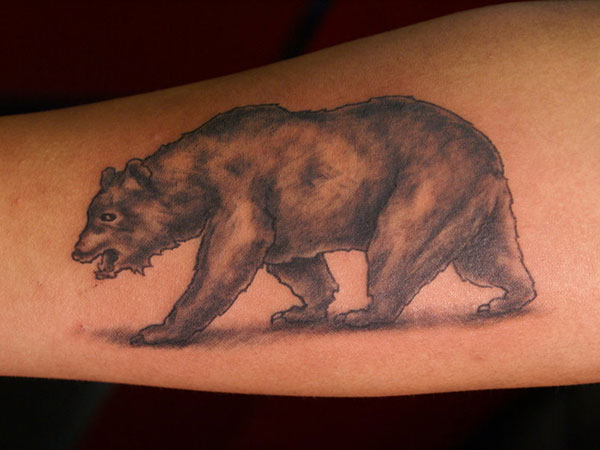 Large Claws
The large claws in this bear tattoo are indicative of the animal's power and ruthless strength.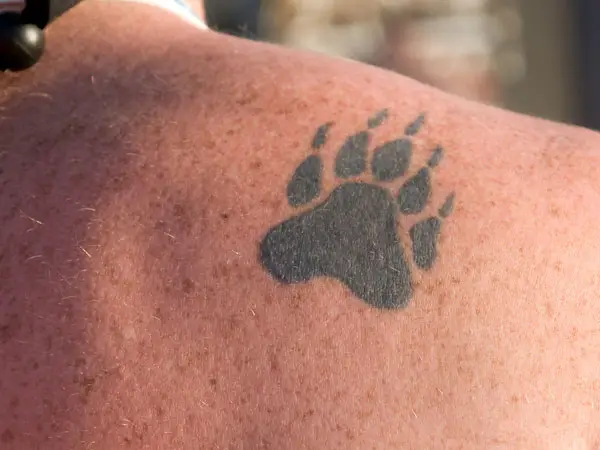 Bright and Cheerful
These bright-colored tattooed bears look quite adorable despite the apparent kinky theme.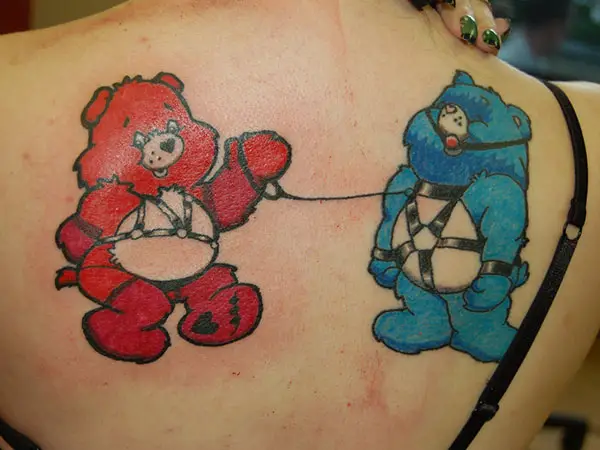 Bear And Forest
A small image of the Californian forest along with the huge bear make a very artistic tattoo.