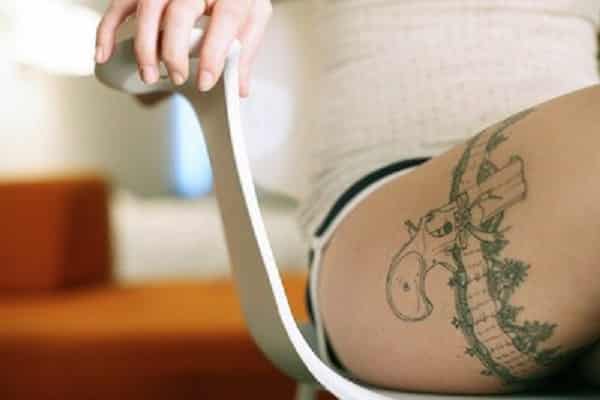 When it comes to sexy tattoos for women, nothing beats getting inked around the thigh/hip zone. These tattoos exude a sense of sexiness and leave others guessing when you wear a short pair of shorts, a crop top, or rock a bathing suit in the summer. Too often we see women who get a little tattoo symbol above their hip that appears when they wear low-cut jeans. While these are cool for novice tattoo fans, they don't stack up to real, professional artwork.
For those who aren't scared of a little extra ink, there are tons of artists who are doing terrific things with hip tattoos, thigh tattoos and other tattoos around that area. These artists have transformed what was once a girly pastime into a femme fatale right of passage for women who are serious about their body art. If you already have a hip tattoo, then check out these awesome tattoo ideas for transforming it into a truly dramatic piece of art.
Dragon Thigh Tattoo
Let the dragon ride up and down your leg and onto your hip with a cool dragon tattoo. There are tons of options when it comes to dragon tattoos, but the most popular are European dragon designs and Chinese dragon designs. For added effect, add some cool flames to the dragon's mouth that either go down your leg or extend up onto your ribcage.
Music Bars Hip Tattoo
Another cool idea for hip tattoos for women is musical notation. Whether you have been playing an instrument for years or just want to get a couple of bars tattooed for visual effect, this cool design will definitely stand out. Add some of your favorite song lyrics to this tattoo, and if you are good with music notation yourself, go ahead and add the actual music from the same song.
Quotes on the Thigh Tattoo
For a simple, yet elegant tattoo for women, try getting a love quote tattoo on your thigh. It is more emotional than the standard symbols you'll find on the walls of most parlors and will give you inspiration throughout the day. These can be love quotes, spiritual quotes, funny quotes, fighting quotes, or any other kind of quote that means something to you.
Rose Tattoo on the Thigh
Nothing is more elegant, flattering and timeless than getting a rose tattoo anywhere on your body. When you get a rose tattoo that covers both your hip and thigh, you have the opportunity to create dramatic spirals and patterns with the stems as well. Make sure to heed the words of Bret Michaels' lyrics in the song "Every Rose Has its Thorn" and get some spiky imagery in your tattoo as well.
Corset Hip and Rib Tattoo
Corset tattoos have been popular for many women on the backs of their legs for years. If you are looking to switch things up a bit for your own liking, try getting this ultra-femme tattoo idea starting at the top of your ribcage and then extending to your hip bone. It is the perfect combination of edge and and girlishness that so tattoos for women strive for.
The Kraken Thigh Tattoo
Whether you're a fan of the rum, the sea monster from "Pirates of the Caribbean," or if you know the Lord Tennyson poem by heart, nothing inspires fear into the masses like The Kraken. This beast of the ocean looks good on any lady's thigh and can accompany other nautical compass tattoos or anchor tattoos you might have gotten earlier.
Gun Holster Thigh Tattoo
Are you one of those girls who knows how to handle a firearm? Show off your love for packing heat by getting a gun holster and your favorite firearm on your leg. Whether you pack a pistol, revolver or a glock, people will know not to mess with you. Get a straight-forward holster, or add a feminine touch by tattooing a lacy holster.
Religious Symbol and Memorial Tattoo
There is no better way to honor the memory of a late loved one than to ink a memorial of them on yourself. If your religion allows, show off your faith and your adoration for a loved one by getting a religious symbol tattoo on your hip or your thigh. If you are not religious, speak with a really good tattoo artist who can come up with a cool design or portrait from a photo to ink on your hip or thigh.
Cheetah Print Thigh Tattoo
If you are looking for a piece of body art that works more like a fashion accessory than a traditional tattoo, look no further than the cheetah print tattoo. This cool design is perfect for women who wear cheetah print on a regular basis and want to take their love for the pattern even further. The tattoo works best if you get it starting at your hip bone and have it end down your thigh a little bit, but anywhere on your body will suffice.