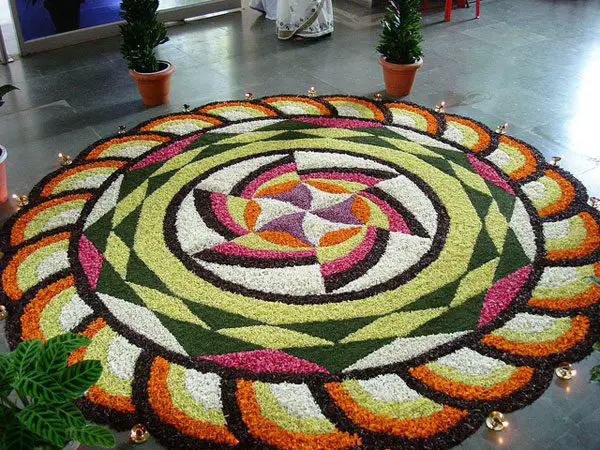 Have you ever tried your hand at rangoli? If you have not, you probably should. It is a colorful presentation of designs and often symmetrical patterns that can make anyone fall in love with its sight. Ignoring the typical assumption of rangoli being a component of just festivals and celebrations, you can try it any fine day to bring out your imaginative designs and make your day colorful. Here are a few rangoli designs you can try in your home and see for yourself.
The most striking feature of rangolis is the vast multitude of colors they use. Also, you can use an almost unlimited number of shapes and patterns to make your rangoli a great one. If you have any creative designs, add them and try to refine them with experience as much as you can. Subtle colors are as much attractive as bright ones if applied at the right spot. Adding candles, flowers and other creative components will definitely boost the beauty. As for the spot, a living room or the front entrance of your house is an incredible place for a rangoli. Regardless of what many people might think, rangoli is not something pretty easy. It is simple, of course, but to bring yourself to an adequate level of perfection you really have to develop a considerable level of control over your fingers and palms. Also, it requires a lot of patience and focus. So brace up your hands, find some good designs, and give yourself a try in the world of colors.
Superb
Absolutely superb and mind-blowing. This image shows how a simple pattern becomes a complex beauty simply by virtue of its colors and proportion.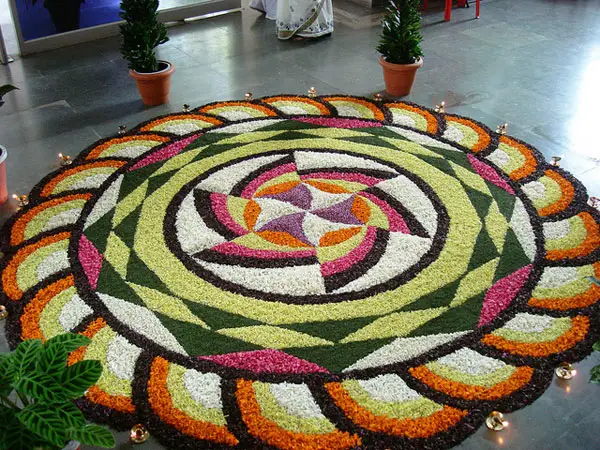 Color Lotus
Using subtle colors has its own beauty. The petal-based designs in this image are wonderful.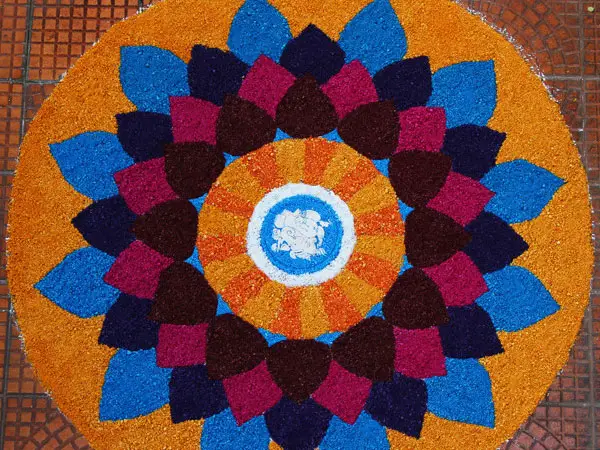 Water
Tradition is redefined by rangolis and other customs. They are an integral part of the picture.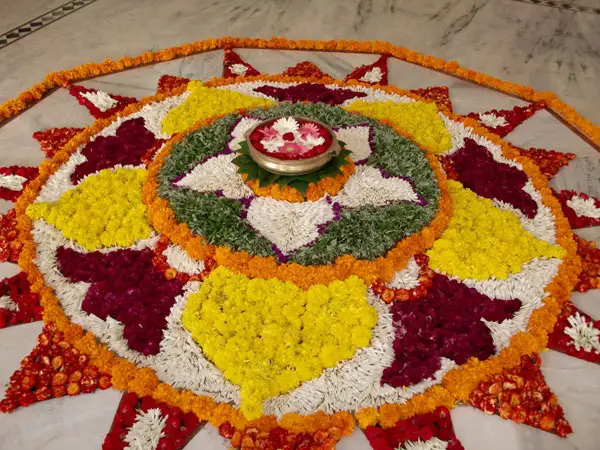 Flowers
Flowers are inseparable from customs. Rangolis get special flavors by flowers of different colors.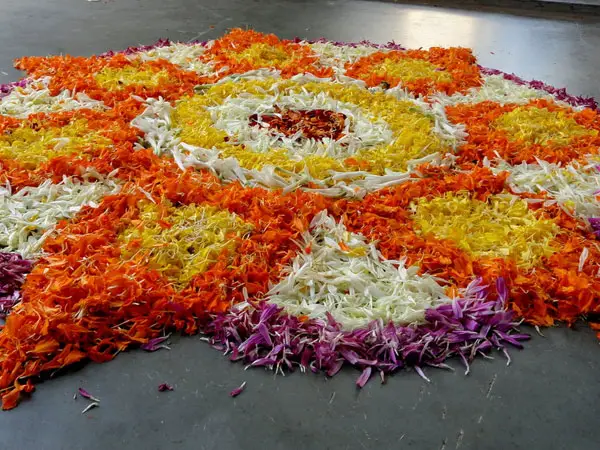 Circle
You do not have to force yourself to make rangolis for a festival. The desire comes up by itself.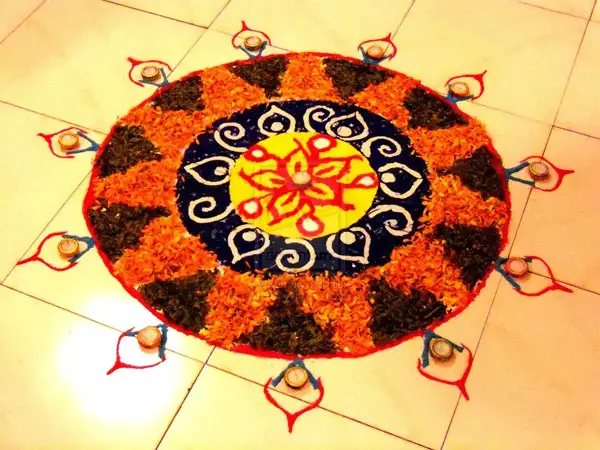 Petals
Floral patterns and symmetry constitute a basic framework upon which most rangolis are based.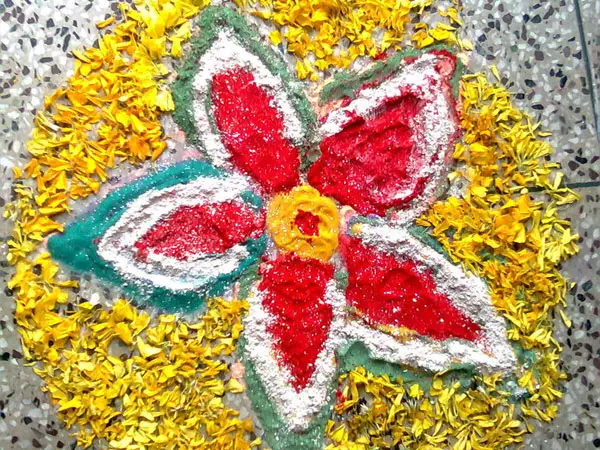 White Rangoli
When you are looking at these patterns and feeling so wonderful, just imagine how content the person who made it must be feeling.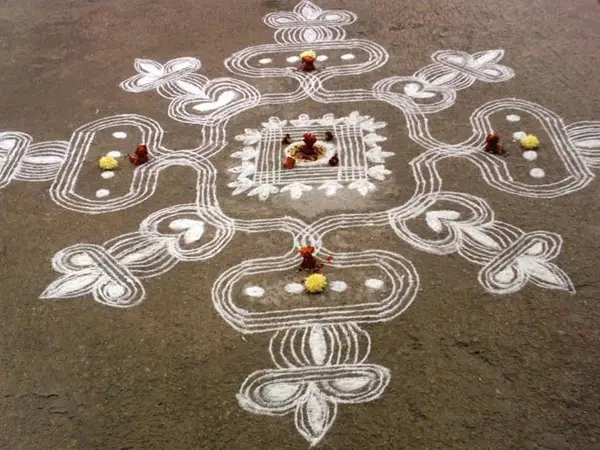 Peacock
Attractive bright colors have a special place in rangolis. The more colors you can add beautifully, the better.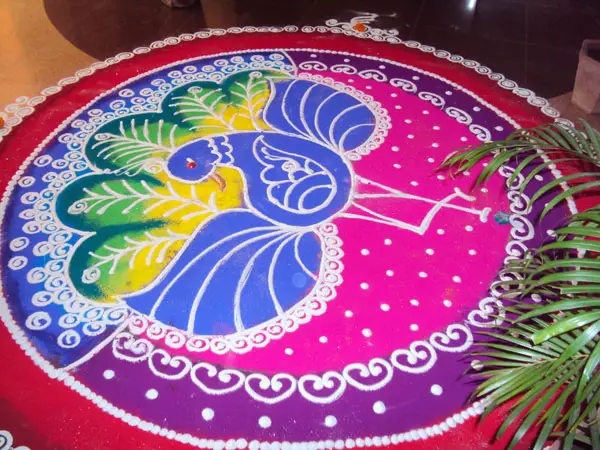 Ganesha
You do not need to be Michelangelo for making simple designs. All you need is a stable hand and patience.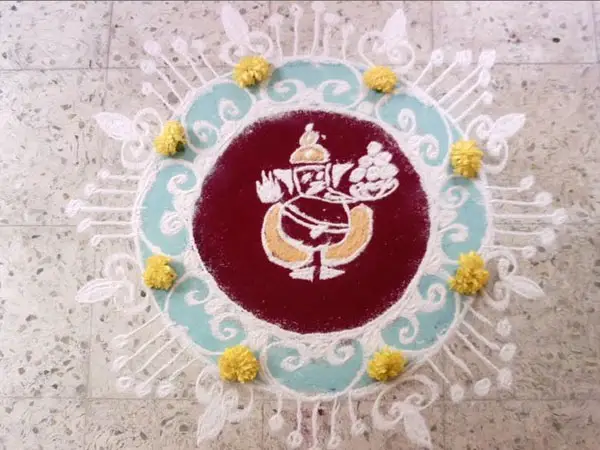 Diyas
Lights add special effects to rangolis. Oil-lamps and candles have been traditionally used with rangolis to adorn the house.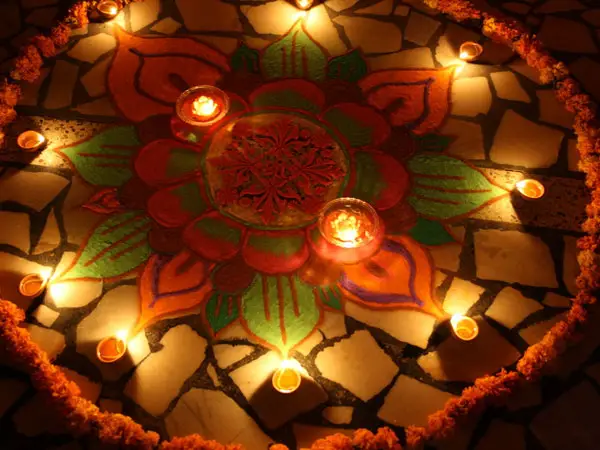 Aesthetic
Sometimes simple designs evoke clear feelings which many complex ones might fail at.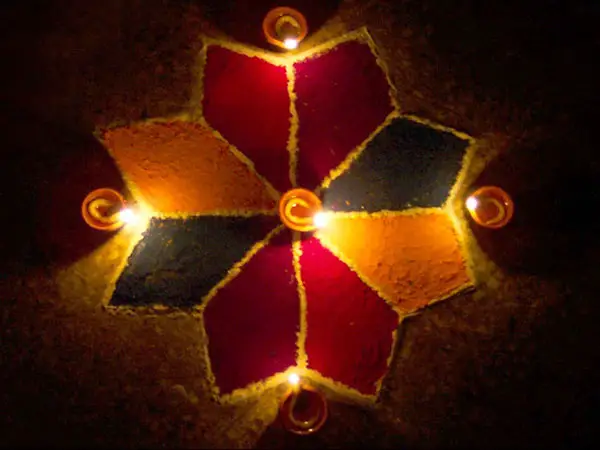 Flowers
Symmetry and geometry are the two pillars on which a rangoli rests. The rest is just color.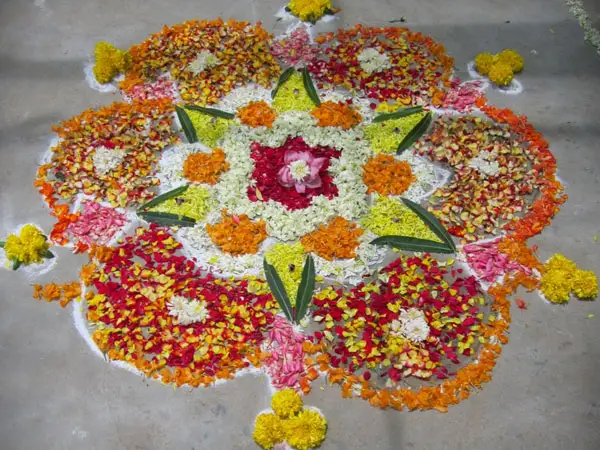 Vase
This image shows a flower-vase kept at the center of a rangoli. You have to apply your own creativity to make your rangoli better.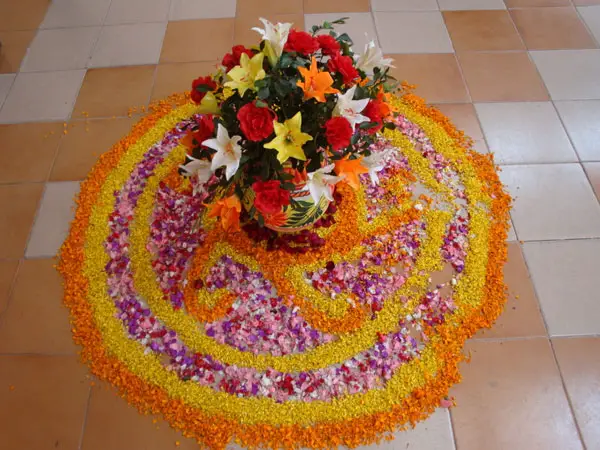 Marvelous
Being perfect in the art of making rangolis needs focus and experience. As this beautiful art form shows, creating something marvelous does not come out of nothing.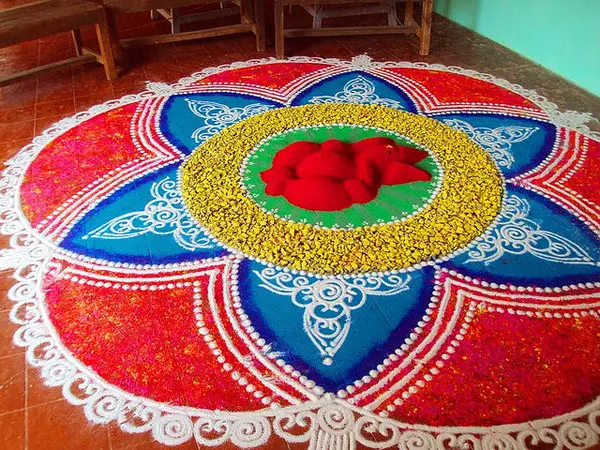 Electric
Electric lamps can also be used with traditional decorations. Low-power bulbs save power and protect the air from pollution.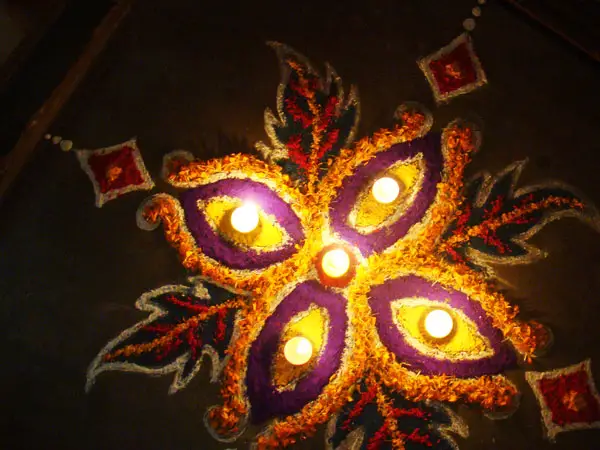 Bright
The mosaics on the floor blend in perfectly with this attractive floral rangoli, creating magic.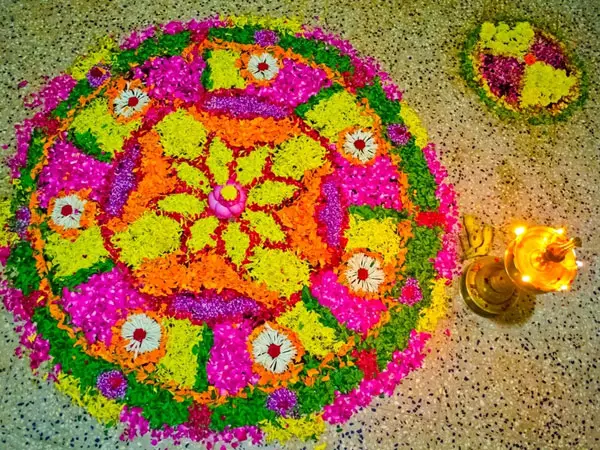 Bright
Celebration Time
Simple designs do not need any special creativity or an exceptional control over hands; just focus and relax.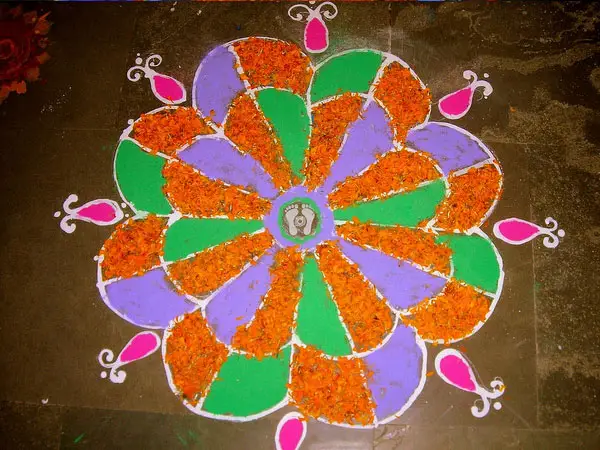 Rich Rangoli
Clean and perfectly implemented, this design relies basically on the continuum of colors and the contrast of white with other colors.
White Contrast
White is a very versatile color. Whether you use it to draw borders or to fill up spaces, it blends in beautifully.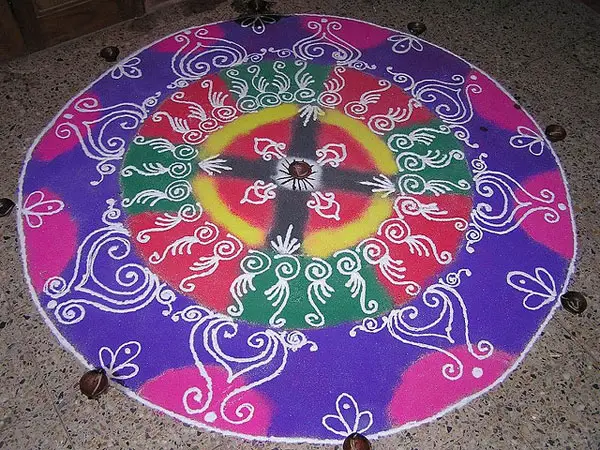 Tiles
If your floor already has some geometrical patterns, your designs might just fit into those.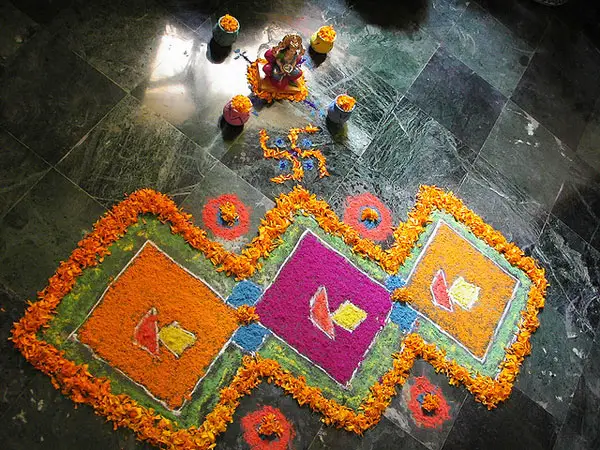 Deepawali
Conventionally, circular patterns have been the most popular; most probably because of the overall symmetry of the circle representing the recurring cycle of life.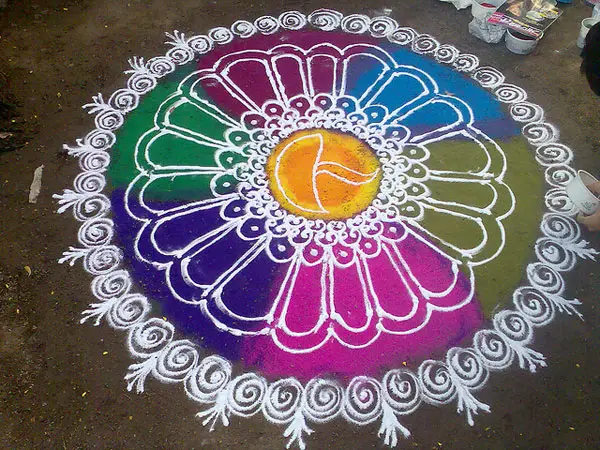 Best Fusion
Creativity is redefined in this rangoli as the artist has tried to create a fusion of two separate but appealing figures into one single design.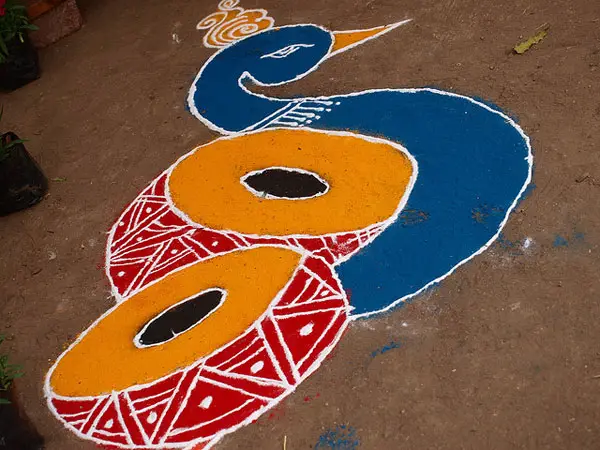 Majestic
When a new design does not strike you, just sit there and keep looking at the design already completed; and you will get a new one.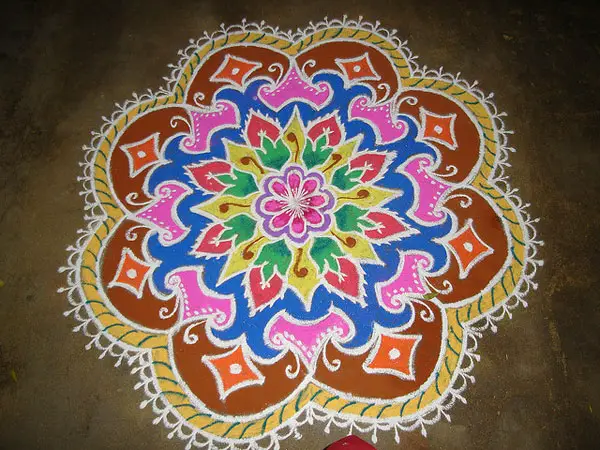 Subtle Shades
Using unconventional colors and omitting stark boundaries has a beautiful effect, as this image shows.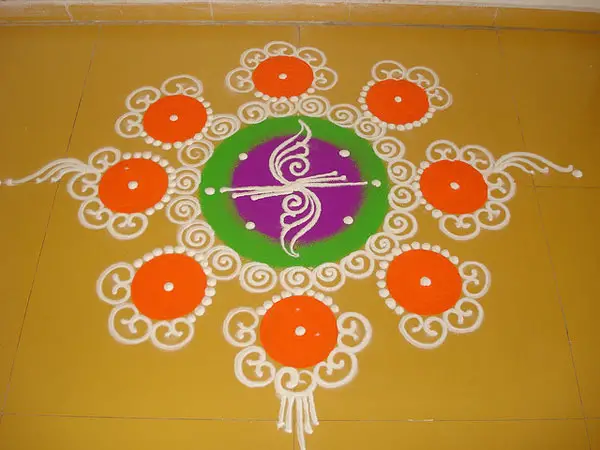 Colors And Lamps
Sunlight is the source that drives this world. It is the wonderful nature of light that makes it a special part of our tradition.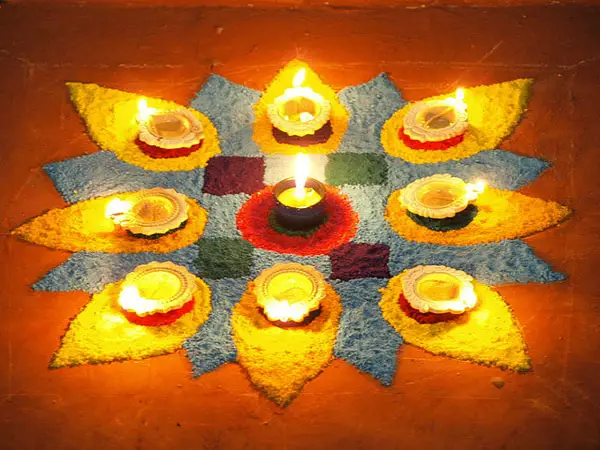 Discrete
Drawing discrete figures is relatively easier than drawing a big continuous figure. You do not have to balance your body while stretching your limbs.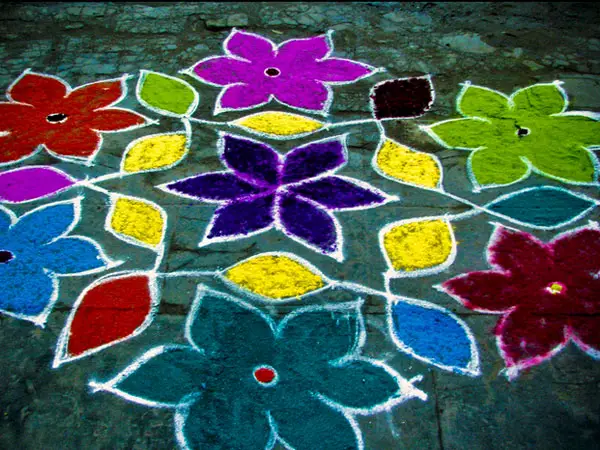 Jewelery
Complex and creative, this is a hybrid pattern; a mixture of so many distinct shapes. It looks almost as beautiful as some articulately designed jewelry.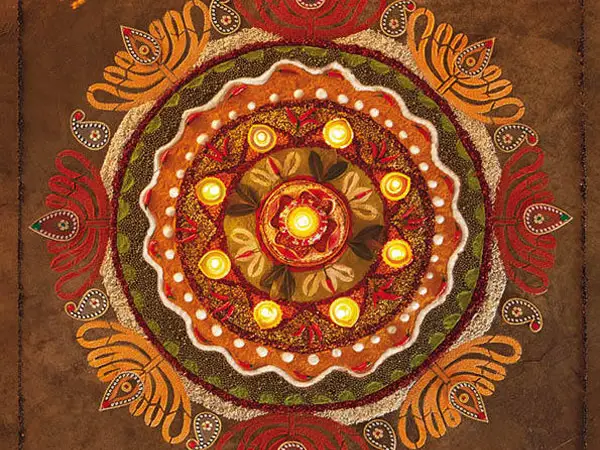 Abstract Rangoli Pattern
Abstract non-symmetrical design forms are the latest entrants in rangolis. This particular design is highly appealing in appearance.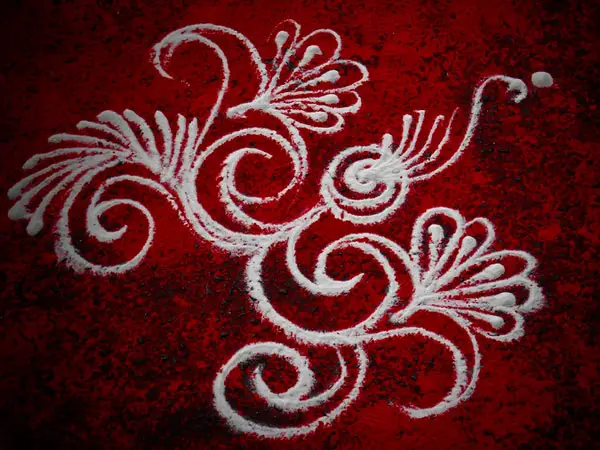 Rich Blue
Rangoli does not simply mean a collection of colors but the use of so many colors undoubtedly makes it better.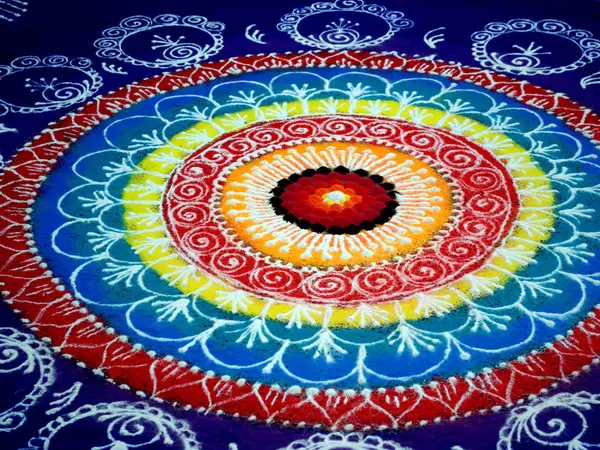 Independence
Apart from festivals, nowadays rangolis find their place on almost every occasion, from birthdays to national holidays.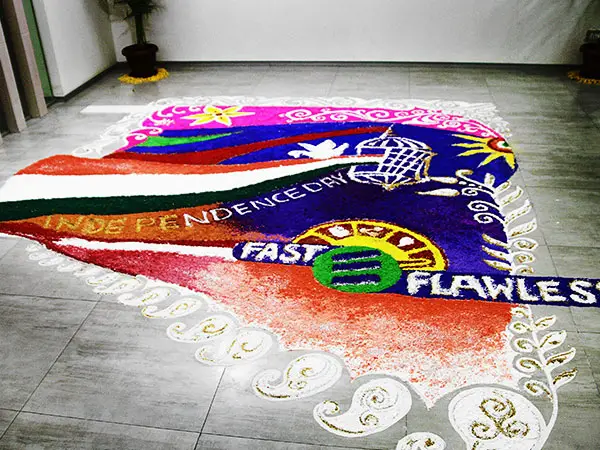 Independence
Bamboo Touch
This unconventional approach gives this rangoli an eco-friendly touch. The bamboo and flowers combine to create an aesthetic piece of art.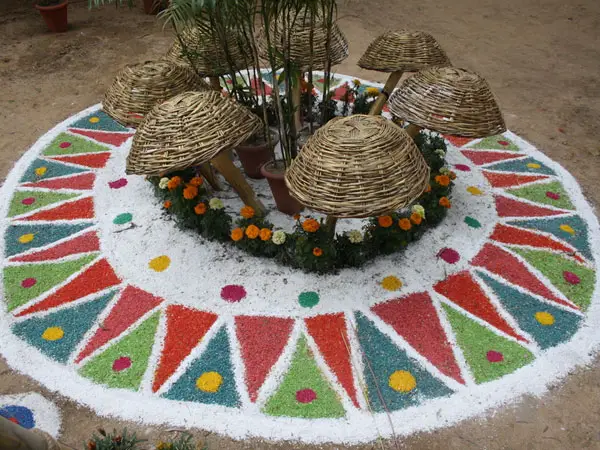 Focus
Controlling your hand could be a daunting task. Also, maintaining your balance while stretching yourself is crucial.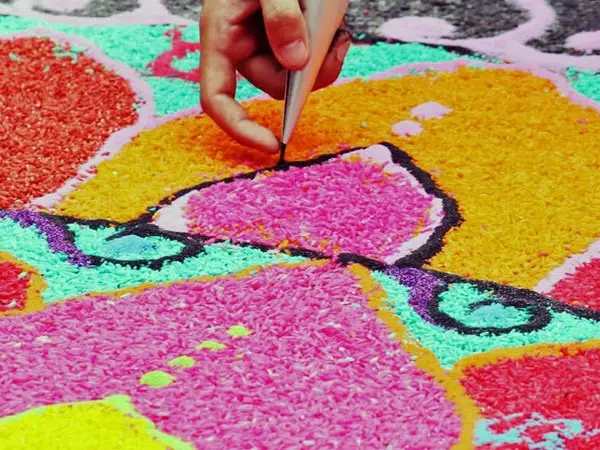 If you like this article, you might be interested in some of our other articles on  Seashell Pictures,  Pictures of Books,  Newborn Picture Ideas  and  Funny Pug Pictures.