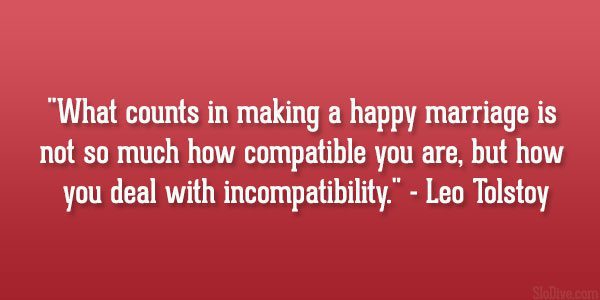 Is someone close to you getting married, and do you want to celebrate the wedding with beautiful words? Elegantly framed thoughts in a congratulatory message, say how much you care. Wedding wishes are a wonderful way to greet the couple as they start on their journey together. Many famous writers have expressed their ideas on what makes for a happy marriage. You can use these ideas in suitable wedding wishes quotes for the newly weds.
Martin Luther King praises marriage, saying there is nothing more delightful and warm than the company of a good marriage partner. Compatibility is a great quality among partners, but it is how one deals with incompatibility, that makes for a happy marriage, says Tolstoy. Joseph Campbell says that mutual sacrifice is important in a marriage. One does not sacrifice to the other, but to the unity of the relationship. Marriage is a sacred bond in which two people in love put wedding rings on each other. The rings express the desire for a never ending cycle of joy and prosperity. Nathaniel Hawthorne also celebrates the wonder of marriage. He says it is indeed a sacred mystery that people who love each other, share the same pillow.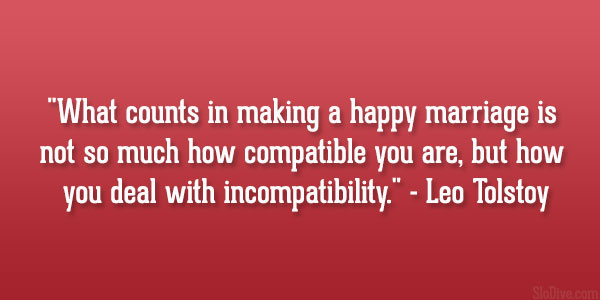 "What counts in making a happy marriage is not so much how compatible you are, but how you deal with incompatibility." – Leo Tolstoy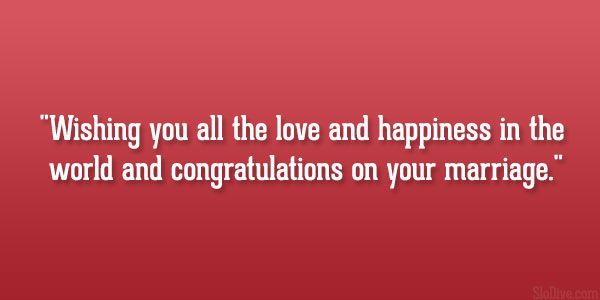 "Wishing you all the love and happiness in the world and congratulations on your marriage."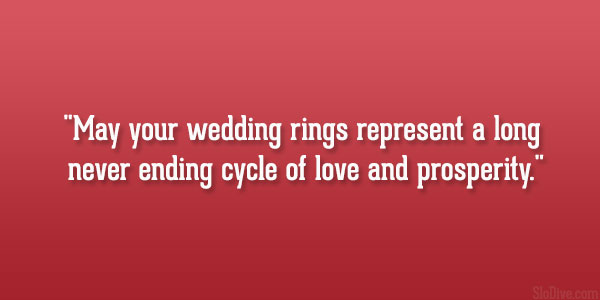 "May your wedding rings represent a long never ending cycle of love and prosperity."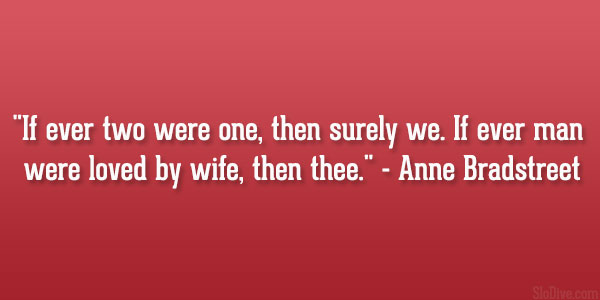 "If ever two were one, then surely we. If ever man were loved by wife, then thee." – Anne Bradstreet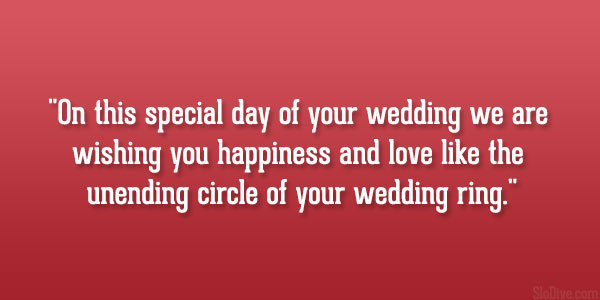 "On this special day of your wedding we are wishing you happiness and love like the unending circle of your wedding ring."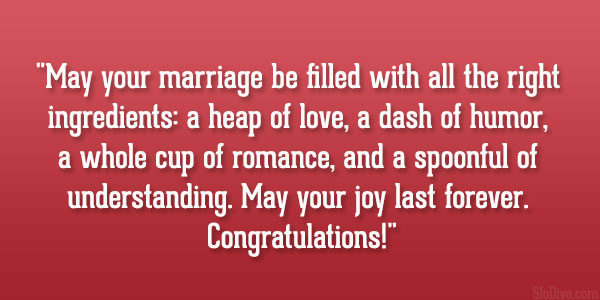 "May your marriage be filled with all the right ingredients: a heap of love, a dash of humor, a whole cup of romance, and a spoonful of understanding. May your joy last forever. Congratulations!"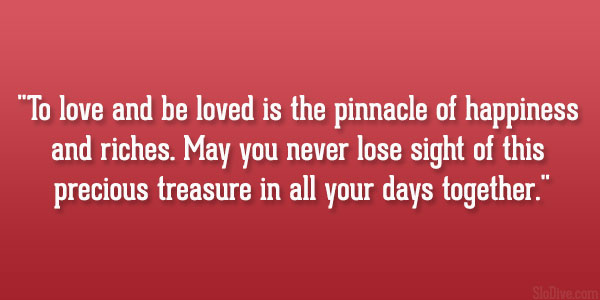 "To love and be loved is the pinnacle of happiness and riches. May you never lose sight of this precious treasure in all your days together."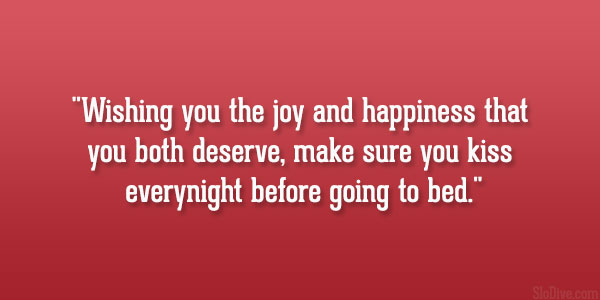 "Wishing you the joy and happiness that you both deserve, make sure you kiss everynight before going to bed."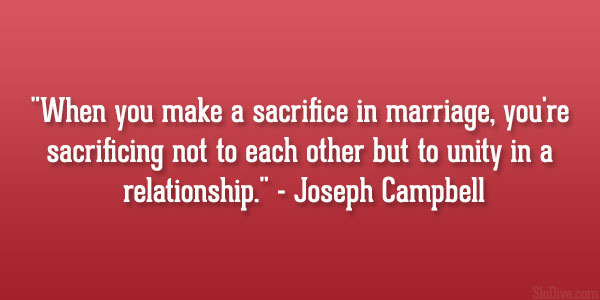 "When you make a sacrifice in marriage, you're sacrificing not to each other but to unity in a relationship." – Joseph Campbell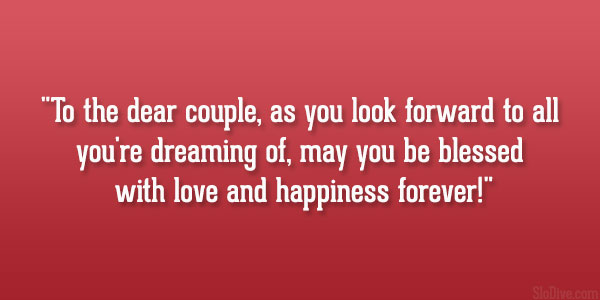 "To the dear couple, as you look forward to all you're dreaming of, may you be blessed with love and happiness forever!"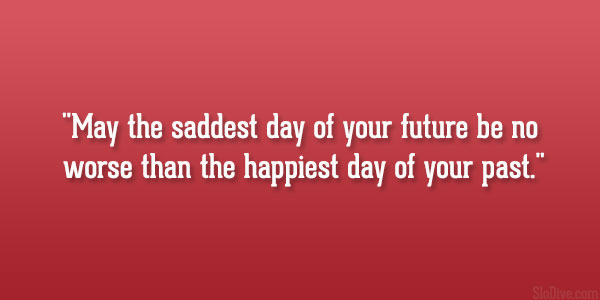 "May the saddest day of your future be no worse than the happiest day of your past."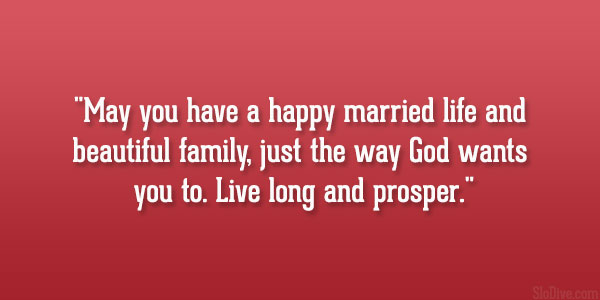 "May you have a happy married life and beautiful family, just the way God wants you to. Live long and prosper."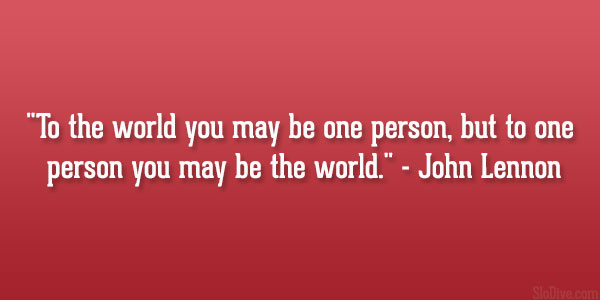 "To the world you may be one person, but to one person you may be the world." – John Lennon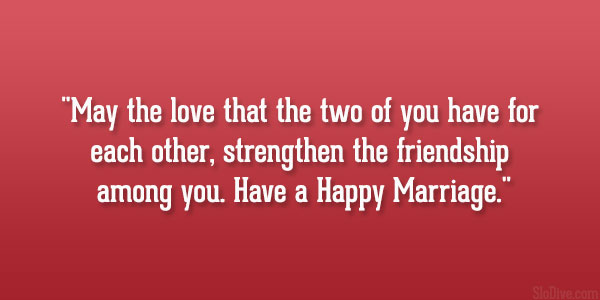 "May the love that the two of you have for each other, strengthen the friendship among you. Have a Happy Marriage."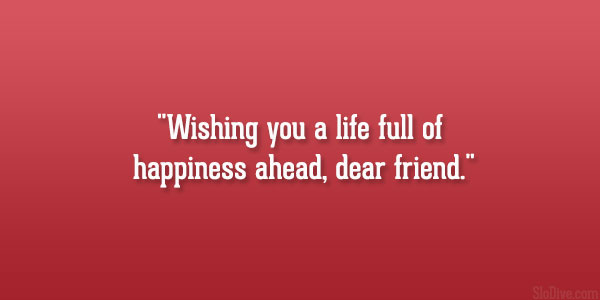 "Wishing you a life full of happiness ahead, dear friend."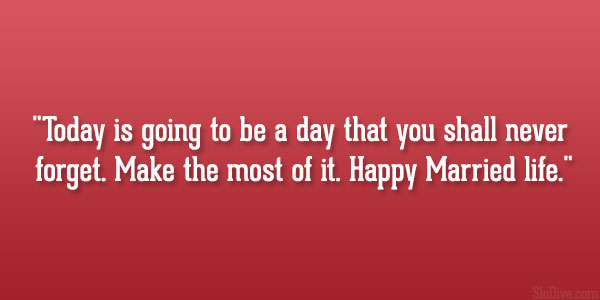 "Today is going to be a day that you shall never forget. Make the most of it. Happy Married life."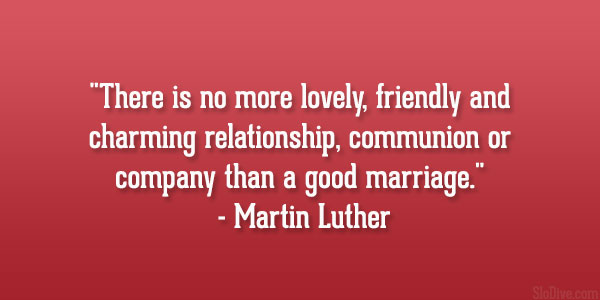 "There is no more lovely, friendly and charming relationship, communion or company than a good marriage." – Martin Luther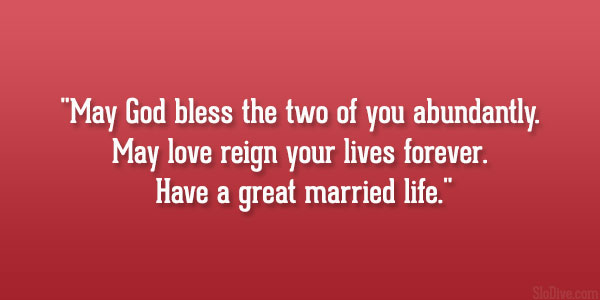 "May God bless the two of you abundantly. May love reign your lives forever. Have a great married life."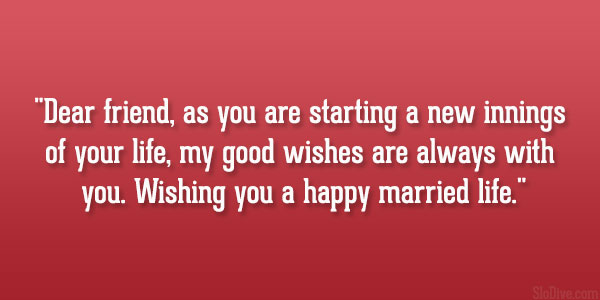 "Dear friend, as you are starting a new innings of your life, my good wishes are always with you. Wishing you a happy married life."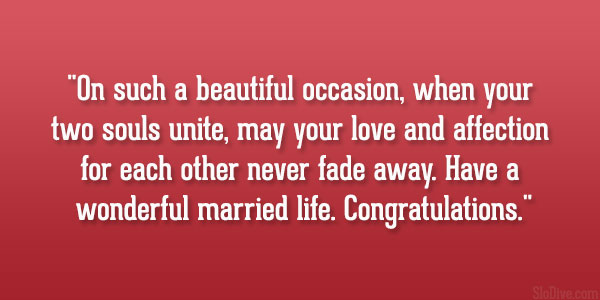 "On such a beautiful occasion, when your two souls unite, may your love and affection for each other never fade away. Have a wonderful married life. Congratulations."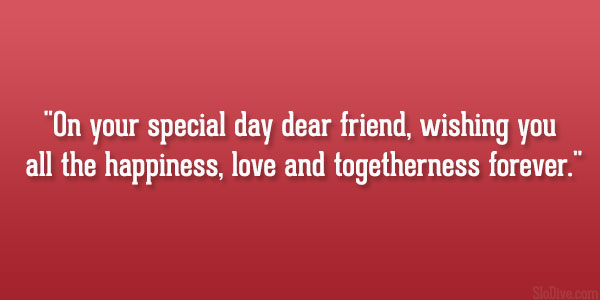 "On your special day dear friend, wishing you all the happiness, love and togetherness forever."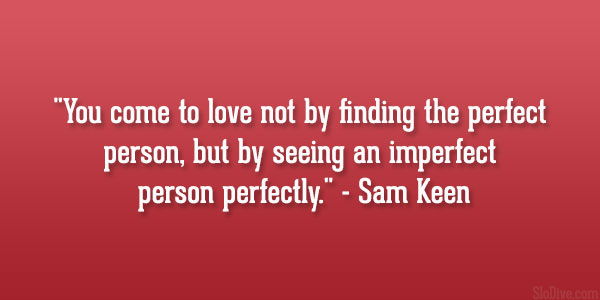 "You come to love not by finding the perfect person, but by seeing an imperfect person perfectly." – Sam Keen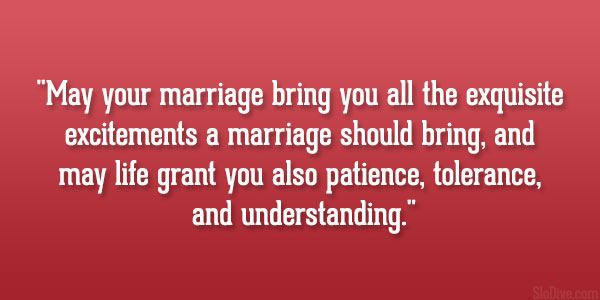 "May your marriage bring you all the exquisite excitements a marriage should bring, and may life grant you also patience, tolerance, and understanding."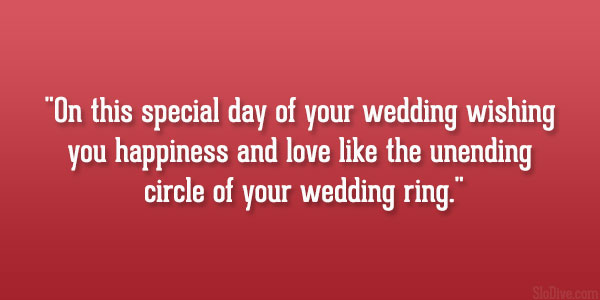 "On this special day of your wedding wishing you happiness and love like the unending circle of your wedding ring."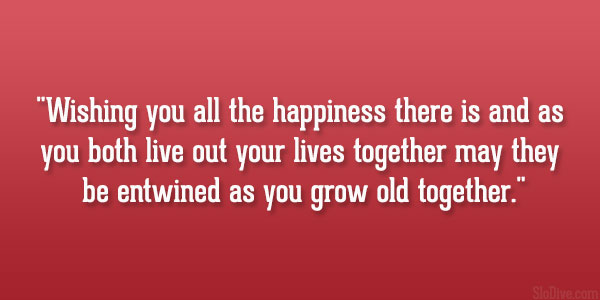 "Wishing you all the happiness there is and as you both live out your lives together may they be entwined as you grow old together."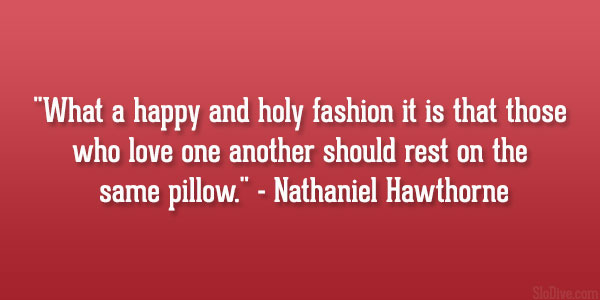 "What a happy and holy fashion it is that those who love one another should rest on the same pillow." – Nathaniel Hawthorne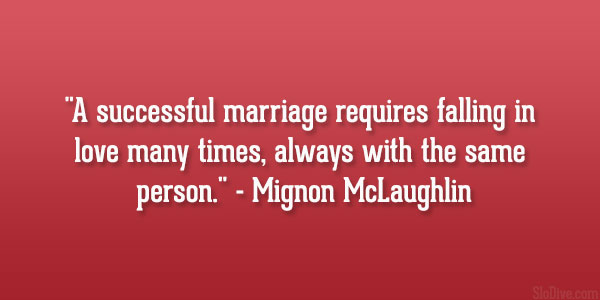 "A successful marriage requires falling in love many times, always with the same person." – Mignon McLaughlin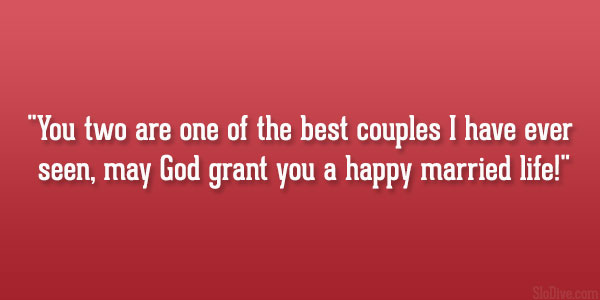 "You two are one of the best couples I have ever seen, may God grant you a happy married life!"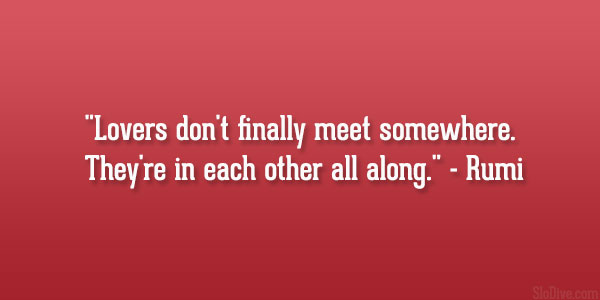 "Lovers don't finally meet somewhere. They're in each other all along." – Rumi
If you like this article, you might be interested in some of our other articles on  Brother Sister Quotes,  Live Your Life Quotes,  Happy Love Quotes  and  Real Life Quotes.