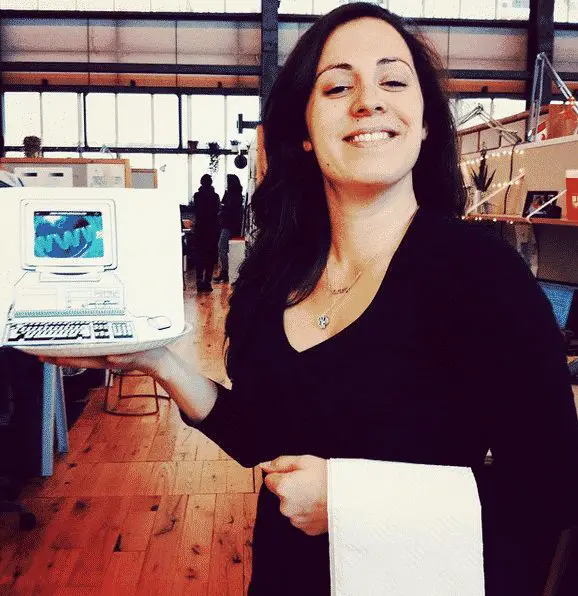 A quick DIY costume idea isn't always as easy as it should be to come up with. When you're under pressure and need a costume fast, it's not uncommon for your creative mind to draw a blank. Fortunately, others before you have had the same need for a quick DIY costume idea, and (let's face it) they're a lot better under pressure!
Whether you're heading to a Halloween party or just like a good pun, we've got some great quick DIY costume ideas for you! Each of the costumes below is a fun play on words; rather punny, they are. Plus, if you're heading to a costume party, nobody will know that your quick DIY costume a total of 5 minutes to put together! Okay, maybe they will, but who cares? THese DIY costumes are entirely too clever!
1. Leaf Blower
If you need a really quick DIY costume idea, tape a leaf to the bill of a baseball cap. Walk around blowing on the leaf in front of your face all night. Bam, you're a leaf blower!
2. Self Portrait
All you need for a self portrait costume is a large empty picture frame. Carry the frame and hold it in front of your face all night.
3. Deviled Egg
Paint or sew a large yellow circle on a white shirt or dress and pick up some devil ears at the dollar store on the way to the party. As far as quick DIY costume ideas go, this is one of the easiest, plus almost everyone will "get it"!
4. Green with Envy
Need a quick DIY costume idea for couples? One of you dress in green and one of you wear a sign that says "ENVY". Now you're "green with envy"!
5. Formal Apology
I'm sorry, but this is one of the cutest DIY costume ideas I've seen so ar! Plus, it gives you a chance to dress to the nines in your formal attire.
6. Hawaiian Punch
Don your snazziest Hawaiian duds and some boxing gloves, and go as Hawaiian Punch. You might want to carry a jug of the juice too, since not everyone will "get it" right off the bat.
7. Cereal Killer
It's one of the oldest quick DIY costume ideas out there—the cereal killer. Who knew some little boxes of cereal, a knife, and some fake blood could be so creepy?
8. Freudian Slip
Looking for a nerdy quick DIY costume idea? Paint or pin classic Freud terms to a slip and go as a Freudian slip.
9. Ceiling Fan
You can't get much cornier (or punnier) than this quick DIY costume idea! Be the ceiling's biggest fan! Bonus points if you have a huge foam finger.
10. Spice Rack
Compose yourself ladies—it's a spice rack! And I'll bet this guy's wife was just thrilled with his quick DIY costume idea! He looks pretty proud of himself, though.
11. 50 Shades of Gray
Th flogger and fuzzy handcuffs probably weren't really necessary to recognize this costume as 50 Shades of Gray, but they sure were a cute touch!
12. Fantasy Football
You'll probably get a few strange looks with this quick DIY costume idea, but it's so worth it! (Is that a Snuggie??)
13. Horn Dog
Woof! Toot! That's enough out of this horn dog…
14. Chicken "Cord on Blue"
Because everyone probably has a blue shirt, cord, and rubber chicken around the house!
15. Snakes on a Plane
Oh boy… You can't get much punnier than this! Snakes on a plane? Get it? Oh, nevermind!
16. Dust Bunny
In between those adorable twins from The Shining, we have ourselves a dust bunny, complete with ears and a feather duster.
17. Black Eyed P's
Some tape and a little black makeup are all you need to make some black eyed P's! This quick DIY costume idea is best for couples or groups.
18. Holy Cow
Oh, deer! It's a holy cow!
19. Web Server
A website served on a tray and a towel draped over the arm? What else can it be but a web server?
20. 2nd Amendment
If you're really patriotic and looking for a quick DIY costume idea, why not take an idea from the Bill of Rights? The constitution t-shirt is a great touch, but the right to "bear arms" is really what makes this costume!
What are you waiting for? Don't you have a costume party to get to? We've given you lots o inspiration for your big debut, now comes the hard part—choosing just one quick DIY costume idea. Now, get out there and stay punny!