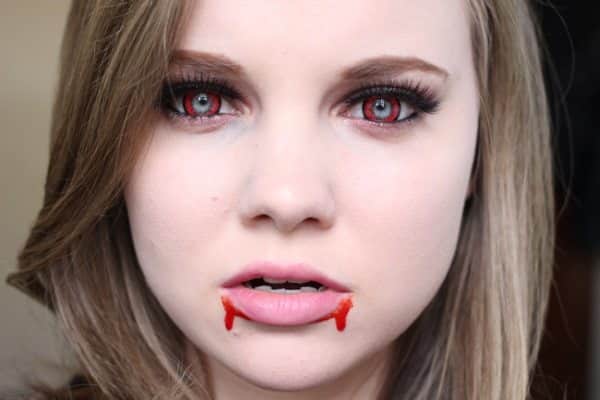 Vampires are dark and mysterious creatures. These mythological beings have terrified and fascinated the human race for centuries. These days, it's not uncommon to see several vampires roaming the streets and getting down with their bad selves one night a year — Halloween!
Vampire costumes are popular for a few reasons. These bloodsuckers are quite frightening, making them perfect for Halloween. Vampire costumes are also very easy to pull off. No special clothes or costumes are really necessary, and the look can really be pulled together with a little makeup.
Boys, girls, men, and women alike can all dress up as vampires for Halloween. While kids usually make cute vampires and men make scary vampires, women have the option of dressing up as sexy vampires. Sultry vampire makeup for women can really make the costume in this case! Light skin and dark eye makeup are the perfect start to vampire makeup for women. Add some dark red lips and costume blood for the perfect vampy look!
Looking for ideas for vampire makeup for women? Take a look as these sultry and dangerous looks for a little inspiration…
1. Simple Vampire Makeup for Girls
Vampire makeup for girls really doesn't have to be complicated at all. Neutral eyeshadow colors can help enhance the eyes, but a little blood around the lips is the dead giveaway for this vampire makeup.
2. Vampire Teeth Makeup
Vampire makeup can include several different elements. For instance, this vampire makeup design cleverly uses white cosmetics to create the illusion of vampire fangs.
3. Purple Vampire Makeup
A sexy dark look is easily achieved with a dark plum lipstick and smoky plum eyeshadow. Of course, vampire fangs and blood complete this vampire makeup!
4. Dracula Vampire Makeup for Women
Going for a classic female Dracula look? Try alabaster skin, a smoky eye, and a deep red lipstick.
5. Sultry Vampire Makeup for Women
Winged eyeshadow in dusky gray tones give this female vampire a sultry look. Some creative contouring on the cheeks and black and red lipstick complete the look.
6. Vampire Bite Makeup
The one detail that many vampire makeup designs leave out is how the person became a vampire to begin with. This one little detail really adds a little authenticity to your undead look!
7. Red Vampire Makeup for Women
Don't be afraid of the red makeup when dressing up as a vampire. Red eyeshadow and even red eyebrows can give you a sexy, yet dangerous look! And, blood. Don't forget the blood!
8. Scary Vampire Makeup
White skin is a classic base for frightening vampire makeup! The veins and lines radiating from the eyes make this look even scarier!
9. Gothic Vampire Makeup for Girls
Super smoky eyes create a sunken look, characteristic of the undead. Add a little black lipstick and dark blood droplets for the perfect Gothic little vampire look!
10. Bloody Vampire Makeup
Since vampires are dead (or undead) they aren't always going to be beautiful, and vampire makeup for women can be a bit ghastly too. Gray shading lines and shading create the illusion of veins on the side of the face, and running black eye makeup adds a disheveled look.
11. White Vampire Makeup
This light blue and white vampire makeup for women is quite the contrast compared to some of the dark looks we've already seen. Details like veins, bleeding eyes, and cracked lips, however, make it a spectacular look for Halloween!
Are you ready to get started on your own vampire costume? Remember, that vampire makeup for women is as diverse as the ladies that wear it. Although sultry and sexy vampire makeup for women is popular, don't feel bound by that cliche. Feel free to try some scary vampire makeup. After all, it's Halloween, the scariest night of the year!
If you're into the whole fantasy LARP scene and your character is a vampire necromancer but your not sure what names you can use heres ideas for necromancer names.