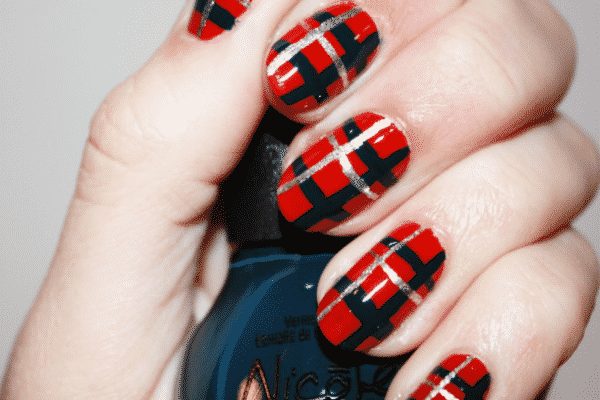 Who says plaid has to be drab? Plaid nail art designs are far from drab! In fact, they're a little fab!
Plaid nails are fun to experiment with. Red, black, and white are traditional plaid colors, but they don't have to be n fingernails. You can use any polish colors you already have. Purple plaid sounds super pretty, and glitter plaid? Even better! You can also dress up your plaid nails with rhinestones and other nail art accessories.
Ready to try some plaid nail but not sure where to start? Try some of these awesome inspired plaid nail art design!
1. Classic Red Plaid Nails
When you think plaid this classic red and black plaid design is what most likely comes to mind.
2. Diagonal Plaid Nail Tips
Use a classic black and red plaid nail art design just on the tips of the nails. Divide the nail diagonally for a funky look!
3. Simple Plaid Nail Design
A few lines over natural nails or a nude polish makes a cute and simple plaid nail art design.
4. Yellow Plaid Nail Art
Inspired by Cher's yellow plaid outfit in the movie Clueless, these yellow plaid nails are super cute!
5. Neon Plaid Nail Art
Lover of bright nail colors? Try a neon plaid nail art design—perfect for sumer!
6. Diagonal Blue Plaid
Mix it up a little with a diagonal plaid design.
7. Stamped Plaid Nail Design
A nail stamper is a surefire way to get perfectly pretty plaid nails!
8. Pastel Plaid Nails
Soft pastel colors make for some super pretty plaid nails! Perfect spring nail art.
9. Watermelon Plaid Nails
Need a fun sumer picnic look? Combine a little watermelon nail art with plaid nail art for this tasty mani!
10. Blue and Green Plaid Nails
This blue and green go together perfectly in this plaid mani.
11. Black and Green Plaid Nail art
Green really does make some pretty plaid.
12. Teal Argyle Nail Art
For a preppy look, argyle nails are totally trendy! And this teal color is stuning!
13. Metallic Pink Plaid Nails
Metallic polishes really make plaid nails pop.
14. Pink and Gray Plaid Nail Art
Pair a pretty ink with a neutral gray for a sophisticated plaid nail design.
15. Purple Plaid Nail Art Design
Pretty purple makes a sweet plaid nail design!
16. Simple Purple and Pink Plaid Nails
Pink and urple lines are all you need to change a dark purle polish from drab to plaid!
17. Simple Black and White Plaid Nails
If you're short on time, this black and white plaid nail deisgn might be just the thing.
Creating plaid nail art takes a steady hand to draw straight lines, but with a little practice, you should be able to create perfect plaid in no time at all. If you want super straight lines in your plaid nail art you can also use nail striping tape.