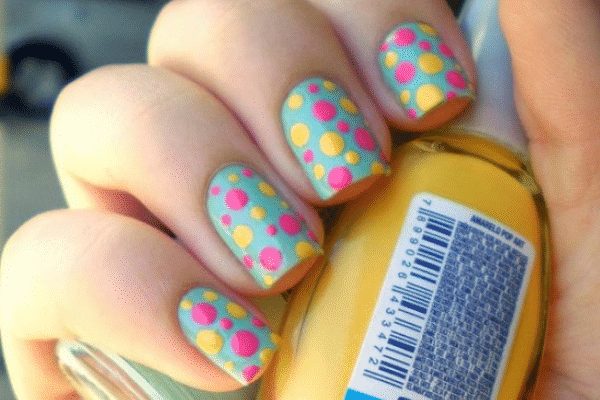 Painted nails are pretty, but sometimes plain colors can get a little boring. All of those amazing nail art designs look great, but they can be intimidating and difficult. Right…? Well, not necessarily!
There are some great easy nail art designs out there! Easy nail art designs may not be difficult to create or take forever to finish, but sometimes even simple nail art designs can look amazing. Although you won't spend hours on these easy nail art designs, that doesn't mean you won't be raking in the compliments!
Even beginners can pull off these easy nail art designs…
1. Colorful Polka Dots
These colorful polka dots are fun and easy to do! All you need are a few different colors of nail polish and a dotting tool.
2. Shades of Pink Nail Design
If you're looking for easy nail art designs, these cute pink nails are a great simple designs. Different shades of pink on each nail with a striped accent nail look fun and classy.
3. Glitter Half Moon Mani
Half moon manicures are cute and easy nail art designs. Pink nail are pretty and feminine, and the glitter half moons add some fun sparkle.
4. Glitter Plaid Nails
A few strategically placed stripes make some cute, creative, and easy nail art designs. The glitter stripe takes these plaid nails a step further.
5. Colorful Nails With Polka Dots and Tips
Colorful nails can be dressed up into easy nail art designs with soe white tips and black polka dots.
6. Funky Green Nail Art Design
Diagonal green tips are easy to paint. And you can add some black and green polka dots to take this funky green mani a step further.
7. Polka Dot Waves Nail Art
You gott love easy nail art designs that look harder than they really are! This pink and blue nail art can be created by painting the halves of each nail a different color. Add a couple rows of polka dots on each side and connect them to the opposite side.
8. Gold and Blue Nail Art
This easy nail art design is simple to create quickly, and it looks stunning!
9. Pac Man Nails
When you think of easy nail art designs, Pac Man nails probably don't spring to mind. However, these are much easier to create than they look!
10. Music Note Nail Art
Easy nail art designs like these music notes require nothing more than some lines and large polka dots.
11. Neon Gradient and Black Nails
The black accents make these simple gradient nails a little more interesting.
12. Different Sized Polka Dots
Polka dot designs are super easy nail art designs. But, you can add a little pizazz to your polka dot nails by making the poka dots different colors and different sizes.
13. Diagonal Line Triangle Design
The diagonal lines in this easy manicure create triangles at the top of the nails.
14. Chunky Glitter Manicure
Really easy nail art designs sometimes require nothing more than a nice chunky glitter polish! Just paint it on and you have your own unique and easy nail art designs!
15. Glitter Gradient Nails
A glitter gradient can be achieved by applying glitter or glitter nail polish heavier at the tips of the nails and lighter toward the bases of the nails. It's a simple but beautiful look!
16. Ring Toss Nail Art Designs
What' your favorite county fair carnival game? If it's the ring toss, you can try these cute and colorful circle nail art designs!
17. Clown Nail Art Design
Clowns aren't just circus nail art designs! You can also paint some fun and colorful clowns for your county fair nails!
18. County Fair Food Nails
Fair food can be hard to resist, it's true! These cute fair food nail designs mimic some of the tasty goodies you might find at the fair's food vendors, from fried dough to popcorn and cotton candy.
19. Fluffy Cotton Candy Nail Art
Yum! Speaking of fair food, it's hard to resist some fluffy and sticky cotton candy!
20. Easy Cotton Candy Nails
These pink and blue cotton candy nails are so simple to do, and they look oh so cute!
21. Carousel Nail Art Designs
Rides are most people's favorite part of the fair, and the carousel is a classic ride that also happens to look stunning in fair nail art designs!
22. Sunset Ferris Wheel Nails
For some people, the Ferris wheel is a can't miss attraction at the fair, especially at sunset!
23. Paris Ferric Wheel Nail Art
There are lots of great Ferris wheel nail art designs out there, but these urle, ink, orange, and yellow gradient Ferris wheel nails in Paris are just gorgeous!
24. Roller Coaster and Ticket Nail Art
Admit one for some county fair fun!
25. Simple Blue Roller Coaster Nails
These roller coaster nails are really easy to do, and they're the perfect fair nail art designs for thrill seekers!
Don't get caught with boring nails anymore. With a little inspiration from these easy nail art designs, you should be able to add lots of gorgeous and fun designs to your nails without a lot of work. You don't even need to be an artist to pull off these simple nail art designs, so go get started!