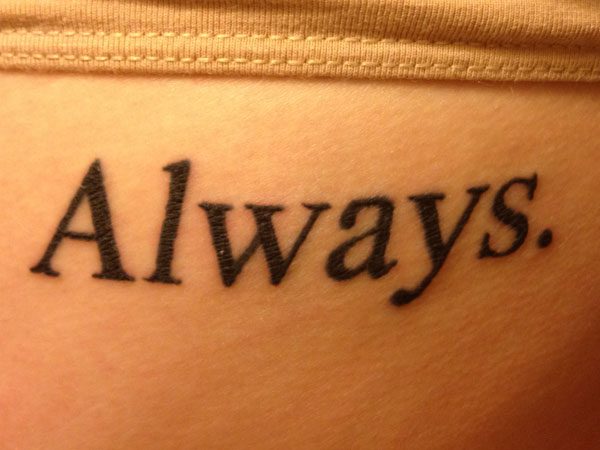 What is it about words that make them such a favorite theme for tattoos? Perhaps it is the fact that unlike words written on paper your favorite word remains close to you right on your skin. Even a single word can pack a huge amount of impact and deep meaning, which makes One Word Tattoos very popular. When you look at powerful tattoos consisting of just one word you get to step into the stories of the people who got the word tattooed. Elegant and precise a single word tattoo can hold a world of meaning and significance.
Whether it is a simple word tattoo saying the word 'Always' or a tattoo with the word 'Gratitude' every word tattoo has a special meaning. Many people who get inked combine the single word with a simple symbolic picture. A great way to depict the word 'Revolution' can be with a design of a rose, expressing the desire for a revolution through universal love and peace. Music lovers can get tattoos with the simple word 'Sing' where the spiraling shape of the 'S' can be decorated for an artistic effect. The choice of font, traditional and ornate, or simple and modern, can also add to the impact of a single word tattoo. A brief look at some One Word Tattoos gives you an idea of the creativity and original ideas that go into the art. Here are some beautiful single word tattoos.
If you like this article, you might be interested in some of our other articles on Inspirational Tattoos, Short Quotes For Tattoos, Let It Be Tattoos and Tattoo Sayings.
Affirming Tattoo
Sometimes a one word tattoo can have so much of meaning. Check out this compact 'Always' tattoo inked in a modern Serif font with a neat full stop.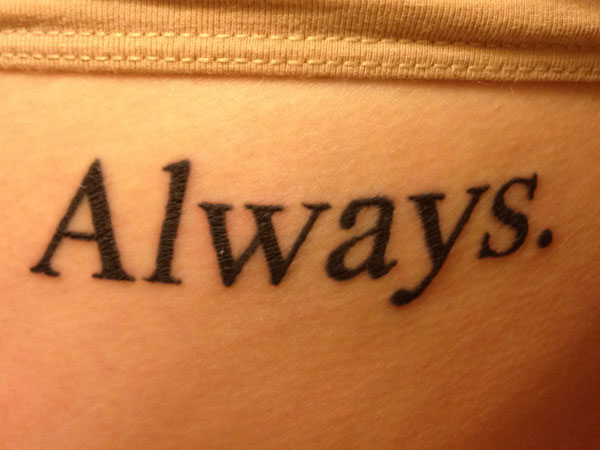 Short Tattoos (one word): I'm Grateful
What better way to express that you are grateful than with an elegant 'Gratitude' tattoo inked in a stylish flowery font right on your arm?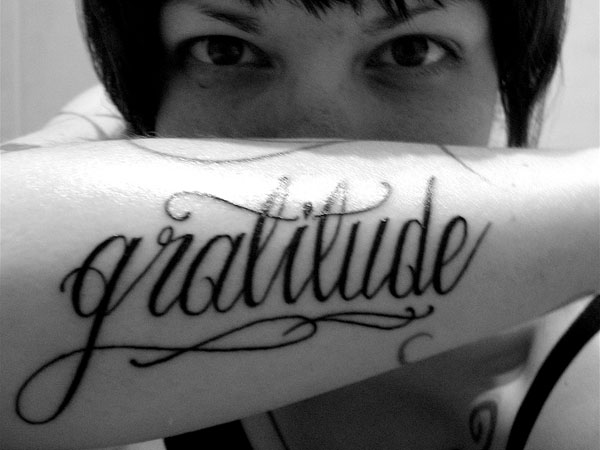 Rose Of Revolution
This powerful tattoo with the word 'Revolution' written graffiti-style in red and black goes well with the rainbow-colored rose on top of the design.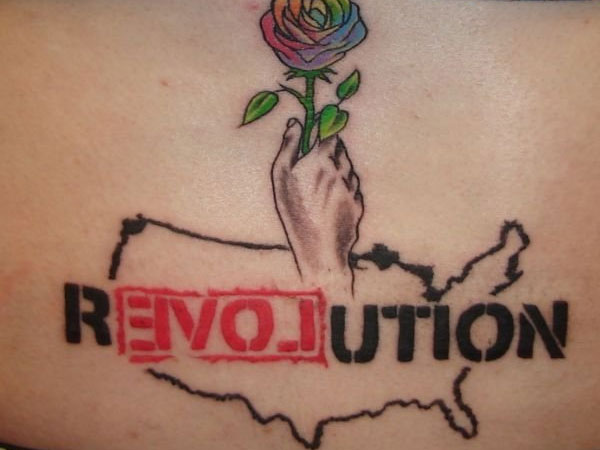 An Everlasting Smile
A reminder to smile and greet the day this elegant 'Smile' tattoo has a beautiful flowing style. Check out the spiraling 'S' shape and the cute smiley tucked into it.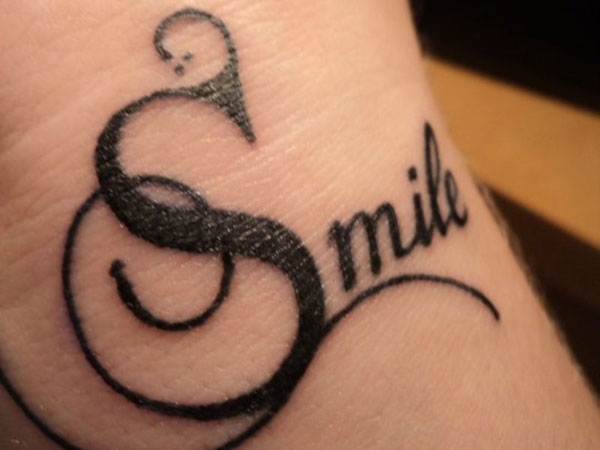 Singer's Word Tattoo
For a singer this one word back tattoo with the simple word' Sing' is ideal. Check out the mike that completes the tattoo design.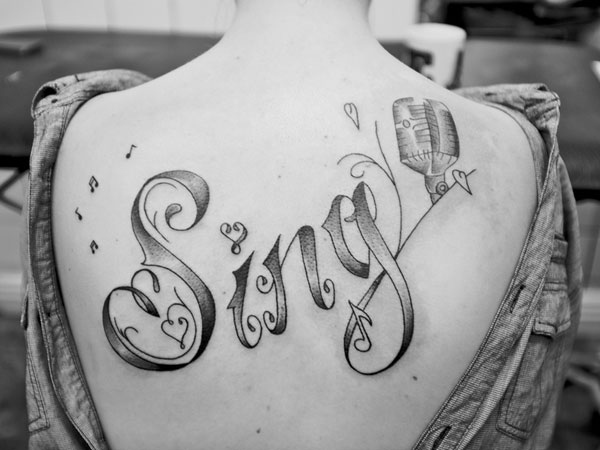 Singer's Word Tattoo
I Love My Kiddo
For a loving partner this one word tattoo with a pet affectionate name is a beautiful way to express love.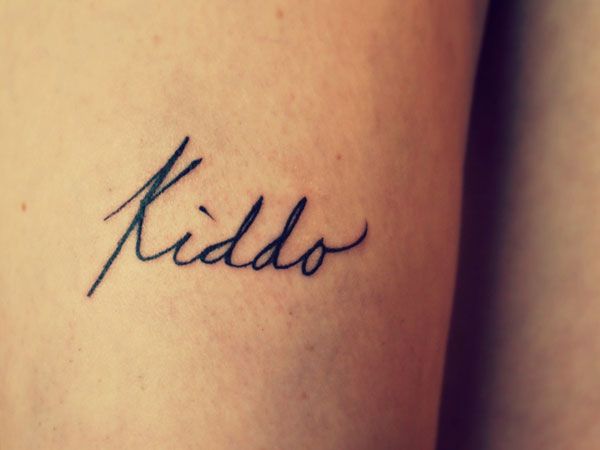 I Love My Kiddo
One word: Unless Tattoo
This tattoo is from Dr. Suess's The Lorax. A realistic and colorful design of rocks and pebbles with the word 'Unless' inscribed goes into this beautiful one word tattoo.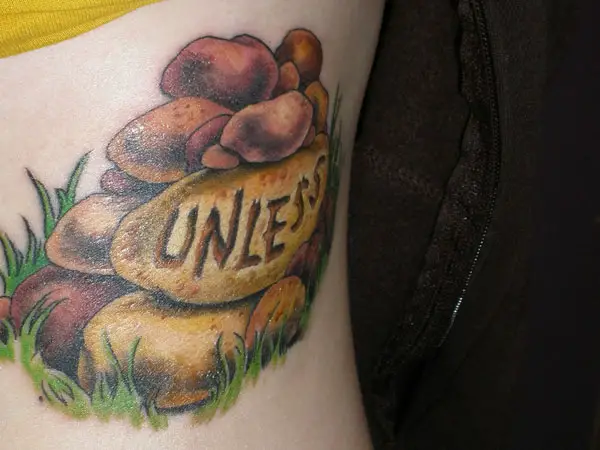 Manga Script Tattoo
This bold one word arm tattoo written in a stylish and angular shaded font seems to draw inspiration from Manga comics.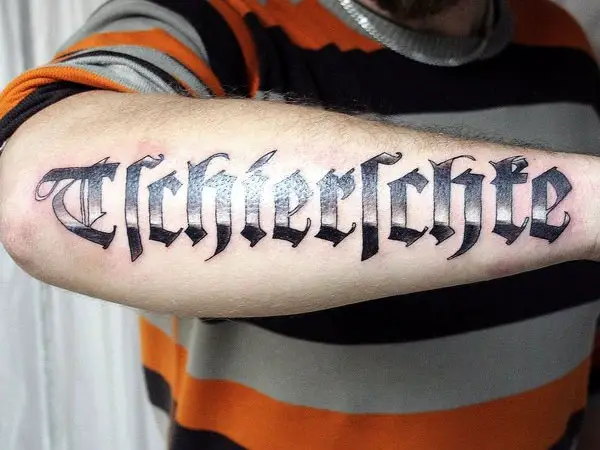 Simple One Word Tattoo
One word tattoos can be inked in a small font and still pack a lot of punch. Check out this simple name tattoo inked on the lady's foot.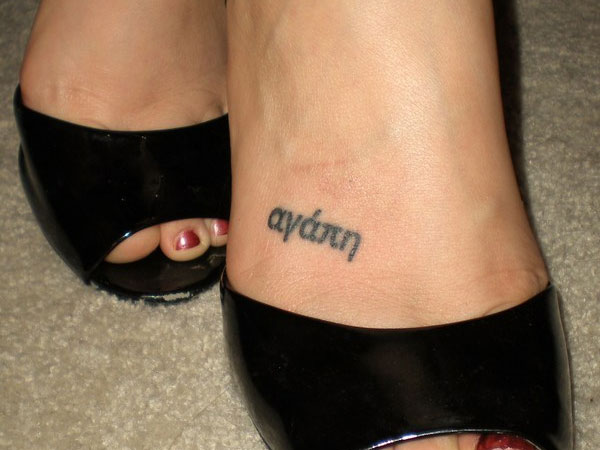 Keep The Faith
Faith is the deep theme expressed by this one word upper back tattoo. Note the shadow areas that lift the lettering giving it a stylish look.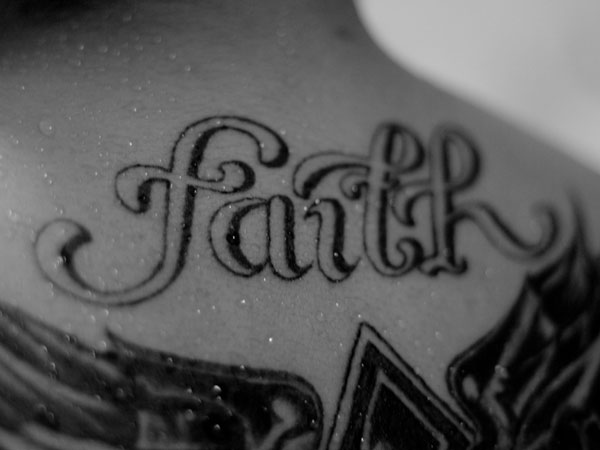 Artist's One Word Tattoo
For those into creating fresh and new art this simple one word 'Create' tattoo inked in an artistic script is a perfect choice.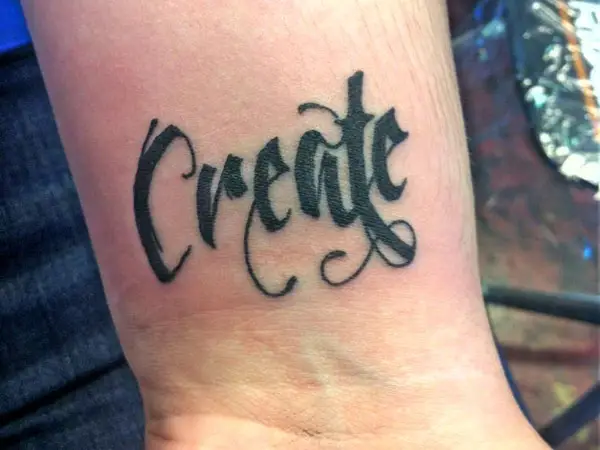 Modern Faith Tattoo
What's it like to keep the faith shining in this modern mechanical age? This boxy style tattoo drawing on machines for inspiration expresses this modern theme.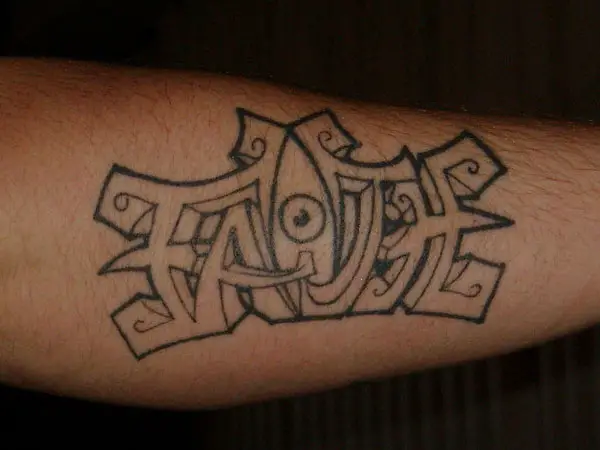 One Word Back Tattoo
This one word tattoo written inside a rolled-up scroll makes for an elegant tattoo for the upper back.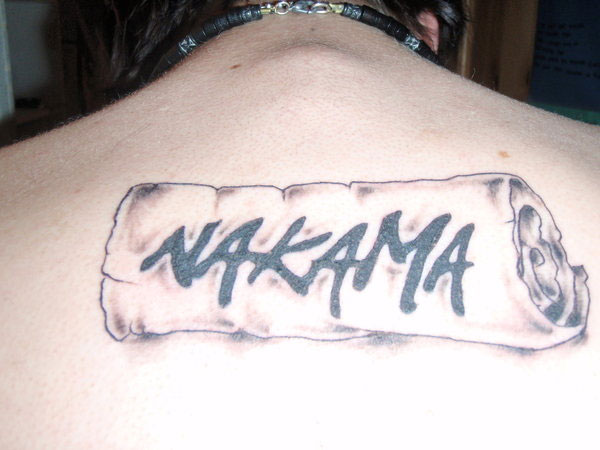 Happiness On My Wrist
Keep happiness near you right on your wrist, this sweet one word tattoo with the word 'Happiness' seems to say. Check out the cute and tiny heart motif.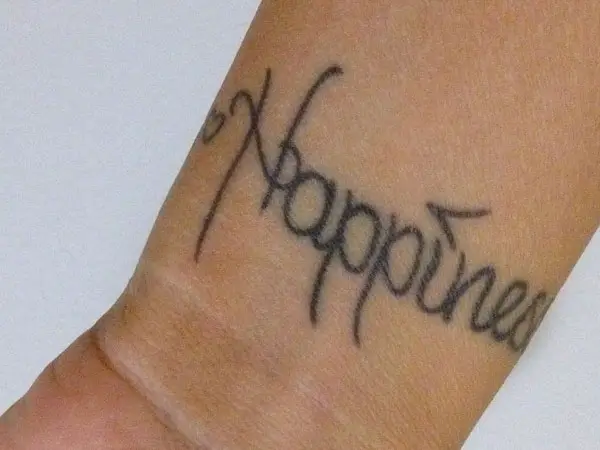 All That Remains
The simple word 'Hope' shines in black ink in this hand tattoo design. Small and compact the word perfectly fits the side of the hand.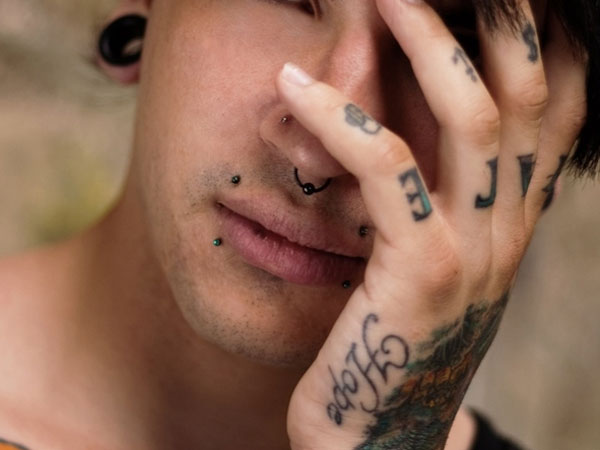 Deep Meaning Tattoos
This pair of single word tattoos clearly expresses the powerful ideas, 'embrace' and 'endure' on the inner wrists.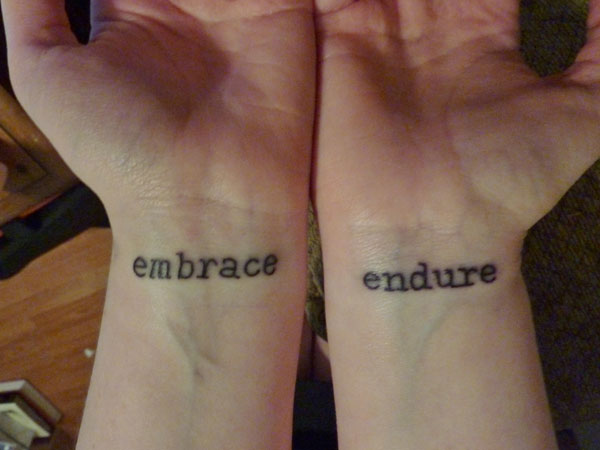 Word Weave Tattoos
Words really weave their own special magic. These single word inner wrist tattoos with 'warp' and 'weft' beautifully express this idea.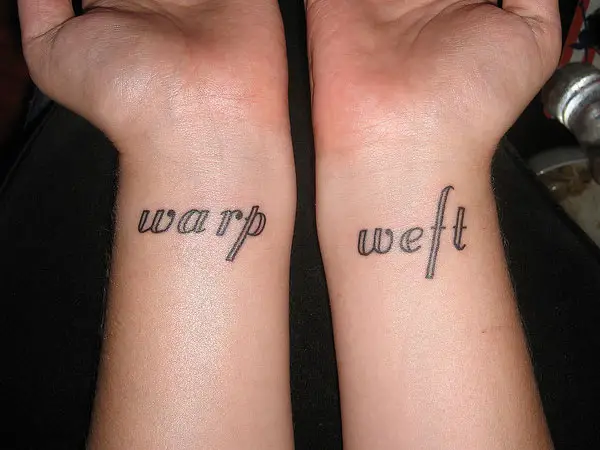 One Word Foot Tattoo
Styled in an elegant traditional font in black ink this is a beautiful one word tattoo on the foot.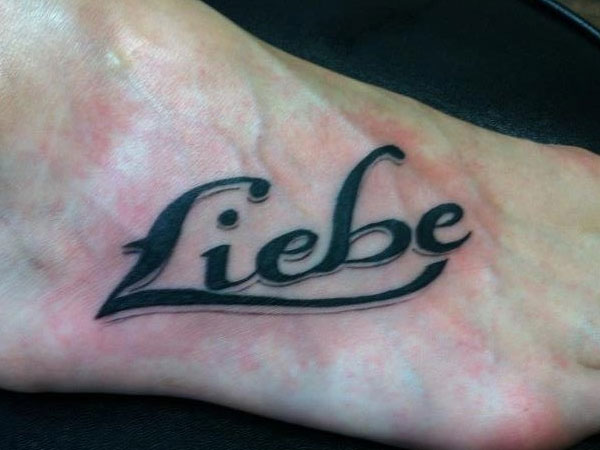 Powerful Belief Tattoo
The red ribbon that's a symbol of AIDS and the word 'Believe' powerfully combine in this tattoo design, as a reminder to believe and continue hoping.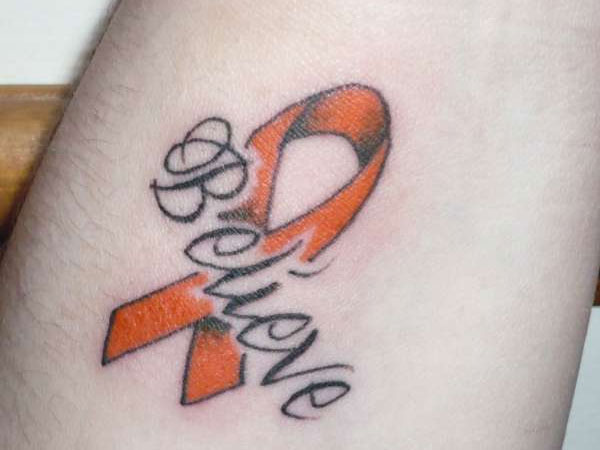 Black Ink Tattoo
This single word tattoo on the arm is inked in black in a strong angular font for a rich impact.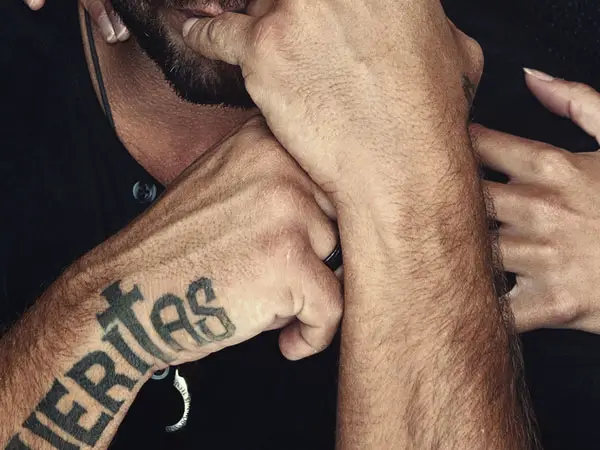 Finger Tattoo Design
A short word can be expressed with a single letter inked on each of the four fingers of a hand as this tattoo design idea shows.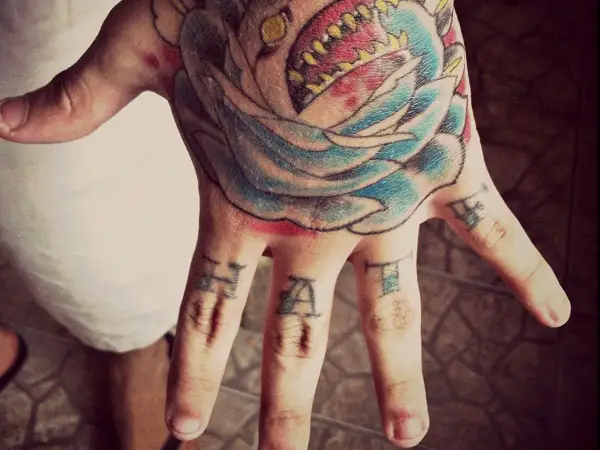 Elegant One Word Tattoo
The tiny peaks and straight lines of this black ink 'Illuminati' tattoo make it a really elegant leg tattoo.
Inner Wrist Word Tattoo
Inked in a simple flowing style this single word 'Believe' tattoo makes for a beautiful and compact tattoo for the inner wrist.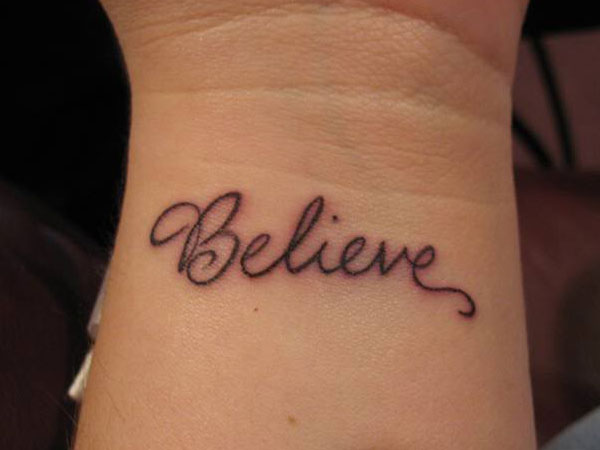 Musical Tattoo
Taking inspiration from music this one word 'Mum' tattoo uses an elegant musical symbol in the neat black design.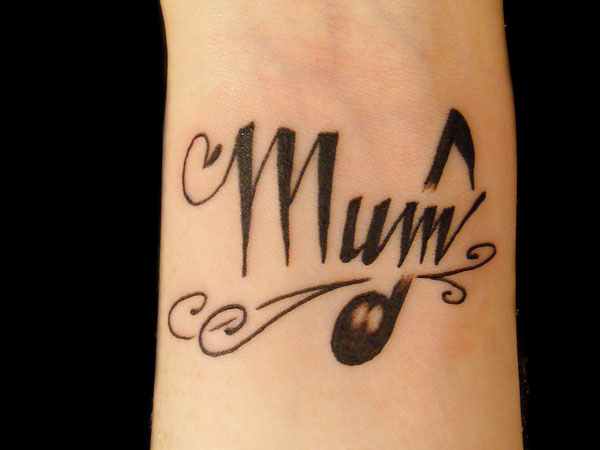 Name Tattoo
This elegant pair of name tattoos perhaps celebrates the memory of a beautiful girl, with an intricate butterfly in one tattoo adding to the beauty of the design.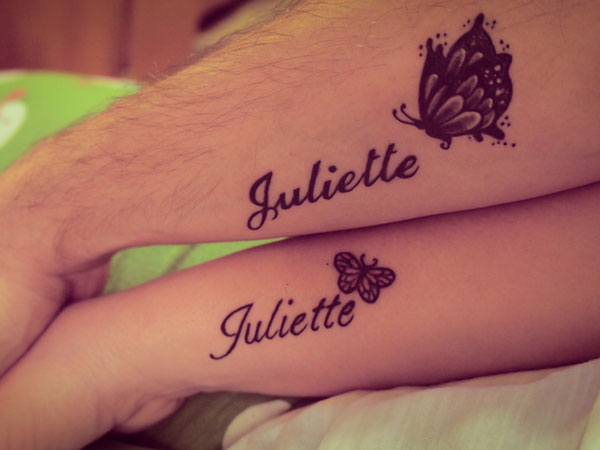 Name Tattoo