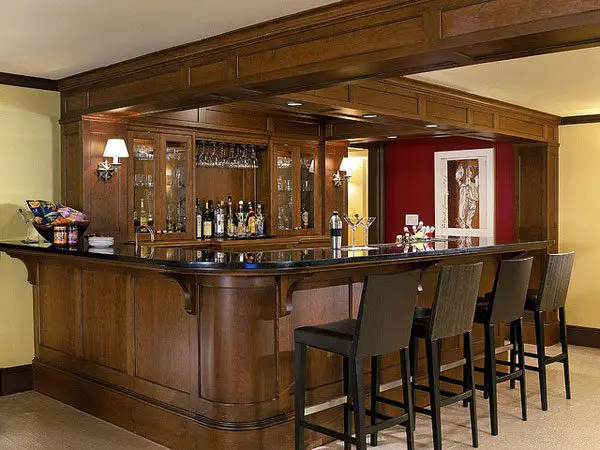 An exclusive bar at home today is not such a farfetched dream.There is no dearth of ideas once you decide to design your home bar. If you have a basement you are not using, now is the time to add some color and spice to it. Big wide attic spaces also make great bars if you intend to party away till the wee hours.
Home bar ideas can be adapted to suit any theme whether rustic or urban, classic or funky or a combination of any of these themes.
All you need is that extra inch of creativity and an urge to experiment.
Once you decide on a dedicated space for your home bar, you can go around designing cabinets for holding those very special drinks. While marble and wood add that very classy touch,plastic is also a great affordable choice.This is not all.There are steel,leather and stone options each of which creates a unique and cozy ambiance.Designing your home bar can be an exciting affair as you begin to experiment with a wide array of material,lighting,colors,and themes.So what are you waiting for? Add an element of style,sophistication and personal touch to your living space.And do it today.
If you like this article, you might be interested in some of our other articles on Living Room Paint Ideas, Garage Storage Ideas, Toy Storage Ideas and Fall Bulletin Board Ideas.
For Those Nostalgic Times
Want to catch up with old friends and recall the happy times?Let your glasses clink as you sit round this magnificent brown bar all done in wood and browns.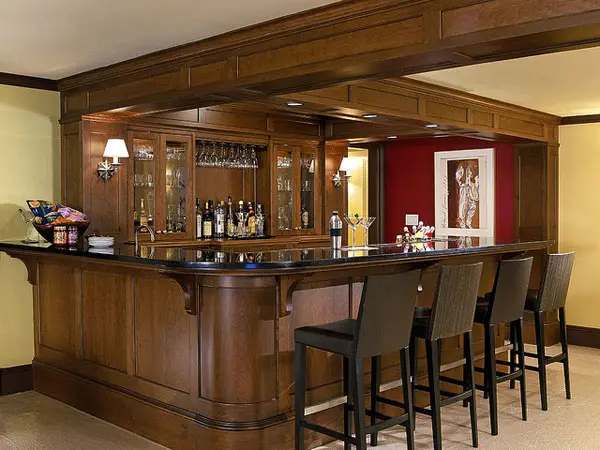 Party All Night
You need not retreat into your kitchen every time you need to mix some drinks.This spacious bar does it all.It leaves you with smiles at the end of a party.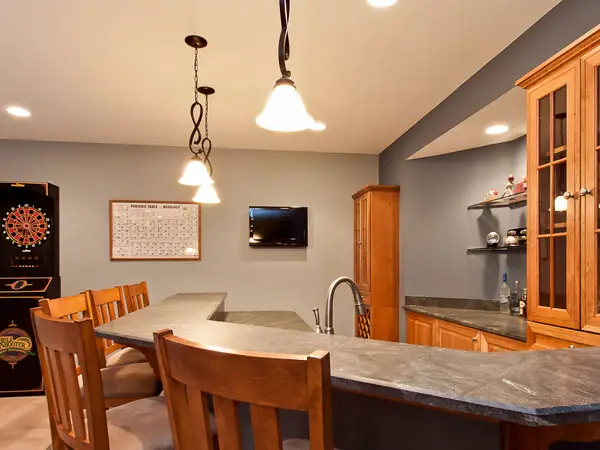 A Hanging Paradise
Give a suspended almost heavenly look to your bar with this unusual oval design holding all your concoctions and liqueurs in its ornately designed racks.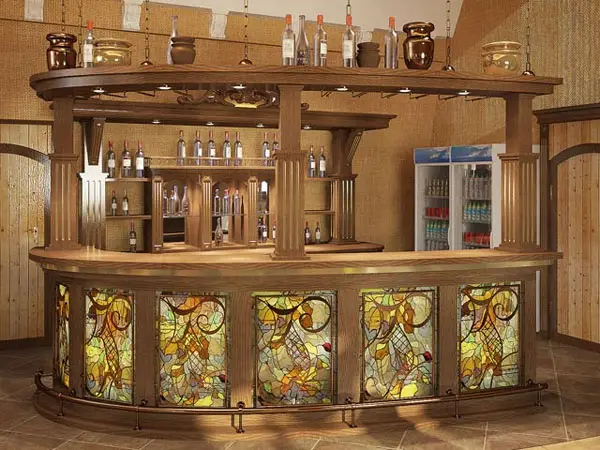 Cellar Redefined
The grand wooden cabinet in the background combined with sleek red stools lend a classy touch to this basement.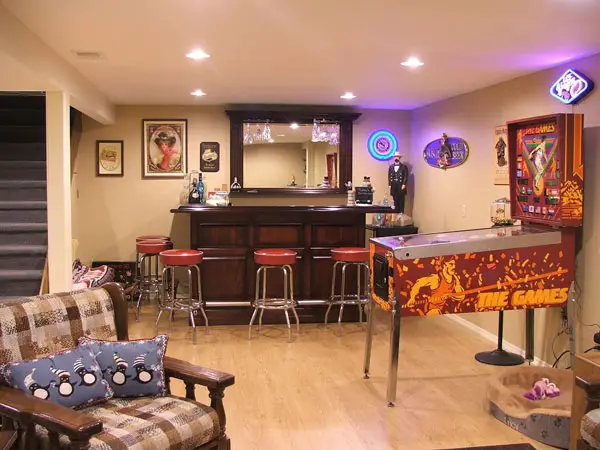 Chilling It Out
The big stone table top standing elegantly on a wooden shelf,red curtains and ambient lighting set the perfect mood for an evening of relaxation.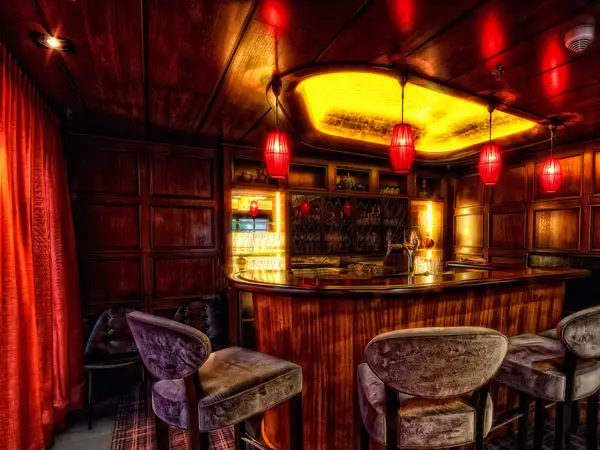 Leaving no Stone Unturned
The subtle brown undertone of this theme coupled with a peppy star in the background understates the elegance of this whole setting.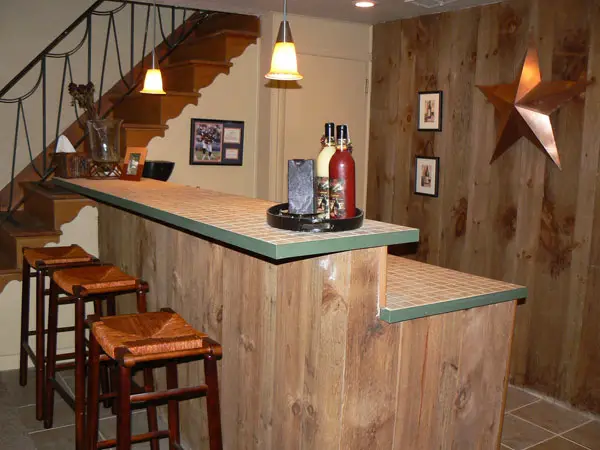 A Lively Corner
Let your guests hold their breaths as they savor rows and rows of their own personal favorite drinks.Can any space get more exciting than this?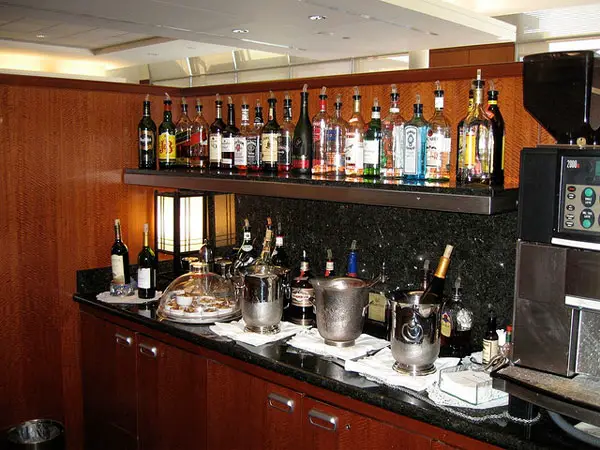 The Class Factor
A semicircular table combined with elegantly carved chairs lend a distinct class while making the most effective use of a very small space.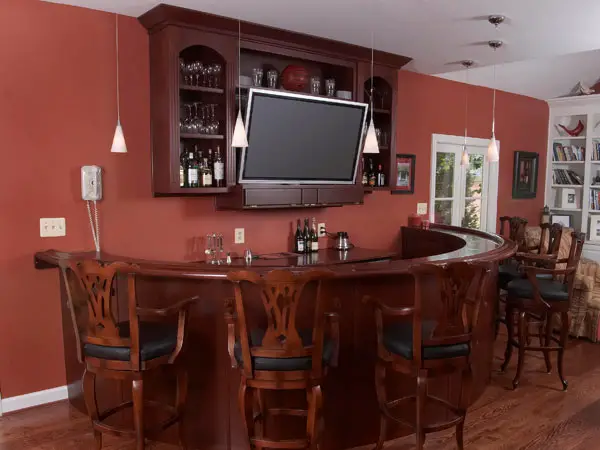 The Class Factor
A Breezy Affair
Fit your whole bar into this wooden cabinet made in Earthy tones of brown and enjoy the cool evening breeze with your personal wine.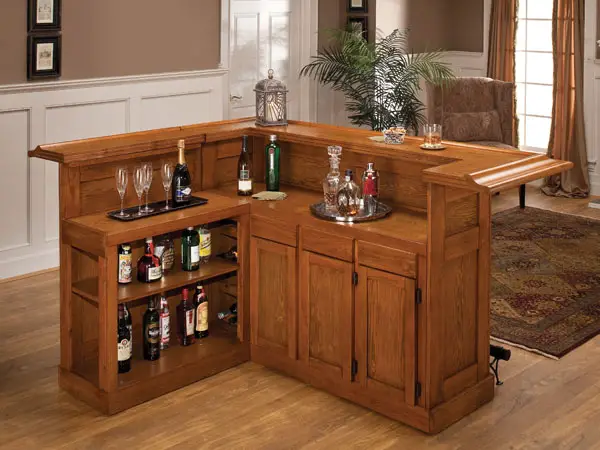 A Mix of Elements
Let the DJs take over and set the mood for party with these red dangling lamps and black leather stools.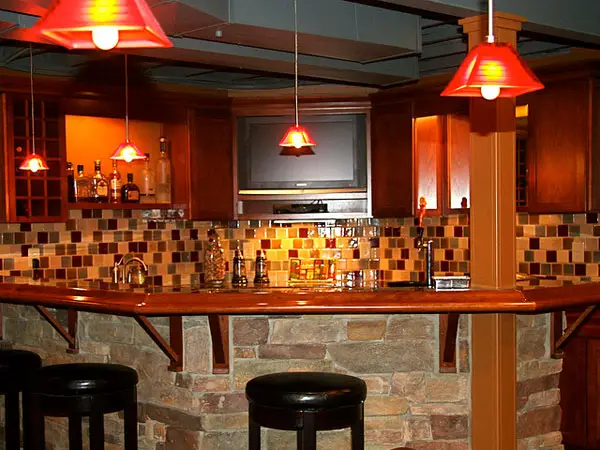 L for Laidback
Go for the L-shaped bar and serve your cocktails with style.This small space is bound to be a surefire winner with your cronies.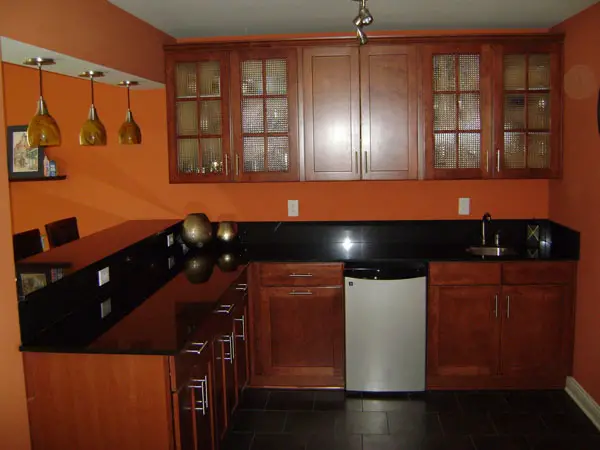 A Taste of Exotic
Are you in a mood for something lavish? Serve a heady mix of drinks to your friends in this uniquely lit bar and let the spirits rise.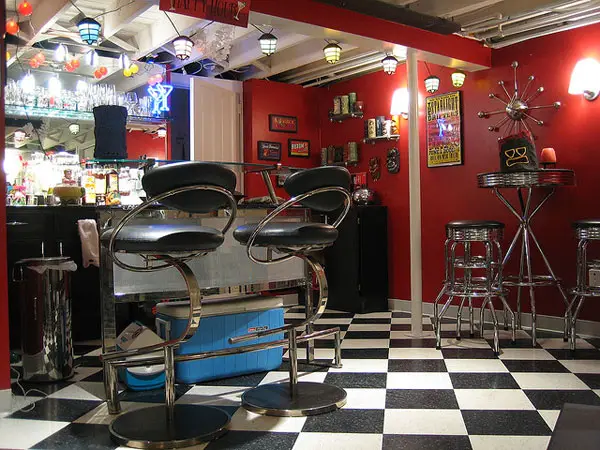 Your Own Personal Space
Sleek lines for the countertop,chair and the alcoholic shelves create an ambiance of simplicity where you can rest your tired bones after a hard day's work.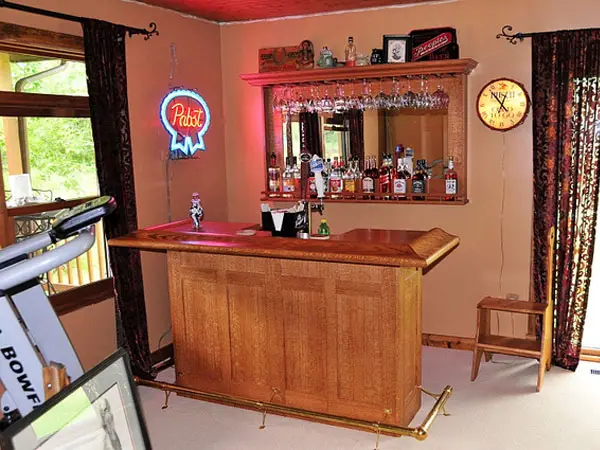 Charm Them Over
Show your friends that you are traditional when it comes to utilizing space effectively.Store your vintage wines,whiskies and vodka in this small but compact cabinet done completely in wood.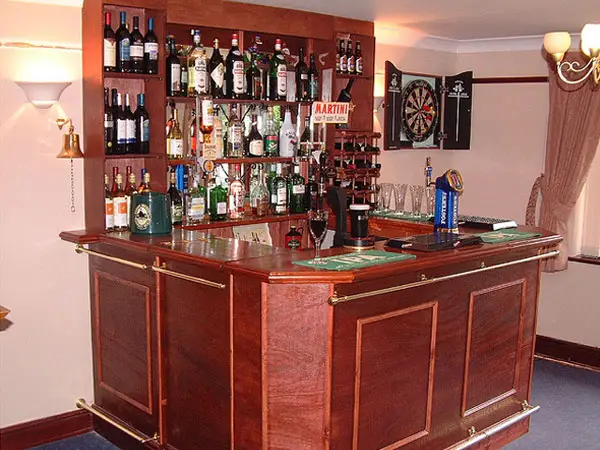 The Perfect Moments
A lovely wooden cabinet done all in brown and white makes your personal moments with family and friends all the more enchanting.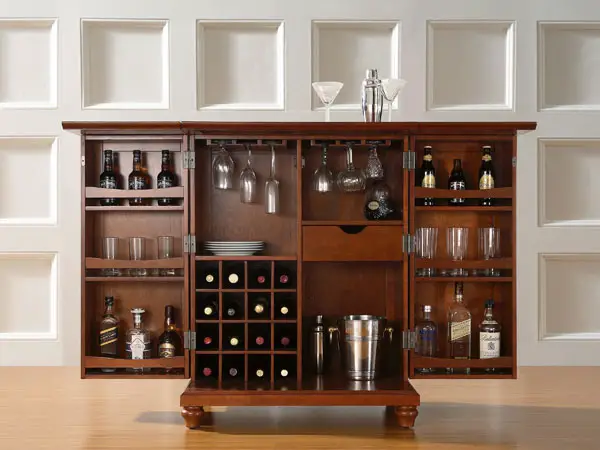 The Perfect Moments
Movies,Magic and Wine
Whether you want to entertain, relax or simply let your hair down,this cozy corner with its DVD rack and sleek chairs is all your's.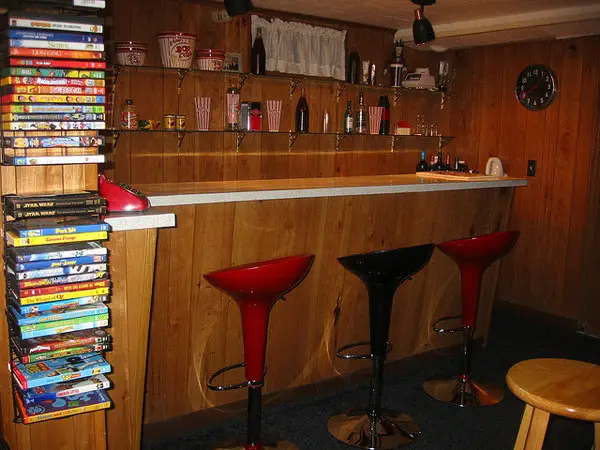 Love and Leisure
Have long conversations with friends during weekends over chilled beer as you sit around this intricately done artistic table.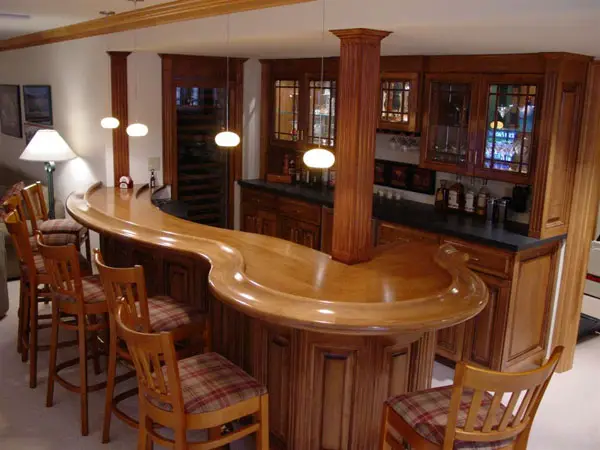 Love and Leisure
The Perfect Retreat
Are you bogged down by worries?A cozy bar like this tucked away in the corner of your home will calm your mind in an instant.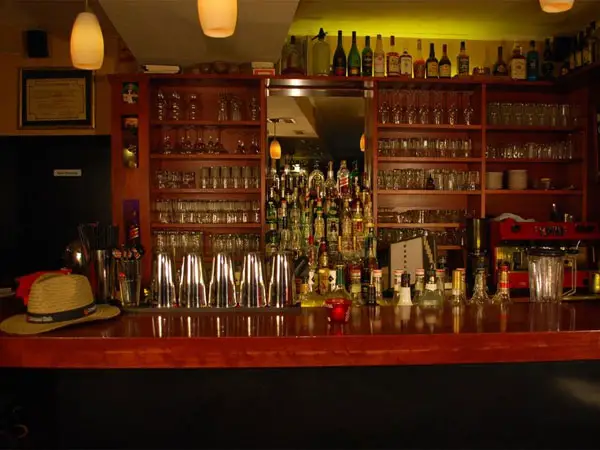 Innovate and Color
You don't really need vast spaces to create your perfect home bar.Just a little dash of blue and ingenuity is enough.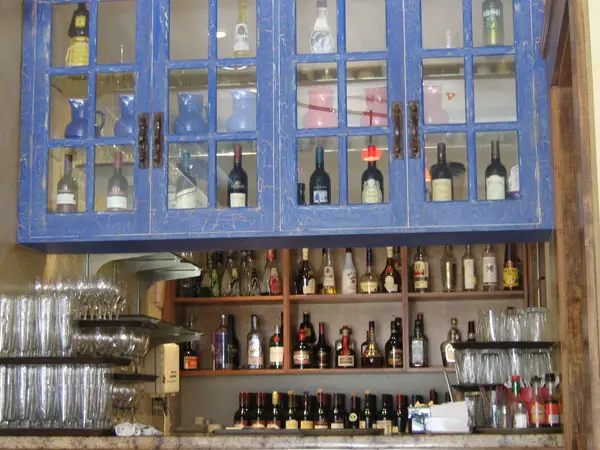 Explore Your Attitude
Let this minimalist look enhance the elegance of the bar.A simple mirror on the wall adds depth and character to the room without much fuss.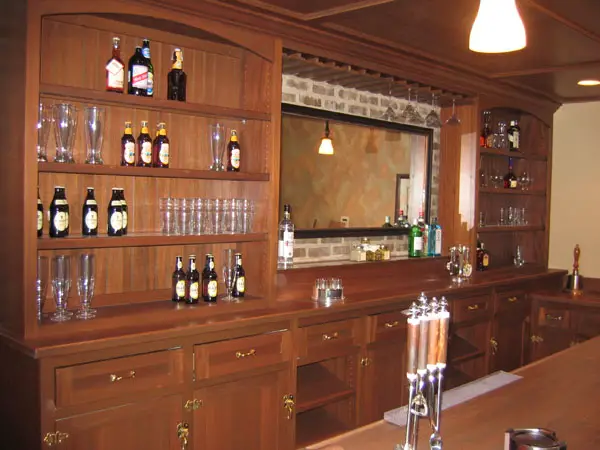 In High Spirits
The yellow lights and the high ceiling in this exotic home bar is sure to leave your guest spell-bound if not totally intoxicated.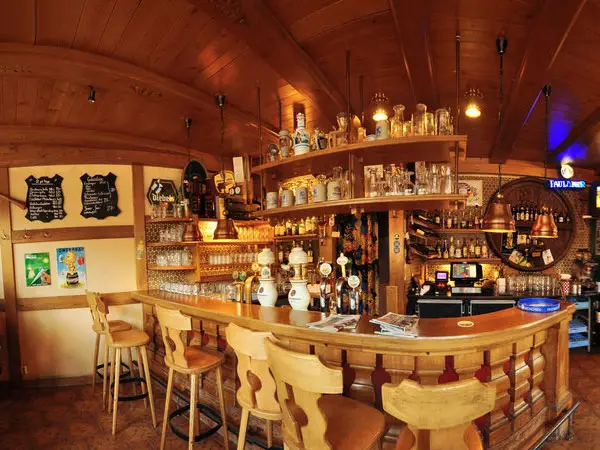 The Violet Mood
Bored of wood,marble and glass?Get a flavor of The Orient with this lavishly done purple bar adding more zing and spice to your evenings.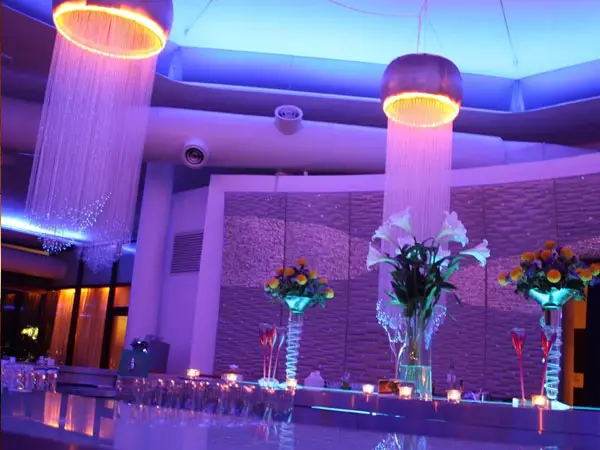 Say it With Granite
Add an urban element to your space with this elaborately done wet bar.A magnificent granite countertop with a gleaming chimney on top and a tiny sink in the corner and you are ready to create a whole new experience for yourself and your friends.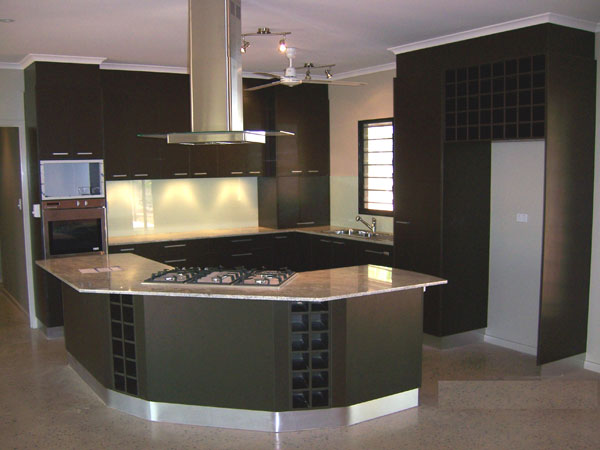 Say it With Granite
A Rectangular Delight
Brew up a storm. Stir up a cocktail. Dance and sing .Celebrate your new-found freedom in this ultra sleek wet bar all done up in your favorite browns.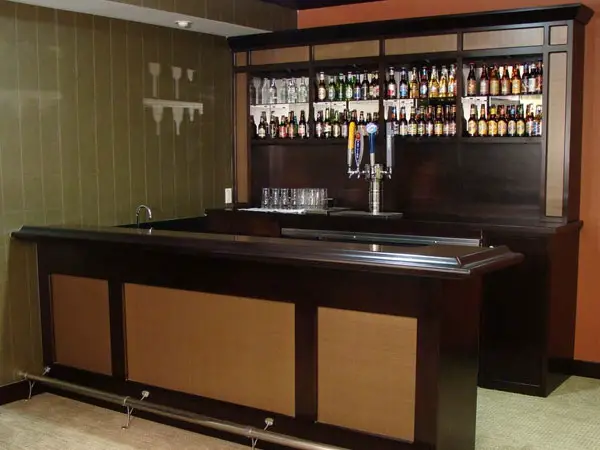 The Rainbow Bar
Faced with sagging spirits?Uplift your mood with these fluorescent greens and indigos and banish those blues away.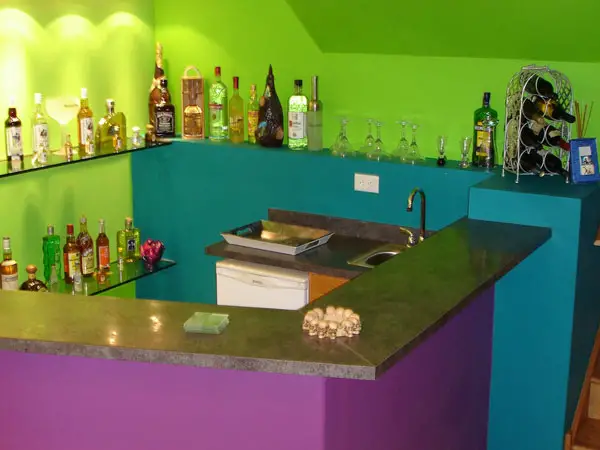 Some Quiet Moments
Get away from the crowd and soak in the silent ambiance of this well equipped basement bar.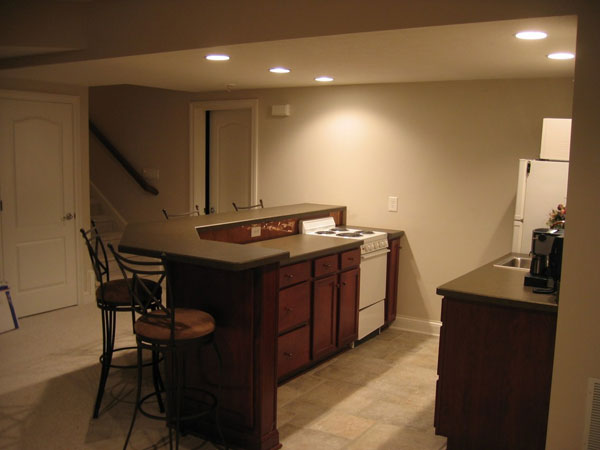 Some Quiet Moments
A Dash of Color
Stock all your favorite drinks in this elegant rack with a backdrop of deep burgundy.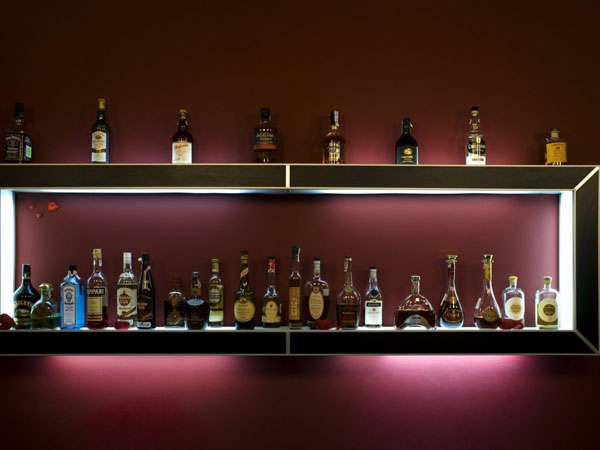 Crystal Clear
Enjoy your Martini in this gorgeous basement bar all inspired by glass and chrome.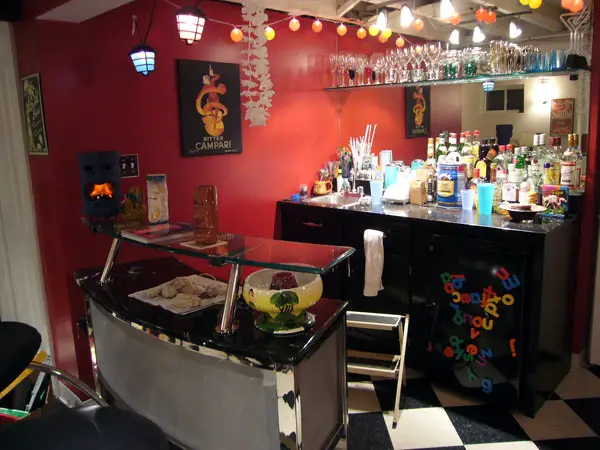 The Owner's Pride
Let your well stocked, glittering, cozy bar be the object of your neighbor's envy every time you have them over for dinner.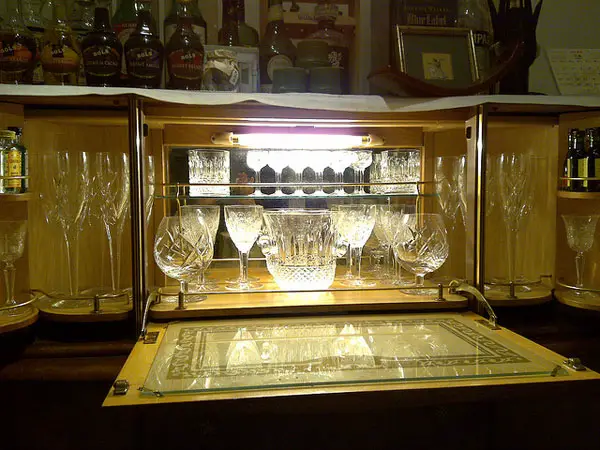 A Private Retreat
Fill your basement with the magic of black and browns and let your bar speak volumes about your personality.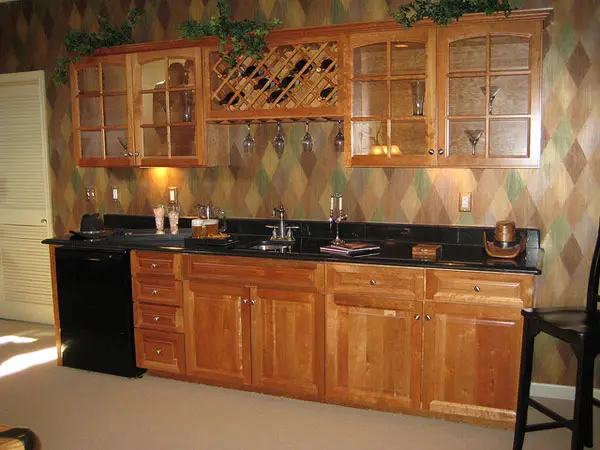 The Luxury Cruise
Go all Victorian as you sink into the plush moods of this comfy home bar and sail away to a land of bliss.