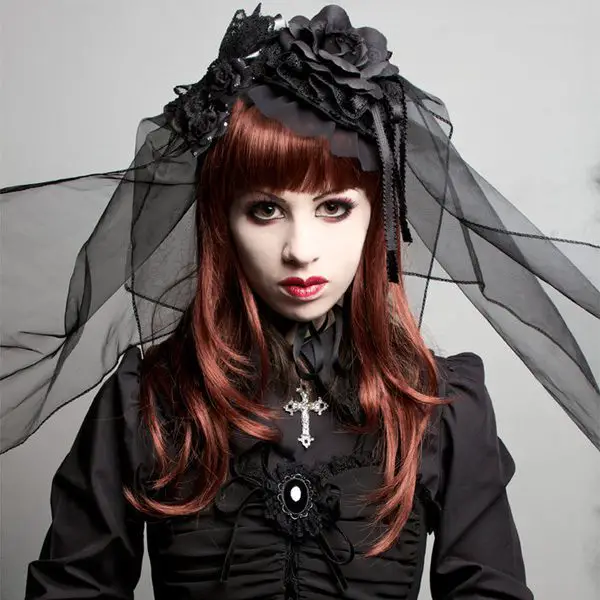 The medieval ages were high on drama and individual style with a touch of the dark. Gothic fashion is inspired by individual expressions that combine the dark features with modern styles. 
Terrific Gothic Hairstyles
Gothic Hairstyles are a great exercise in showing your mysterious side and playing up your dark elements. When it comes to Gothic styling red and black are favorite hair colors for their intense passion. You can also get wild with vivid blue highlights in your hair.
Free and dramatic Goth hair fashion often mixes elements from different ages for a fresh new look. You find styles in which a deep front fringe is paired with regular side ponies. Many hairstyles for long hair simply keep the hair open with side bangs. You also have Goth hair fashion with a touch of punk in which edges and spiky effects are used on black hair.
A lot of roller work incomes into the picture, and you can also find hairstyles that use layers for a mysterious Gothic look. For a superbly edgy Gothic expression get your hair styled in asymmetrical front layers that nearly cover one eye. Pair the hairstyle with dramatic face makeup, and you have all the ingredients for a fun Gothic expression.
Gothic Elegant Hairstyle
Ornate pendants and earrings go well with the horns attached with pins in this Gothic look. Check out the dramatic eye makeup.
Black Goth Bride
Rich nut-brown tresses curl gently in this open Gothic hairstyle. The deep front fringe reaches down to completely cover the forehead for a darkly enigmatic look.
Royal Blue Goth Hair
The deep front fringe adds to the drama of the elaborate and extra huge side ponies splashed with vivid blue highlights.
Striking Funky Hairstyles
From ancient times till date styling ones hair in different ways has been a matter of pride and pleasure. People of all civilizations and races have used short haircuts, long straight hair, curls and waves to look better. A good hairstyle appeals to the vanity of a person. Funky hairstyles make a statement…a non-conformist, a rebel, a go-getter, etc. They have an attention grabbing effect with their splash and dash forms. The hairstyles have standard trims with a slight difference to make it unusual or completely out of the ordinary.
Funky hairstyles for women can be as many as ones imagination can extend. Undercuts, streaks, gelled hair to form peaks, multi colored sections, look really new-wave and different from traditional cuts. These styles do not require any other adornment and go well with equally funky wardrobe. Just comb the hair in place and you are ready for a discotheque or a great time at a nightclub. If you want a more pronounced effect some funky-junky silver jewelry goes well with any of these hairstyles.
The Hedgehog
The hedgehog look is a great winner on this girl. Her oval face and gorgeous eyes are complemented very well by the funky arrangement of the hair curving outwards.
Gone With The Wind
A perfectly oval face and slim neck can be a perfect match for this flying-in-the-breeze hairstyle. It is funky and a definite trend setter.
Brown Funk
You have layers and layers of short straight brown hair and the hip hop turns into a classic beauty. The short bangs add a touch of the little girl to this modern funky hairstyle.
Magnificent Medieval Hairstyles
A wreath tied around the forehead and head is characteristic of a medieval hairstyle. In the medieval times, most women had long tresses. There was not much of a trend for short or medium hairstyles. Stylish updo, braids with hair kept back from the face with hair bands was the "in" thing in those days.
Long tresses left loose down to the waist are a simple yet attractive hairstyle. When you add a hair band around the head and over the forehead it becomes a beauty.
Hair bands with flowers, leaves or silk ribbons tied around the forehead and head was a great trend in hairstyles of medieval times. If you want a trendy looking hairstyle of that period then this is the collection you should look at. Some of the hairstyles are for long hair going down to the waist. Some have medium layered trims. But the basic theme of a hair band remains a constant. Braids and updos are also a part of the era. So there are some that have fantastic updo and braided hairdos that are worth copying. Wreath-like bands of flowers and leaves together look good too.
Ponytails And Ribbons
Two ponytails tied with crisscross ribbons is a smart and neat medieval hairstyle that this woman has.
Up And Long
A severe bun at the back and some strands left loose over a shoulder is a great medieval hairstyle worth imitating.
Bun And Tresses
Some long tresses left loose below a well styled bun make a fantastic medieval hairstyle.