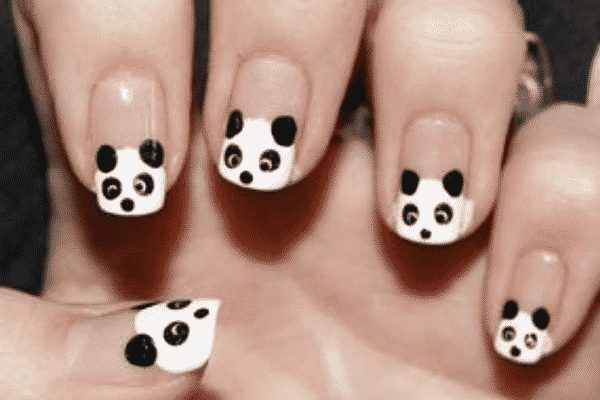 Panda bears have long been a symbol of good luck, prosperity, abundance, and a carefree spirit. It's no wonder that so many people love pandas! Plus, it doesn't hurt that they're cute as a button!
Panda nail art designs are cute and fun, and a nice deviation from the norm.
They're also super easy to create! All you need is some black and white nail polishes and a little imagination. Take a look at these adorable panda nails for a little inspiration for your own panda nail art designs!
1. Simple Panda Nails
Panda nail art designs don't have to be complicated. These panda nails are super simple to create, but downright adorable!
2. Red Panda Nai Art
The red base color under these panda nail art designs gives them a nice pop of color.
3. Fun Panda Faces Nail Art
Pandas on your nails can each have a personality of their own.Just give them different facial expressions.
4. Realistic Panda Nail Art Designs
These panda nail art designs are less cartoonish and slightly more realistic that the previous designs. They're still pandas, though, so still adorable!
5. Panda Face and Black Paw Prints
Tips painted with some cute panda paw prints add a fun element to these panda nail.
6. Panda Face and White Paw Prints
White paw prints cn also be used when creating cute panda nail art designs.
7. Panda Nail Art With Hearts
A few colorful hearts can really jazz up panda nail art designs.
8. Panda Nail Art Designs With Bamboo
Make your pandas feel right at home on your nails with a little bamboo. Rhinestones add a fun sparkly touch!
9. Green Bamboo Panda Nails
Dress up green nails with some bamboo shoots. Add a curious little panda peeking out from one of your nails.
10. Full Panda Nail Art
This litle guy looks like he's getting pretty comfy among the green bamboo on these nails.
11. Pink Polka Dot Panda Nail Art
Add some color to your panda nail art designs with some painted tips. Black and white polka dots help tie in the pink tips to the panda nail design.
12. Blue Panda Nail Art
A light blue nail polish can add some pretty color to panda nail art designs.
Hopefully, you now have lots of great inspiration for your panda nail art designs now! Wear your panda nails proudly—they just might bring you good luck!