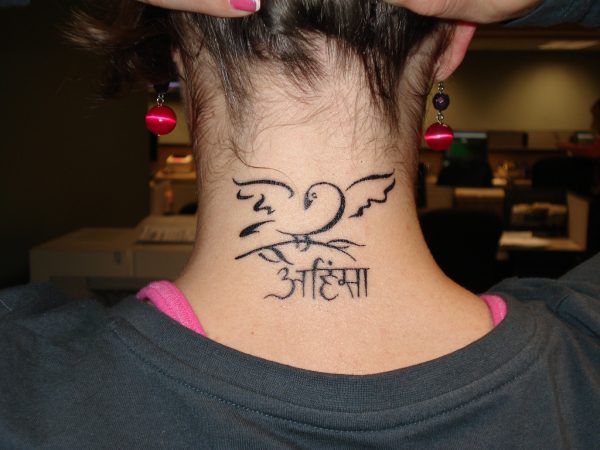 The back of the neck is a popular place for girls to get tattoos. It's not uncommon for girls to want a tattoo but not want to show it. This is why they like to get their tattoos placed in secret places, like the back of their neck for example.
But there are several girls who like to flaunt their tattoos and so they choose little places that can be seen all the time, like their anklets, wrists, upper arms etc. Girls can experiment with a wide range of themes and designs from angles to stars to phrases. Furthermore, girls can also experiment with a lot of color in their tattoos unlike men.
Considering that the neck is a common place for girls to get tattoos done, here below are 35 neck tattoos for girls.
If you like this article, you might be interested in some of our other articles on Feather Tattoos, Back Tattoos for Women, Friendship Tattoos, and Sister Tattoos.
Ahimsa Tattoo
If you liked Gandhi's preaching's then the ideal way to show it is with a Ahimsa tattoo.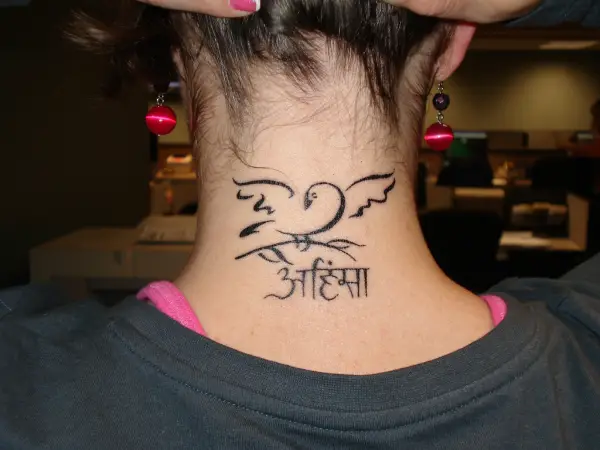 Dove Tattoo
Do you like peace? And harmony? Show it through the symbol of peace – a simple dove.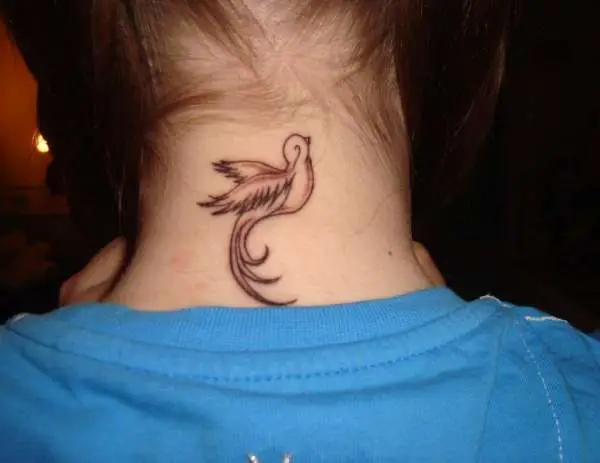 The Golden Snitch from Harry Potter
If you are a fan of the Harry Potter series then the golden snitch could be a good way of showing it.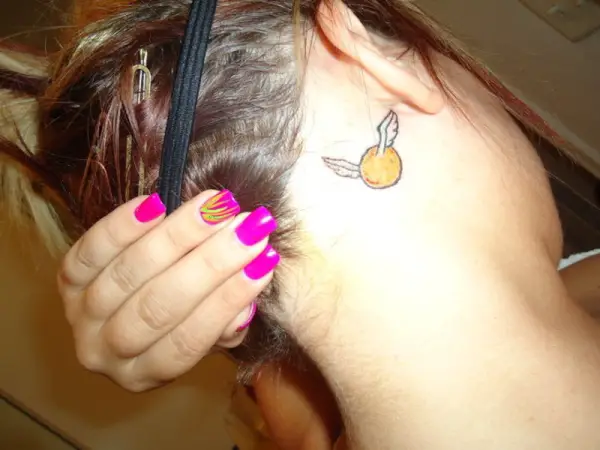 The Golden Snitch from Harry Potter
Flowers on the neck tattoo
It's rare to find a girl who doesn't like flowers. A line of blue flowers across the neck could be an ideal design.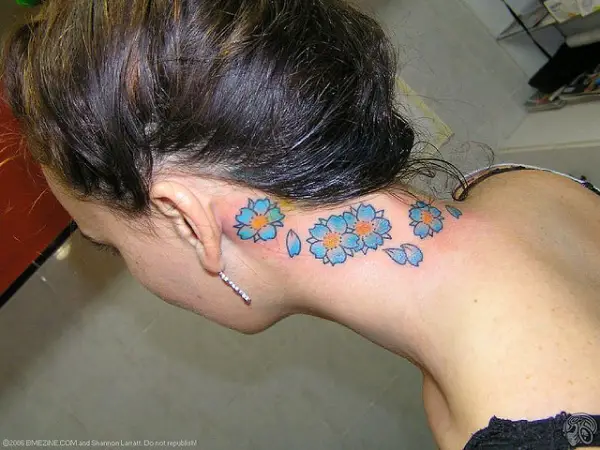 Glowing Neck Stars
Stars on the neck are another cute tattoo option for girls.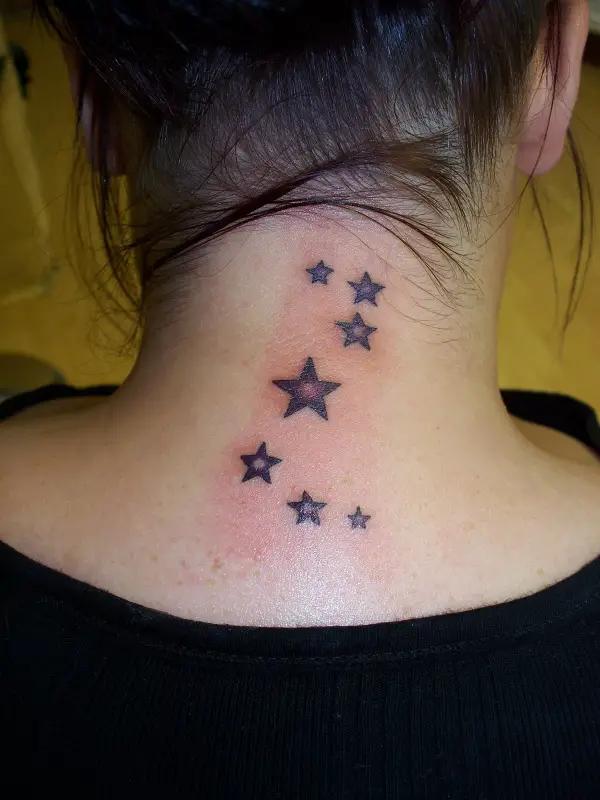 Dagger through the neck
Although this tattoo is not cute, it is perfect for a rock star girl image.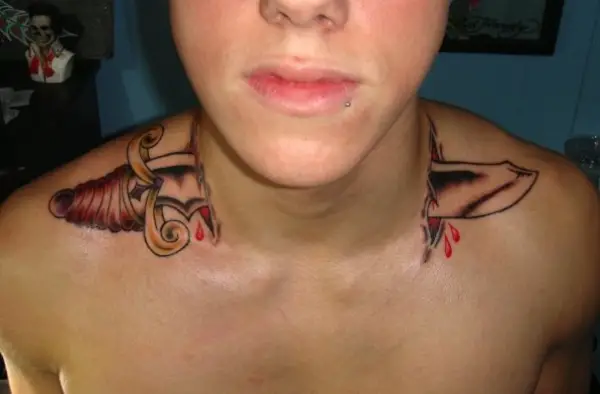 Neck Flowers
You can also experiment with a range of flowers across your neck to look like a flowering plant.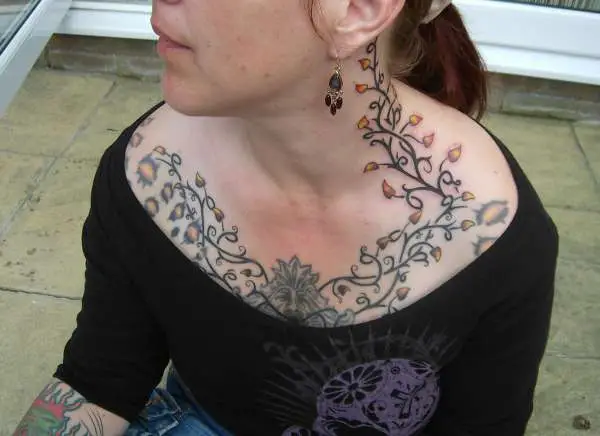 Cherry Blossom Neck Tattoo
Another flowery option for the neck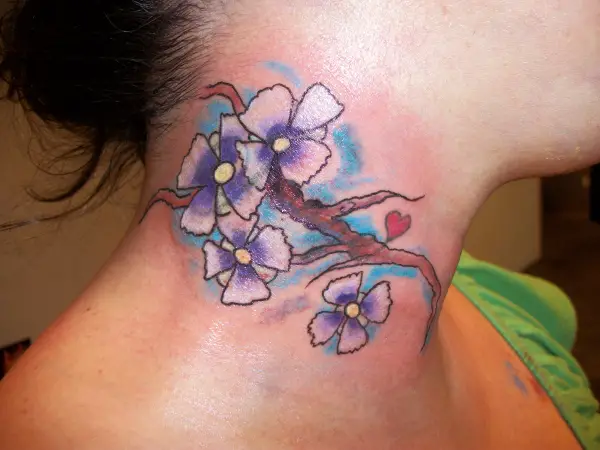 Kiss On The Neck
A kiss is just the perfect etch to shock people with.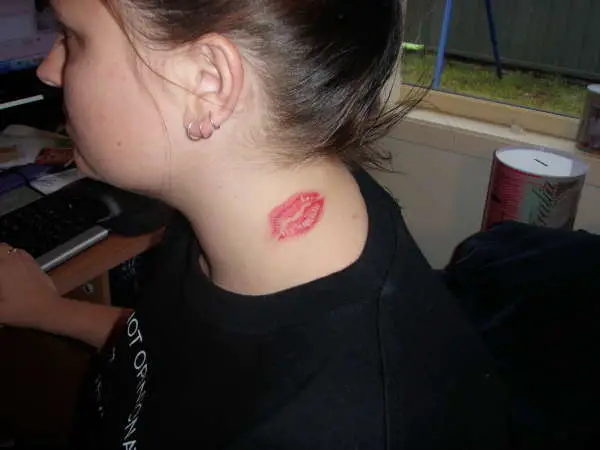 Muni Neck Tattoo
This design is the ideal eye catcher for times when you wear your hair up.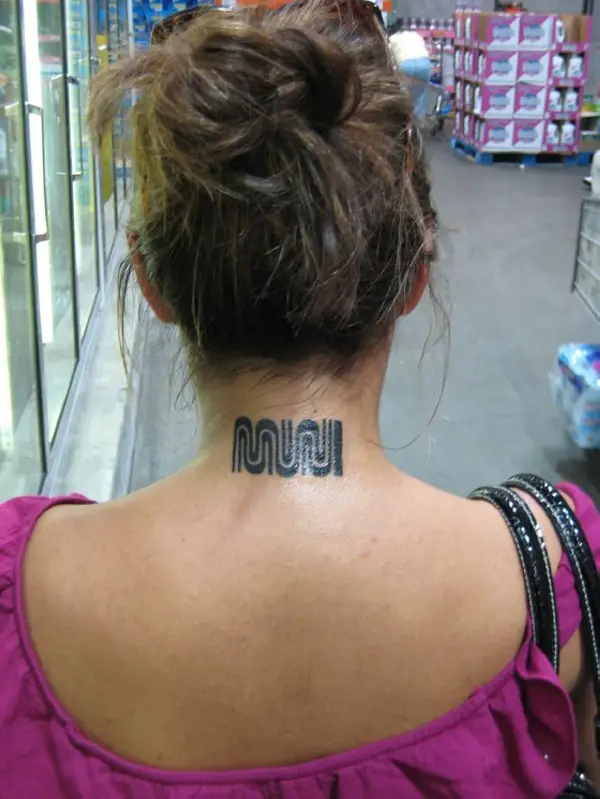 Hearts On Neck
Flaunt your kind heart with a couple of hearts growing through your neck.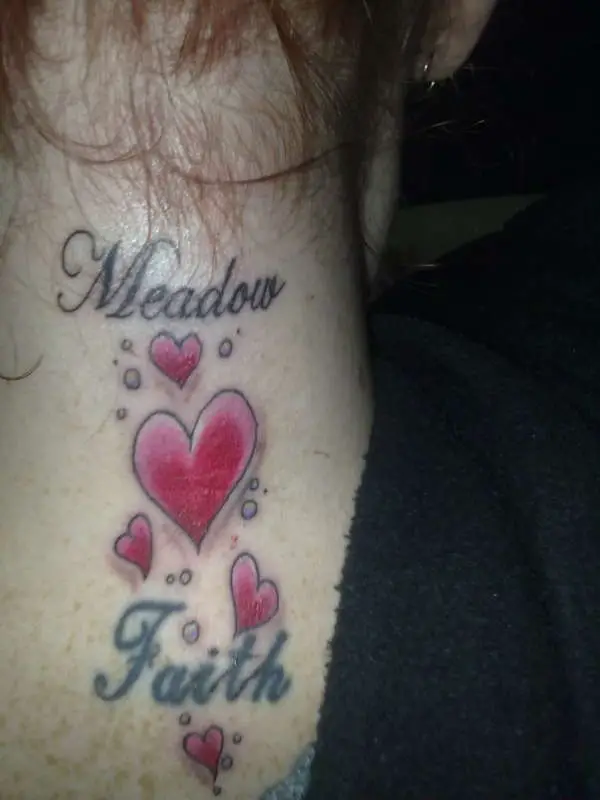 Hearts On Neck
Butterfly Neck Tattoo
Butterflies make for some great and colorful design options for girls and look great behind the neck.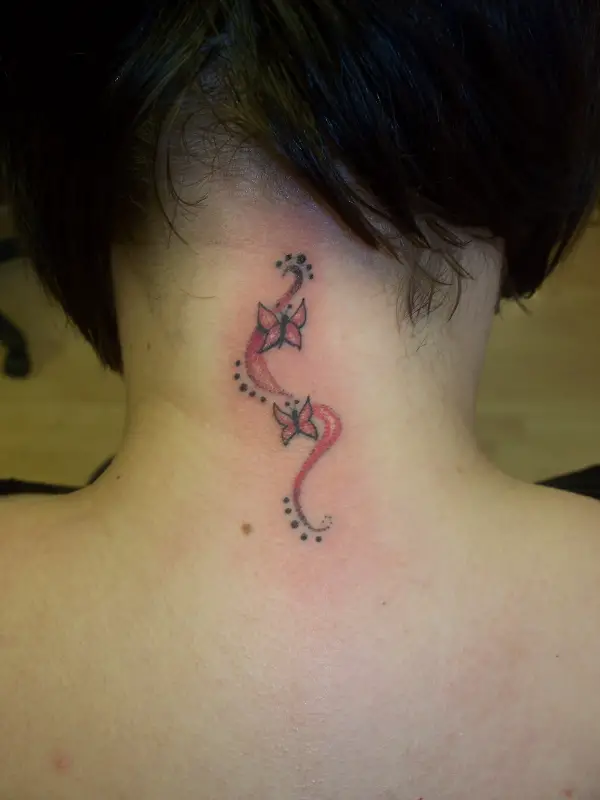 Tribal butterfly
Want a touch of tribal life in you? Get a tribal butterfly design.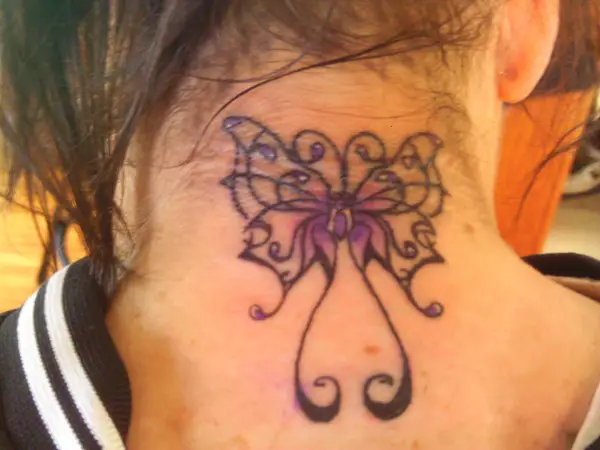 Red Stars Neck
One is too little. Two isn't right. But three stars are just perfect in this fancy red star tattoo.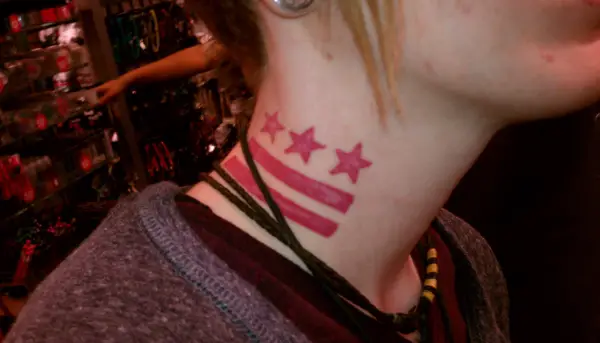 Peacock Feather
Like peacocks? Get a pretty peacock feather tattooed on the back of your neck.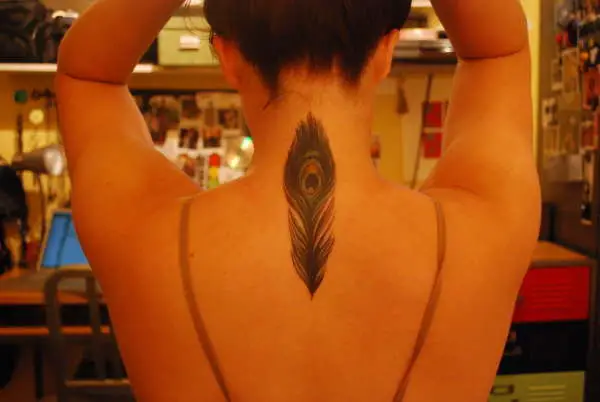 Vampire Skull and Crossbones
If you are a fan of the black world then the vampire skull and bones is the symbol that suits you perfectly.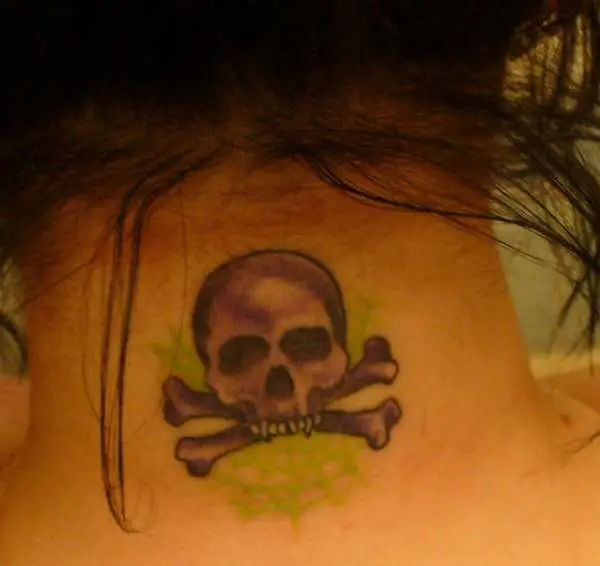 Black widow spider
Not everyone likes spiders…but for those who do, the black widow makes for a great behind the neck tattoo.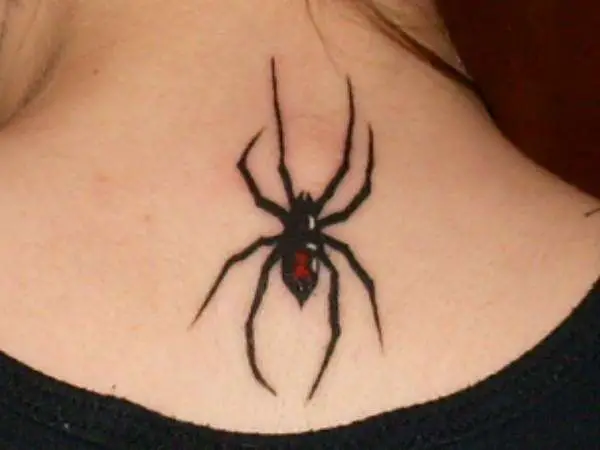 Baroque Tattoo
The blue baroque tattoo looks great on people who can carry of serious tattoos with élan.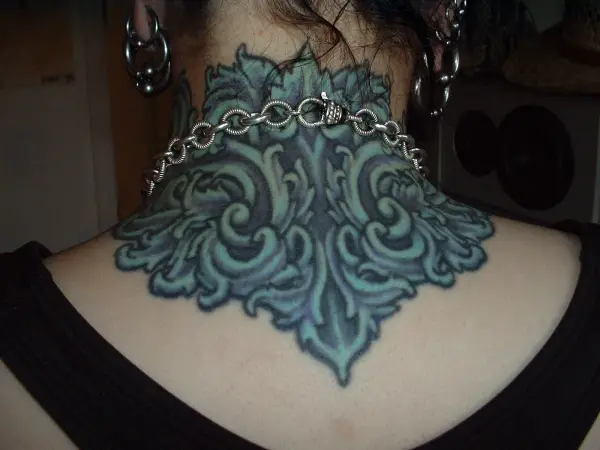 Curse Seal of Heaven
Have a liking for the extraordinary? Get the curse seal of heaven tattooed to your neck if you do.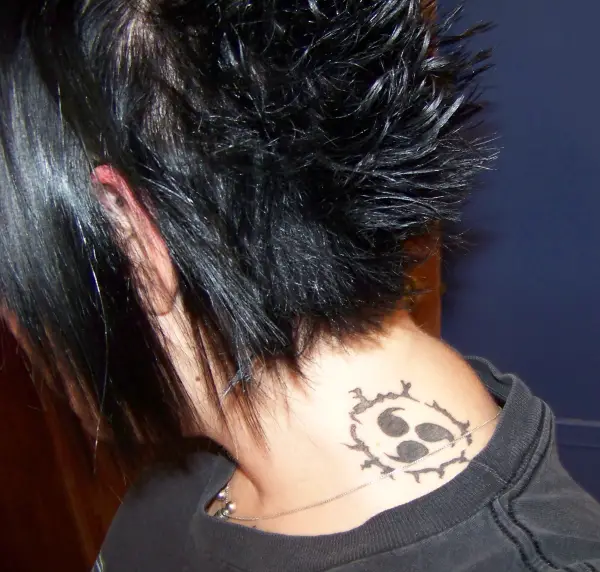 Canadian Maple Leaf with Heart
A heart in a leaf. What can be more symbolic of your love for nature?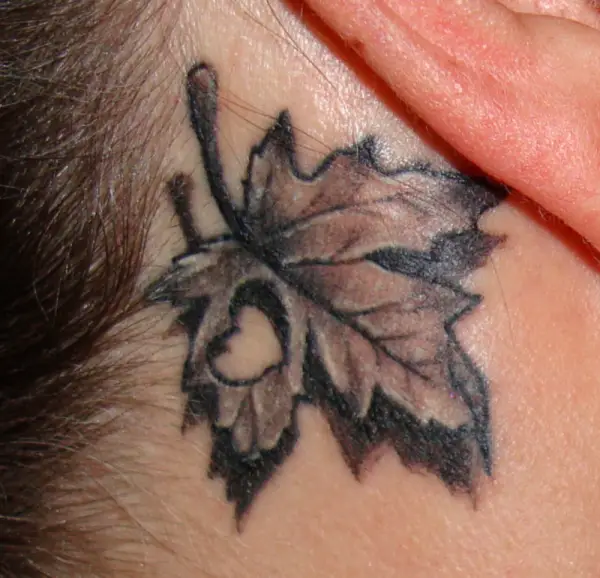 Canadian Maple Leaf with Heart Cut
Musical note tattoo
If you like music then pay a tribute to it with a cute musical note etched on your skin.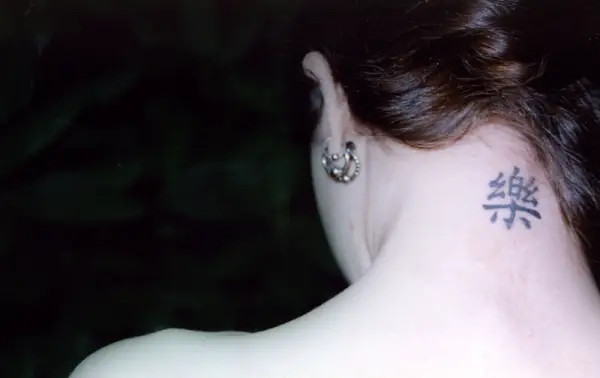 Red Bow
Too old to wear a bow on your hair? Doesn't matter. Get a red bow tattooed to your neck.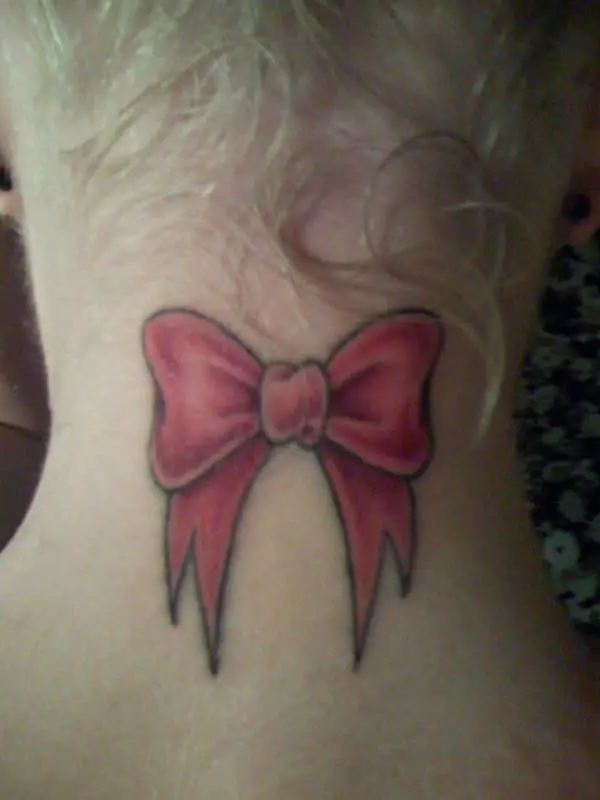 Gaming Console Tattoo
If you like video games, the gaming console is the best way to show it.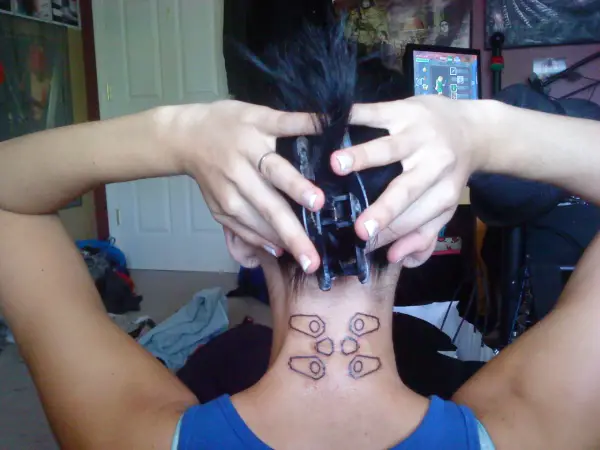 Cool Music Tattoo
Play some notes on your skin with this cute and cool musical note tattoo.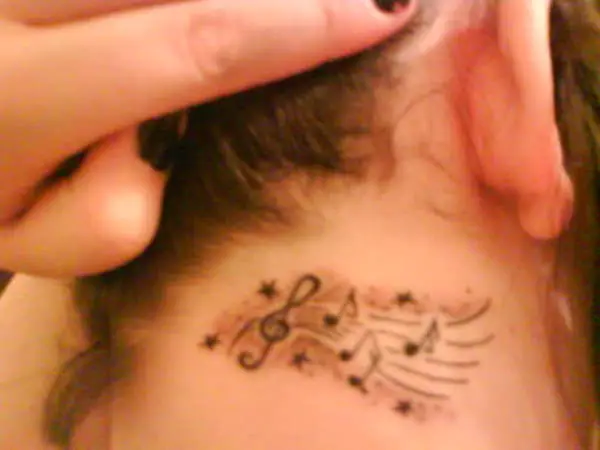 Neck Stars
The black outline of stars looks great on girls, when etched on their necks.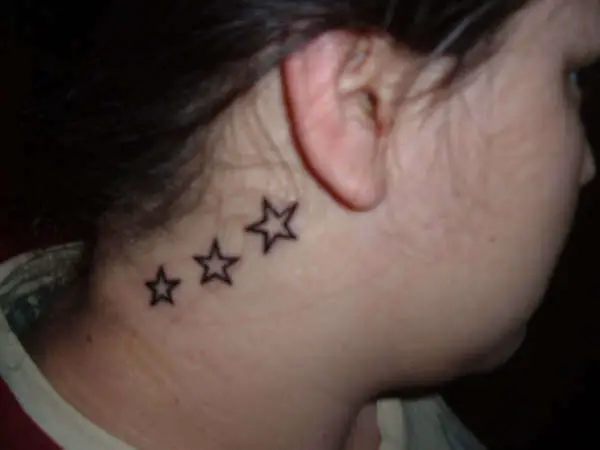 A Tribute
You can pay tributes to anyone you like on your skin, like this lass has done with a couple of stringed stars.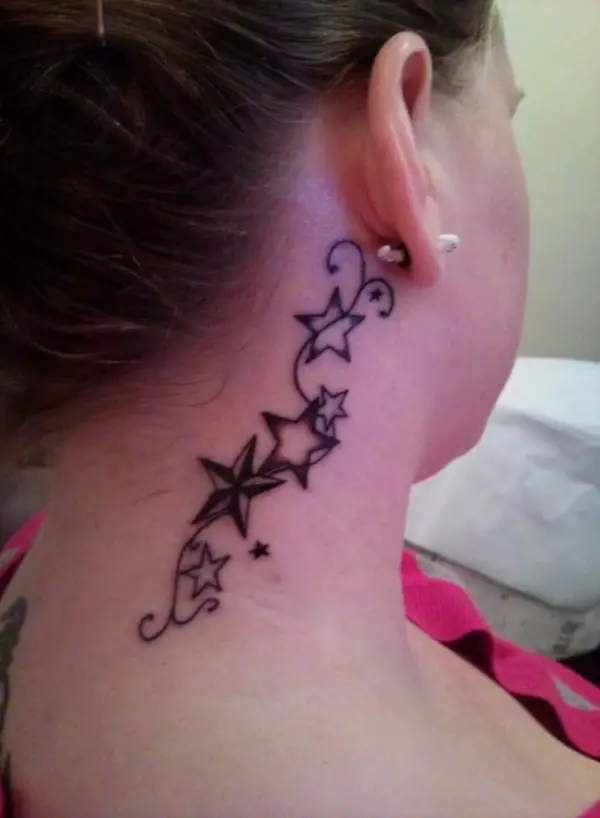 A Tribute To Those Significant In My Life
A Neck Cross
Have faith in GOD? Keep him close to you with a tattoo of a cross on your neck.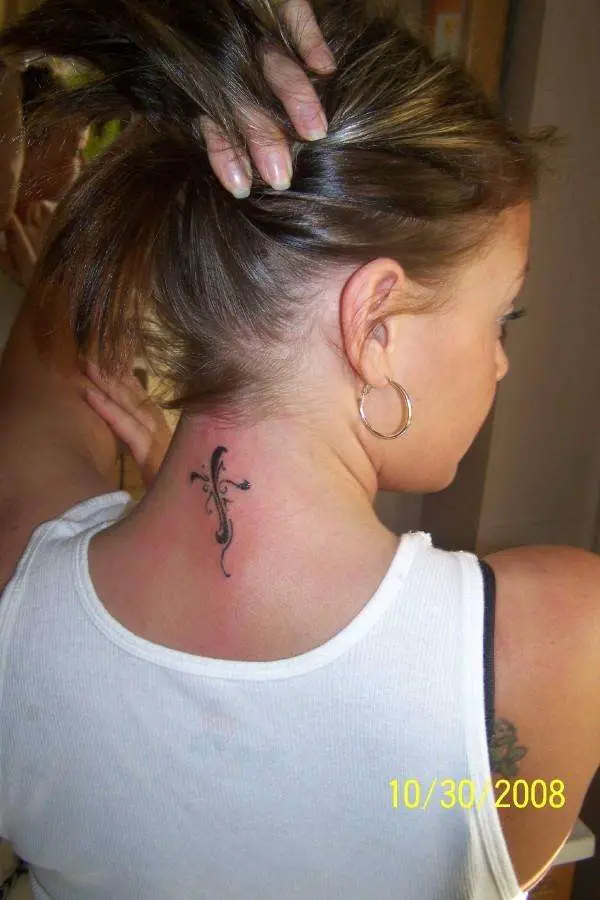 Sun Neck Tattoo
Like the sunshine on a normal day? Get a piece of the sun with this cute sun neck tattoo.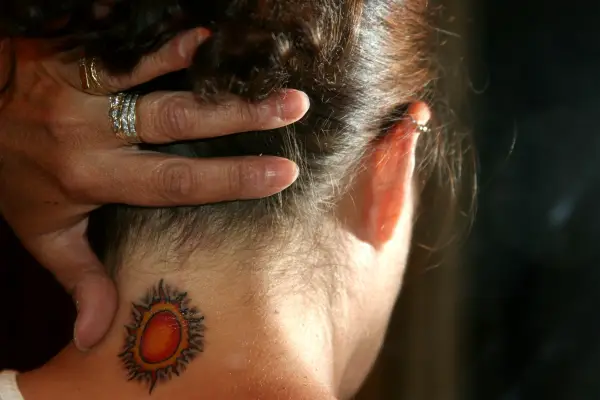 Neck Feather Tattoo
Another feather in your cap, quite literally.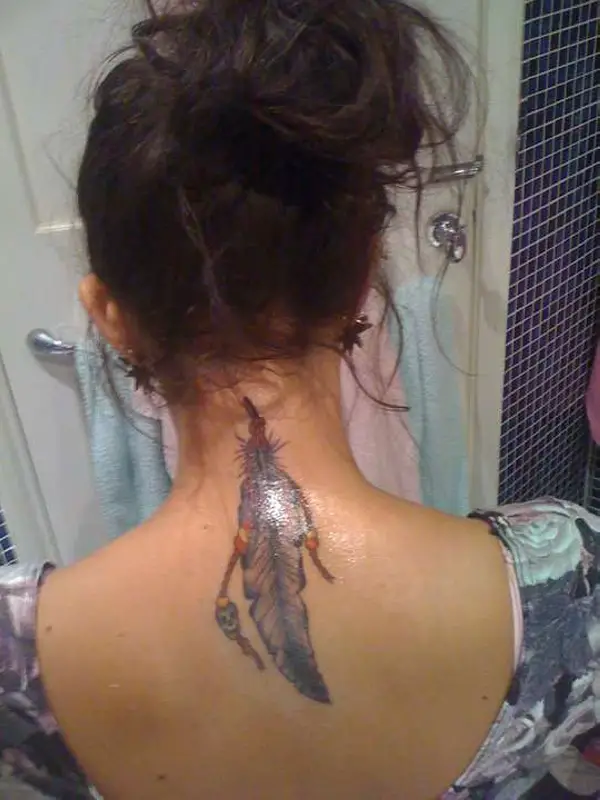 Custom Lotus On Neck
Is the lotus your favorite flower? Get a customized lotus to float on your neck if it is.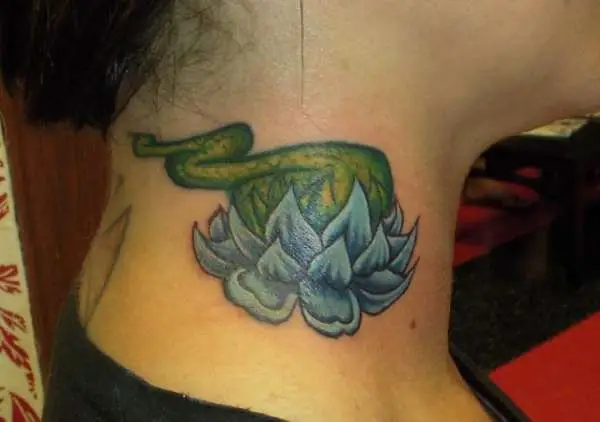 Maneki Neko Neck
A colorful tattoo that tells a story…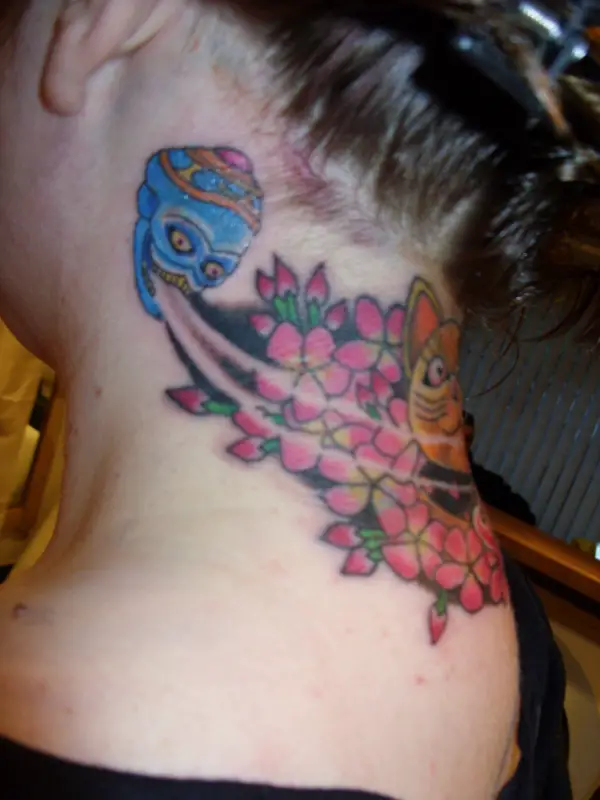 Neck fleur / flower
All girls like flowers…get one if you do too.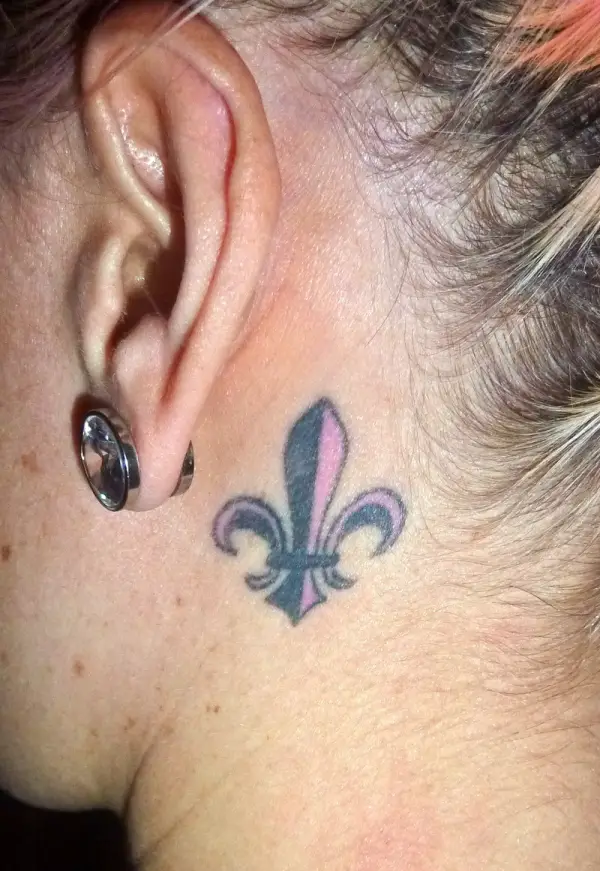 Dragonfly Neck
This design looks really nice on girls and gives the impression of a butterfly at the same time.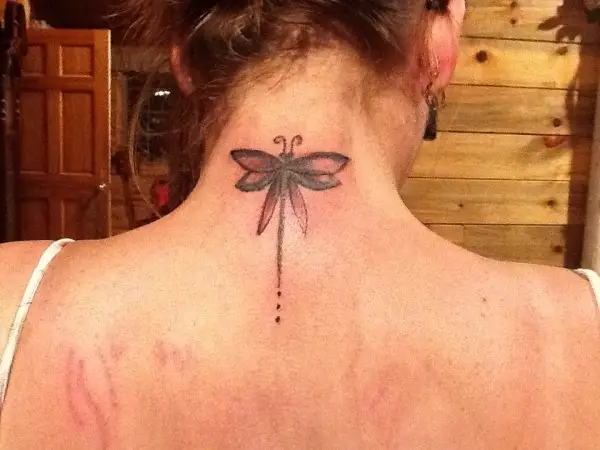 Musical Neck
A creative heart shaped musical note to show off your love of music.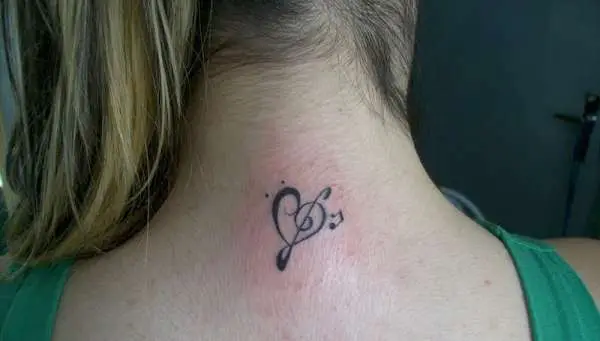 L Tattoo
Does your name begin with the letter L? Get an artistic shape to a normal L and tattoo it on you…customize it with any letter of your choice.