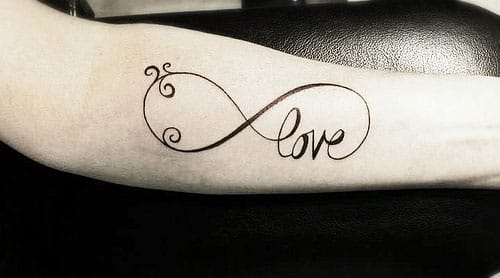 Love tattoos  are pretty common nowadays because they showcase one's feelings for another person. It could be your girlfriend, it could be your pet bird, or it could even be your love for a certain food. Either way, love tattoos are pretty unique and we decided to give everyone a modern list that consists of 5 Cool Love Tattoos that we think all of our readers will enjoy checking out. These may serve as inspiration to you for a future tattoo or they may just be something that you want to look at in order to pass the time. Either way, we're confident that this will be the best collection of love tattoos that you have ever witnessed. Ready to see if we're right about it?
If so, all you have to do is scroll down and take a look at the 5 Cool Love Tattoos below. We know that we have something for everyone and while this is a small collection, it's straight to the point. We've also tried to cover all the major areas of the body where you would consider getting a love tattoo. So, why delay? Take a look at the love tattoos below and see which one you like the most. It'll most definitely be worth your time so enjoy!
Wrist Love Tattoo
This wrist Love Tattoo is short but sweet and straight to the point.
Cute Neck Love Tattoo
If you like neck tattoos, this love tattoo may be a good one to go off of!
Amazing Stomach Love Tattoo
Who doesn't love a good stomach tattoo? This love tattoo rocks!
Tiny Hand Love Tattoos
Hand tattoos are becoming more and more popular. Do you like this hand love tattoo?
Script Arm Love Tattoo
If you want the traditional arm love tattoo, this may be the one for you!
This concludes our list of 5 Cool Love Tattoos. Did you enjoy the list? If so, we hope you'll take the time to check out some of our other great tattoo related lists here on the site. We also have a large variety of lists outside of the tattoo niche that include cool subjects such as hairstyles, tech related lists, and other obscure topics. In other words, there's something for everyone here and we think that you'll enjoy your stay on our site.
If you liked this list of 5 Cool Love Tattoos then check out  25 Love Tattoos,  25 Unique Wedding Tattoos, and  10 Beautiful and Heartwarming Maternity Photo Ideas.