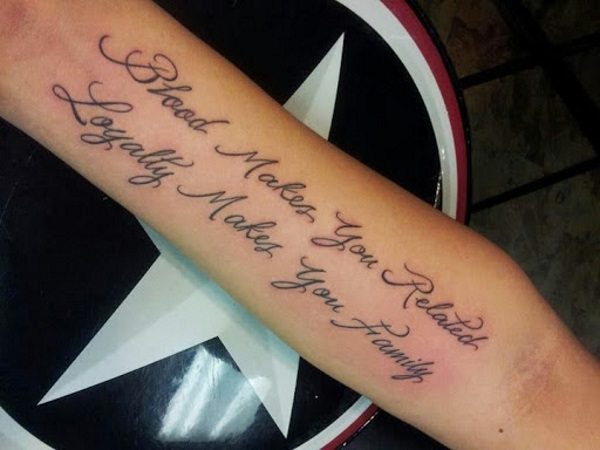 Quote tattoos on guys aren't typically as popular as quote tattoos on girls. That doesn't mean that quote tattoos are too feminine, however, on the contrary, quote tattoos can actually be quite masculine, depending on the quote.
Guys can consider nearly any quote for a tattoo. The only requirement is that the quote is meaningful to the person who will be wearing it on their skin forever.
Not quite sure which quote to get or how to get it inked? Check out these quote tattoos on guys for some fantastic inspiration!
1. Family Quote Tattoo for Guys
Quotes about family are always appropriate, whether you're a guy or a girl. Family quote tattoos let the world know just where their hearts and loyalties lie.
2. Poetry Quote Tattoos on Guys
Poetry isn't just reserved for the ladies. Poetry quotes as tattoos for guys can be powerful and very meaningful, especially when combined with a related graphic, like this image of a forest as a background for this Robert Frost quote.
3. Quote Tattoo Across the Shoulders
For men, a quote tattoo that spreads across the upper back and shoulders can look quite impressive. Even more so with the right quote.
4. Gun Shaped Quote Tattoo
The shape of this quote tattoo is sure to draw some attention to it. The quote itself, however, is meaningful enough to hold that attention.
5. Forearm Quote Tattoos on Guys
Forearm quote tattoos on guys are one of the more popular quote tattoos for men. Each forearm can be tattooed with a different part of a longer quote; they can be two standalone tattoos when apart or one larger tattoo when the forearms are put together.
6. Pectoral Quote Tattoos For Guys
Pectoral muscles make great canvases for longer quote tattoos on guys. The tattoo can also be extended up and over the shoulder and down he arm as part of a larger tattoo.
7. Quote Across the Chest Tattoo
Quote tattoos on guys can also stretch across the chest, from one collar bone to the other.
8. Calf Quote Tattoo
A short quote can sometimes fit beautifully as a calf tattoo on guys.
9. Long Quote Calf Tattoo
Some men's calves can also be used to display much longer quotes as well, like poems and scripture verses.
10. Guys' Biceps Quote Tattoo
Biceps quote tattoos on guys are another popular option. Biceps can hold long or short quotes.
11. Hip Quote Tattoo for Guys
Hip tattoos aren't just for the ladies! If done properly, hip quote tattoos on guys can actually look quite masculine.
12. Quote Rib Tattoo
The ribs are another great location for longer quote tattoos on guys. This scripture quote, for instance, is longer than most quote tattoos but fits quite nicely on the side.
13. Heartbeat and Quote Tattoo
A heartbeat makes a nice accompaniment to a quote tattoo on the forearm!
14. Simple Quote Shoulder Tattoo
Sometimes the simplest quotes can be the most powerful, like this shoulder quote tattoo.
15. Funny Quote Tattoos for Guys
If you're a guy with a sense of humor, a funny quote tattoo might just be just the thing. And, it doesn't even have to exactly make sense either!
16. Hunter S. Thompson Tattoo
This crazy quote tattoo is the perfect option for any Hunter S. Thompson fan. Or just anyone who's too weird to live and too rare to die.
17. Self Made Wrist Tattoo
Wrist tattoos generally aren't as popular for men as they are for women, but this one works quite well. These are words for any man to live by.
18. Circles Quote Tattoo
To make quote tattoos for guys a little more visually interesting, artists can arrange them in different shapes or patterns. This quote arranged in a series of interlocking circles is a creative example of this!
19. Quote Tattoo for Soldiers
This biceps quote tattoo looks like a quote that would fit not just guys, but soldiers. Because every soldier knows that obtaining peace isn't always peaceful.
20. Eye Test Quote Tattoo
A quote in the shape of an eye exam test is a super creative and unique way to present a powerful saying on your body!