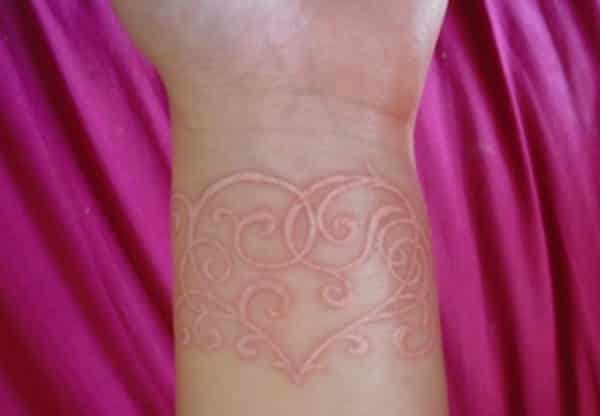 All white ink tattoos weren't commonplace several years ago. White tattoo ink was, and still is, used primarily as a highlight color in traditional tattoos. However, a white tattoo trend seems to have caught on, and they are becoming less and less unusual.
Unlike a regular tattoo, a white ink wrist tattoo is very subtle and sometimes hardly noticeable. Part of this is due to the location of the tattoo, but mostly due to the lack of pigment in the ink. A white ink wrist tattoo is so subtle that it can turn out to look like a beautiful scar on some people.
If you're considering a white ink wrist tattoo, it's very important to do your research beforehand. White tattoos aren't for everyone. White ink tattoos may not show up at all on very pale skin, for example, or they may look odd on freckled skin. Choose your tattoo artist wisely as well, since an inexperience tattoo artist can easily mess up a white tattoo, which can cause unsightly scarring or premature fading. Talk with an experience tattoo artist before getting a white wrist tattoo. He or she can help you determine if a white ink tattoo is a good fit for you and show you examples of their own white ink tattoos.
Are you ready for some great white ink wrist tattoos? Read on!
1. White Elephant Wrist Tattoo
Ink a white elephant on your wrist for good luck.
2. Motherhood White Ink Writ Tattoo
If you're looking for a subtle mother tattoo, a Celtic motherhood kknot in white ink on the wrist might be a great choice!
3. White Puzzle Piece Wrist Tattoo
Add a hint of mystery with a white ink wrist tattoo in the shape of a puzzle piece.
4. White Lotus Flower Wrist Tattoo
Enlighten yourself with a white lotus flower wrist tattoo.
5. Star Shaped White Wrist Tattoo
A white wrist tattoo in the shape of a star is subtle, classic, and unique.
6. White Ankh Wrist Tattoo
An ankh represents eternal life and balance, and it makes a great choice for a white ink wrist tattoo.
7. Bird Wrist Tattoo in White Ink
A simple bird on the inside of the wrist in white ink to symbolize freedom.
8. White Swallow Wrist Tattoo
A swallow is a beautiful subject for a white wrist tattoo.
9. White Feather Wrist Tattoo
A feather tattoo done in white ink has a soft look and a subtle feel to it.
10. Angel Wing White Ink Wrist Tattoos
hat better color for these matching angel wing wrist tattoos than white?
11. Ornate Heart White Wrist Tattoo
This ornate heart white wrist tattoo is delicately complex.
12. White Ink Cross Tattoo on the Wrist
Show your faith with a subtle cross tattoo in white ink.
13. White Infinity Symbol Wrist Tattoo
The infinity symbol is becoming a popular tattoo choice for women, and it looks stunning in white ink!
14. White Heartbeat Wrist Tattoo
A symbolic heartbeat can mean any number of things to different people.
15. Inspirational Courage Wrist Tattoo
An inspirational quote in white ink on the wrist sends a subtle yet powerful message.
16. Let it Be Wrist Tattoo in White Ink
A great reminder to let things be when necessary.
17. White Courage Wrist Tattoo
It's amazing how one simple word could send such a strong message!
Like other fresh tattoos, proper aftercare for white ink is imperative to avoid scarring. Because the pigment in white ink tattoos is so light, scarring can be more glaringly obvious in these than in other tattoos. Keep in mind that a white tattoo on the wrist might also need to be touched up from time to time.