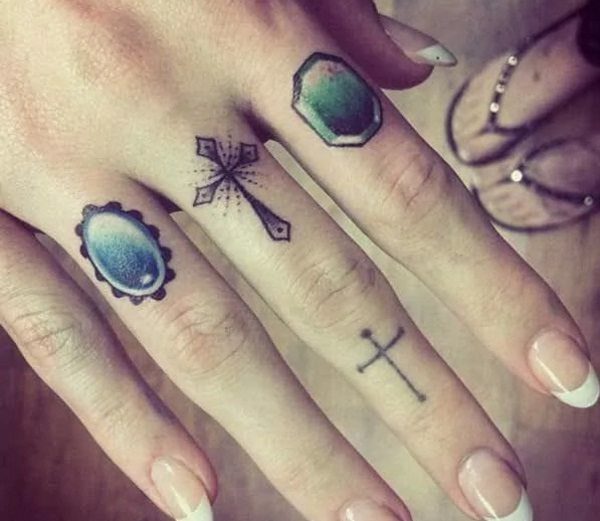 More and more women are choosing to get inked these days. Many women choose pretty and cute tattoo designs, like hearts, flowers, butterflies, and infinity symbols. Truly unique tattoos for women, though, are usually the most memorable. One creative and unique tattoo idea for women is a jewel tattoo design.
Jewel tattoos not only look beautiful, but also sophisticated and quite rich. They can be detailed and very realistic. Some jewel tattoos feature colorful jewels alone, while others feature jewels in settings. Other embellishments, like chains, can also be added to the design.
On the hunt for the perfect jewel tattoo? Check out these amazing designs for a little inspiration…
1. Finger Jewel Tattoo Designs
What better place for a jewel tattoo design than the finger?
2. Heart Jewel Forearm Tattoo
The heart shaped jewel tattoo design is the star of the show in this forearm tattoo, but the smaller surrounding jewels are the icing on the cake!
3. Heart Shaped Rib Jewel Tattoo
A jewel tattoo design on the ribs is even sweeter and more feminine when it's shaped like a heart!
4. Set Jewel Tattoo
This heart shaped jewel tattoo design looks like it's set in an elaborate silver setting.
5. Small Jewel Tattoo
Small jewel tattoos can be just as sexy and alluring as their larger counterparts!
6. Rose and Jewel Tattoo
Combine a large jewel and a unique blue rose for a gorgeous shoulder tattoo for women!
7. Matching Jewel Tattoos
These matching jewel leg tattoos are absolutely stunning!
8. Under the Rib Jewel Tattoo
A large jewel embellished with flowers and a crescent moon makes a super sultry tattoo under the ribs!
9. Filigree and Jewel Under the Rib Tattoo
The fancy filigree work adds some awesome flair to this jewel tattoo design!
10. Jeweled Cross Tattoo
Ruby red jewels set into this gorgeous cross tattoo design make it absolutely stunning!
11. Faceted Ruby Jewel Tattoo
The detail in this faceted jewel tattoo design is pretty amazing and makes it look so realistic.
12. Jeweled Shoulder Tattoo
n elaborate design spread across the shoulders includes some deep blue toned jewels, and it makes a gorgeous tattoo design for women!
13. Jeweled Butterfly Tattoo Design
A butterfly tattoo is a nice feminine tattoo by itself, but a butterfly with jewels is even more beautiful and unique.
14. Moth With Jewel Tattoo
An ornate jeweled moth tattoo design is another unique tattoo design for both men and women.
15. Jeweled Deer Skull Chest Tattoo
This jewel encrusted deer skull is a totally creative and unique chest tattoo design!