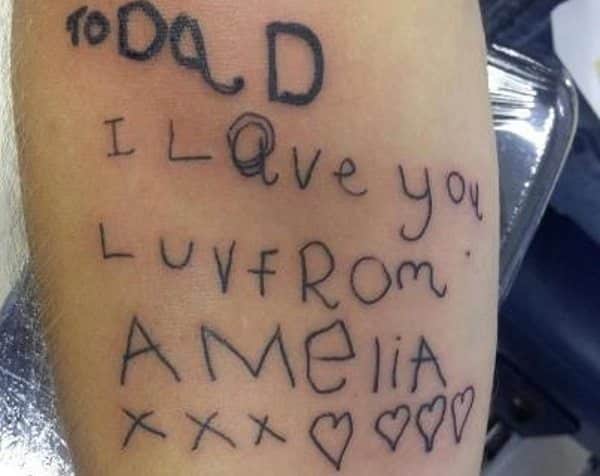 Many people get tattoos that mean something to them. This might include a symbolic images, names, or other items. One of the most unique tattoo ideas that a person can consider, though, is a handwriting tattoo. A person's handwriting, like their fingerprints, is completely unique to them. Chances are you can recognize a close loved ones handwriting right away.
Handwriting tattoos are definitely personal and symbolic. They can be used as memorial tattoos for loved ones who have passed or as tattoos to honor a special person in your life, such as a child or parent. Not only is the handwriting in the tattoo special, but the content itself is special as well. Many handwriting tattoo designs are crafted after a note that the person wrote. The message in the note is usually very special and sentimental, and it may even be the last note that the person wrote in some cases.
If you're interested in a handwriting tattoo of your own, take a look at some of these tattoo ideas for a little inspiration!
1. "To Dad" Handwriting Tattoo
A tattoo with a child's handwriting is probably one of the best tattoos for parents that I've ever seen! It's sweet, adorable, and very real!
2. "Dad I Love U" Tattoo
One day, when this little boy grows up, his dad will have an awesome reminder of what an adorable little tike that he was!
3. Infinite Love Tattoo
The thought of infinite love is pure bliss, much like this gorgeous handwriting tattoo design!
4. Grandma's Handwriting Tattoo
What a spectacular and unique memorial tattoo for a grandmother!
5. "Love, Mom" Tattoo
Carry those preserved notes from mom right with you forever with this clever little handwritten wrist tattoo.
6. "I Miss You Too" Tattoo
This handwriting tattoo is simple, yet one of the most meaningful and heartwarming tattoos ever!
7. "Be Good" Tattoo
The story that goes along with this handwriting tattoo is simply heartbreaking! The note that this woman had tattooed on her arm was the last note that her mother wrote—the night that she died suddenly in her sleep.
8. Mommy Tattoo
Hey, you're never too old to call her mommy, and this is a sweet way to honor and remember your mommy!
9. Mom's and Dad's Handwriting Tattoos
Tattoos with mom's and dad's handwriting on each wrist? What's not to love about this tattoo idea?
10. "I Love You Always" Tattoo
This is something definitely worth remembering forever!
11. "Call Me" Tattoo
This is another one of those handwriting tattoos with a heartbreaking story behind it. This short note was the last thing that someone's father wrote before taking his own life. It would be a hard tattoo to look at every day, but definitely a meaningful memorial tattoo.
12. "Proud of You" Tattoo
It's always nice to have a little reminder that your mama is proud of you!
Before getting inked with your own handwriting tattoo, it's important to choose the right tattoo artist. There's a good chance that a tattoo artist has had experience with creating handwriting tattoos in the past, and it's a good idea to ask to see examples of previous work. Choose an experienced tattoo artist that you feel comfortable with in the end, and the experience should go smoothly.