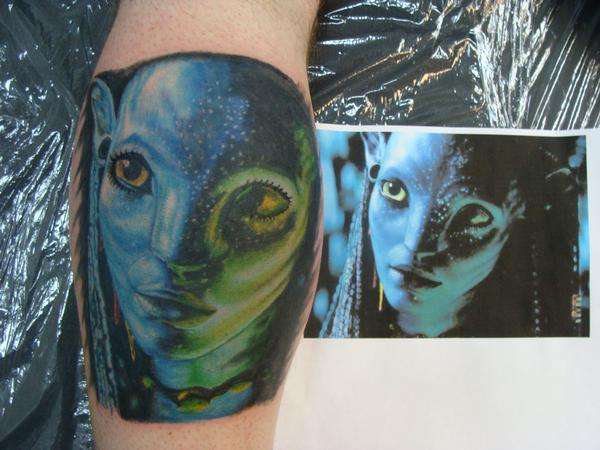 We're here to celebrate everything from old school classics like "Citizen Kane" to modern masterpieces like "The Shawshank Redemption." With this collection of 12 Movie Related Tattoos, we're going to show you some absolutely amazing  movie tattoos.  Not only are all these tattoos related to movies in some way, they are all very well done. It's pretty rare that you find ink that just blows you away but these will certainly do it. It may not be due to the fact that these tattoos are so well done but more so because of the fact that these are all movie tattoos. You have to be one hardcore fan to get a tattoo like this, huh? Well, we definitely think that you do!
So, with that being said, we invite you to scroll down and take a look at the set of movie tattoos below. If you find one that you like in particular, it may just inspire you to pay homage to that film in your own way. It could be through a tattoo, a cover song, or anything else that your imagination comes up with. Now, what are you waiting for? Let's go ahead and scroll down, get started, and enjoy the movie tattoos below. We promise that you won't regret checking them out! We certainly did it and would we ever steer you in the wrong direction? Of course not!
Michael Myers Tattoo
Celebrate the original knife wielding mad man with this tattoo!
The Goonies Tattoo
Hey, you guys! We love this Goonies tattoo!
Twilight Tattoo
We love sparkling vampires just as much as you do!
Netflix Tattoo
Get your stream on with this amazingly cool Netflix tattoo!
Movie Reel Tattoo
Celebrate cinema as we know it with this movie reel tattoo.
The Crow Tattoo
What an awesome tribute to the film as well as Brandon Lee!
The Terminator Tattoo
We'll be back with this cool Terminator tattoo.
Ghostbusters Tattoo
Who you gonna call? How about this Ghostbusters tattoo?
Horror Tattoo
Celebrate modern horror as we know it with this cool ink!
Mortal Kombat Tattoo
Kano! Sonya! What a cool Mortal Kombat tattoo!
Lion King Tattoo
Show off Simba's pride with this sweet Lion King tattoo.
Avatar Tattoo
Do you like this Avatar tattoo? We sure do!
 Now that this list is over, there's only one thing left to do other than getting your very own movie tattoo. Share this list with all of your friends, family, and co-workers. Also, feel free to leave a comment below and let us know which tattoo you liked the most. Didn't see anything that caught your attention? Then check out some of our other great lists by visiting one of the links below. We have a ton of good content on the site waiting for you!
If you liked this list of 12 Cool Movie Related Tattoos then check out  10 Best Tattoos For 2013,  15 Examples of Awesome Watercolor Tattoo Designs, and  13 Dangerous Animal Tattoo Ideas.