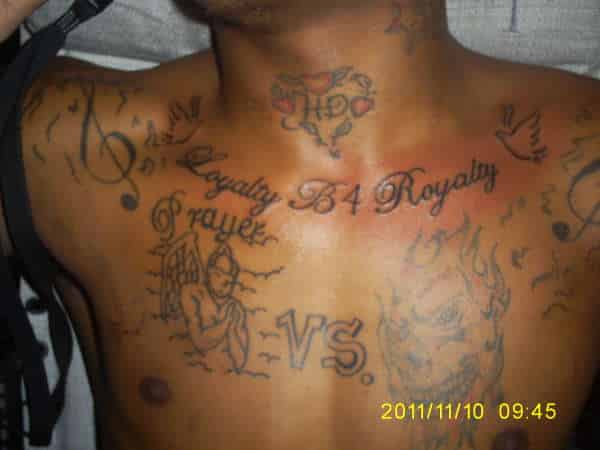 While some people aim for riches, others aim for respect, which is one of the reasons why loyalty over royalty tattoos are so incredibly popular. Sought out by many people, these tattoos hold a meaning so significant, that only those with the largest hearts and toughest backgrounds can understand them.
Loyalty is one of the most difficult things to maintain (especially with how the world runs), and with the incessant need for money, humans sometimes feel as if their only choice is to aim for riches. However, according to the images below, this is surely not the case. Of course having endless amounts of cash is something everyone wants, but to some of the boldest and most pridefully driven people, staying true to yourself exceeds anything money can buy.
As you will see when scrolling through these images, tattoos are a great way for some people to express their beliefs, and though the tattooed individuals below may not be rich, loyalty is something they can are surely proud of.
1. A Nice Loyalty Over Royalty Forearm Tattoo
Ironically enough, this specific design has a crown (usually associated with riches and power) hanging over the top of it. However, it is still a great tattoo.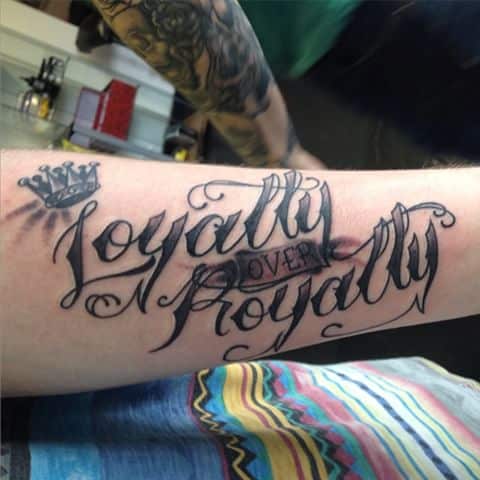 2. A Loyalty Over Royalty Chest Banner Tattoo
Though it may be worded a little differently, this design still has they same underlying meaning, and certainly looks great across the chest.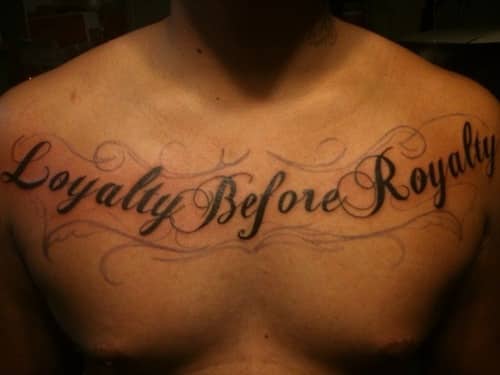 3. A Loyalty Over Royalty Face Tattoo
Perhaps one of the boldest moves someone can make is getting a face tattoo. Not only is it something that many people frown upon, but it is a decision that is surely difficult to go back on.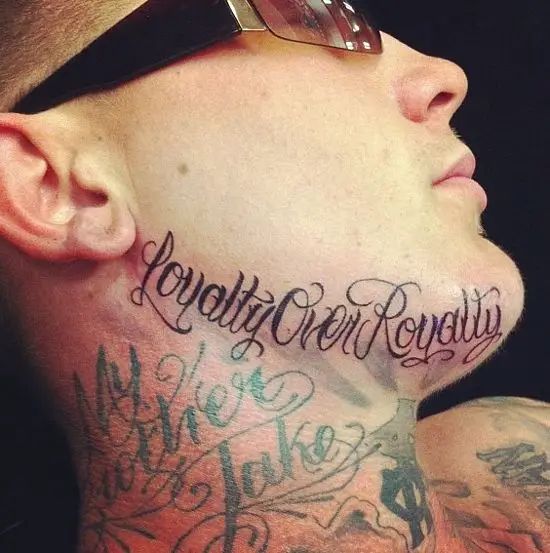 4. A Loyalty Over Royalty Top Of The Head Tattoo
Showing loyalty over royalty, without any hair over his head..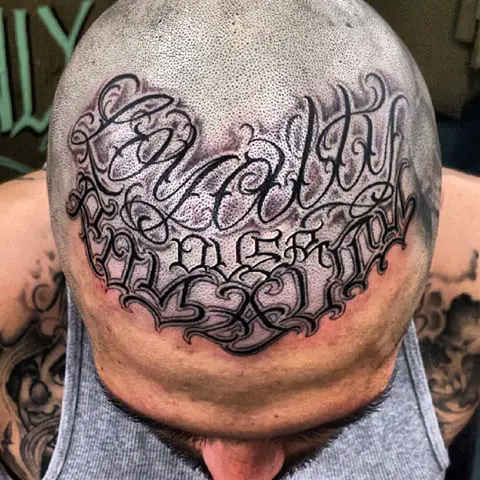 5. Another Great Loyalty Over Royalty Forearm Tattoo
Different from the preceding images, this design features some unique font, and a squarish symbol toward the center.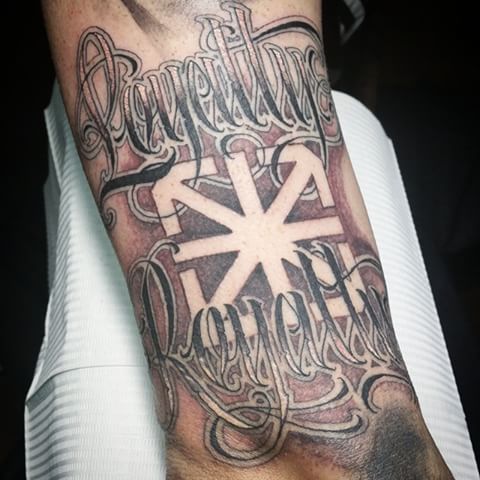 6. A "Loyalty B4 Royalty" Chest Tattoo
Though it may not be written in proper English, it is still a very nice design that looks great placed across the chest.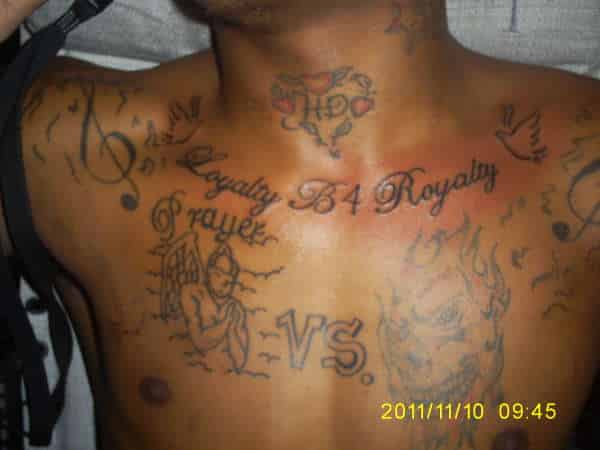 7. A Very Simple Loyalty Over Royalty Tattoo, Done In All Black Ink
Due to how much the camera is zoomed in, it's hard to tell exactly where this simplistic design is placed, however, it still looks nice.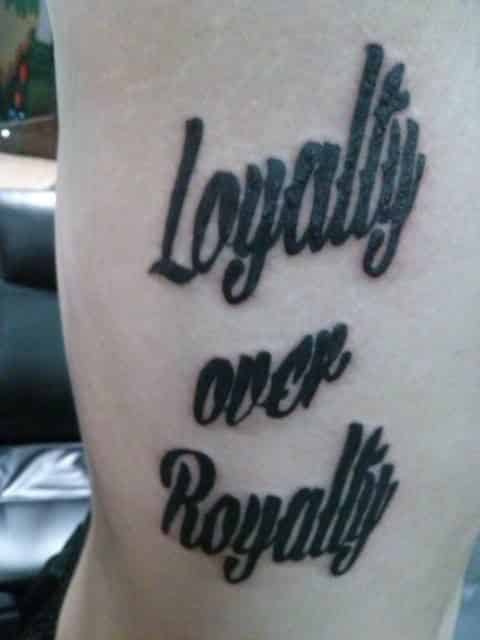 8. A Loyalty Over Royalty Back Of The Head Tattoo
Another extremely bold design that must have taken a lot of courage to obtain.
As you can see, the phrase "stay true" was also tattooed below it.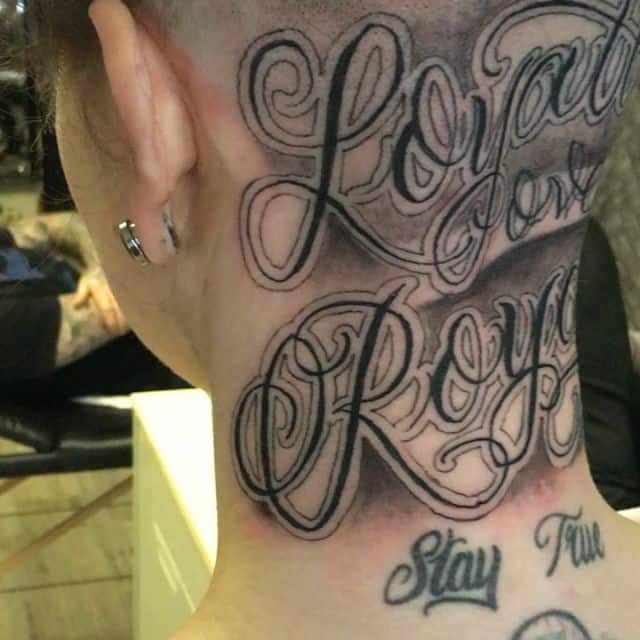 9. A Loyalty "Is" Royalty Wrist Tattoo
Another great way of saying that loyalty is important!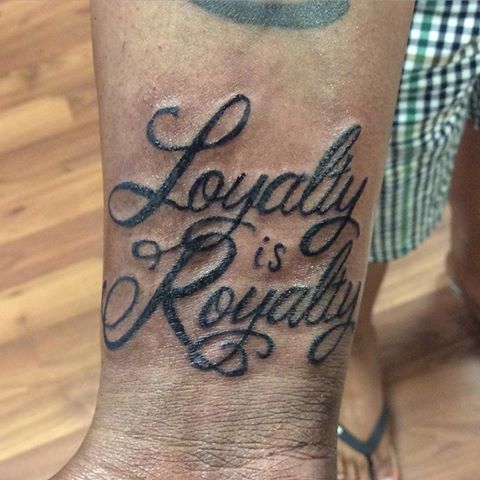 10. A Loyalty Over Royalty Forearm Tattoo With Rosary Beads
Done in all grey ink, this wonderful design features not only rosary beads, but a cross as well.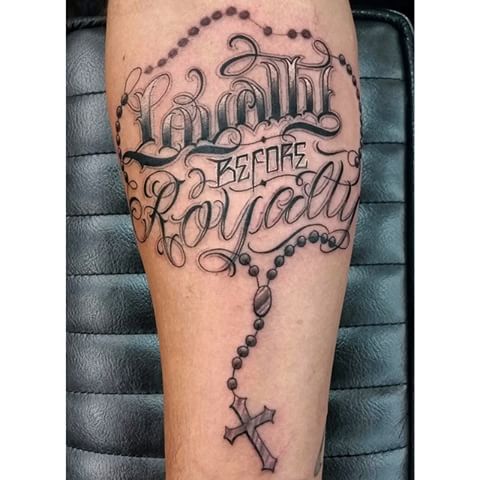 11. A Full Loyalty Over Royalty Chest Piece Tattoo
Done entirely in black ink and hidden behind a Los Angeles Angels Of Anaheim "A", this is perhaps the biggest and boldest tattoo on the list.