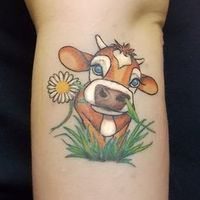 There are just some things in the world that are so sweet looking that people instantly want to capture the essence of it and turn it into something they can keep forever like a painting, a picture, or even a tattoo. One such sweet image is a cow, and whether it is a real cow, or an adorable cartoon cow, there is something about their sweet faces that people really relate to. Ever see a cute cow tattoo? Well keep reading and you will find out more about them!
We have searched all around the world, and we have found these 10 Cute Cow Tattoo Designs, and we know that some of them are going to make you all smile at the very least. We promise that the idea of a cow in ink on your body won't sound so strange once you all take a look at these adorable tattoos. Enough of our rambling because we have said a lot, and seeing is believing! Are you all ready to check out the list of cow tattoos? If so, you can go ahead and scroll down now.
Happy Cartoon Cow with Heart Tattoo
Awww how adorable is this little cow tattoo? Does it now look like this happy little cartoon cow is laughing?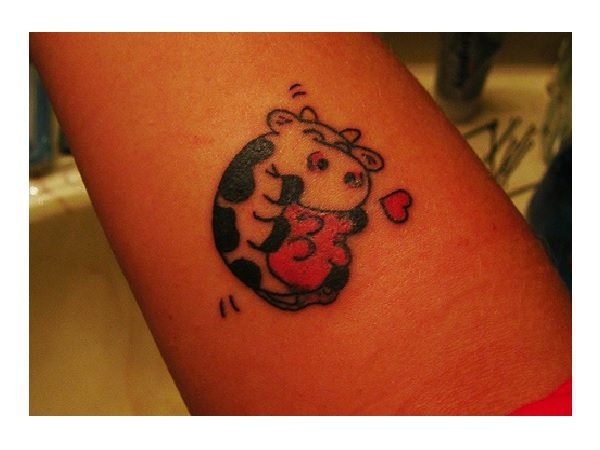 Happy Cartoon Cow with Heart Tattoo
Cartoon Cow Outline Tattoo
Here is another little cartoon cow tattoo that is very simple, yet there is something very endearing about it that is almost childlike but still very cute!
Real Cow Colored Tattoo
Here is a tattoo in color of a real cow, and the detail is quite amazing! You can even see the cow's tongues and its features, which says a lot about the artist that created it.
Cartoon Cow Helicopter Tattoo
This is a very interesting cartoon cow cartoon tattoo because of the fact the cow has blades like a helicopter.
Elsie the Cow Cartoon Tattoo with Flowers
Here is the famous Elsie the Cow, who was a symbol for one of the most famous dairies in the world, Borden. Here is Elsie as a cute tattoo looking like she did a long time ago including her flower necklace!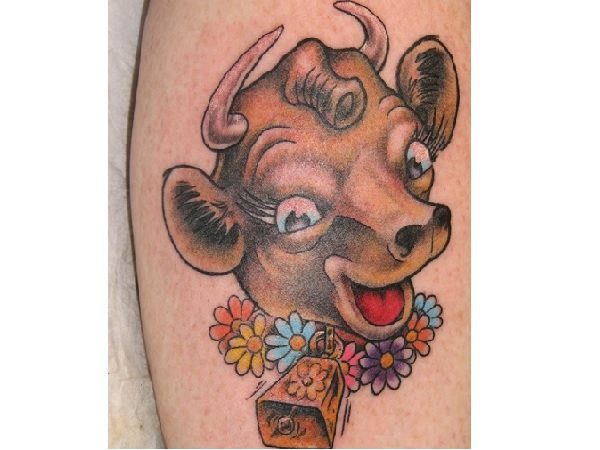 Elsie the Cow Cartoon Tattoo with Flowers
Cartoon Cow In Red Heart with Colored Hearts
Aww now this is a cute cartoon cow in a big red heart, and there are many colored hearts all around it!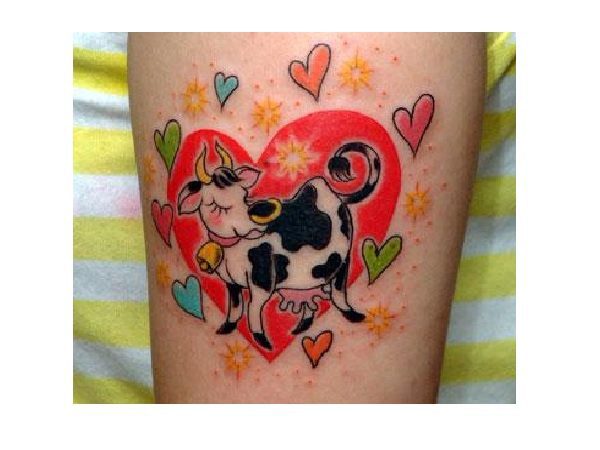 Cartoon Cow In Red Heart with Colored Hearts
Tiny Colored Cow Arm Tattoo
Now this is one tiny cow tattoo! This colored cow is an arm tattoo and it is just so cute that anyone would love to have it on their arm!
Cow Outline Tattoo
Here is an interesting tattoo that is actually a cow outline, and you can barely tell that it is a cow, but still a cool tattoo!
Cartoon Cow Eating Hay Tattoo
Cows are famous for eating a lot of hay in order to make milk, and here is a cute tattoo that shows it!
Happy Jumping Cartoon Cow Tattoo
In a nursery rhyme, the cow jumped over the moon, and this tattoo looks like it is taken from it with this happy jumping cow!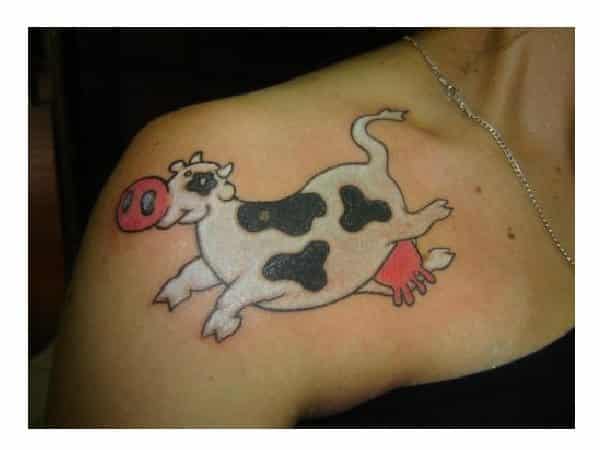 Happy Jumping Cartoon Cow Tattoo
So, were we right about how cute these little cow tattoos are? Did these cow tattoos surprise or impress you? If you have anything to say about these cow tattoos, be sure to leave us a comment below. However, if you didn't like this list of tattoo designs, we have links to even more lists below. All you have to do is click on a link, and you'll be on a new page and new list. Well, what are you waiting for? Let's get started right now!
If you liked this list of 10 Cute Cow Tattoo Designs, then check out 14 Cool Happy Thanksgiving Nail Designs, 20 Interesting The Rocks Tattoo Designs, and 25 Splendid Bathroom Wallpaper Ideas.