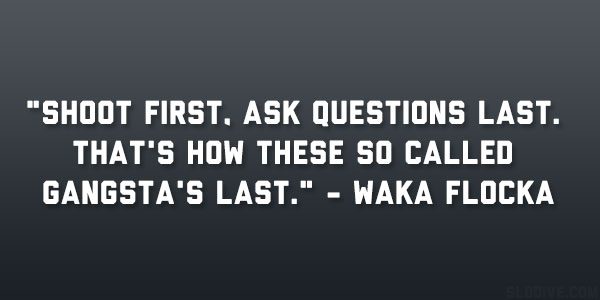 Waka Flocka, also known as Waka Flocka Flame, is a well known name in the world of hiphop and rap. Waka Flocka is the stage name chosen by the American rapper, Juaquin Malphurs. This popular artist was born in Southern Hawaii, and shot to fame with hit singles like 'O Let's Do It' and 'No Hands'. His two albums, 'Flockaveli' and 'Triple F Life: Friends, Fans and Family' are also quite famous. His songs are full of rhythm, and consist of simple catchy words.
In the Waka Flocka songs, many important issues come up, such as the role of rap artists, the menace of street gangs, and the power of money. In one song, Waka Flocka speaks of Tupac, a legendary rap artist who went to Hollywood. Another song talks about the street gang culture. "Shoot first, and ask questions last", is the theme of most gangs, according to the song. This hard-hitting rapper also brings his personal issues into his songs. His lyrics often mention about his getting into drinking sprees, being popular with female fans, and his colorful tattoos.'Hawty I'm tatted up', goes the lyrics of one song, and another speaks of being chased by women fans on the highway.
Check out these Waka Flocka quotes.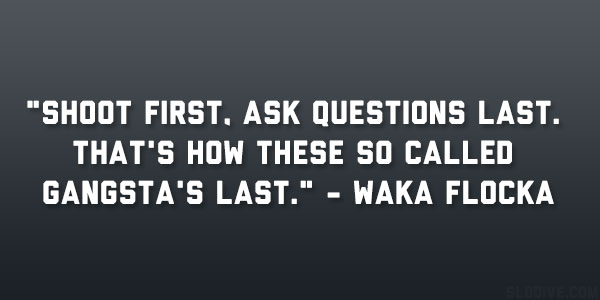 "Shoot first, ask questions last. That's how these so called gangsta's last." – Waka Flocka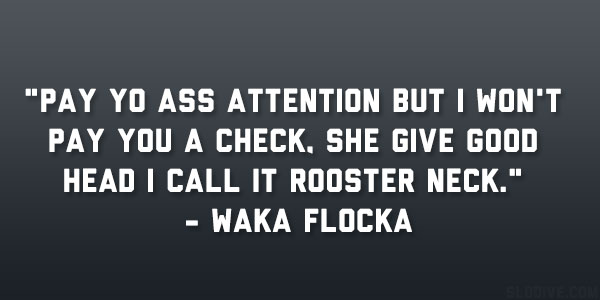 "Pay yo ass attention but I won't pay you a check, she give good head I call it rooster neck." – Waka Flocka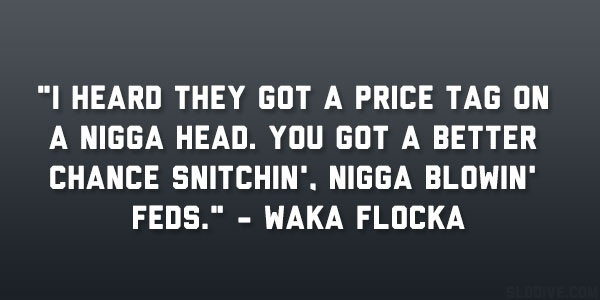 "I heard they got a price tag on a nigga head. You got a better chance snitchin', nigga blowin' feds." – Waka Flocka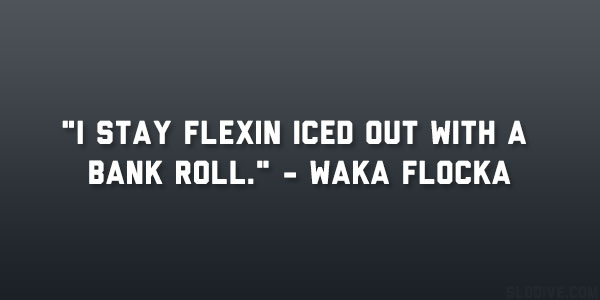 "I stay flexin iced out with a bank roll." – Waka Flocka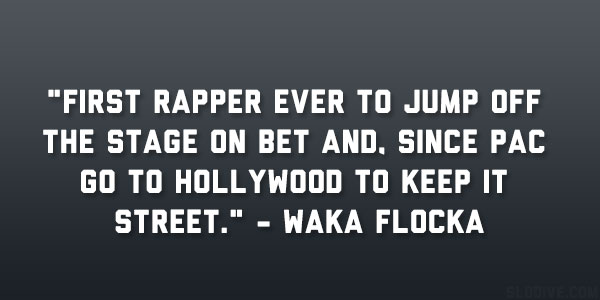 "First rapper ever to jump off the stage on BET and, since Pac go to Hollywood to keep it street." – Waka Flocka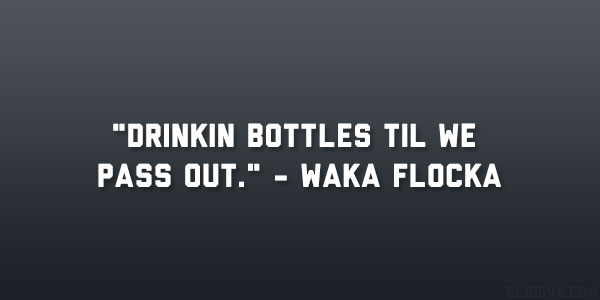 "Drinkin bottles til we pass out." – Waka Flocka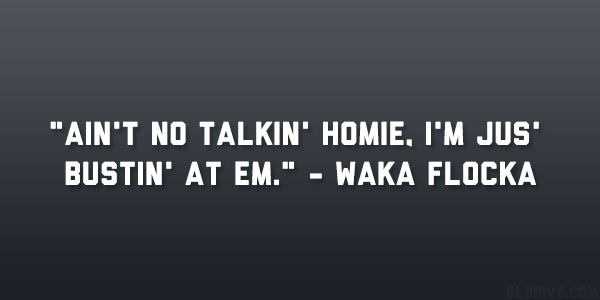 "Ain't no talkin' homie, I'm jus' bustin' at em." – Waka Flocka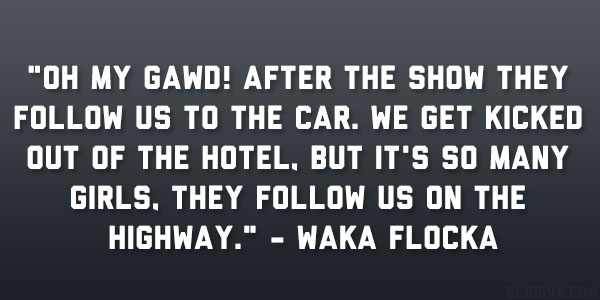 "Oh My Gawd! After the show they follow us to the car. We get kicked out of the hotel, but it's so many girls, they follow us on the highway." – Waka Flocka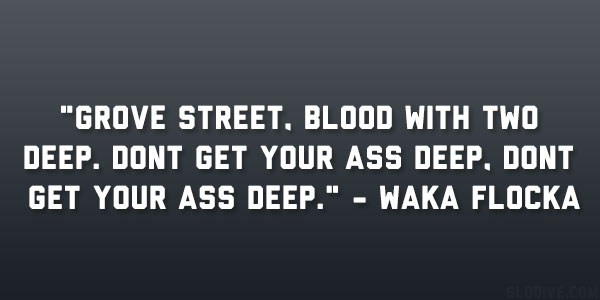 "Grove street, blood with two deep. Dont get your ass deep, dont get your ass deep." – Waka Flocka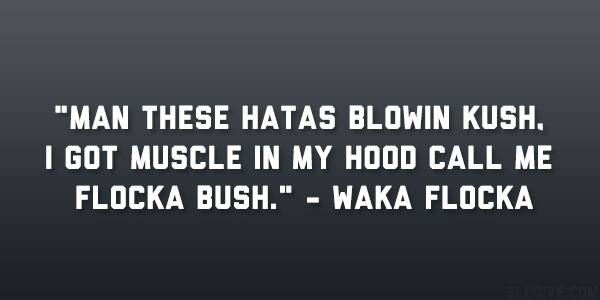 "Man these hatas blowin kush, I got muscle in my hood call me Flocka Bush." – Waka Flocka
"Got a bad bitch from the U.K. She do everything I say." – Waka Flocka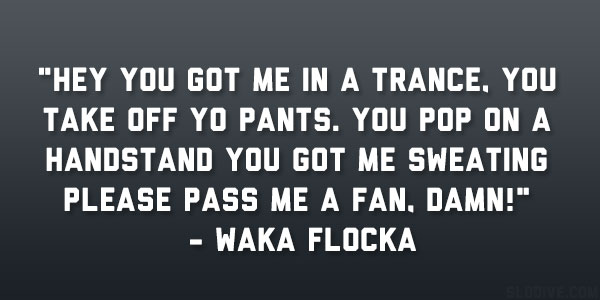 "Hey you got me in a trance, you take off yo pants. You pop on a handstand you got me sweating please pass me a fan, DAMN!" – Waka Flocka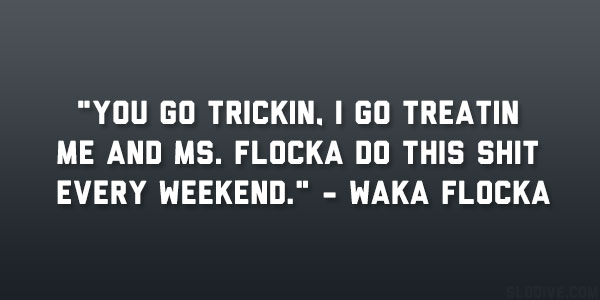 "You go trickin, I go treatin Me and Ms. Flocka do this shit every weekend." – Waka Flocka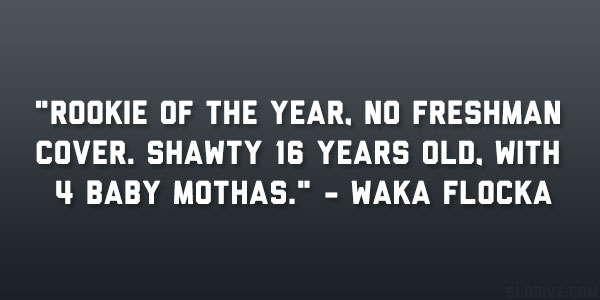 "Rookie of the year, no freshman cover. Shawty 16 years old, with 4 baby mothas." – Waka Flocka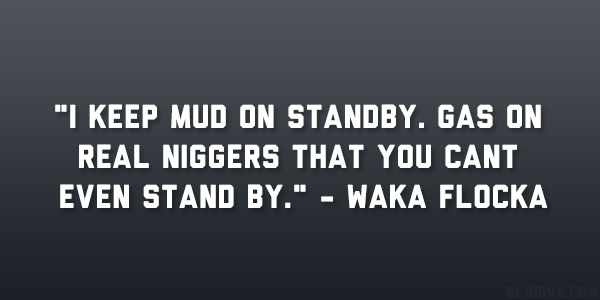 "I keep mud on standby. Gas on real niggers that you cant even stand by." – Waka Flocka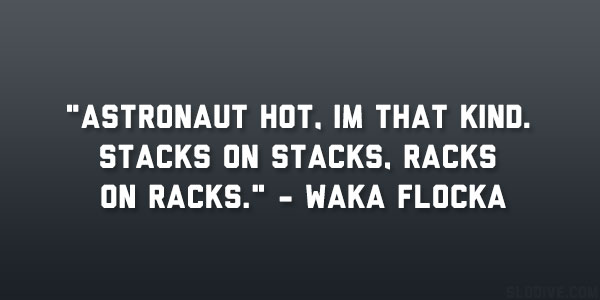 "Astronaut hot, Im that kind. Stacks on stacks, racks on racks." – Waka Flocka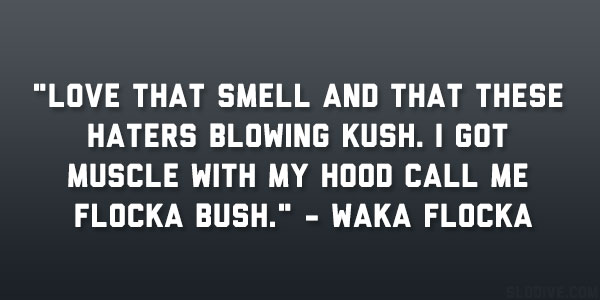 "Love that smell and that these haters blowing kush. I got muscle with my hood call me flocka bush." – Waka Flocka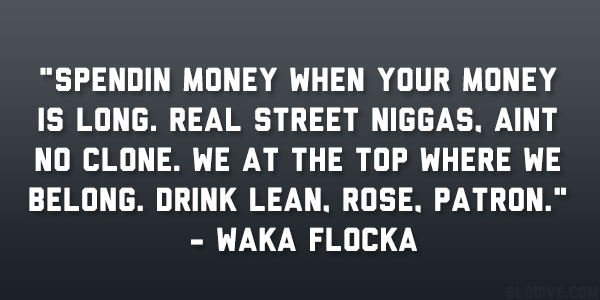 "Spendin money when your money is long. Real street niggas, aint no clone. We at the top where we belong. Drink lean, rose, Patron." – Waka Flocka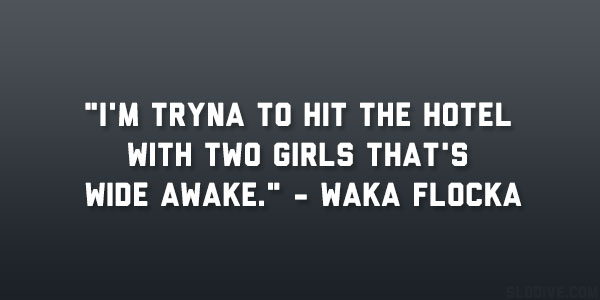 "I'm tryna to hit the hotel with two girls that's wide awake." – Waka Flocka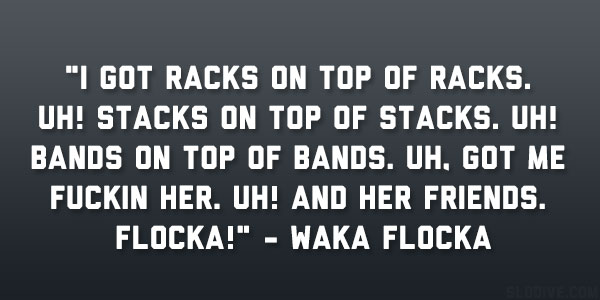 "I got racks on top of racks. Uh! stacks on top of stacks. Uh! Bands on top of bands. Uh, got me fuckin her. Uh! and her friends. Flocka!" – Waka Flocka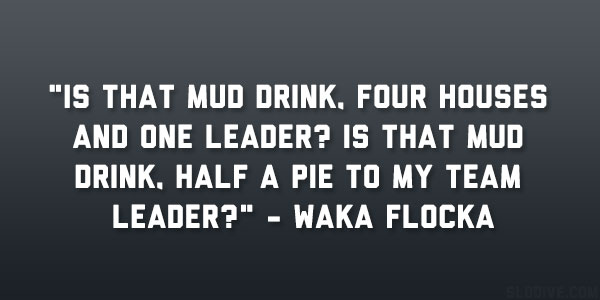 "Is that mud drink, four houses and one leader? Is that mud drink, half a pie to my team leader?" – Waka Flocka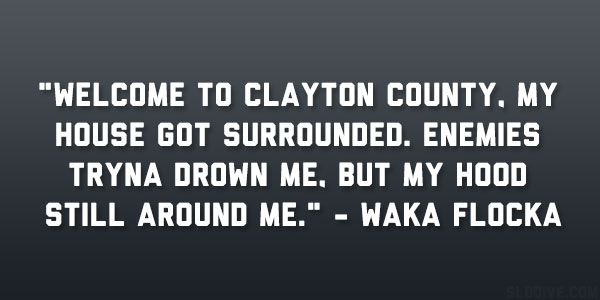 "Welcome to Clayton county, my house got surrounded. Enemies tryna drown me, but my hood still around me." – Waka Flocka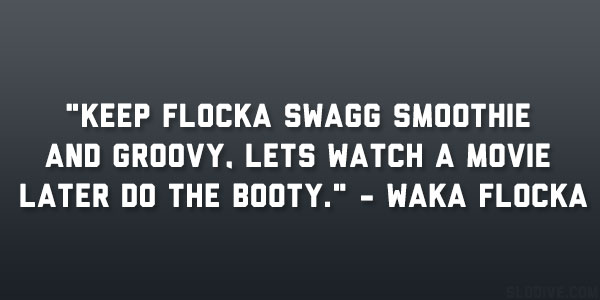 "Keep flocka swagg smoothie and groovy, lets watch a movie later do the booty." – Waka Flocka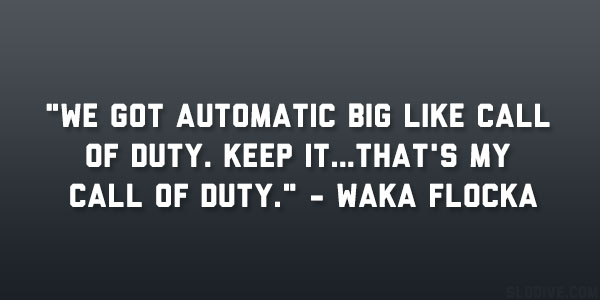 "We got automatic big like Call of Duty. Keep it…that's my call of duty." – Waka Flocka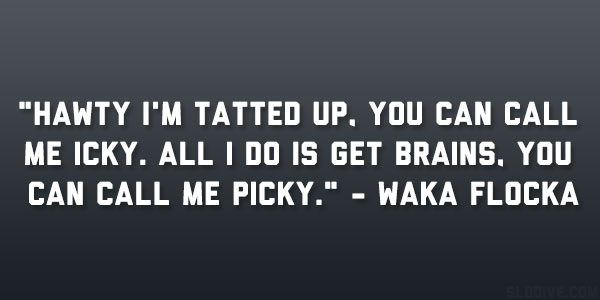 "Hawty I'm tatted up, you can call me icky. All I do is get brains, you can call me picky." – Waka Flocka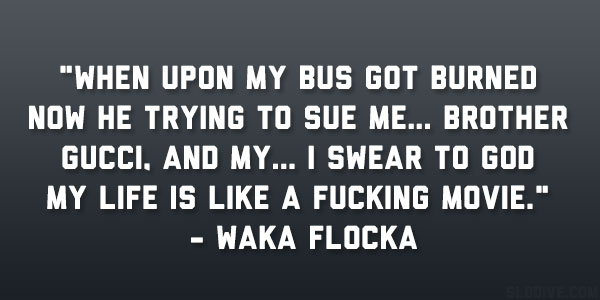 "When upon my bus got burned now he trying to sue me… brother Gucci, and my… I swear to god my life is like a fucking movie." – Waka Flocka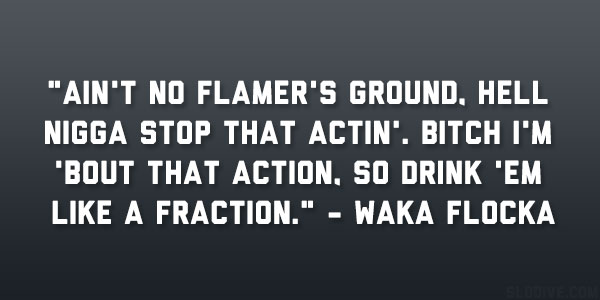 "Ain't no flamer's ground, hell nigga stop that actin'. Bitch I'm 'bout that action, so drink 'em like a fraction." – Waka Flocka
If you like this article, you might be interested in some of our other articles on  Great Sports Quotes,  Happy Valentines Day Quotes,  Famous Movie Quotes About Love  and  Short Funny Quotes.