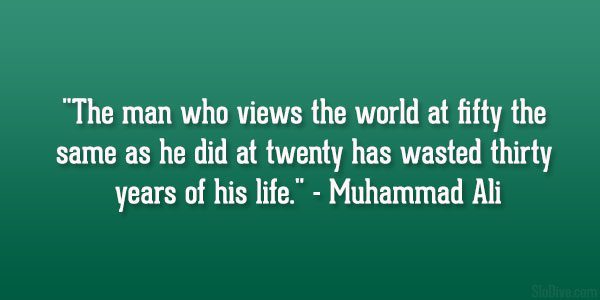 Are you close to celebrating your 30th birthday? A bundle of emotions springs up when you think of being 30. Would it be any different from the stormy years of teenage and beyond? Would you be simply showing your age on your skin, or being asked to act your age, as common wisdom says? Halfway between 20 and 40 lie the eventful ten years that make up the '30s. Bette Midler says that at 30, the body begins to have a mind of its own, so it is worthwhile to listen in, and prepare for those years of prostate exams, which are not too far away.
Body talk aside, the '30s is when life begin flowering in its mysterious complexities. For some, the '30s may be, as Blair Sobol says, the time when they begin acting like their parents. Bonidette Lantz says that at 30, you begin to catch up on all those dreams that you were chasing through your '20s. Turning 30, says Georges Clemenceau, is when she learned all that was worth learning. Over 30 is when the lonely years begin for some, says F. Scott Fitzgerald.
Turning 30 happens just once in life, so here are some 30th Birthday Quotes, giving you both sides of the story, the dark and the bright.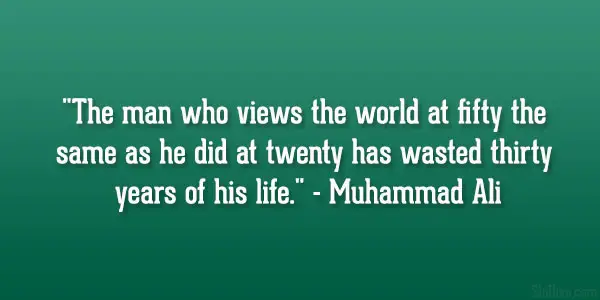 "The man who views the world at fifty the same as he did at twenty has wasted thirty years of his life." – Muhammad Ali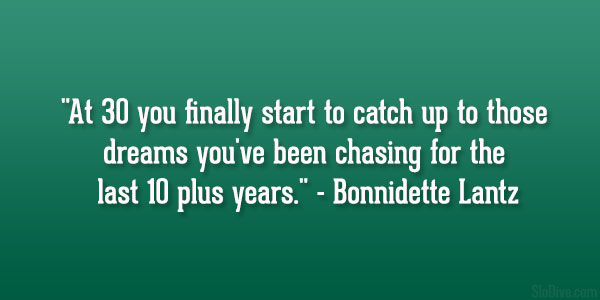 "At 30 you finally start to catch up to those dreams you've been chasing for the last 10 plus years." – Bonnidette Lantz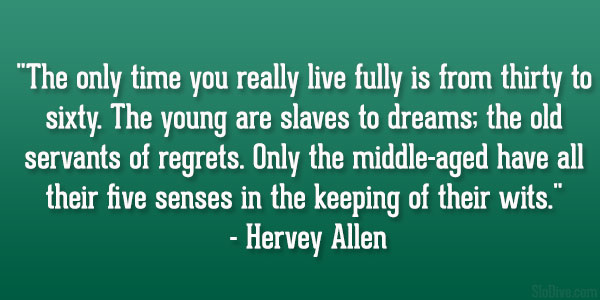 "The only time you really live fully is from thirty to sixty. The young are slaves to dreams; the old servants of regrets. Only the middle-aged have all their five senses in the keeping of their wits." – Hervey Allen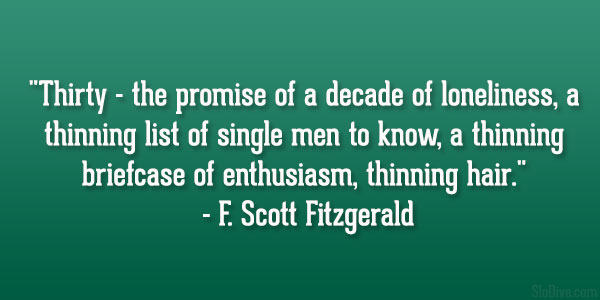 "Thirty – the promise of a decade of loneliness, a thinning list of single men to know, a thinning briefcase of enthusiasm, thinning hair." – F. Scott Fitzgerald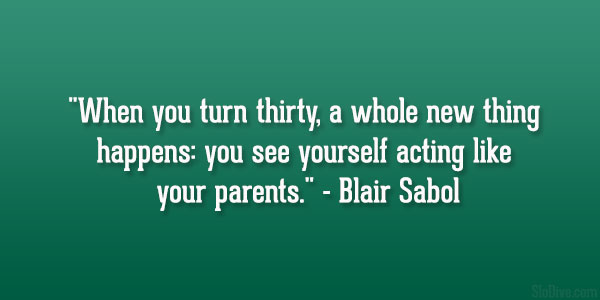 "When you turn thirty, a whole new thing happens: you see yourself acting like your parents." – Blair Sabol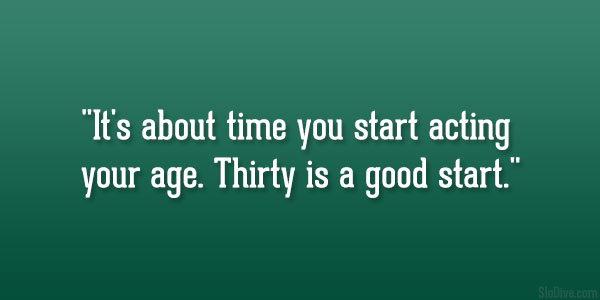 "It's about time you start acting your age. Thirty is a good start."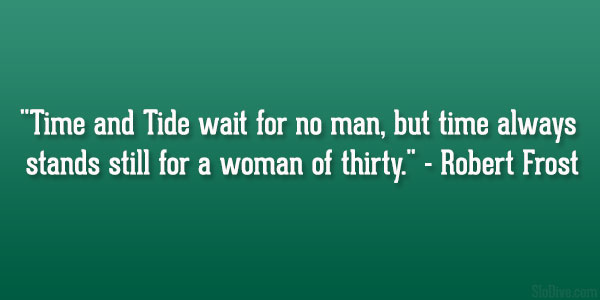 "Time and Tide wait for no man, but time always stands still for a woman of thirty." – Robert Frost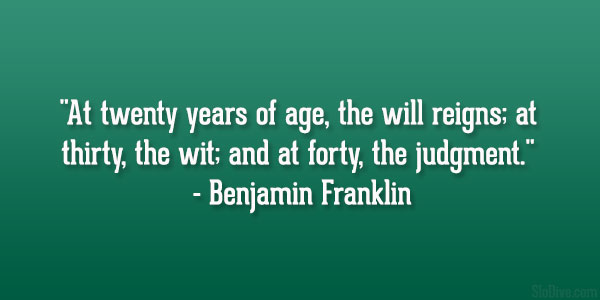 "At twenty years of age, the will reigns; at thirty, the wit; and at forty, the judgment." – Benjamin Franklin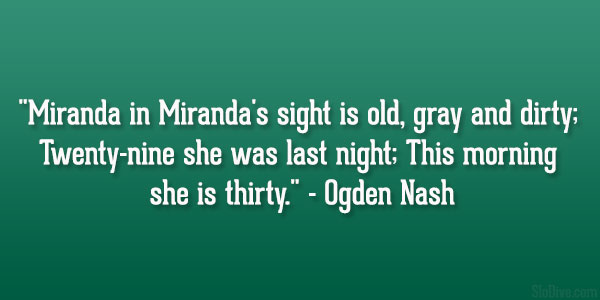 "Miranda in Miranda's sight is old, gray and dirty; Twenty-nine she was last night; This morning she is thirty." – Ogden Nash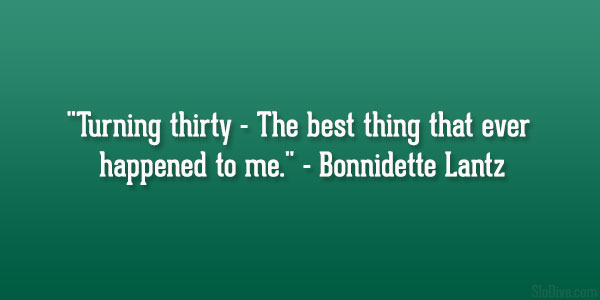 "Turning thirty – The best thing that ever happened to me." – Bonnidette Lantz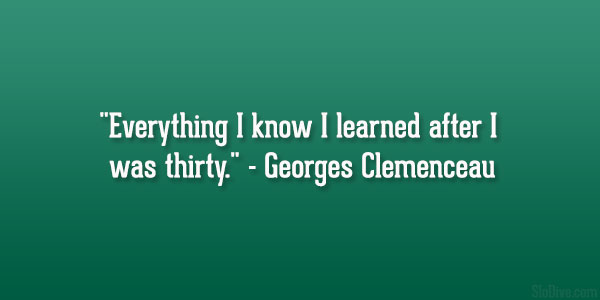 "Everything I know I learned after I was thirty." – Georges Clemenceau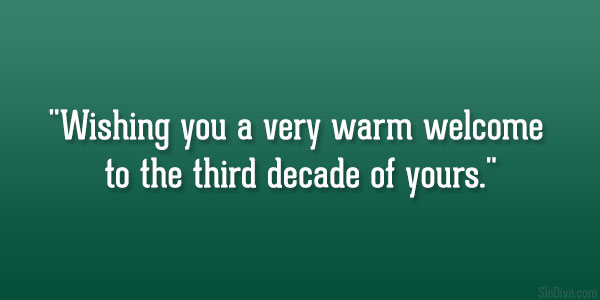 "Wishing you a very warm welcome to the third decade of yours."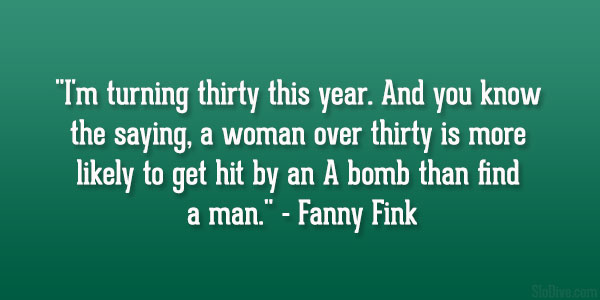 "I'm turning thirty this year. And you know the saying, a woman over thirty is more likely to get hit by an A bomb than find a man." – Fanny Fink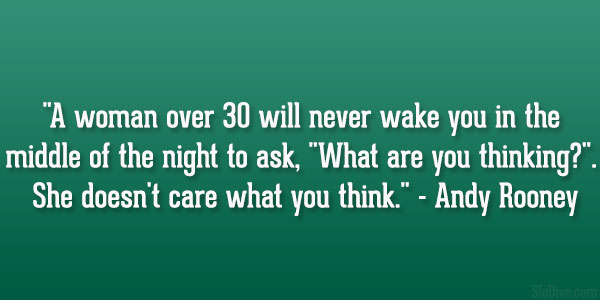 "A woman over 30 will never wake you in the middle of the night to ask, "What are you thinking?". She doesn't care what you think." – Andy Rooney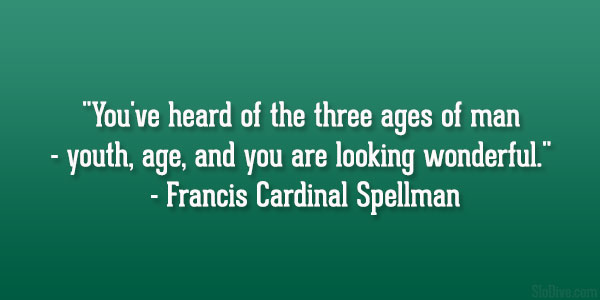 "You've heard of the three ages of man – youth, age, and you are looking wonderful." – Francis Cardinal Spellman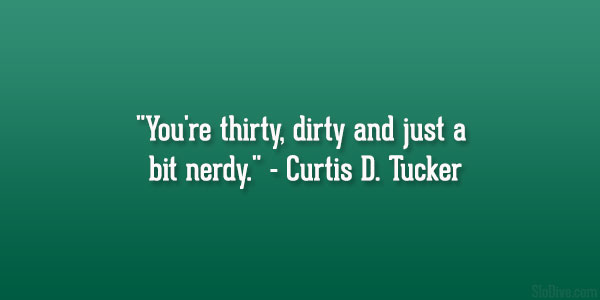 "You're thirty, dirty and just a bit nerdy." – Curtis D. Tucker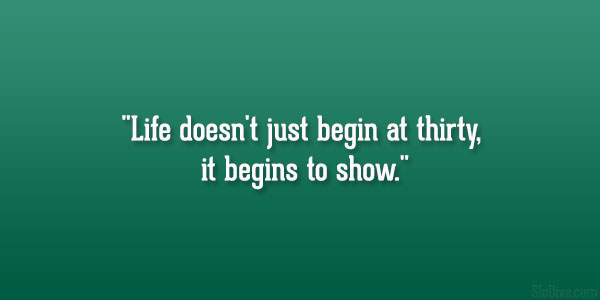 "Life doesn't just begin at thirty, it begins to show."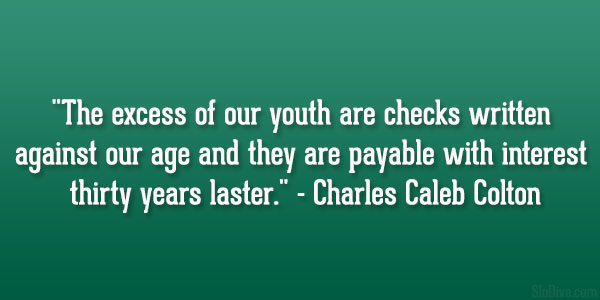 "The excess of our youth are checks written against our age and they are payable with interest thirty years laster." – Charles Caleb Colton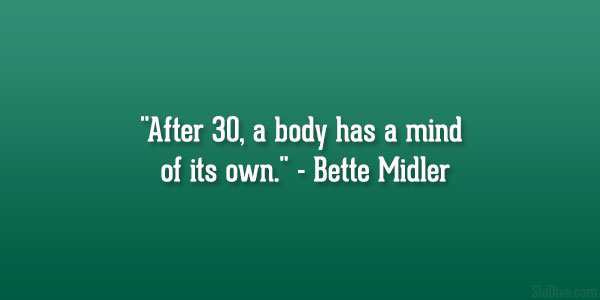 "After 30, a body has a mind of its own." – Bette Midler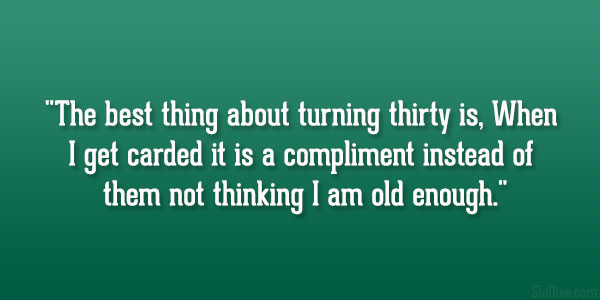 "The best thing about turning thirty is, When I get carded it is a compliment instead of them not thinking I am old enough."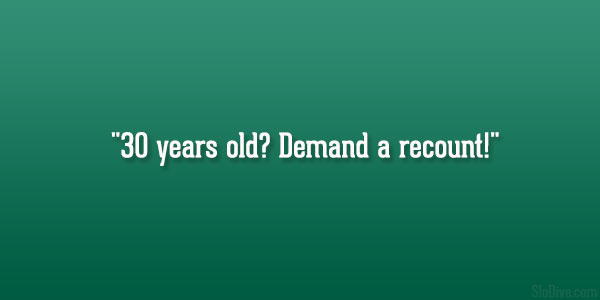 "30 years old? Demand a recount!"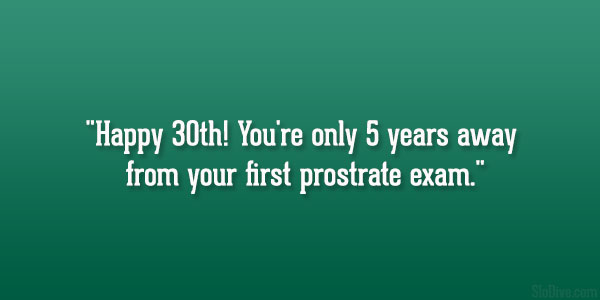 "Happy 30th! You're only 5 years away from your first prostrate exam."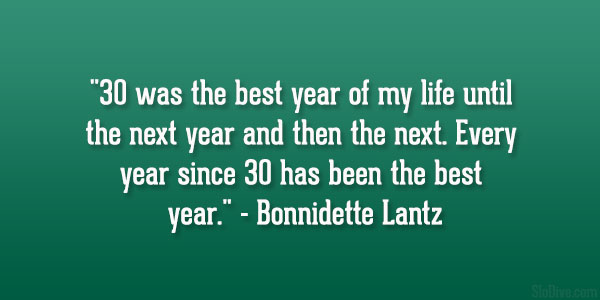 "30 was the best year of my life until the next year and then the next. Every year since 30 has been the best year." – Bonnidette Lantz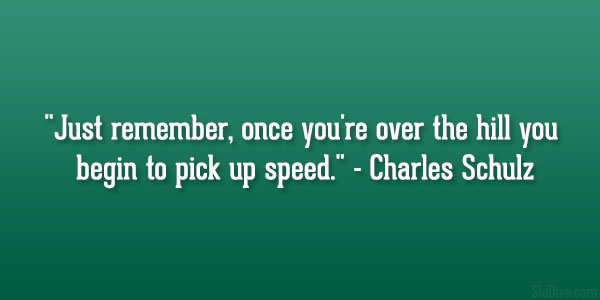 "Just remember, once you're over the hill you begin to pick up speed." – Charles Schulz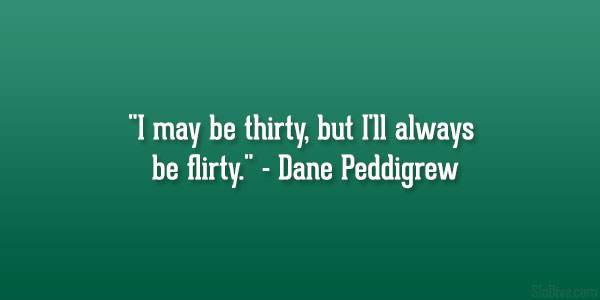 "I may be thirty, but I'll always be flirty." – Dane Peddigrew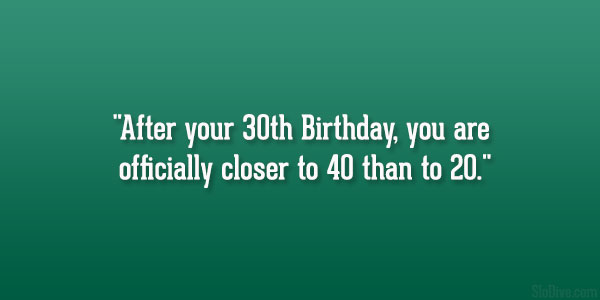 "After your 30th Birthday, you are officially closer to 40 than to 20."
If you like this article, you might be interested in some of our other articles on  Happy Life Quotes,  Wiz Khalifa Love Quotes,  Cute Boyfriend Quotes  and  Inspirational Quotes By Famous People.