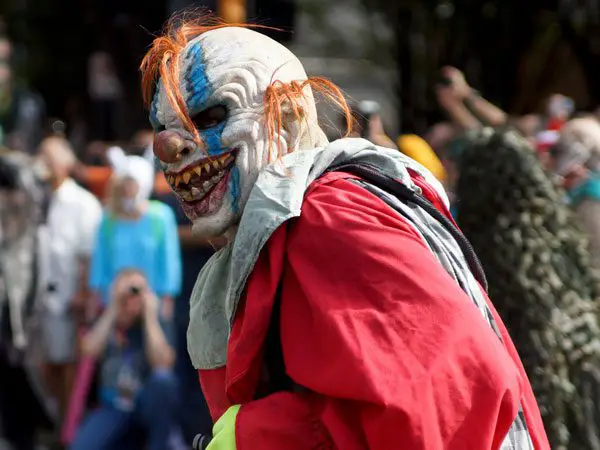 A clown or joker signifies amusement and laughter. But there is one clown or joker we will remember for his horrible deeds. Jack Napier or The Joker played by Jack Nicholson in the 1989 Batman film is a terrifying villain. His role has spearheaded the concept of a cruel and scary clown. These are some interesting scary clown pictures that remind you of Nicholson's revolutionary role. The vivid hair and extremely bright makeup has a horrifying effect when combined with teeth that look like they are blood soaked. The scary clown look is more frightening than amusing, despite the word clown.
Whenever you think of clowns or jokers, you imagine those funny men who enter the circus ring to make you laugh. The concept of the clown epitomizes amusement and laughter. But there have been some villainous clowns in Hollywood movies, like Jack Napier in the 1989 Batman film who is known for his cruelty. These are some pictures of scary clown that are more frightening than funny. Men as well as women can carry off these hideous costumes with equal style. Scary clowns are characterized by their bloody teeth, bright hair and evil grins. They look as if they are planning some villainous deeds.
If you like this article, you might be interested in some of our other articles on Cute Baby Pictures, Mila Kunis Pictures, Engagement Picture Ideas and Cute Couple Pictures.
Gargoyle Clown
This gargoyle like clown is just perfect to scare away curious onlookers and inquisitive children.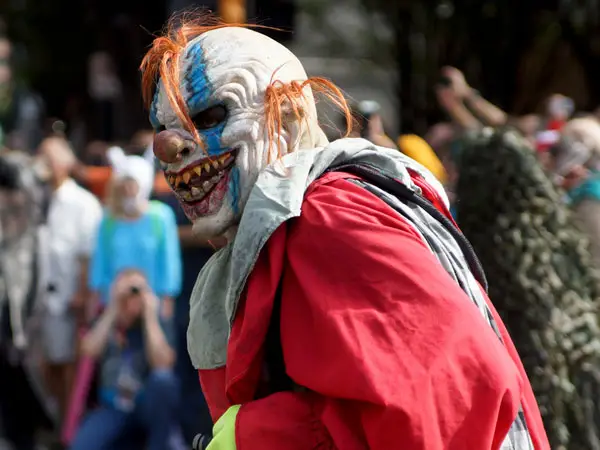 Deadly Clown
This clown looks hideous and deadly (pun intended!) with his bloody teeth and tongue.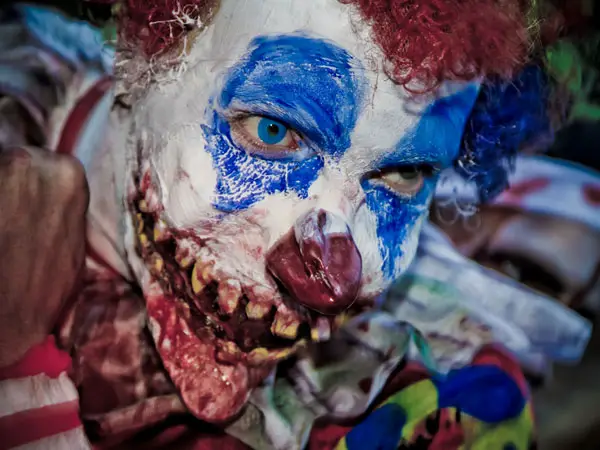 Zombied Clown
This zombie like clown looks terrifying with his blood soaked shirt and gnashing teeth.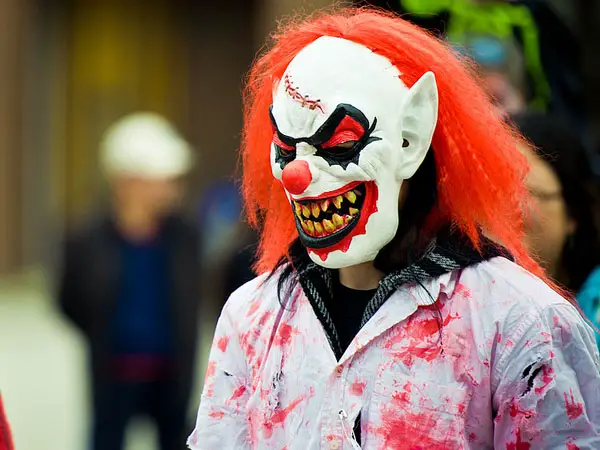 Blood Red Splashes
The blood-red splashes of color have added to the horror-like effect of this clown's ensemble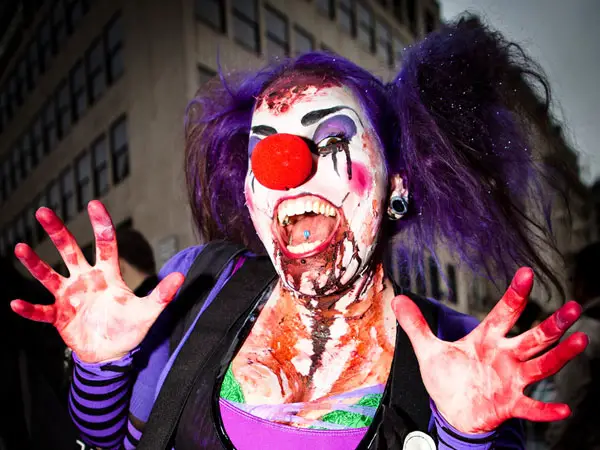 Blazing Fire
The blazing red curls add to the scary effect of this clown. Her weird eyebrows and hideous smile are class.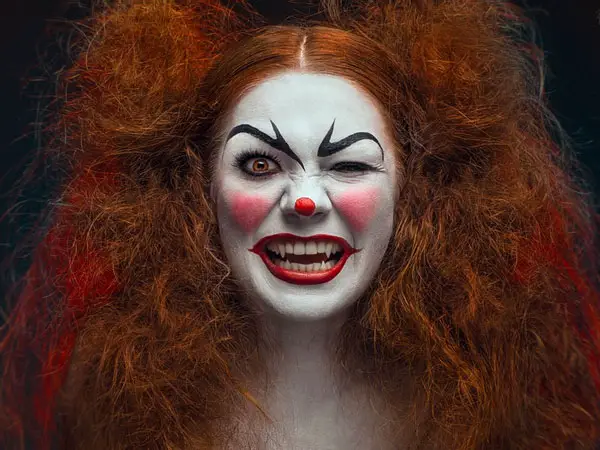 Midwest Haunters
The terrifying red teeth painted on the mask makes this clown look scarier than ever.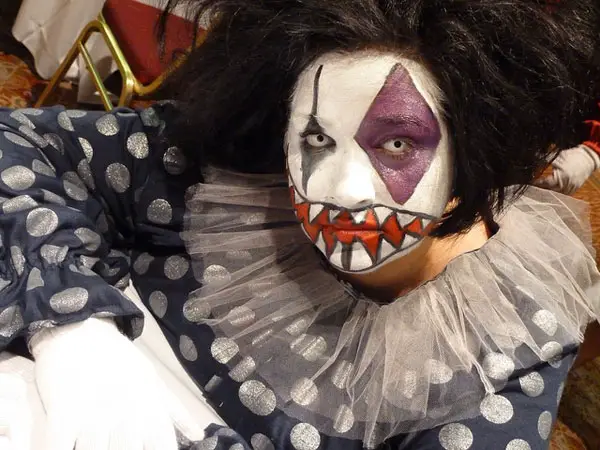 Shaggy Demon
The shaggy hair and demonic paint has this clown looking hideous enough to terrify anyone.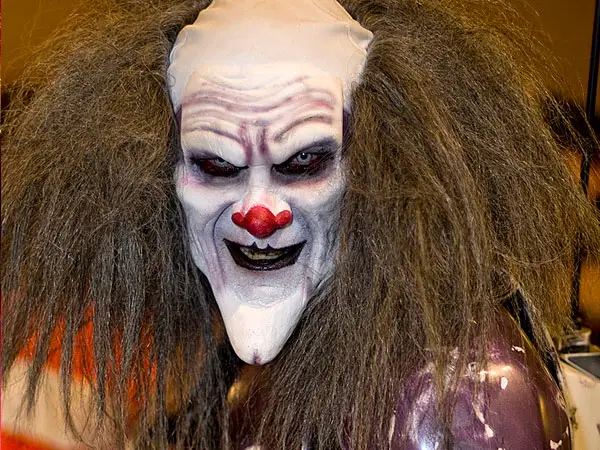 Weird Evil
This clown's face seems to be melting away giving him a very scary appearance.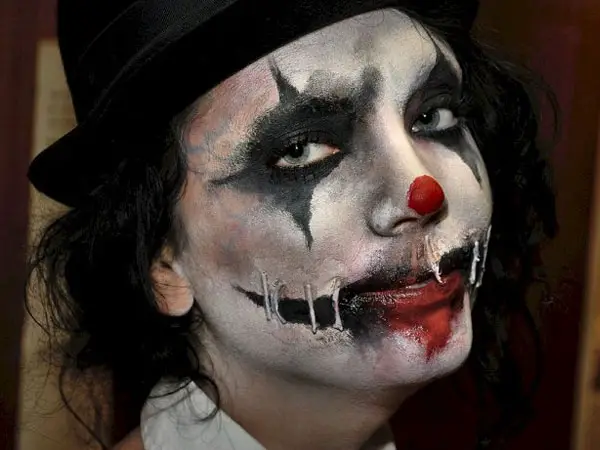 Mismatched Clown
The mismatched eye color and bulbous nose gives this clown an ugly and frightening look.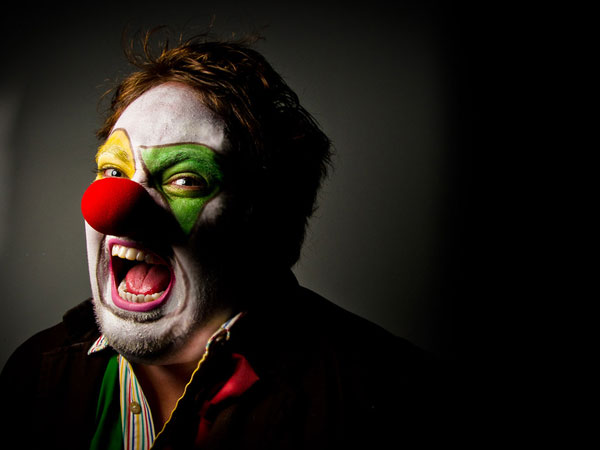 Multicolored Demon
With hair in different colors and a hideous cruel smile this clown looks like a multicolored demon.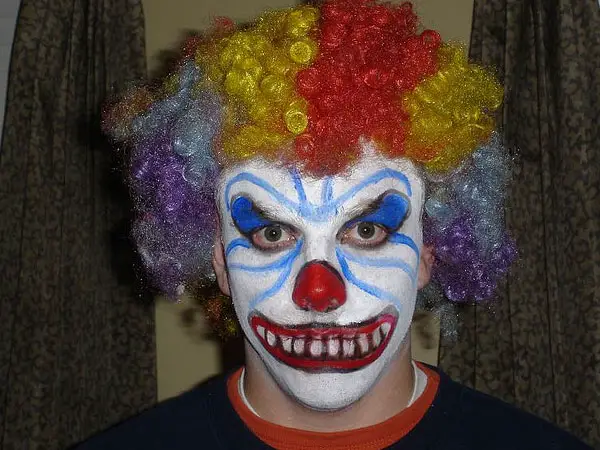 Glassy Eye
This clown has one glassy eye, making him look really scary. The black and white makeup adds to the horrid effect.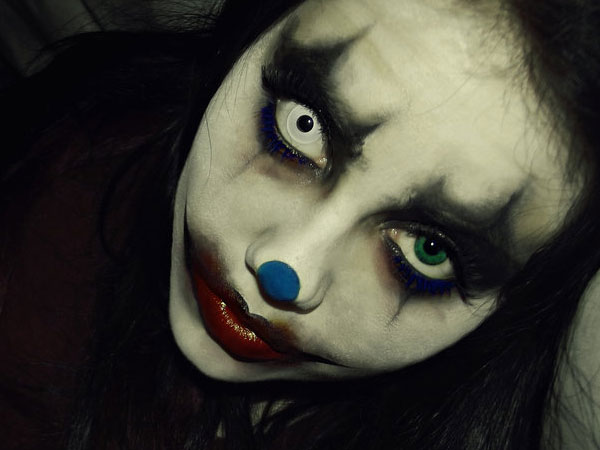 Vampire Clown
The vampire-like makeup of this clown produces a terrible effect. The blood dripping from the lips looks horrid.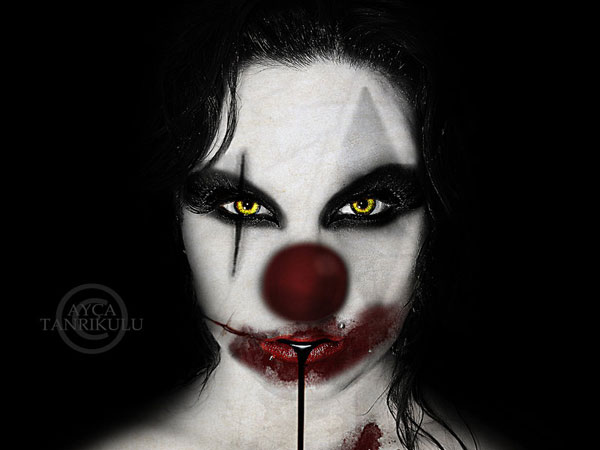 Horrible Duo
This clown couple, with their vivid makeup, presents a horrifying effect of cruelty and menace.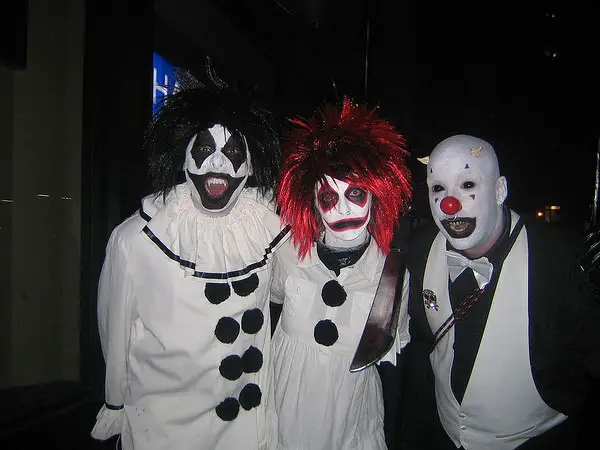 Blood Splattered
The blood splattered clothes, fingers and face make this clown look scarier than comic.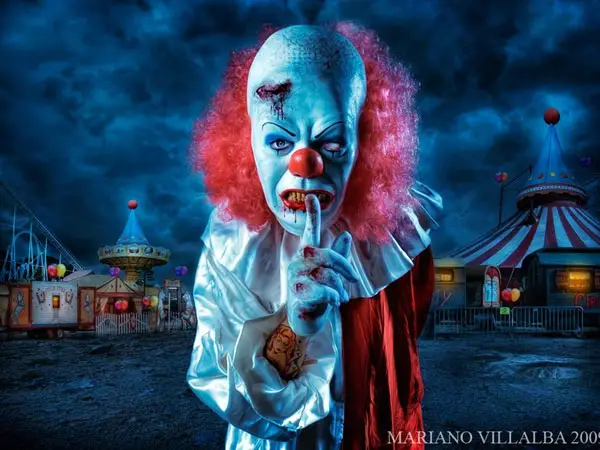 Black Eyes
The black vertical lines below the eyes and vivid red lipstick makes this clown look a little terrifying.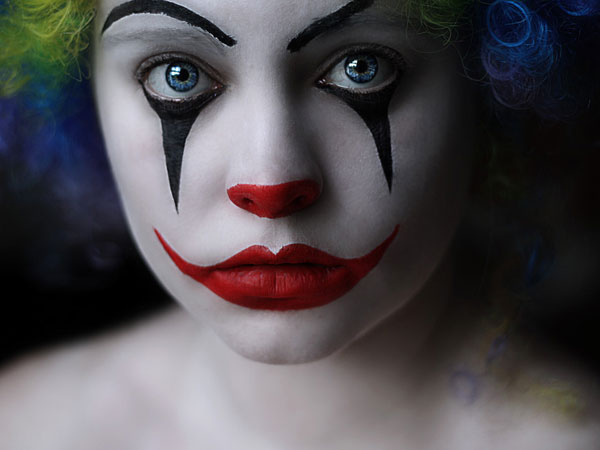 Black Teardrop
A black teardrop below the eye and the hideous combination of makeup on this clown has a horrifying effect.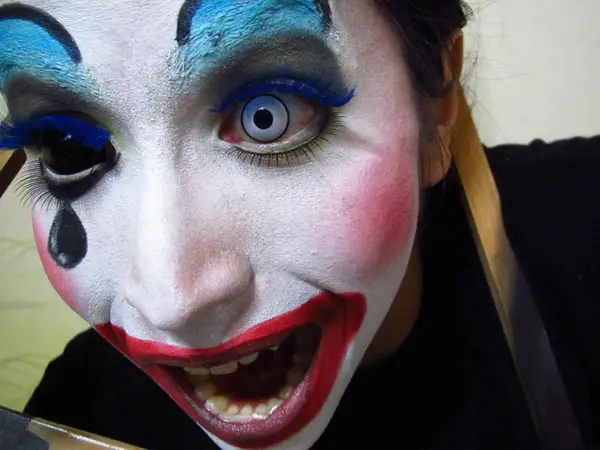 Red Eyed Clown
The blood-red irises and red lips have a terrible effect making this clown more scary than funny.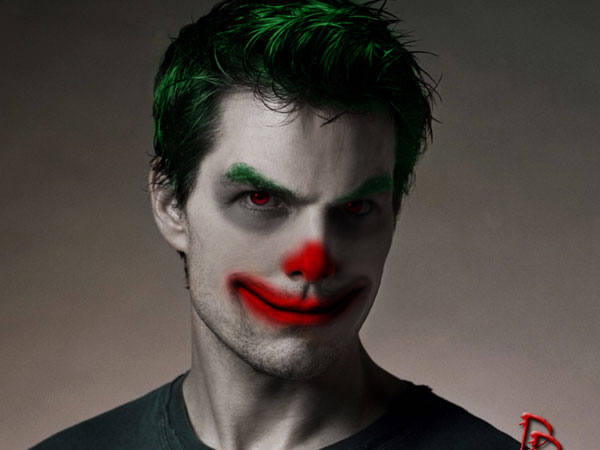 Sexy And Scary
When you want a sexy yet scary look, this clown ensemble is just what you are looking for.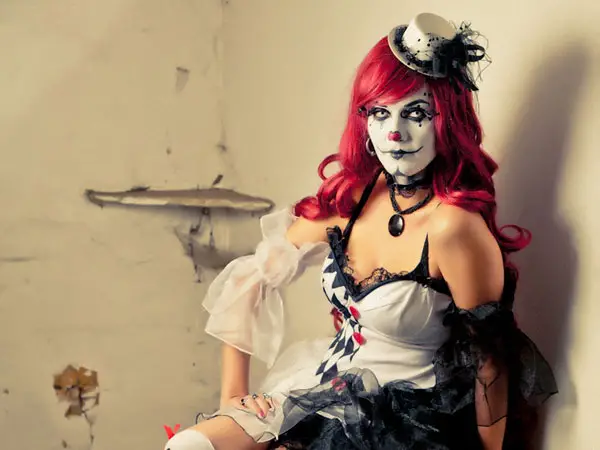 Red Everywhere
Blazing red hair and blood-red teeth have created a scary effect for these two clowns.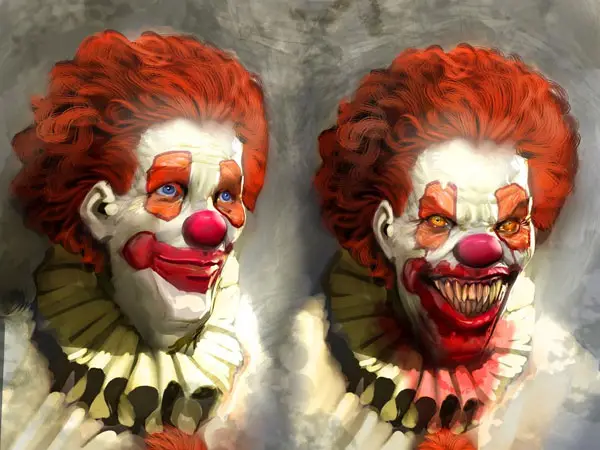 Eyes That Scare
Red eyes and the hideous evil grin epitomize the scary effect of this clown, who should have been funny!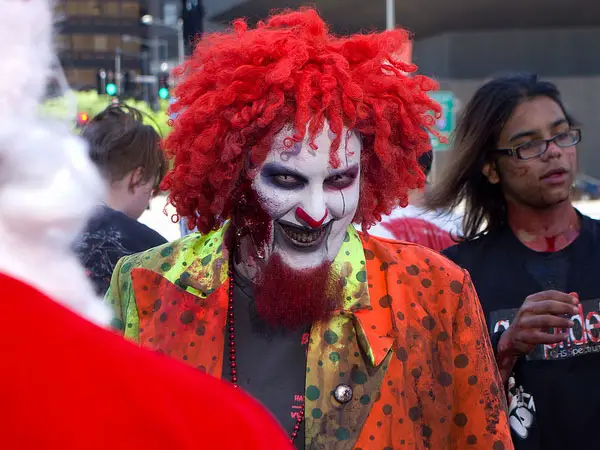 Wild Creature
With a face like a wild evil creature, who wouldn't be scared of this clown? He looks terrifying even without the smile.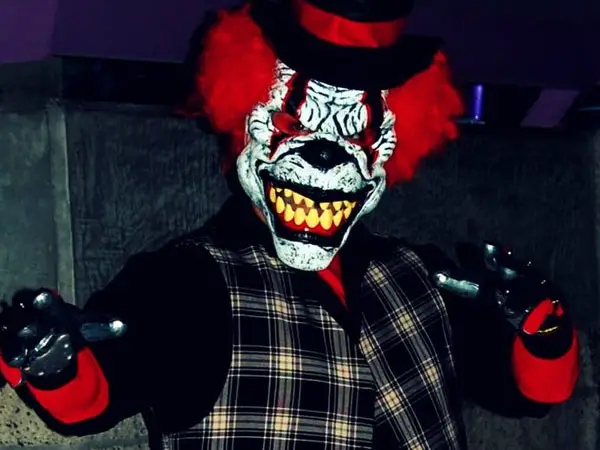 Scarily Cute
This clown woman looks a little scary but is too cute to be fully so. The black line below the eyes looks horrid.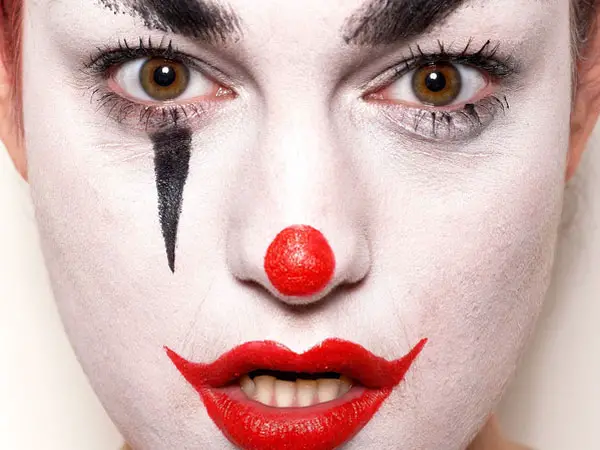 Devil Clown
Maroon hair, bloody teeth, glassy eyes and a horrid grin, what more is needed to scare you?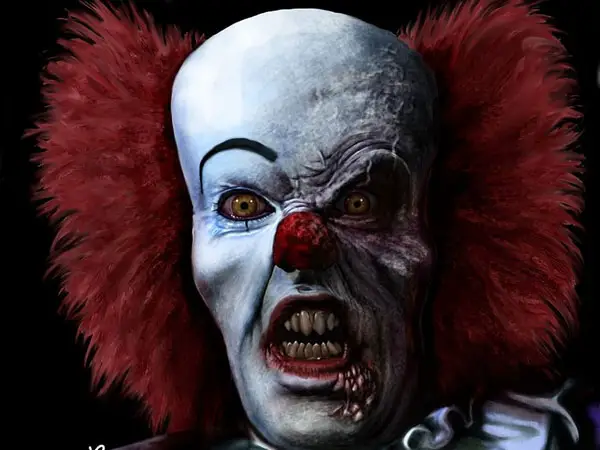 Get, Set, Go
This scary clown is all set to terrify little children. So beware! Here he comes.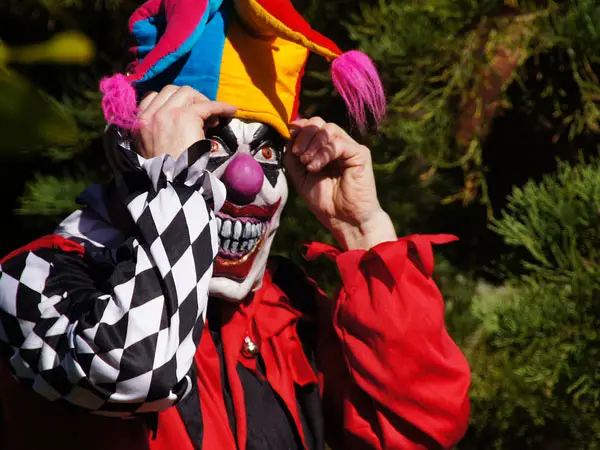 Nerdy Scary Clown
Now this is a contradiction. The nerdy looking man in the scary clown costume looks strange!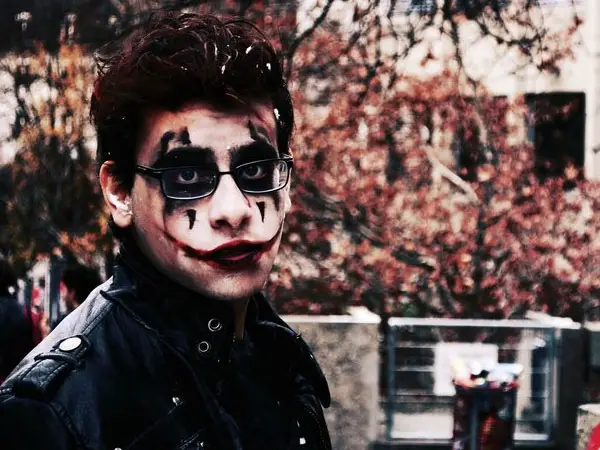 Black And White Horror
This picture in black and white makes this scary clown look more terrifying and menacing.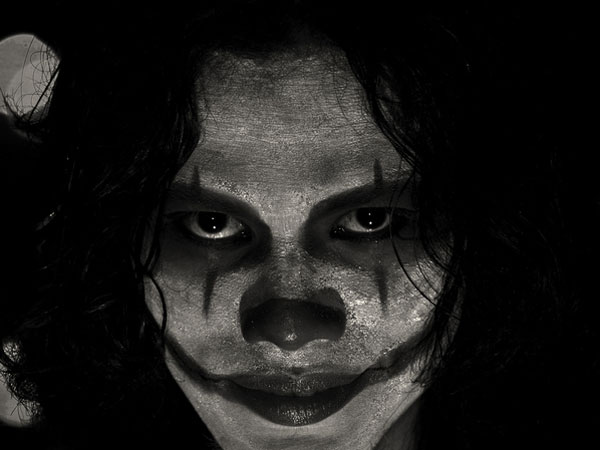 Twisted Eyes
The twisted eyes add to the menacing look of the scary clown ensemble that this man is wearing.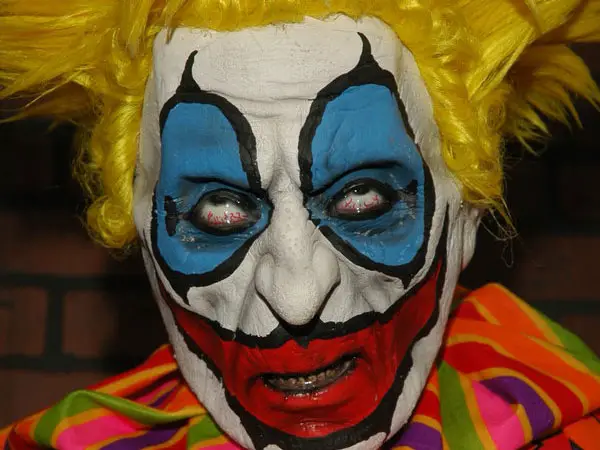 Twisted Eyes
Bright And Scary
The bright ensemble and horrifying grin is just perfect for the scary clown effect that this man wants.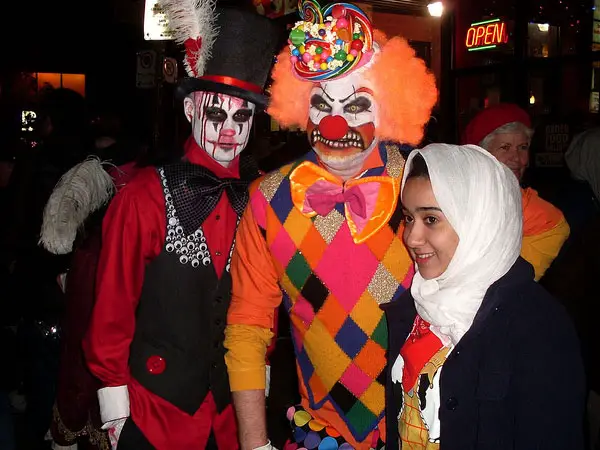 Villain Of The Piece
This scary clown looks like he is the villain of the piece in an action flick from Hollywood.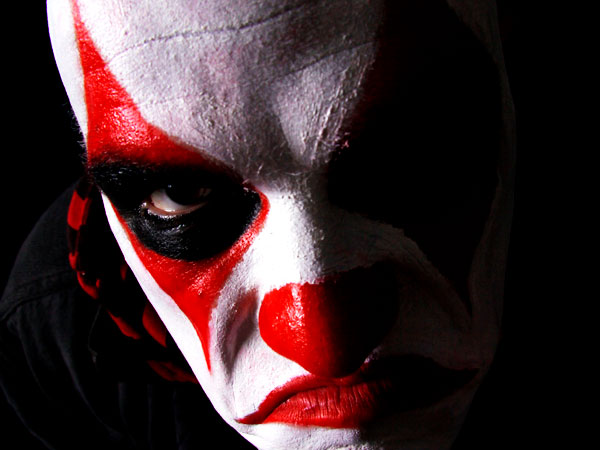 Break Time
Even scary clowns need nourishment. This clown is taking a much need refreshment break.