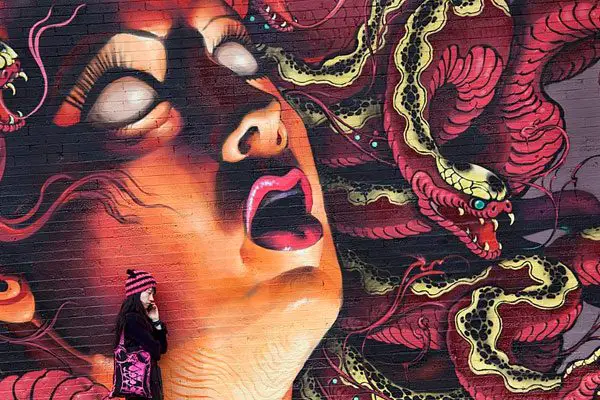 Graffiti art is about giving expression to your beliefs and ideas. Though considered to be illegal in many countries, it has been always accepted artists and activists worldwide, and has captured the attention of people like nothing else. Many artists like Banksy have given it a new status and thanks to their artistic maneuvers, graffiti styles are very popular among the people. They are cool and have aesthetic value. In fact, they are a part and parcel of the modern art style and people love to see graffiti art. There are some places which are known by their graffiti styles only.
Graffiti styles show various hues and themes. They can be cute and colorful showing the pretty pictures and imageries that exist in the world or they can be rough and tough giving vent to the dark and deep desires a shape through the modern art. Here, in this post, we have compiled 50 graffiti styles that are awesome and will take you to amazing looks of streets and buildings in various parts of the world. Take a look and get into the cool world tour of drawings and sketching. You are sure to have a nice time.
If you like this article, you might be interested in some of our other articles on  Graffiti Designs,  Graffiti Fonts,  Print Ads, and  Top Graffiti Designs.
Frightening
The white eyed girl in grip of the pink panther makes for a menacing graffiti art.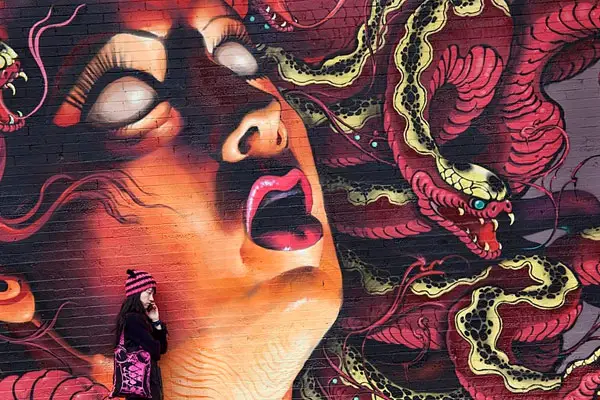 Catchy
This "wild style" graffiti created on a white brick wall with its complementary color orange looks vivid.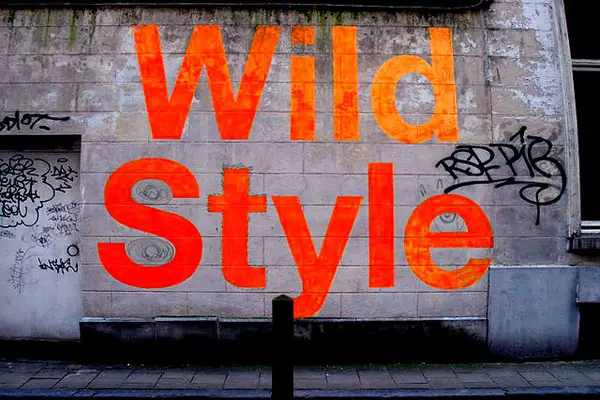 Rebellion
A group of protestors with blue faces and placards in their hands, painted on a yellow background, look queer.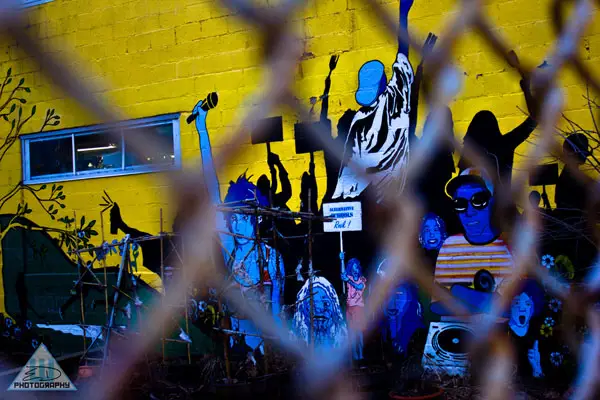 Banksy Style
Created on the lines of great British artist, the small girl with her teddy bear, presents an innocent picture.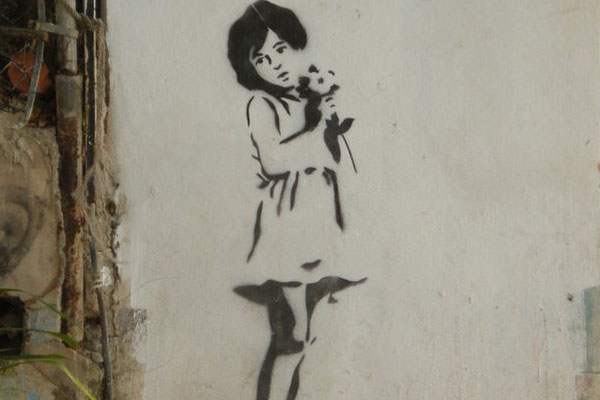 Banksy Style In Puerto Rico
Daring
Grungy style graffiti art that is dark and has hidden meaning inside it.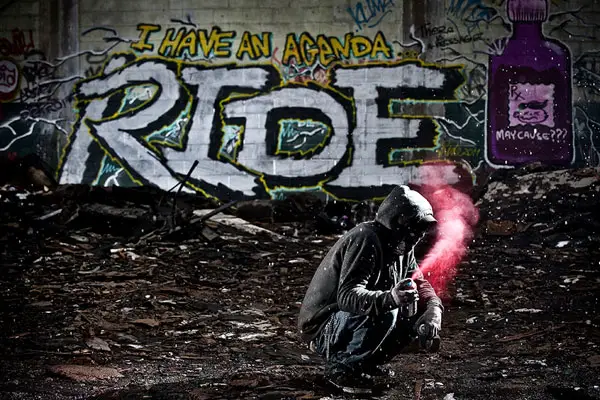 Interesting
Cool graffiti art with bright colors and letters thrown here and there to create curiosity.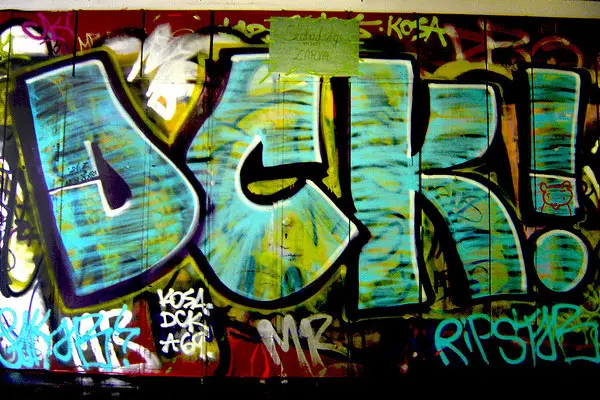 Love Mark
Pink heart with black outline and arrow created on a white, rugged wall is looking beautiful.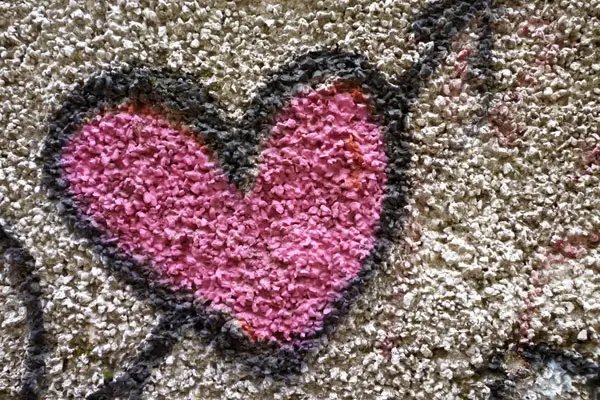 Fragment Graffiti
Badass Bunny Graffiti
Black and white graffiti art with a bunny motif created on the wall creates interest.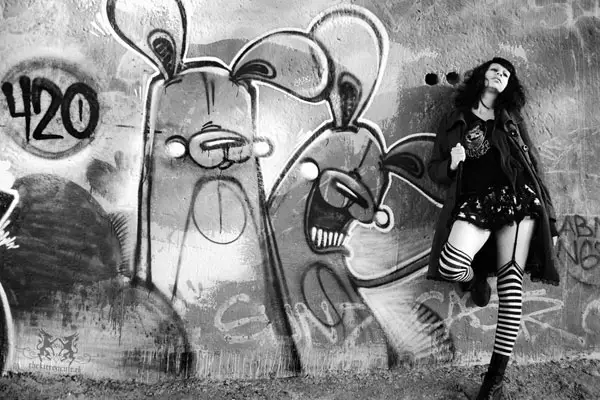 Sparkling Graffiti
Colorful mural art with bright and vivid colors makes for a picturesque look.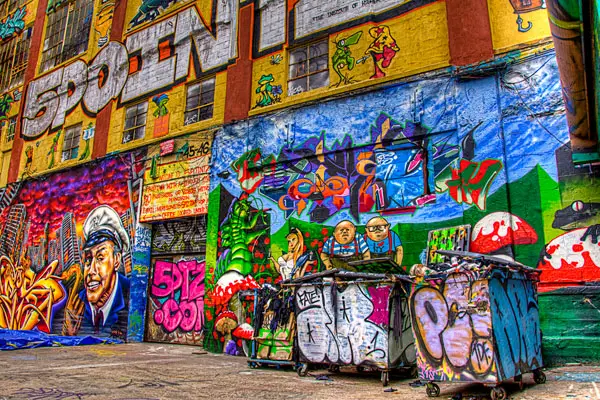 Fury
Wild bat in sky blue color, pouncing on a white wall, arouses fear and awe.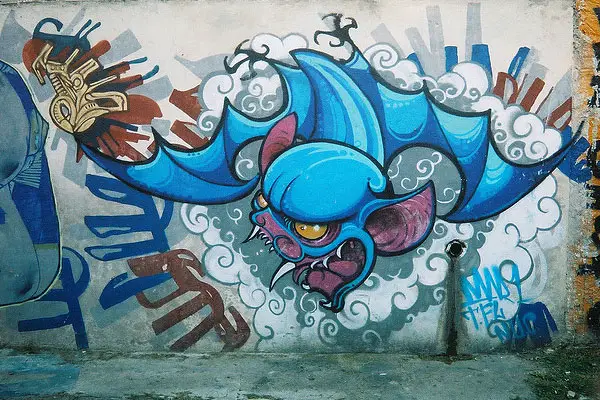 Istanbul Style
Graffiti art from Turkey, painted below the windows, is full of meanings and ideas.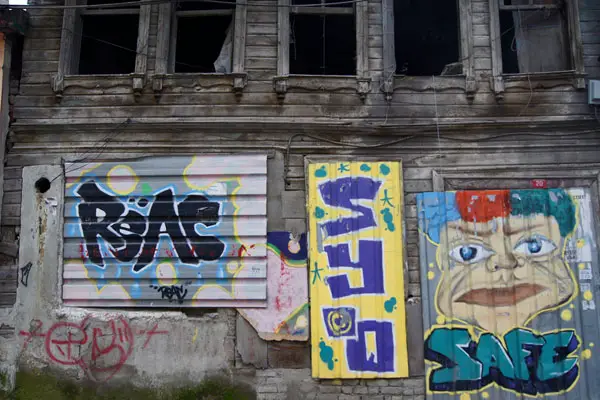 Graffiti TV
This one is a little queer giving the impression of a woman coming out of the TV.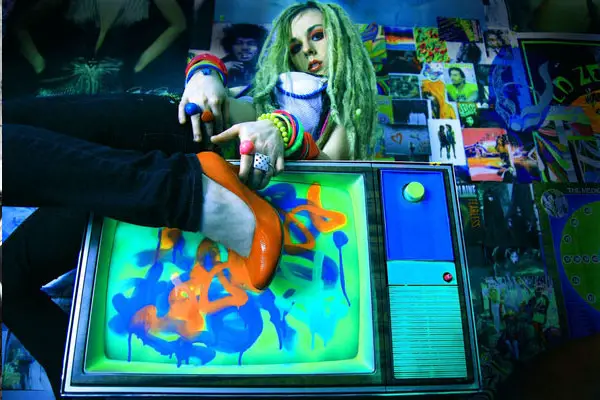 In A Shambles
Created on a dilapidated wall, this graffiti wall art looks like a broken car.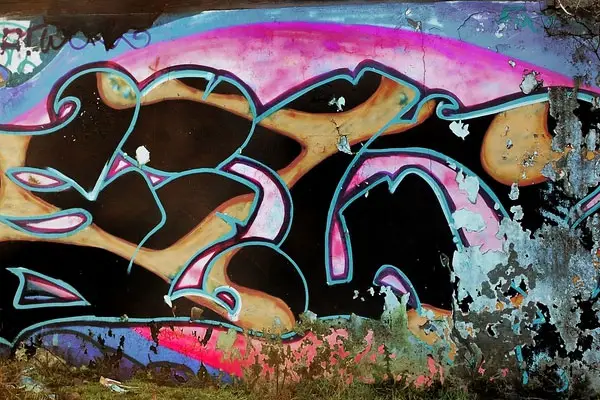 Graffiti Art Wall
Tiger Style
The laughing tiger image, resting on the blue wall, has a comic look and creates mirth.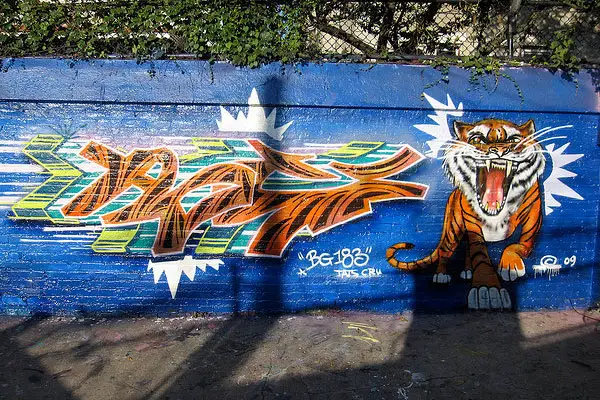 Peppy
The collage of girl, flowers and crown is looking cute and has a light feel.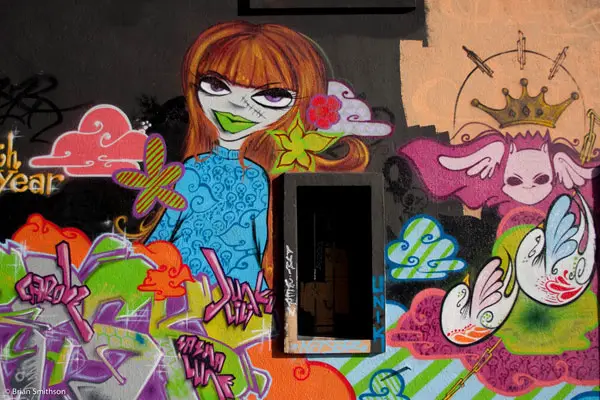 Fighters
The cap wielding men pouncing on each other create an adventurous look on the wall.
Chasing Cat
Yellow cat with pink hat looking delighted and running in the direction of a placard bearing a cool tag looks funny.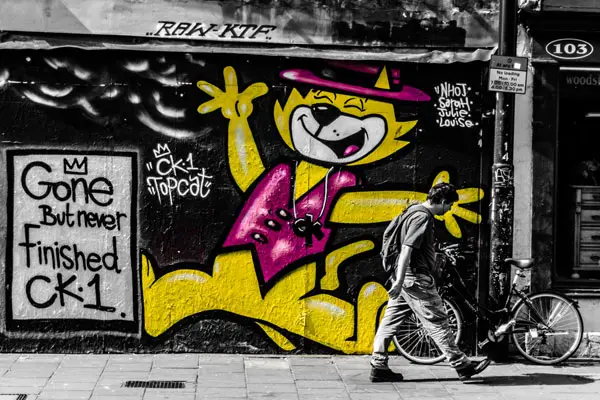 So Many Eyes
The free style graffiti looks amusing with the many eyes and the flower street motif.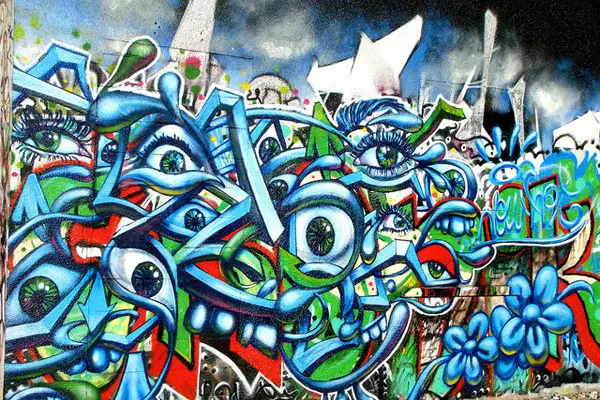 Black And White
Representing the urban stereotype of the street hero, this graffiti art has a somber look.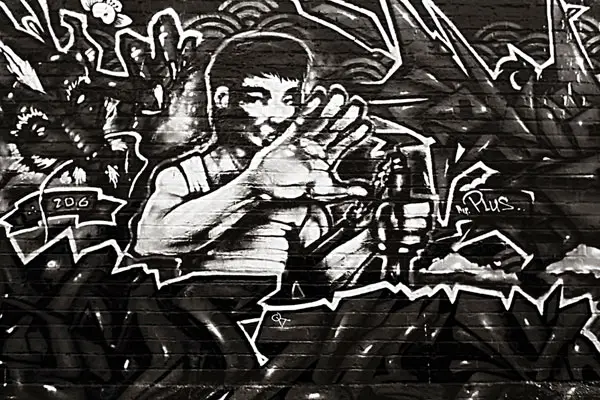 Cadillac Ranch
The public art installation and sculpture in Texas, created as a tribute to the Cadillac automobiles line.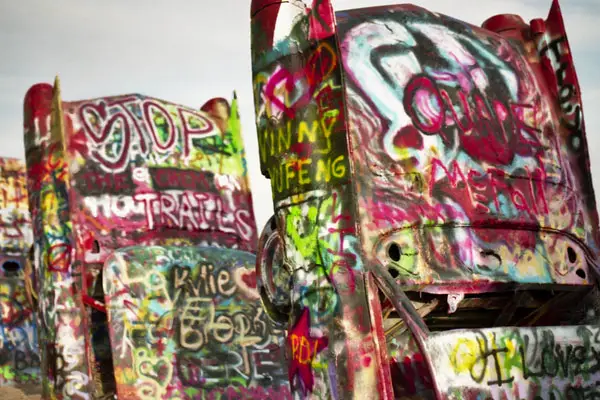 Restraint Needed
Beautiful street art showing a woman covering two angry creatures with her hands as an indication towards anger management.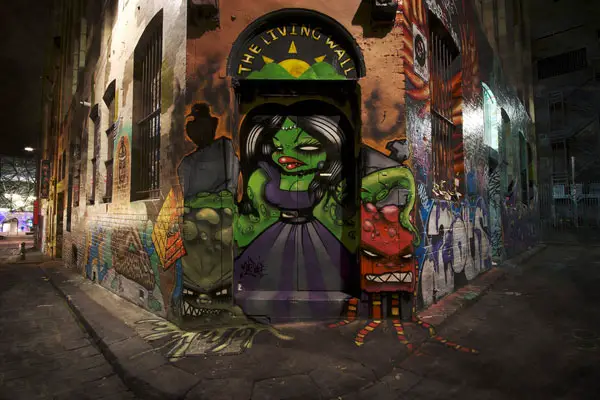 Graffiti City
Colorful and vivacious, this graffiti art has an amazing color scheme that is really eye-catchy.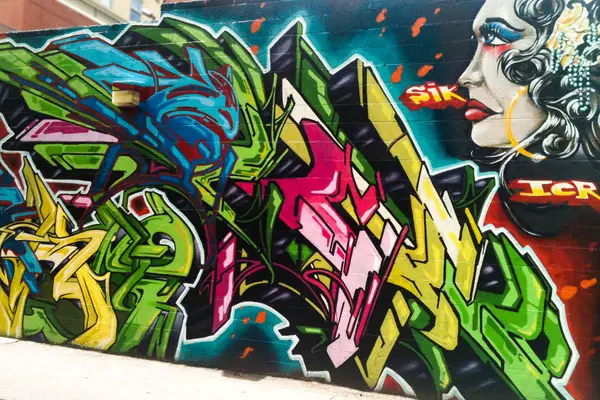 Lively Style
Graffiti art created on a white wall is full of colors and is looking cute.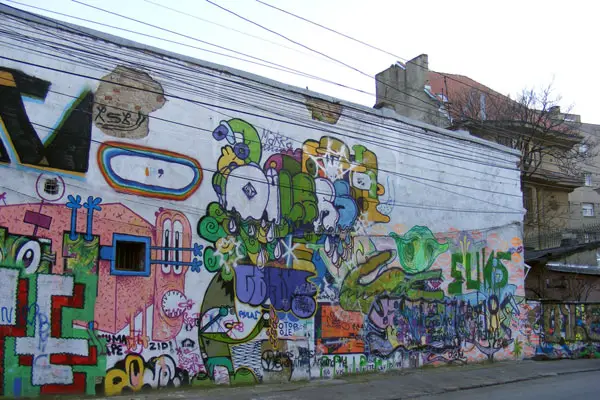 Black Book Session
A flame backdrop with letters sketched on it makes for an electrifying graffiti art.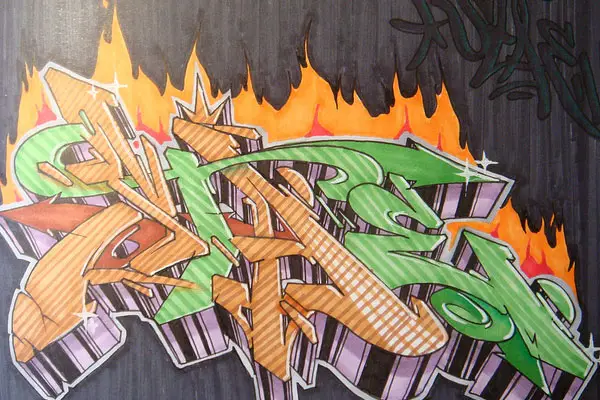 Breathtaking
Graffiti art created on the rocks, representing a battle scene, is simply marvelous.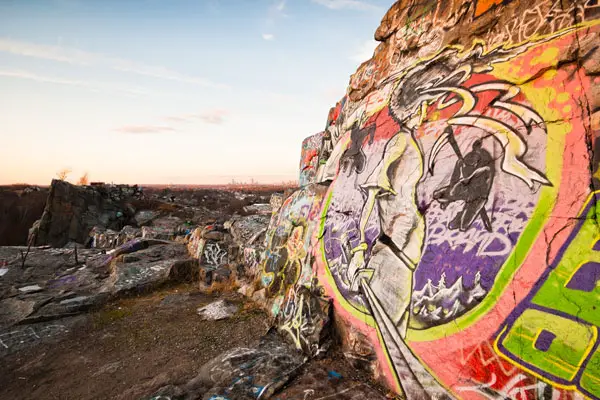 The Battle
Yellow Hummer
Same color car placed on the sunny graffiti wall art with blue and red shades makes for a cool picture.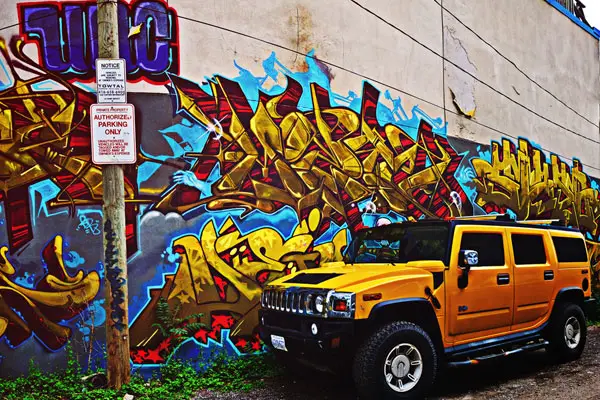 Elegant
This graffiti art showing a girl wearing a cap and the square colorful backdrop looks soothing.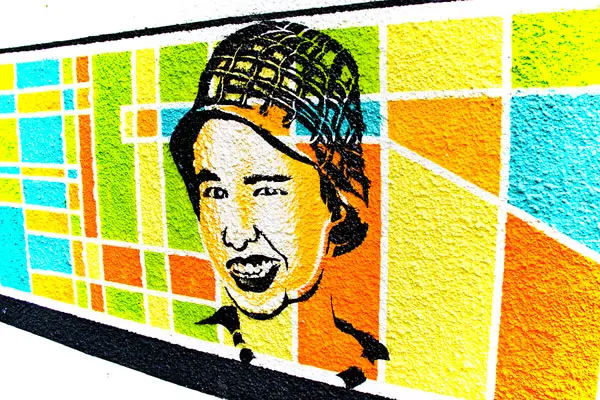 Who Is The Culprit
This confused looking lot of men pointing fingers at each other present an amusing graffiti art.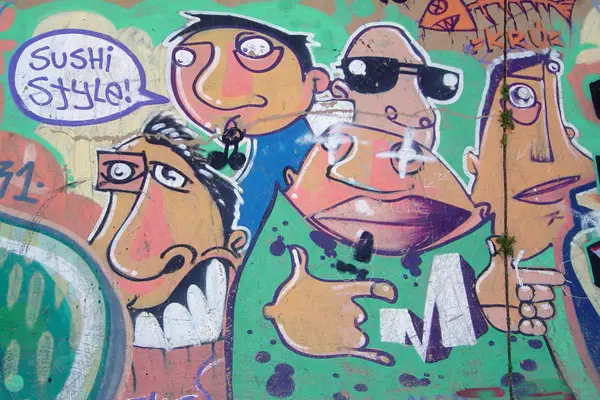 Splendid
The lighted street has a colorful lane art that looks romantic at night.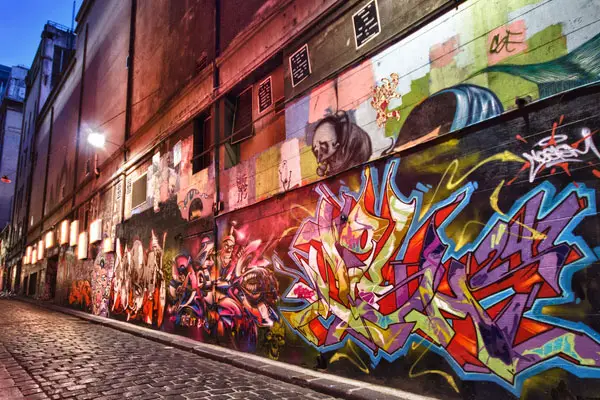 Unique Style
Large white typography created on a rugged yellowish backdrop with colorful frame around.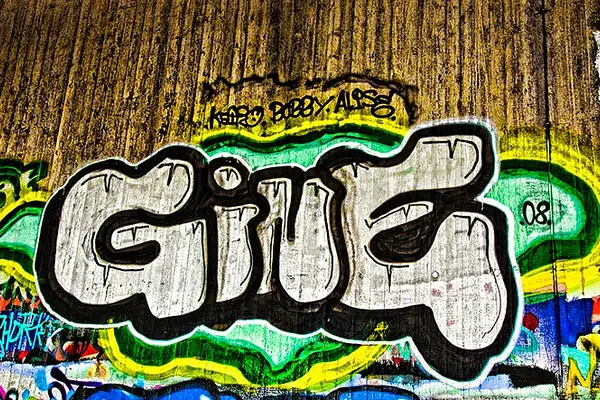 Dance Battle In The Street
The combo of grey and red dress with girls giving breezy expression makes for an entertaining graffiti art.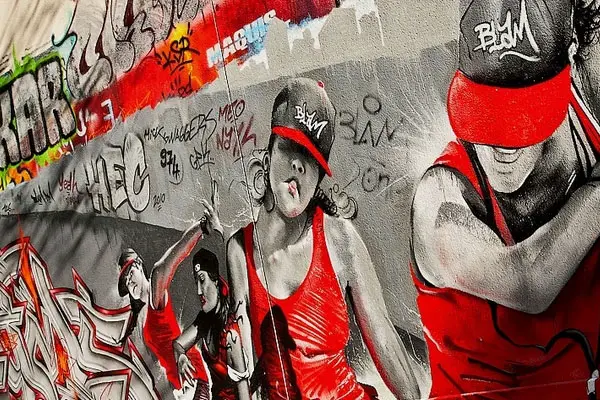 Urban Jungle
The bear with white multi-storied buildings behind, finds himself trapped inside them.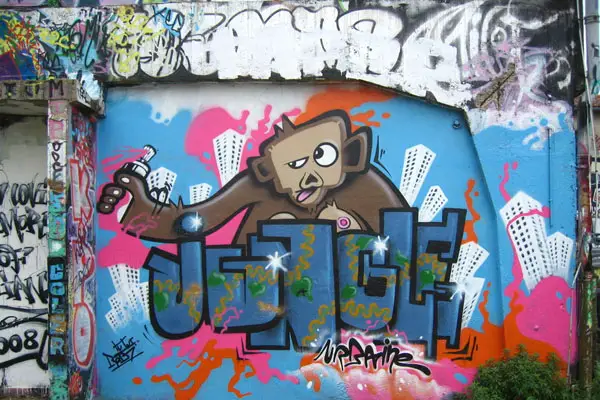 Superhero
Dynamic graffiti art showing an artist putting the finishing lines and a girl taking photograph.
Advertisement On Wall
Graffiti style black and white advertisement created on a wall has a unique appeal.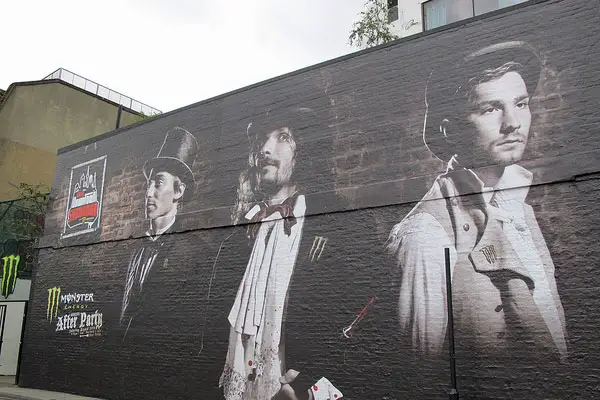 Gangs of New York
The gang of boys with arms in hands paint the portrait of an adventure laden crime scene.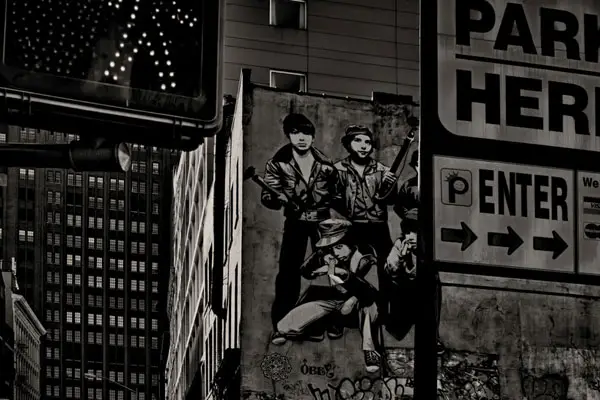 Daring
This colorful graffiti wall art showing the middle finger looks provocative.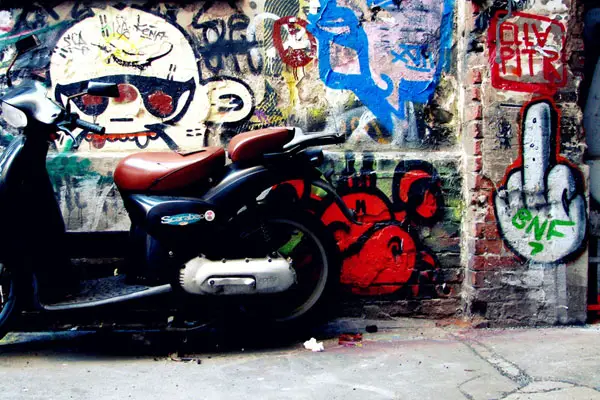 Black And Blue
Creating an optical illusion effect, this graffiti art created on a building is simply fabulous.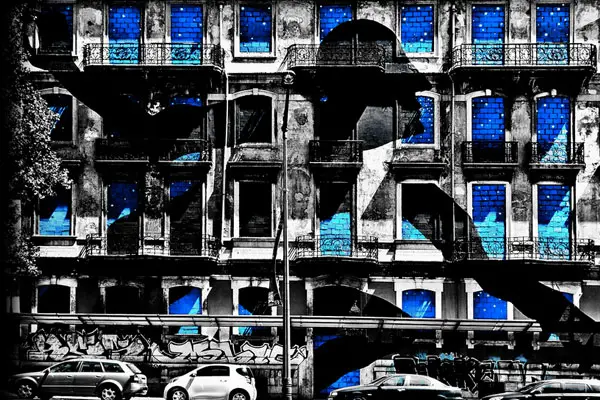 Assassination
Four women watch in amazement as the Godzilla devours its prey.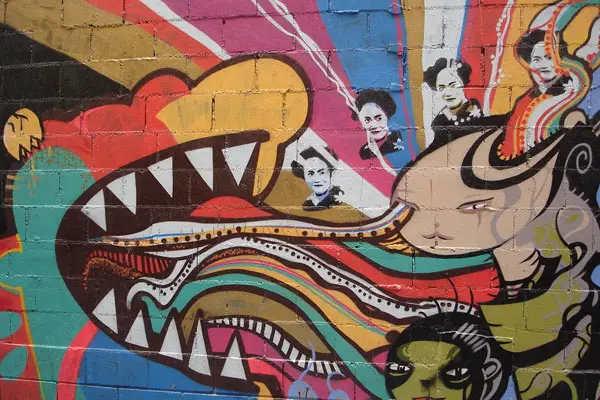 Garden
The little girl amidst colorful flowers and white skulls, painted on a blue, backdrop presents a cute look.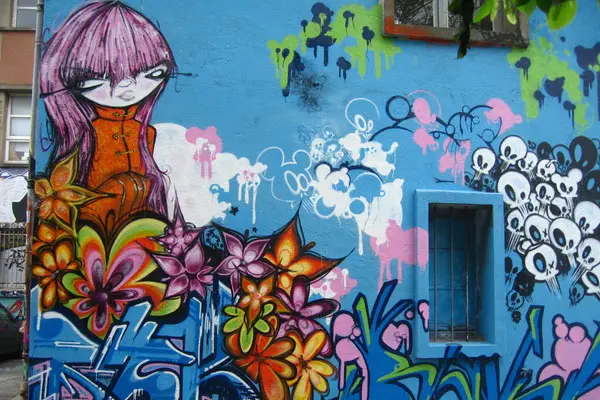 Soft Reflections
This one is a weird style graffiti art with pink and light blue shades looks sober.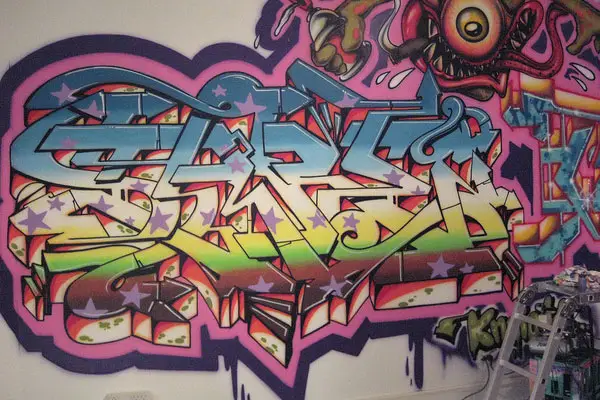 Speaking Wall
Somber graffiti art created on wall makes it look alive and kicking.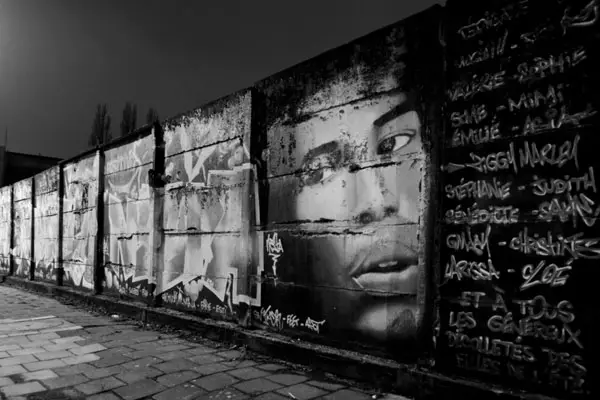 The Wall
Modern Style
Springing figures in twin colors painted on a sky blue backdrop is looking abstract but elegant.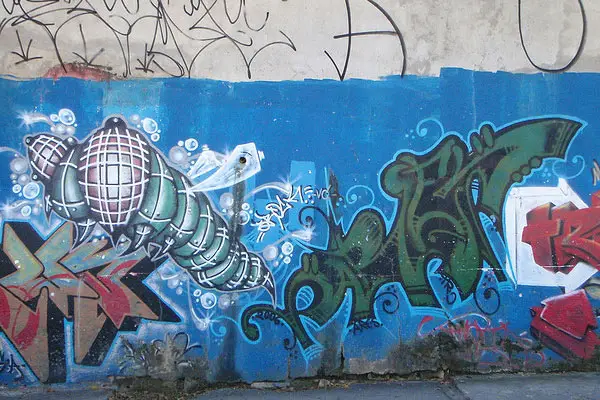 Failure
Cool way of expressing failure through a graffiti art, on the wall, created in bold, capital letters.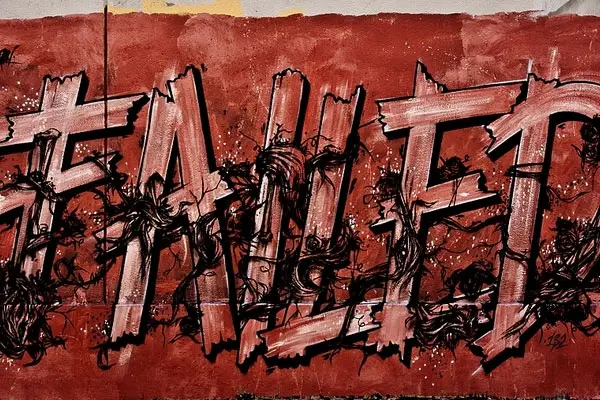 What A Backdrop
A man poses in front of a graffiti art wall which has stars and paint splashes on it.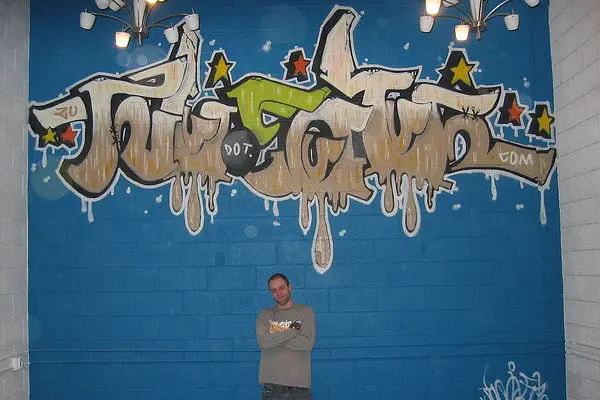 Express Yourself Graffiti Style
Cursive Art
Freshly created silver white graffiti art with pink curves that is looking artistic.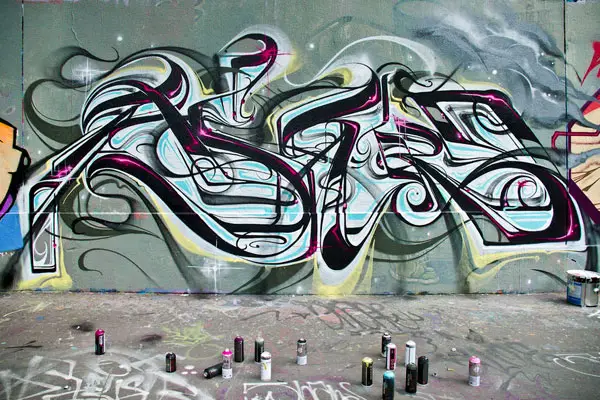 Maze Art
This yellow graffiti art resembling a puzzle looks intricate and interesting.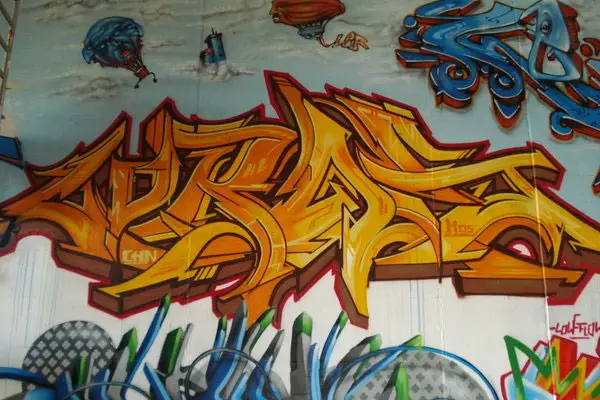 Street Zen
Street graffiti art gives a distinct and aesthetic look to the ordinary lanes in cities.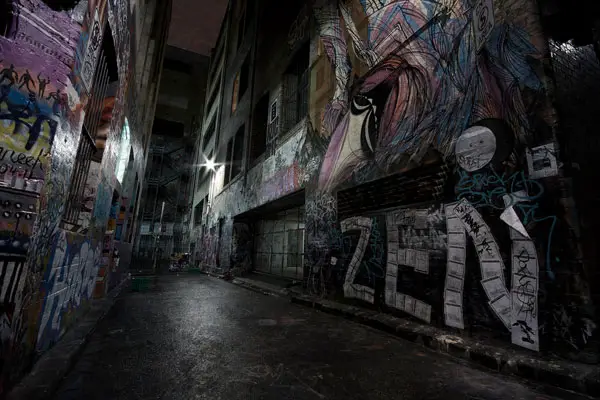 Mindless
Graffiti art is all about setting your soul free and giving expression to the vandalism inside you.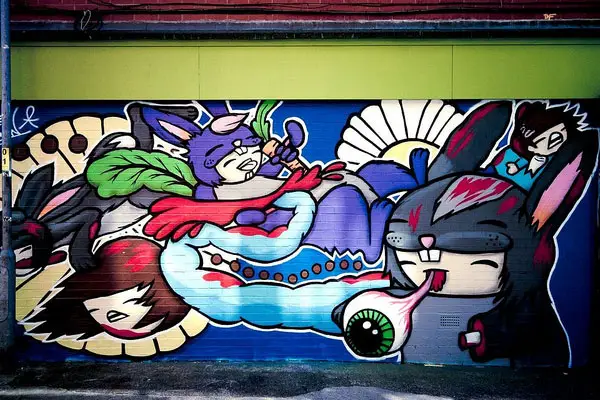 My Domain
This bald man pointing finger looks like an authoritative figure who is also a control freak.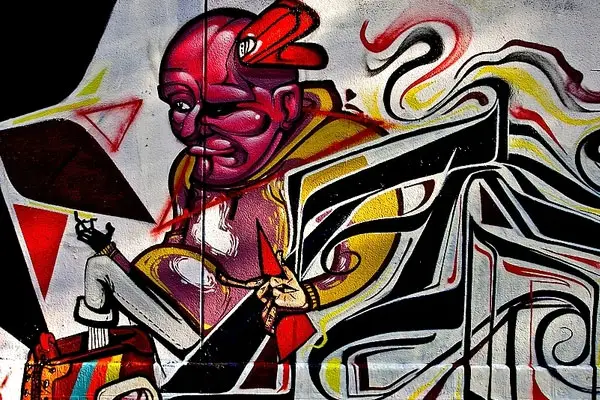 Danger Zone
Colorful skull with flames and bubbles, painted on the wall, looks scary.