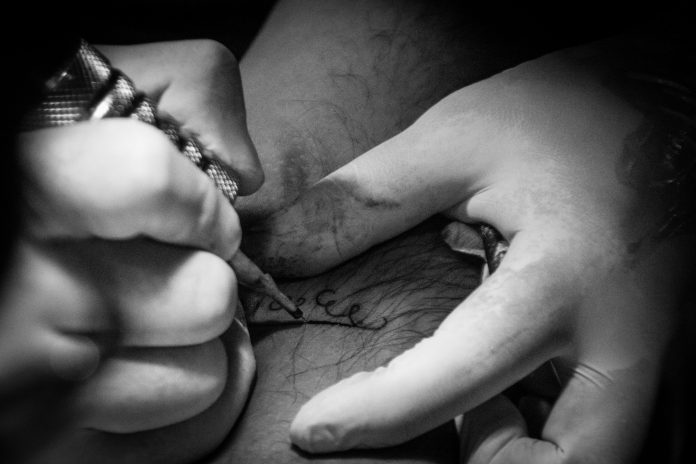 You're almost ready for your first-ever tattoo. Almost. You have chosen a design you like and consulted your preferred artist or ink shop. You've gone over the pros and cons of having a tattoo, but there is still something important lacking: during and post-tattoo session pain!
Just thinking about it can sometimes even dissuade people from pushing through with the procedure! Relieving pain in the skin is not only limited to the tattoo industry. It is quite prevalent in beauty, skincare, and even the medical field. 
Uses of Tattoo Numbing Creams
People may have different pain tolerances, but one thing is for sure – nobody really likes to be on the receiving end of it. So, you are almost at 100% good-to-go mode, but the tattoo process and aftercare is still giving you anxiety. 
With the advancements in the tattoo industry, it is unsurprising that they would address this common concern for people who would be getting their first tattoos, and even for those who just need it when getting their second, third, or nth one! With this concern in mind, topical anesthetics are typically recommended by tattoo artists or ink shops to their clients. 
By itself, topical anesthetics are local anesthetics that are used to numb the surface of a body part which is the perfect application for people who want to get inked!

Local anesthetics are routinely used for medical procedures such as IV insertions, stitches, and catheter insertions, but now, it has also found a place in the tattoo industry. These anesthetics are used to ease the pain associated with tattooing. 
The topical anesthetics do this by blocking nerve signals, which in turn significantly lowers a person's reception of pain. The skin, or more specifically the dermis, is desensitized which makes the pain more bearable. 
These local anesthetics come in various forms: sprays, jellies, aerosols, creams, ointments, gels, and lotions. These anesthetics generally contain at least two or more of the following ingredients or components: lidocaine, benzocaine, butamben, and pramoxine.

Other compounds may be added for better effectiveness of the anesthetic. Most tattoo numbing creams are also used for a wide variety of purposes. Waxing, laser treatments, itchy skin, or blistering are just a few of its other useful applications.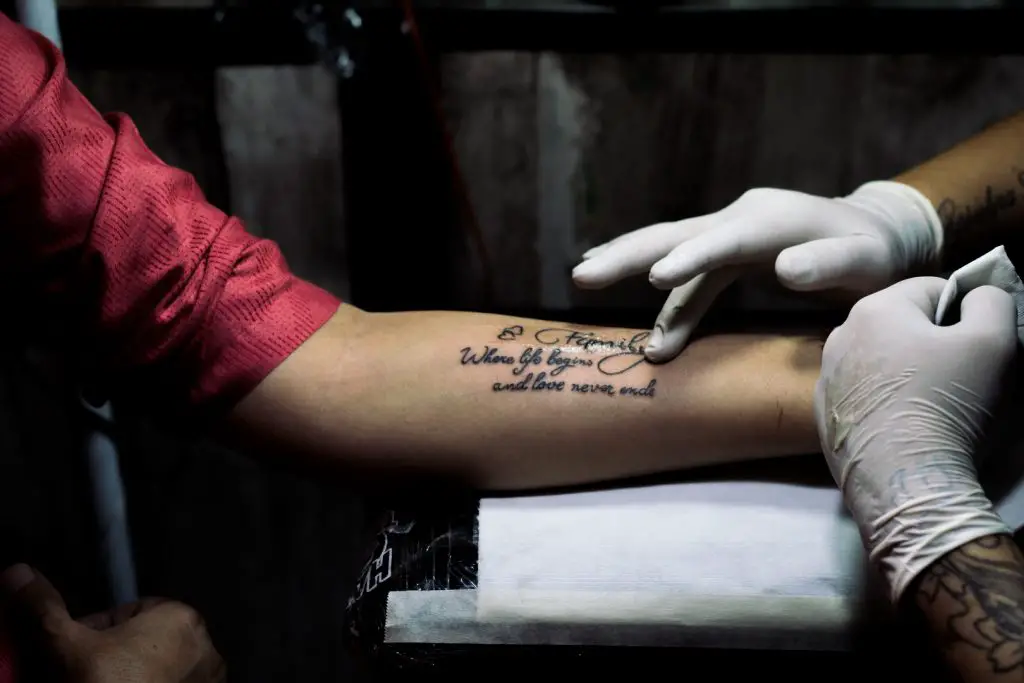 Why Use Tattoo Numbing Creams
Tattoo numbing creams are primarily used to "increase" your personal pain tolerance by numbing your pain receptors. Once absorbed properly into your skin, the nerves are desensitized and thus you feel lesser pain. This reason alone can be a great motivator to help you push through with getting the tattoo you desire. 
Although this is the primary purpose of topical anesthetics, it does not necessarily mean that it is the only thing it can do. Some topical anesthetic products contain various compounds such as vitamins that can fundamentally improve their beneficial properties. 
For instance, some tattoo numbing products contain Vitamin E which helps in combating inflammation. Some may also contain lecithin to lessen irritation while water-based formulas are manufactured for added hydration and moisturization. Natural ingredients are often a widely used component in producing tattoo numbing creams. 
The likes of coconut oil, Aloe vera, honey, and plant extracts provide antimicrobial, added smoothness, and even antifungal properties which help improve the overall effect of tattoo numbing creams. It is not enough to just numb your pain receptors in the skin; it is best to have healing and rejuvenating agents to speed up the process of recovery.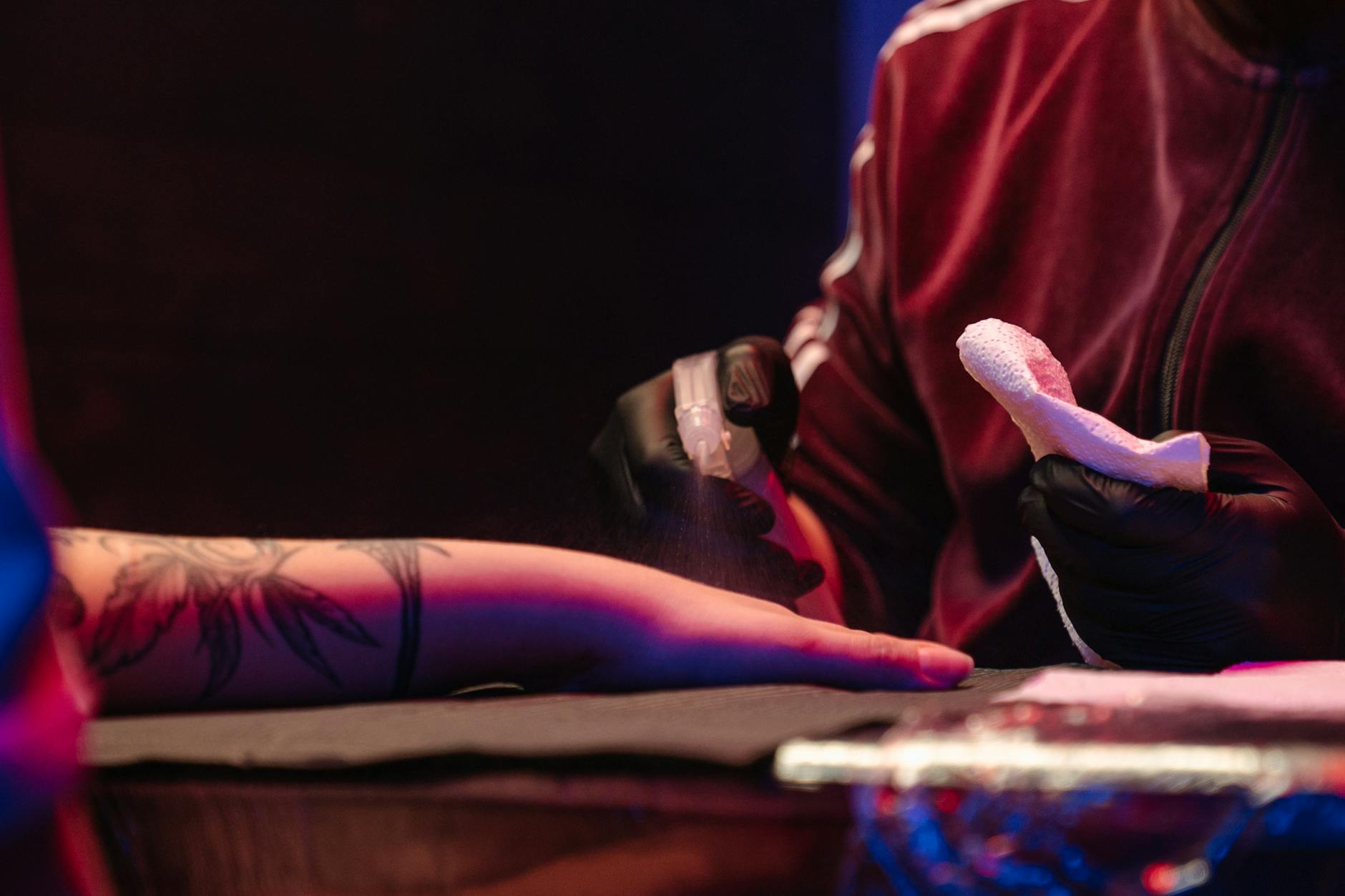 The Differences Between Creams, Gels, and Sprays
As mentioned earlier in this article, there are a variety of topical anesthetics to choose from. It is also more appropriate to be conscious of the topical anesthetic's ingredients. Application and personal comfortability may differ for each product, but any of those has the capacity to provide relief from pain from tattooing
Gels and creams are generally the same, with the same procedure of application prior. The onset of effectivity will range from a few minutes (at least 15 minutes for some) to 2 hours before any work can be done. This is done so that the cream or gel's components have time to get absorbed into the skin and numb the nerve endings.
There may also be instances when an additional layer will be needed to achieve the cream or gel's maximum numbing potential. These kinds of products are popular with tattoo artists since these tend to be more potent compared to sprays.
On the other hand, sprays have a significantly lower penetrating capacity. For this reason, topical anesthetic sprays can be used during the tattooing process. Since the pores of the skin are open, it is a lot easier for the spray to penetrate the skin and do its job.

Tattoo artists will often have a spray next to them while the procedure is ongoing (if they opt for this method). This gives your tattoo artists the appropriate window to reapply or add more desensitization for a smoother process.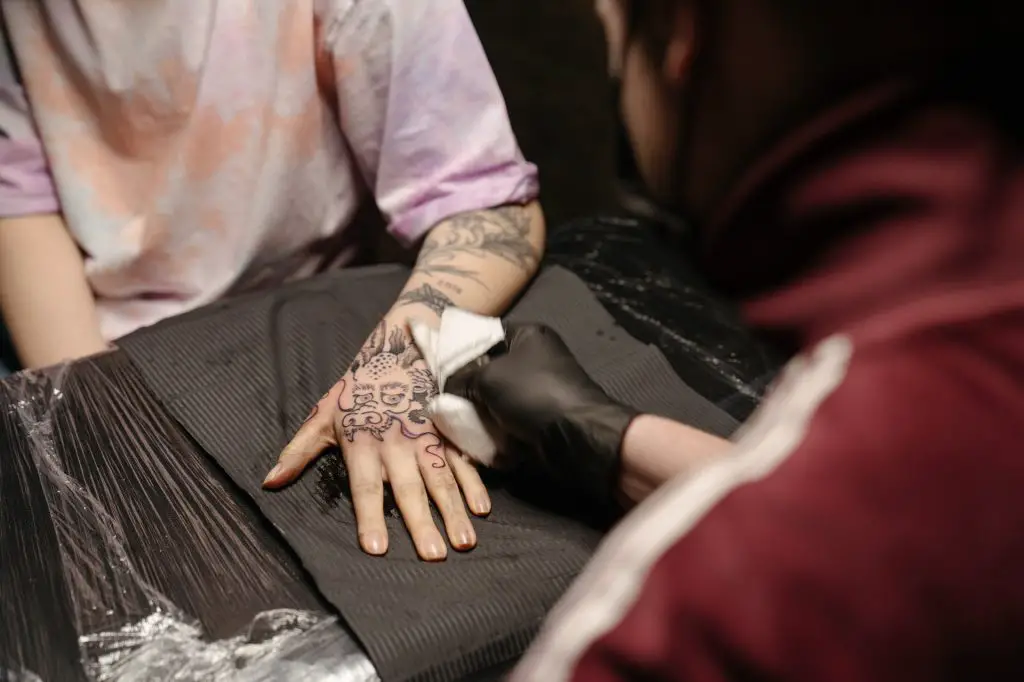 The Best Tattoo Numbing Cream for You
A plethora of products will overwhelm you if you just blindly search your way through the tattoo numbing products available on the market. To help you choose the best tattoo numbing cream, we have compiled a list of specific products with their descriptions for faster browsing, including a few collated reviews by users. 
You may find that some products are more recommended compared to others, but it is best to consult your tattoo artist about it. Take your pick from any of these topical anesthetics!
The Uber Numb topical numbing cream is a pain relief cream product from the United States (manufactured by UberScientific). The Uber Numb 5% Lidocaine Pain Relief Cream is one of the most widely used topical anesthetics in the market.

This product is also a relatively popular choice by tattoo artists, with over 2,000 reviews on Amazon, A budget-friendly cream, it appeals the most to those looking for an effective yet easily obtainable tattoo pain relief option. 
UberScientific's product prides itself on having the maximum lidocaine content of 5%, as per the Food and Drug Administration guidelines, which allows you to purchase it over-the-counter.

Anything that contains more than 5% lidocaine would require a license or a prescription from an appropriately licensed professional. Uber Numb is a water-based formula that does not leave an icky or greasy residue.
Maximum lidocaine amount without a prescription
Comes in 2 oz or 4 oz containers, great for use on multiple occasions
Contains Vitamin E to aid against inflammation
Vitamin E component also aids in ,moisturizing the skin to prevent flakiness and itching
Water-based formula for a more natural feel and better skin hydration
Product return and full refund guarantee by the company for dissatisfied customers
Best used twice half an hour before proceeding with your tattoo session
If you are looking for a product that will not break the bank, then this will give you your money's worth. If you are not satisfied, you can contact their customer support and they will gladly process your refund or product return arrangement.
Dr. Numb Topical Lidocaine Cream (5% Lidocaine cream) is ShinPharma, Inc.'s current flagship product. With more than a decade of experience in pain management, ShinPharma, Inc.'s products have garnered recognition from more than 50 countries.

The company is comprised of professionals such as medical doctors, aestheticians, and hospitals and clinics, thus this brand is reliable and trustworthy.
Packaged in a 30-gram tube, Dr. Numb with 5% Lidocaine Cream packs a powerful punch for those who need the extra numbing effect of topical anesthetics.

Compared to other numbing creams, the lead time is as fast as 15 minutes for this anesthetic, thus, this product is one of the quickest to take effect and can last two to four hours. It also contains Vitamin E to help sooth the skin during the tattooing procedure.
Cream-based formula for a velvety and silky-smooth feel
Contains the legal maximum amount of Lidocaine (5%) for maximum efficiency
One of the long-lasting products in the market, with effectivity of up to almost 4 hours
Developed and made in Canada, following Food and Drug Administration regulations and International Organization for Standardization guidelines
Never tested on animals
Customer service connects you with product specialists for correct usage of their product
Widely recommended by professionals all over the world for its quality and effectiveness, ShinPharma, Inc.'s Dr. Numb with 5% Lidocaine is a safe and reliable topical anesthetic for your tattoo needs.
If you are looking for a more natural alternative to topical anesthetic numbing cream, Zensa's Topical Anesthetic is a good choice. It contains 5% lidocaine, propylene glycol, lecithin, and Vitamin E; it is also packed with natural ingredients to help you get through the ordeal of the tattooing process.
Because of the ingredients mentioned, the Zensa Topical Anesthetic is frequently used in the beauty and spa industry for piercings, botox, waxing, and laser treatments, just to name a few. It is manufactured in the United States by a Canadian company and is approved by the Food and Drug Administration and passed Health Canada standards. 
This topical anesthetic cream acts quickly and its benefits can be felt in as fast as 20 minutes. This gives your tattoo artist the option to reapply the numbing cream during breaks in your tattoo session, compared to other longer-acting anesthetics. 
Can be utilized for other applications, like shots
Contains natural ingredients to boost its effectiveness in pain relief
Can be safely used near sensitive areas like eyes
Comes in a 30g tube, with directions for use
Lasts for a long time, up to 3 hours from application
Very long shelf life up to three years
The usage of the Zensa Topical Anesthetic may be a bit different from other numbing creams in the market, so please make sure to read the accompanying instruction guide when you purchase. Store appropriately to be assured of its extensive shelf life of 3 years.
Deeveeant Lidocaine Numbing Cream is made in the United States and is frequently used by professional tattoo artists and beauticians. Commonly utilized for microblading, lasering, waxing, piercing, and tattoo applications, this numbing cream is a reliable topical anesthetic for anyone.

What is special about this particular product is their combination of ingredients that Valekista, Deeveeant Lidocaine Numbing Cream's manufacturer, developed to strengthen the soothing effects of their topical anesthetic. 
The combination of Aloe vera, Simmondsia chinensis (jojoba), and Melaleuca alternifolia (tea tree) leaf oil components make up their "triple-dip" botanical concoction. People who use it claim that it gives a more refreshed feeling on their skin when applied and even when undergoing the procedure.
"Triple dip" formula composed of jojoba, Aloe vera, and tea tree leaf extracts for a more potent rejuvenating effect on the skin when applied
Only contains 4% lidocaine component, 40 mg per gram
Takes a certain amount of time before it takes full effect. You may have to wait at least 40 minutes for the cream to fully take effect. Some cases can have even longer waiting times
Usually recommended for its natural ingredients, the Deeveeant Lidocaine Numbing Cream is one of the top choices if you want your topical anesthetic to have as many pure ingredients as possible.

Although having 4% lidocaine content compared to other topical anesthetics, it can still effectively does its job. It comes in a 2 oz or 56 g tube and can be used on multiple occasions. 
Like the topical anesthetic before this one, the Medinumb Lidocaine Numbing Cream is also packed with natural ingredients that are not commonly found in numbing creams. With jojoba, Aloe vera, and tea tree leaf extract, the Medinumb Lidocaine Numbing Cream not only desensitizes your skin but also helps in rejuvenation and skin recuperation. 
It contains 4% lidocaine in every tube and is guaranteed to numb your pain receptors noticeably. With extensive research and development, the Medinumb Lidocaine Numbing Cream was formulated to be a non-greasy and clothing-friendly cream – saving you from pesky stains caused by oily residues. 
The numbness takes a bit of time to take effect – it may take around 40 minutes, and sometimes even 90 minutes for tattoo use – which is not ideal for in-between session applications.
Numbing effect permeates to the dermis for maximum desensitization
Water-based topical anesthetic
Specifically formulated to be clothing friendly
No greasy stains left when used, lesser oiliness
Comes with a child-resistant cap for added protection
Made in the United States of America, with guaranteed high product quality
Usage of this product is quite extensive since its instruction is to apply a generous amount of cream, so it might be best to stock on a few of these to avoid running out. It comes in a 2 oz. or 56g packaging. Avoid usage near highly sensitive areas like the eyes.
The Advanced Numb 5% Lidocaine Pain Relief Cream is a quick-acting topical anesthetic. Ready to go in as fast as 20 minutes, this can be an ideal anesthetic for small and quick inks, and also flexible enough to be used for reapplication.

The Advanced Numb 5% Lidocaine Pain Relief Cream also contains propylene glycol and the maximum lidocaine dose permitted (thus no prescription needed). 
This potent combination gives this pain relief cream a huge boost to its skin penetration capabilities. Its Vitamin E component helps moisturize your skin and hydrate it better to avoid flaking or itchy skin.
Best used for small tattoos due to its quick absorption, but rather limited potency
Contains Vitamin E to reduce skin inflammation
Lidocaine content is at 5% per tub
Numbing effect lasts for roughly one to two hours from the time of application on skin
Water-based formula to lessen greasiness and sticky feeling
Comes in 2 oz or 4 oz tubs 
Money-back guarantee by the manufacturer. If you are not satisfied with their product, chat with their customer service representative and you can arrange a refund or replacement if needed
The Advanced Numb 5% Lidocaine Pain Relief Cream's efficacy may be relatively short, considering other topical anesthetics with the same lidocaine content, but they are surely upfront about it. 
Additionally, they offer a guaranteed refund for your purchase of their product if it does not meet your expectations. Talk about great customer service.
7. Super Numb Anesthetic Skin Numbing Cream
Used by tattoo artists and professionals in the beauty industry, the Super Numb Anesthetic Skin Numbing Cream is highly recommended for various skin related procedures such as cosmetics, lasering, piercing, getting inked, waxing, or even injections.

The Super Numb Anesthetic Skin Numbing Cream is a great option to give you a soothing experience during these procedures. 
Works as how topical anesthetics generally do, albeit with a more stringent procedure. Application of this numbing cream blocks the pain receptors from receiving information sent by nerves in the skin, subsequently leading to a feeling of numbness that will help mitigate the pain.
Ideal for one-time use on small to medium tattoos. Ideally sized at around six inches on either side at most
Takes a long time for the product to be fully ready effective – two hours prior to any procedure is the given time frame by the manufacturer  
Available in 30 g tubes, and can be purchased as a pack of tubes
This product requires heavy application and thus may require a sizable number of tubes when used frequently. The manufacturer's note is to follow the application instructions to bring out its maximum effectiveness.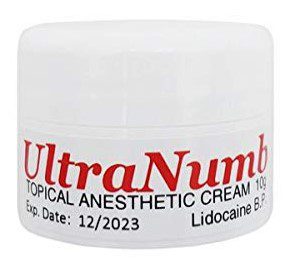 One of the more popular topical anesthetic cream options in the tattoo industry, the UltraNumb Anesthetic Skin Numbing Cream is a widely recommended topical anesthetic by tattoo artists and ink shops for their clients.

The 5% lidocaine and anti-inflammatory components provide the UltraNumb Anesthetic Skin Numbing Cream guaranteed potency in providing efficient pain relief. 
A bonus in its ingredients is the presence of antimicrobial compounds that lessens the chances of skin irritation and also provide resistance from blistering or flaking. For larger areas being tattooed, it is advised to remove the cream in segments – only when the specific area is being worked on already.
Long waiting time before maximum effect is achieved; at least two hours prior to the tattoo session
The numbing effect of the UltraNumb Anesthetic Skin Numbing Cream lasts for three to four hours.
Available in 10 g tubs and may be limited to small tattoos due to its recommended double application before procedures
Contains 5% lidocaine per tub
Contains antimicrobial and anti-inflammatory components
+ Made with natural ingredients 
The UltraNumb Anesthetic Skin Numbing Cream is recommended to be applied twice before any procedure to maximize its numbing effect. One tub may not be enough, since it depends on the size of the tattoo you are going to get. It would be best to have reserves available on hand since there is only a small amount of cream per tub
DermaChange Organic Shingles Symptoms Relief Cream may be primarily marketed for pain relief against shingles, but it does not mean that it cannot be used as an effective numbing cream for your new tattoo! 
This tub of topical anesthetic contains a multitude of natural ingredients that possess antimicrobial properties and soothing effects on the skin. Its natural ingredients include Australian cehami and manuka honey that have anti-inflammatory properties (which is at least the same or even greater effect than the usual aspirin, not to mention it also has anti-fungal properties as an added bonus).
Other natural ingredients include Aloe vera, shea butter, and cocoa butter that contain tons of vitamins and enzymes to rejuvenate the skin. Coconut oil is also added due to its antioxidants, saturated fats, and added hydration to the skin. Not only do these ingredients minimize the pain you feel, but also helps your skin heal through the process!
Packed with a lot of natural ingredients that compliments each other's components perfectly
Can be applied as often as needed
Available in 4 oz or 8 oz tubs
pH balanced to maximize effectiveness when applied
High ratings for this numbing cream are sufficiently backed by the innovations poured into its creation and improvement. With at least three decades of research and development invested in this product, the DermaChange Organic Shingles Symptoms Relief Cream is a tried and tested brand that guarantees to give you the quality you need in a topical anesthetic.
10. Zensa – Maximum Strength Topical Anesthetic Numbing Cream
Like its sister product, the Zensa Anesthetic Cream, the improved Zensa Maximum Strength Topical Anesthetic Numbing Cream has all of its properties, but with improved potency. Its 5% lidocaine content will definitely provide you the necessary numbing you will need when getting your tattoo. 
Retaining all of its natural ingredients, the Zensa Maximum Strength Topical Anesthetic Numbing Cream lives up to its namesake. Additionally, the application of this topical anesthetic does not affect the ink which makes it very popular among tattoo artists.
Long shelf life that can last as long three years
The numbing effect can last for at least two hours, maximum of three or four hours
Application of Zensa Maximum Strength Topical Anesthetic Numbing Cream is quite specific
Approved by the Food and Drug Administration and passed Health Canada standards
Never tested on animals
Has Vitamin E for better skin rejuvenation and anti-inflammatory properties for enhanced skin recuperation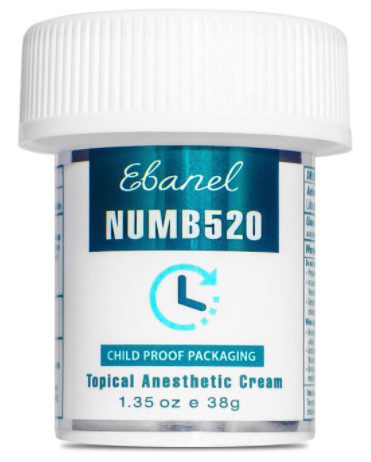 The Ebanel 5% Lidocaine Numbing Cream is a topical anesthetic manufactured by Ebanel Laboratories, a skincare company based in California, that specializes in anti-wrinkling, moisturizing, acne treatments, skin exfoliation, and skin numbing to mention a few. Its water-based formula does not leave an oily feeling when applied and is fast-acting. 
After application, the skin is ready for tattooing procedure in as fast as 20 minutes. Although it already contains the maximum lidocaine content (5%), the Ebanel Numb520's penetrating capacity is further enhanced by its patented Liposomal technology that boosts absorption by the skin.

It also contains Vitamin E and Aloe vera extracts to keep the skin healthy and hydrated properly. 
Preservative-free 
Fast-acting; 20 minutes for the cream and 10 – 15 minutes for the spray
Uses patented Liposomal technology to enhance skin absorption and skin protection
Also available in spray form; best used in tandem with the Numb520 Cream (applied prior)
Ebanel products have certification from the International Organization for Standardization, Cosmetics Good Manufacturing Practices
Never tested on animals
Ebanel Numb520 tubs are available in 1.35 oz tubs while sprays contain 72 mL. Customers who are looking for a quicker application could opt for their spray variant instead. Unsatisfied customers can avail of their full refund guarantee; they just need to get in touch with Ebanel Laboratories' customer service representatives.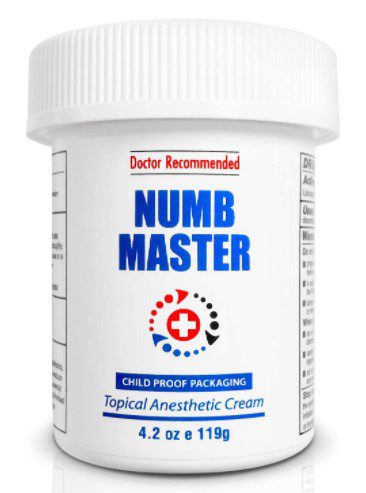 A widely recommended product by professionals from the medical field, the Clinical Resolution Numb Master Topical Anesthetic Cream is a reliable and effective topical anesthetic that will not cause your skin any irritation or discomfort.

It has a water-based formula that does not leave a sticky or greasy feeling when absorbed by your skin and will also not leave any stains on clothing. It contains Vitamin E, allantoin, and Aloe vera extracts that help nourish your skin and provide additional hydration and moisture. 
Fast-acting, the Clinical Resolution Numb Master Topical Anesthetic Cream reaches maximum numbing effect after around 20 minutes, although its effectiveness is not as long. 
Fast-acting and ready for tattoo application in as fast as 20 minutes
The numbing effect lasts for one to two hours
Contains the maximum allowable lidocaine content for over-the-counter products
With Aloe vera extracts, allantoin, and Vitamin E for better skin nourishment
Available in 1 oz or 28.35 g tubs
Recommended by medical professionals
This product has a long shelf life and is practical for people who might have the need to use everything in one go. It can last up to 2 years under normal circumstances, and with proper storage procedures.

The Clinical Resolution Numb Master Topical Anesthetic Cream is a product of the Clinical Resolution Laboratory which is based in the United States of America, and has passed Cosmetics Good Manufacturing Practices (cGMP) standards.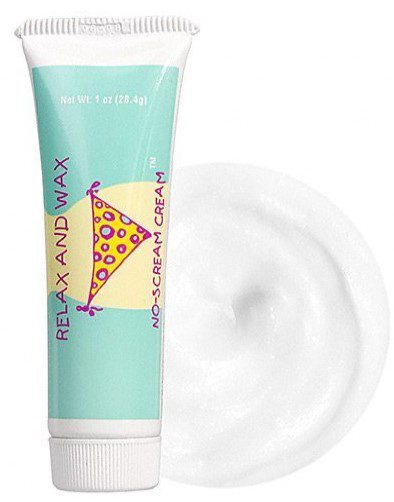 Relax and Wax's No Scream Cream is a topical anesthetic that is geared towards pain reduction or skin desensitization for waxing purposes. It can be used on any skin surface for maximum efficiency.

It is mild enough to be used on sensitive parts, but still potent enough to give a numbing effect when needed. This particular topical anesthetic is widely used in the waxing industry, but not so much by tattoo artists due to its ingredient composition. 
Although perfectly safe for your skin, the ingredients that make up the Relax and Wax – No Scream Cream is not an ideal choice as a topical anesthetic when getting a tattoo because it does not compliment the inks being used.

Relax and Wax – No Scream Cream contains parabens, petrolatum, and other compounds that you would not want to mix with your tattoo ink.
Not ideal for tattoos due to its ingredients; consult with your tattoo artist before use
Relatively quick application and absorption rate compared to other topical anesthetics available on the market
Best for waxing purposes and procedures, but may also be used for less invasive skin application
Available in 1 oz tubes. Using the cream on a large surface may require more than one tube 
Water-based formula will not leave grease or oil when absorbed by the skin, thus it will not leave stains on clothing
The recommended application of this product is to use a generous or thick amount, but due to its current packaging, it might be best to stock on a few more tubes. It can be applied as often as needed, but the ideal maximum recommendation is three times a day.

One of the only two sprays on this list of tattoo numbing creams, the Numbify – Anesthetic Numbing Spray is a topical anesthetic that has factored in developmental improvements by tattoo artists themselves.

It is also quite popular due to its fairly reasonable price point, as compared to other topical anesthetics available on the market. 
With a 5% lidocaine content in their spray bottles, the Numbify – Anesthetic Numbing Spray touts their product as one of the most high-penetrating topical anesthetics in spray form available. 
Another aspect of this anesthetic is their use of natural ingredients that include: arrowroot powder that helps in wound recovery, chamomile that has antiseptic, soothing, and antibacterial properties, and also kava kava crop's root extract that emulsifies and boosts the effectiveness of their ingredients.
More than 90% of the Numbify – Anesthetic Numbing Spray's composition is comprised of natural ingredients
Contains the maximum lidocaine content for an over-the-counter product (5%)
Budget-friendly topical anesthetic. Gives you the quality you need at a cost that will not break the bank
Designed to be safe and soothing to the skin for maximum effectiveness
One of the most used sprays on the market; easily runs out of stock
As is normal in tattoo numbing sprays, the Numbify – Anesthetic Numbing Spray should be used while a tattoo session is ongoing (not prior to the procedure). It is available in 2 oz spray bottles.
How Much Do Tattoo Numbing Creams Cost?
The prices of tattoo numbing creams or topical anesthetics can range from as low as $ 1.00 and can go high as much as $50.00 (and sometimes even beyond that price point). With that range of pricing, there will certainly be hits and misses when looking for the perfect topical anesthetic in relation to its effectiveness.

Some tattoo numbing creams that can be bought below $10.00 price may be effective for this particular person but some may require a different product that may be in the $30.00 range or above. It just means that a product that is effective for you might not be effective for another individual.
Trial and error will help you determine what suits you best. You can ask your tattoo artist also on what they recommend if you are going to use a tattoo numbing cream for the first time – they will be able to give you a more detailed explanation regarding the benefits and effects of the product.
More often than not, go with the adage of "a quality work -or product for this matter – requires a quality price" if you are unsure of which product to buy. Better yet, you can try to look for topical anesthetic products that have a money-back guarantee just in case you are not satisfied with their product. But make sure to coordinate with their customer representative first to confirm if they will honor this agreement.
 It might take a while to search for products with money-back guarantees, but there are certainly available topical anesthetics that have this condition. The only drawback is that the money-back guarantee might not be applicable if you bought the product from an online reseller. You can only take advantage of the guarantee if you purchased the product directly from the company or from an authorized distributor.
Do Tattoo Numbing Creams Really Work?
The short answer to this question is yes, they do work. However, it is good to keep in mind that as is the case in pain tolerance, so does the effect of tattoo numbing creams or topical anesthetics vary in different people. What might be effective for a particular person will not automatically imply that it will have the same result when used by a different person. 
Tattoo numbing creams or topical anesthetics have basic components, but the manufacturers or producers do their utmost in research and development to further enhance their products and improve its effectiveness. A clinical method was applied in producing these topical anesthetics, which guarantees safety and reliability.
There may be instances where a topical anesthetic or tattoo numbing cream is not working, it may be due to the person's incompatibility with that certain product. It does happen and a simple change of topical anesthetic is the solution to this dilemma.

Switching to a tattoo numbing cream with different ingredients can also be a factor for a topical anesthetic to be effective for a person. It is never a bad decision to consult with your tattoo artist to know what might be the best alternative for you. Their advice might be the only thing you will need to find a tattoo numbing cream that is compatible with you.
Things to Consider Before Choosing a Tattoo Numbing Cream
A primary factor to consider before choosing a tattoo numbing cream or any topical anesthetic is your compatibility with the product. Although relatively rare, cases of allergic reactions on the skin may occur. These may be due to your own genetic makeup or you have allergies to specific components of the topical anesthetic like lidocaine, benzocaine, tetracaine, or other natural ingredients it may contain. 
There is an alternative for people with allergic reactions to tattoo numbing creams or any topical anesthetic – painkillers. 
Consult your tattoo artist regarding this issue. Your tattoo artist will be your best friend when dealing with anything tattoo-related, whether pre-tattoo, during, or post-tattoo issues. Your tattoo artist is the person most equipped with reliable knowledge and experience.
With that being said, there is a possibility that you will come across a person, or even a tattoo artist, who are "pain purists" and would dissuade you from using a tattoo numbing cream for the sole reason of the process being less memorable or significant because you chose to acquire it in a less painful method. These are the kind of people you should avoid, at least when it concerns tattoos. 
Safety should be given the paramount concern with regards to things being done to your body. Subjecting it to unnecessary pain is dangerous, and to be frank just plain stupid, to just prove a point that you are "committed" to getting a tattoo the tough and "right" way. 
Can They Affect the Quality of Your Tattoo?
This is quite a tricky question. Some manufacturers may say "yes" while some may say "no." So what is the difference then? There are two important things to think about in this case. One, you must understand how a topical anesthetic works, how it affects your body or skin, and how it does its job in numbing your nerve endings.

Secondly, the ingredients of a product play a vital role in determining whether it will affect your tattoo positively, negatively, or not at all.
Some tattoo artists may not recommend a particular product, if you are the one who chose it based on personal use or recommendation by others (due to the simple fact that they are more familiar, more knowledgeable, or just straight up endorsing a different brand of tattoo numbing cream).
Another instance of a tattoo artist not recommending a particular product may be due to its incompatibility with the tattoo ink. This can cause a runny effect that will ruin design due to the ink not being able to settle properly on the skin.
It pays off to give the necessary attention to the ingredients listed in any tattoo numbing product or topical anesthetic. Allergic reactions to certain ingredients can spell disaster not only for your tattoo but also for your skin or body. Doing exhaustive research and inquiry into a product's components pays off in the long run and will give peace of mind.
How to Properly Apply the Creams
Applying tattoo numbing creams properly is relatively straightforward and simple. Some topical anesthetics may have specific instructions on how it should be used, but most products generally follow a set procedure, with differences only in the time of application. Listed below is the common flow of proper application of tattoo numbing creams.
1. Wash your skin thoroughly, particularly the specific area where a tattoo will be applied
Proper hygiene should always be exercised when getting your tattoo done. Use soap to remove dirt, grime, and oils – it is essential to maximize the effect of the numbing cream you will apply on your skin. 
Some even recommend applying moisturizers to help with hydration and skin elasticity, but take note that you  cannot mix the moisturizers and tattoo numbing creams together to avoid complications
2. Apply the cream based on the recommended product's instructions
It is best to use gloves for this. Sterile gloves reduce the risk of infection and transfer of dirt from your fingers. Most topical anesthetic would require you to apply a generous amount of cream on the skin for the best numbing effect and maximum skin absorption. Make sure you have enough stock to last your needs! 
3. Wrap it with plastic, a clean one!
After waiting for some time (based on a product's recommended application),  wrap your skin with plastic, together with the cream. This is done to hold the cream in place, and it also serves to retain heat. 
Retaining heat results in your skin pores opening and thus provides the numbing cream easier access to your dermis (where it will do its job of blocking nerve endings). Leave it as is and wait according to the suggested duration to let the topical anesthetic absorb into the skin fully for best results
4. Wrap removal
Removing the wrapping is the last process before you can get your tattoo. Ideally, it should be done using the least possible time to avoid contamination and to maximize the numbing cream's effect. Some tattoo artists would prefer to remove it themselves and start the tattoo session immediately after
Some tattoo artists might reapply tattoo numbing creams while the tattoo session is ongoing. Some may also use sprays in combination with the creams for faster absorption into the skin.
Keep in mind that reading a product's label is always a must, including its accompanying instruction manual. Some topical anesthetics may have more specific instructions on how to apply their product to maximize their effect. Make sure that you inform your tattoo artist if you are going to use a tattoo numbing cream.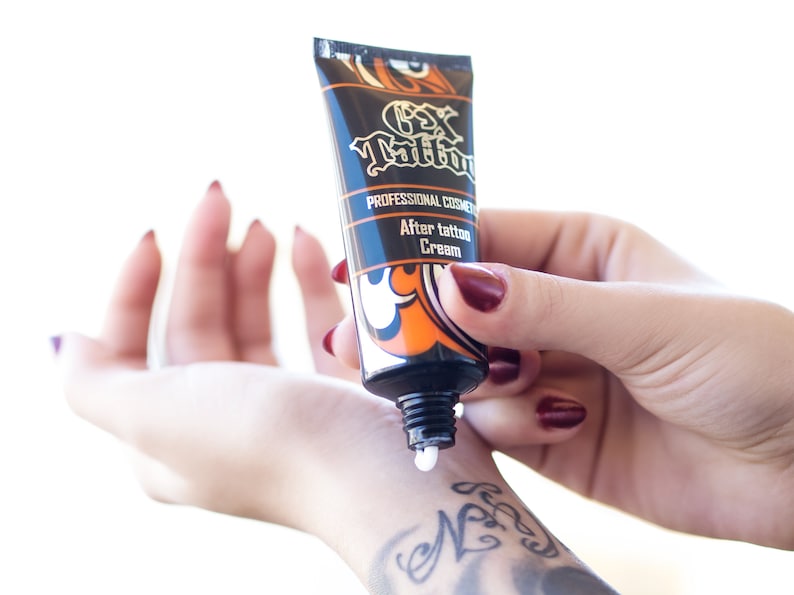 Final Thoughts
Tattoo numbing creams should not be perceived as the easy way out when talking about getting over the anxiety and pain of having tattoos. Aside from its primary purpose of helping you cope with the pain by blocking your skin's pain receptors or nerve endings, it also has properties that aid in skin rejuvenation and healing. Using it does not diminish the significance of your experience. 
Be open-minded and do the necessary research to find the most compatible topical anesthetic for you. There will be a lot of products to choose from, but any of them will have the same purpose of giving you relief from a painful tattoo experience. Furthermore, it would not hurt to ask your tattoo artist for opinions or recommendations.