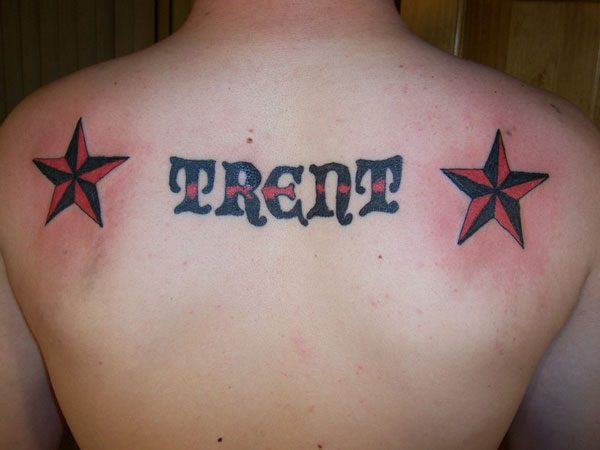 Men love to wear tattoos on their different body parts. However, certain body parts are more favored by them as they provide a fine base and also help the men to keep the tattoo covered when they do not want to display it. The upper back tattoos for men belong to this very category. This is a location that has ample space and therefore, one can get any size of tattoo inked here. Another thing is that the tattoo artists would also love to work on this spot because it is convenient for them.
Men have used their upper back as canvas for tattoos for centuries, in recent times, tribal tattoo designs have become increasingly popular amongst men, however there are various other styles and designs in the mainstream as well.
Lets look at our collection of twenty six bold upper tattoo designs for men!
If you enjoyed this article on bold upper back tattoos for men, you may be interested in some of our other articles on  Heart Tattoos For Women,  Tribal Heart Tattoos,  Rose Tattoos For Women,  Skull Tattoos For Men.
Catchy Upper Back Tattoo
This picture features two red nautical stars and the nickname of the sailor etched in the guys upper back.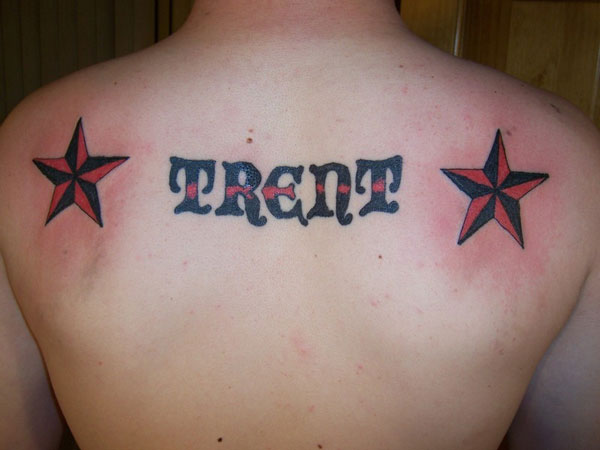 Terrific Tribal Tattoo
The thick curves and circles gracing this tribal tattoo are razor sharp and thus, catch instant attention.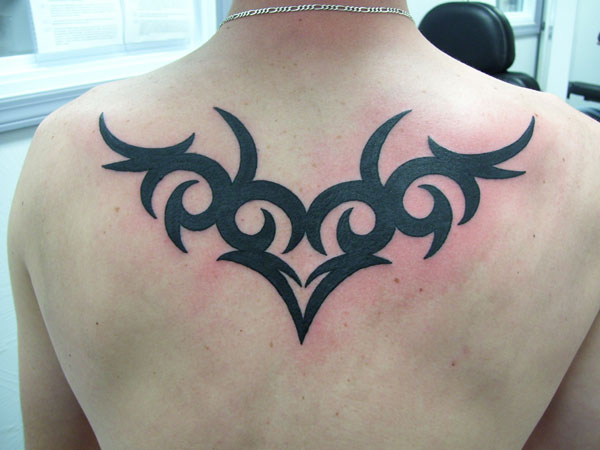 Celtic Design & Quote
The twin quotes and the Celtic design bring out a fine mixture of aesthetic beauty and meaning in this upper back tattoo.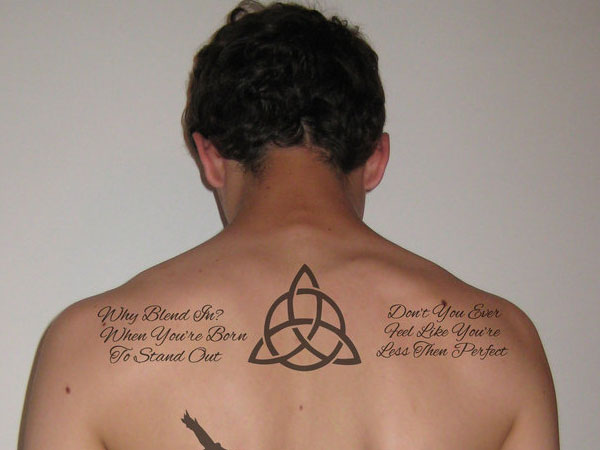 Bold Tribal Tattoo
Men love tribal tattoos and they look very bold when placed on the upper back.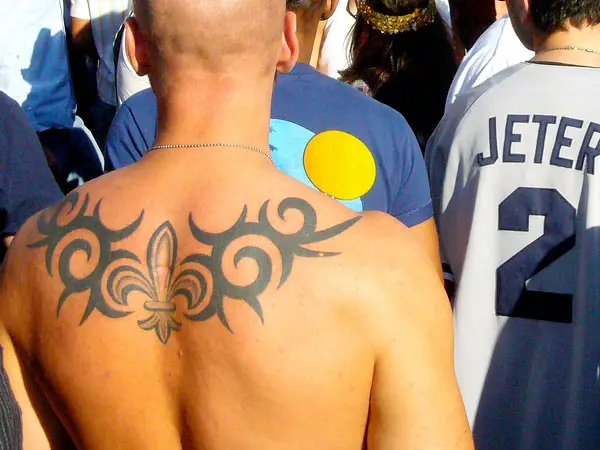 Protective Angel Wings
Sitting on the upper back, these angel wings are there to guide the man in the right direction.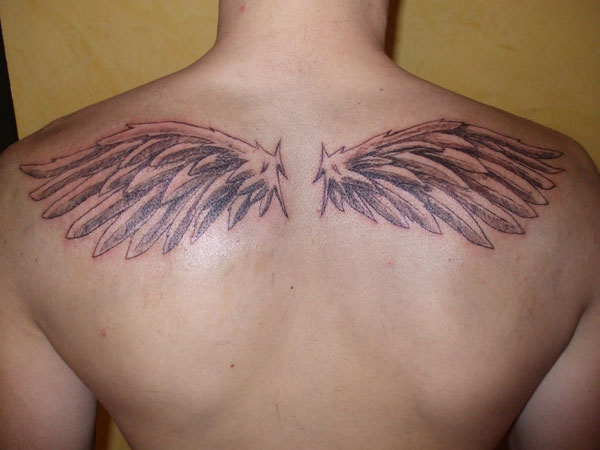 Tribal Aries Tattoo
This picture features a man wearing a tattoo of the sun sign he was born under, a believer in astrology, this guy wears his horoscope.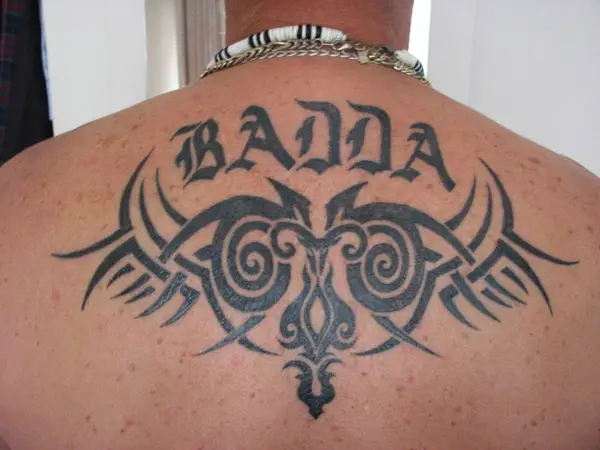 Badass Black Tattoo
The striking look of this tribal tattoo is very bold and attractive.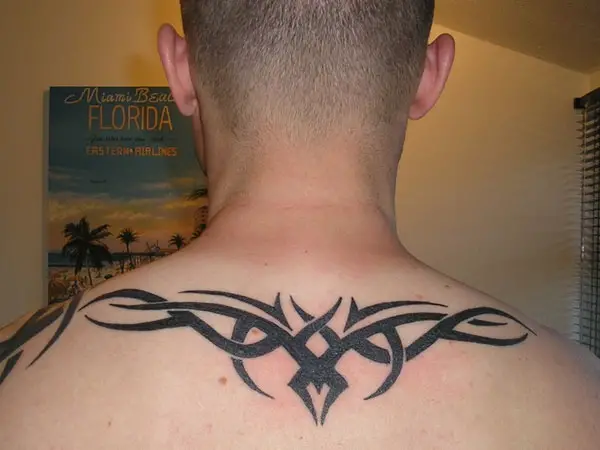 Small Tribal Tattoo
Here is another man with a tribal tattoo inked on his upper back, a mark of love for tribal culture.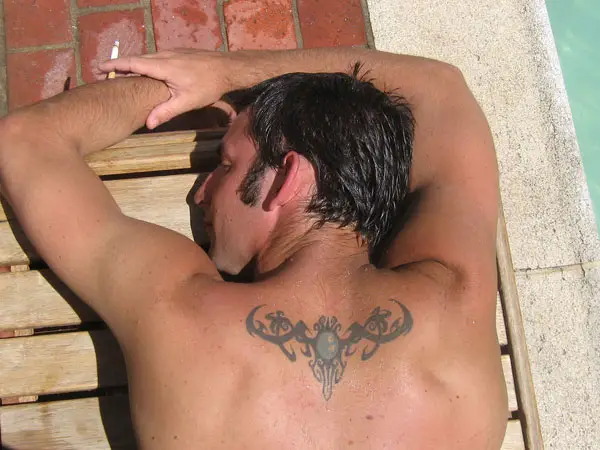 Upper Back Snake Tattoo
Eating its own tail, this snake makes a sign of infinity and symbolizes that this guy inspires to lead a fearless life.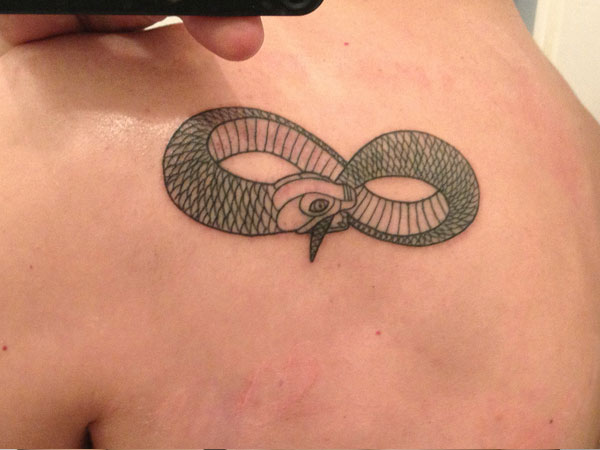 Family Crest Tattoo
Men love to wear the symbol of their family pride on their upper back as it reminds them to uphold their family values.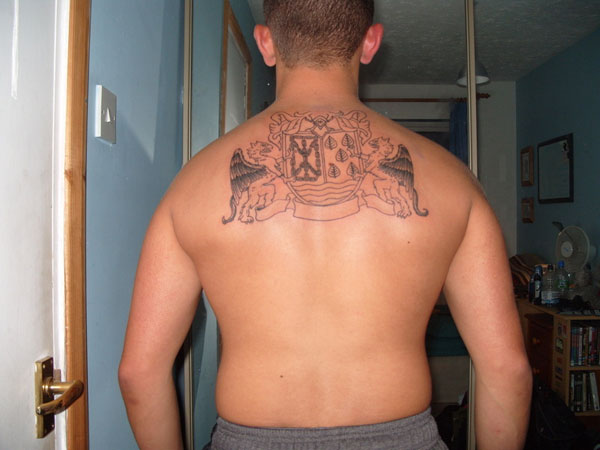 Artistic Peacock Tattoo
This man got a colorful peacock tattoo etched on his upper back. If you want some color, you should consider something similar!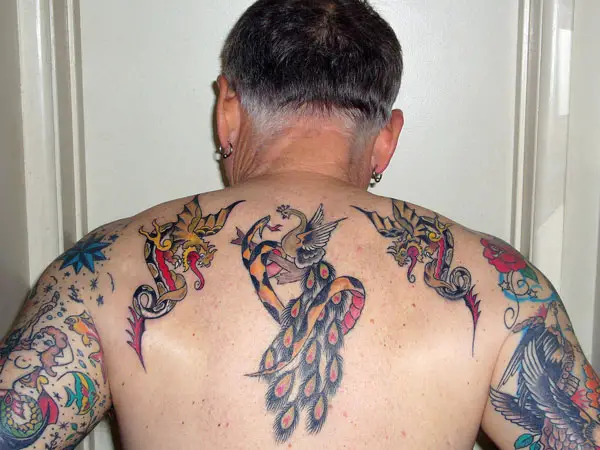 Motivational Quote
Created in bold capital letters, this quote tattoo looks fabulous and also holds profound inspirational meaning.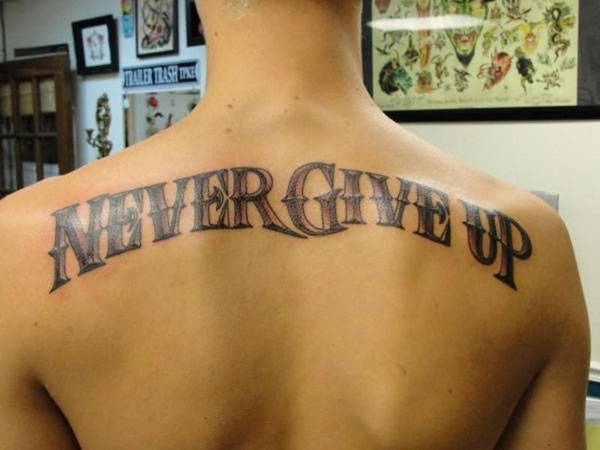 Samoan Tattoo
Detailed, artful, and alluring in outlook, the Samoan tattoo is a treat to the eyes.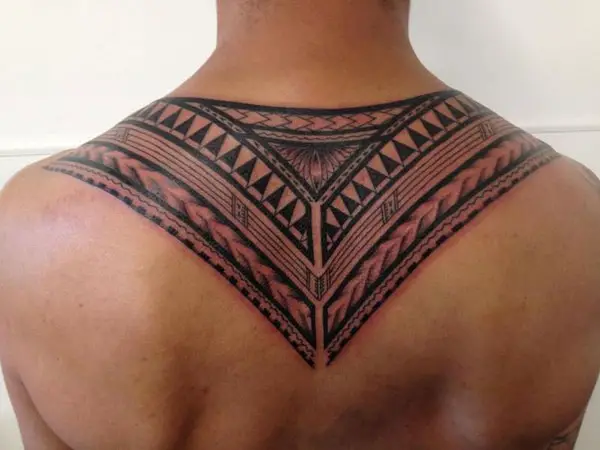 Zodiac Sign
This is a tribal style features Aries sun sign tattoo. It signifies the faith of the wearer in astrology.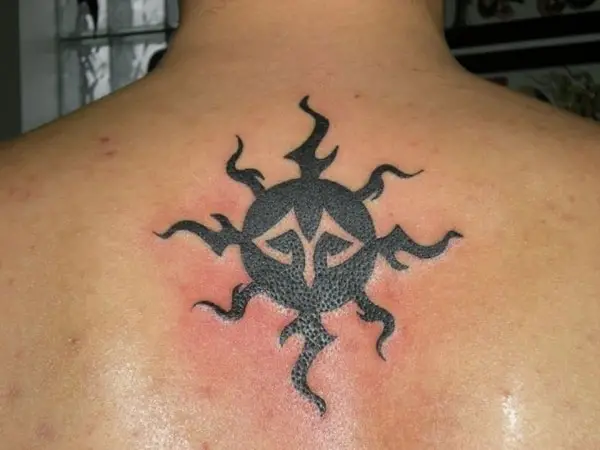 Family Pride Symbol
Check out this guy with a family crest tattoo on his upper back. It always keeps him on track.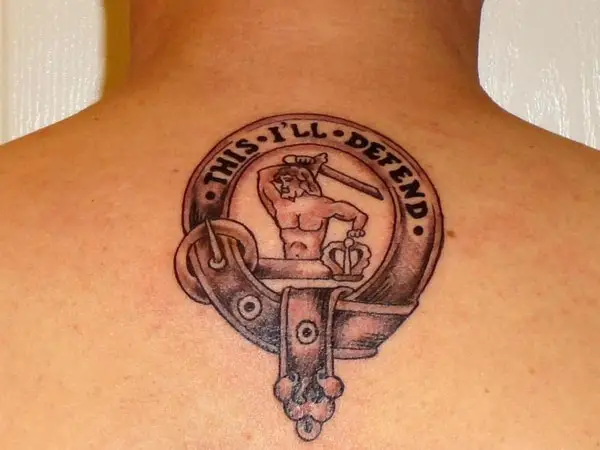 Large Tribal Tattoo
If you love to wear big and badass tattoos, then this tribal tattoo would suit you to the hilt.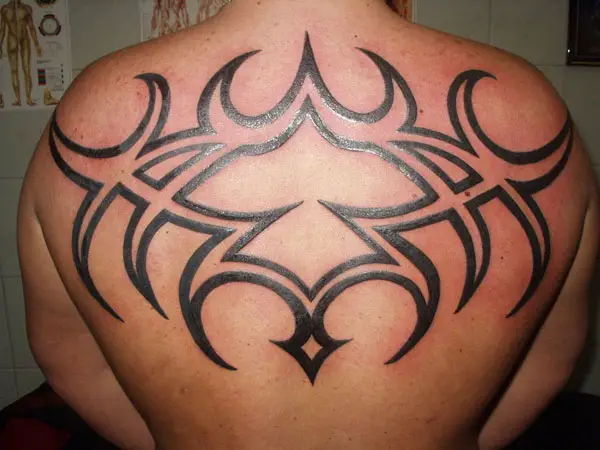 Tribal Art Design
Interwoven into each other, the outlines create an intricate and brazen tribal design on the upper back of the man.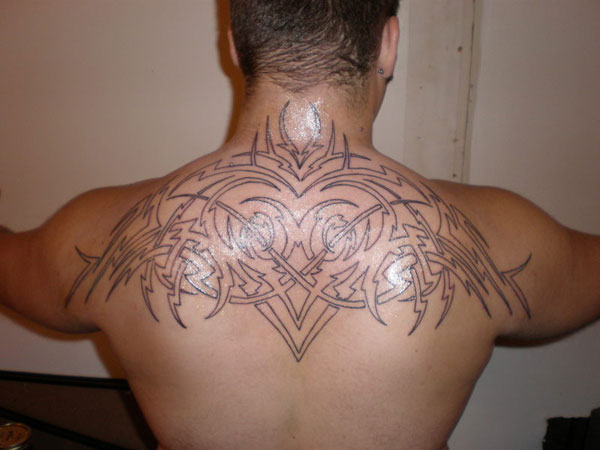 Guardian Angel Tattoo
The large spread out wings and the erect posture of this blue angel create an eye-catching upper back tattoo.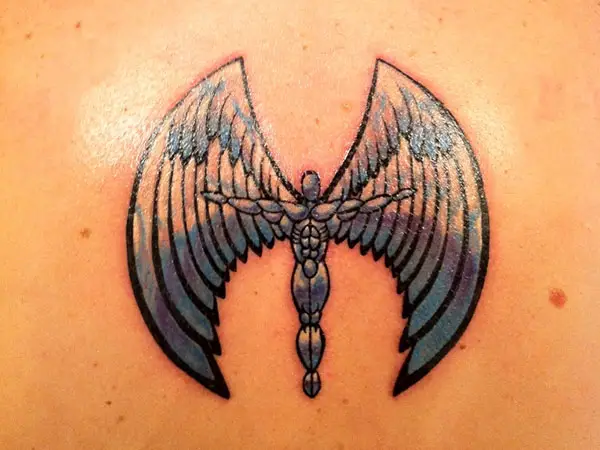 Fallen Angel
The man is undergoing a tough phase in his life and this upper back tattoo symbolizes his sadness and need for succor.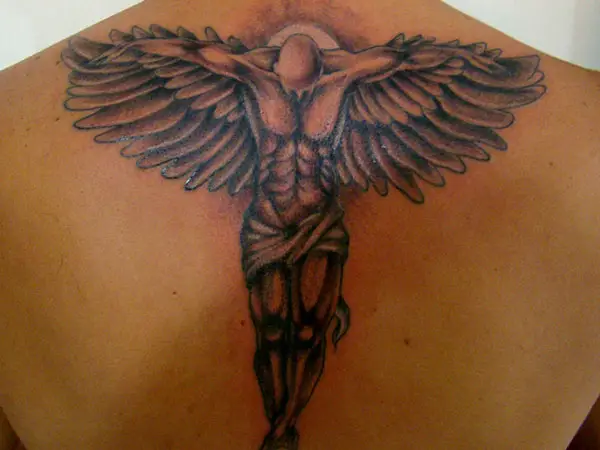 Dark Demon
If you love horror and drama, then thes kind of demonic tattoos are sure to ring a bell in your heart.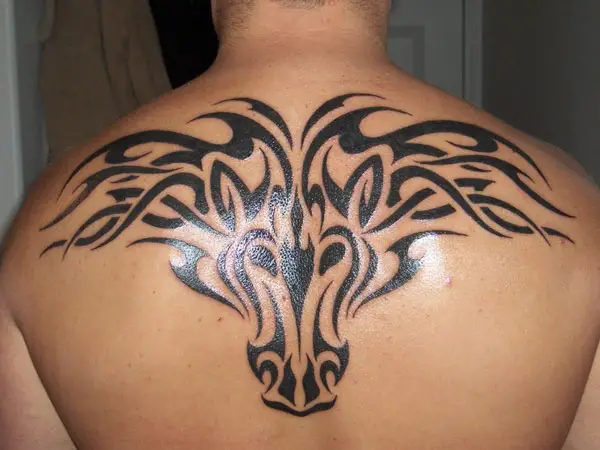 Alluring Angel
Large angle tattoo sitting on the upper back oozes strength, security, and solace. A bold statement.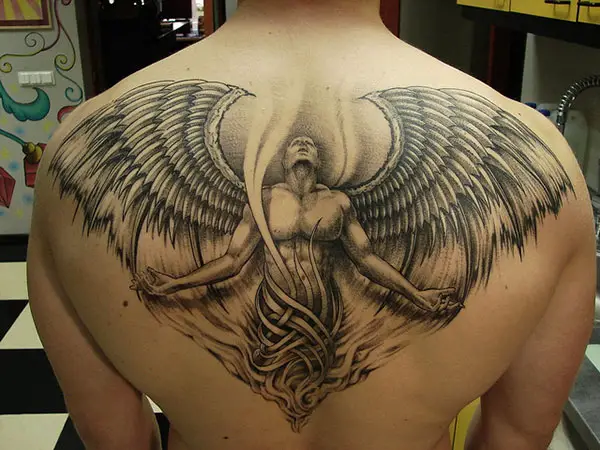 Regal Eagle
The guy wears this eagle tattoo, it is symbolic of courage, freedom, and strength for flight.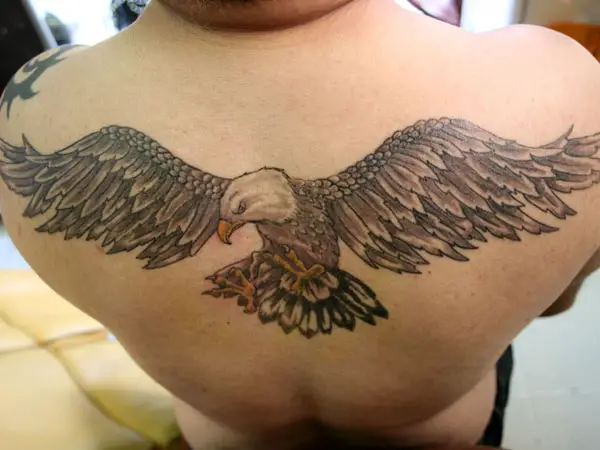 Graffiti Style Tattoo
This upper back tattoo is the professional symbol of the man who is a graffiti artist. An artistic combination of 2 beautiful form of arts.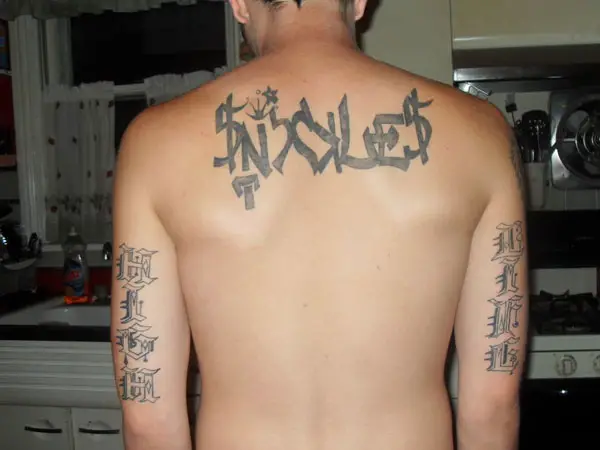 Stylish Tribal Back Tattoo
V-shaped tribal design crafted with spirals, curves, and arcs looks very jazzy and catchy.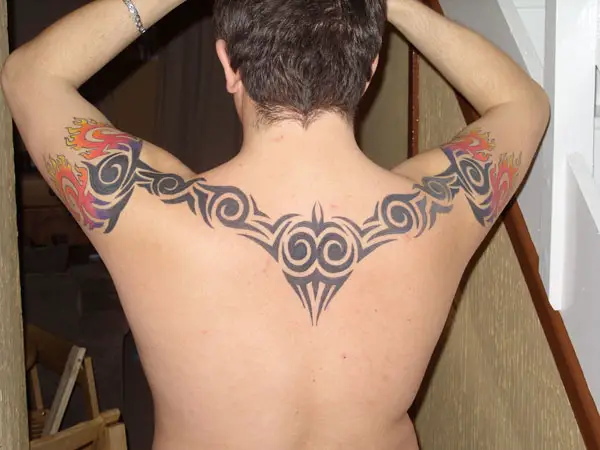 Tribal Art Rocks
Men love the rough rustic appeal of tribal designs and the upper back is an ideal anatomical location to create them in classic style.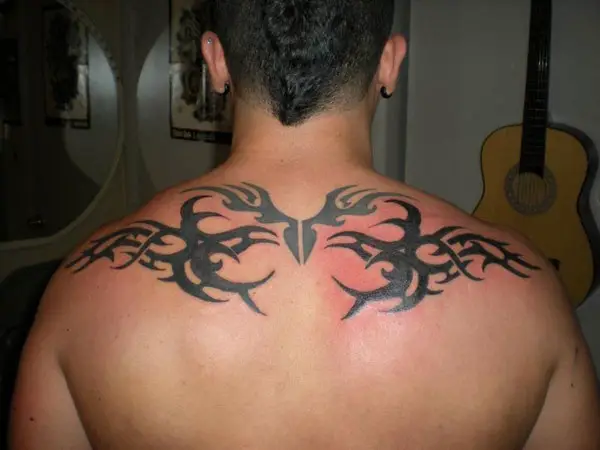 World Map Tattoo
This picture features a tattoo of the world map. A great idea for someone who loves to travel!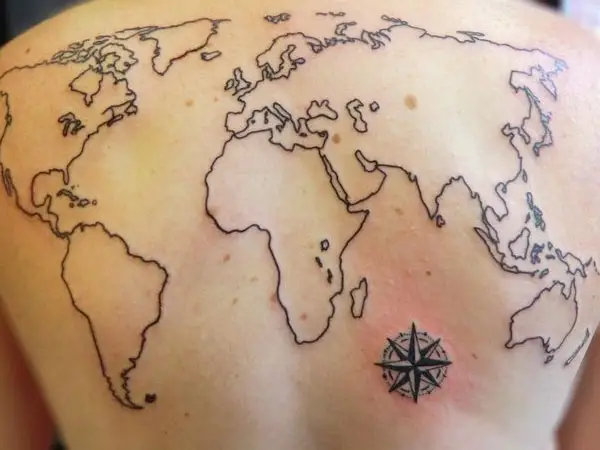 If you like this article, you might be interested in some of our other articles on  Chest Tattoo Quotes,  Rose Tattoos For 2013,  Cute Tattoos For 2013  and  Rihanna Tattoos For 2013.